Home | Blog Index | Blog Archives | Christianity & Faith Essays
Friday, November 21, 2008 - 2:14PM
*** WINTER STORM UPDATES ***

November 16-22 snowstorms II: Pattern moving out
Update 2:14PM Friday: Storm #3 put down another inch in Charleston last night, but road crews were as diligent as I'd ever seen them - no problems at all on area bridges or roads. Unfortunately there were reports of accidents in areas outside of town, however.
The upper-level trough responsible for the cold and snow for the past week is finally pushing eastward, and should be out of the area by late Sunday. While cold temps will persist, models don't show any precipitiation events remaining with this first system through the weekend. However, we don't get much of a break, as a second upper trough follows right on its heels. This second trough may bring us another one or two minor snowfall events next week.
And with that, I'm wrapping up coverage of this week's snowy pattern.
* * *
Update 1:47AM Friday: The Lake Michigan moisture plume is creating a potent upslope snow shield over eastern Kentucky, but has largely missed all but the most extreme southern areas of West Virginia. Snow has completely stopped here in Charleston. A few snow showers are heading toward Charleston from Ohio, a sign of possible lake moisture headed our way.
* * *
Update 9:35PM Thursday: Round 1 of storm #3 has finished pushing through town, dropping about a third of an inch of new accumulation (as you can see re-covering my back porch on the live cam above). More is moving in from Ohio, and the upslope machine should be ramping up snowfall rates as the night goes on.
The bursts of snow dropped us below 32°F briefly tonight, but no bridge problems yet to speak of around town. Still a long night to go, but thankfully I'm getting a short hour or two break before the next round arrives.
* * *
Update 5:29PM Thursday: Our two days of quiet are coming to an end, as snowstorm #3 of this week is about to start. The GFS was correct about some weak upslope flurries developing during the day today, which have increased in coverage with time. Somewhat interesting is a mass of light snow out in southern Indiana and Illinois dropping southeast, a feature not forecast be either the GFS or WRF/NAM. Radar shows the Lake Michigan lake effect machine is cranking, with the plume pointing straight toward the Kentucky-Ohio-West Virginia tri-state area. Snow has already started falling, though temps still have a ways to go before anything will stick. WRF/NAM estimated totals tonight are close to 2 inches.
I saw crews applying brine solution to bridges on the interstates this afternoon, the first time I've seen a pre-emptive anti-icing tactic used here. It will be interesting to see if it makes a difference later tonight.
* * *
Update 11:54PM Wednesday: Just a quick update on the forecast for Storm #3 of this week's winter system. It looks like we'll have another upslope band setting up somewhere in the state late Thursday night into Friday morning. The location remains yet to be determined. The GFS and WRF/NAM, the two main models that I use for winter weather forecasting, are not in great agreement on this storm yet. The WRF/NAM shows the band setting up where Storm #2's did, right over or near Charleston - while the GFS wants to put it north over Morgantown and Clarksburg.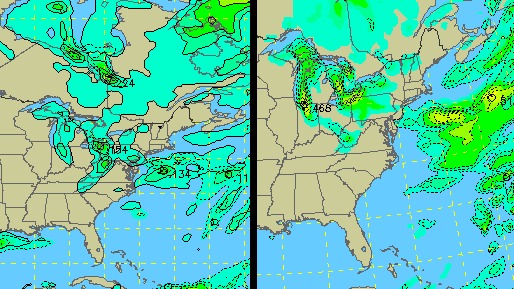 GFS (left) and WRF/NAM (right) precip forecast for Friday morning
While this setup is similar to Storm #2, it doesn't look nearly as strong, particularly for the lower elevations. The mountains, however, may pick up another good round of accumulations to add to Tuesday's totals. Another 4 to 6 inches for some mountain areas looks probable. The lower elevations may pick up an inch at the most, with a few higher amounts in stronger localized bands. As far as icy road problems, all it takes is a dusting - so this is looking like another all-nighter for me Thursday night. It's also worth noting that the GFS wants to start the snow showers by Thursday afternoon, though as with Monday's situation, we'll start out above freezing - so snow won't start sticking until later in the evening. With the cold conditions for the past 2 days, it might not take as long for icy roads to develop once temps drop as they did on Monday night.
Looking ahead to the weekend and beyond - I think it's now safe to say that Storm #4 is no more, at least not the one that was showing up on the early-week GFS for this weekend. What is showing up on the horizon is another upslope snow event for next Tuesday - but this will be associated with a new upper-level system, separate from the current big trough responsible for storms 1 through 3. So, next Tuesday's storm doesn't get the distinction of being the fourth snow event, but rather the first one of the next upper trough.
* * *
Update 9:26PM Tuesday: (With this week-long series of snow events, the previous running-updates post was getting a little too long - so I split it off into this separate 'part 2' section.) I'm waiting on the 00z runs of the GFS and WRF/NAM to finish up here shortly to update my forecast for Storm #3, which at this point is still looking like a Friday event. That will give us a couple of days off from icy road issues here and give me a chance to try and get a normal sleep pattern in for a day or two.
It looks and feels like January in Charleston right now, with temps in the 20s and a nice snowpack on the ground. Already long icicles have formed on the back porch, and I can look out and see how many cats have been walking through my yard by the footprints in the snow. Quite a sudden shock of rapid season change, as we were cruising along with mild fall temps for weeks prior to this. No gradual transition into winter for us this year.
I have wanted to do a winter cityscape photography session here in Charleston, but after no sleep for 24 hours, doing it today was out of the question. By late afternoon, the sun had come out and melted enough snow to take away the initial 'right after the storm' look of things, so I didn't bother going out for photos at all. Even though a 2 inch snowfall provides a nice 'wintery' look, I think I'd rather wait for a good 5-inch plus event to get things really white. We get 2 or 3 every season, so I'm content to just wait to start that project. I'm still planning on a morning trip to the Gorge to grab a few shots, as they've got 4+ inches up there now. We may even have some blue skies in the morning, which would be perfect for the scenes I'm looking for.
All content © Dan Robinson. All usage requires a paid license - please contact Dan for inquiries.

Web Site Design and Internet Marketing by CIS Internet