Home | Blog Index | Blog Archives | Christianity & Faith Essays
Thursday, November 26, 2009 - 12:43PM
November 26-28 (Thanksgiving) snow event updates
Update 12:47PM Friday, (Posted via BlackBerry from Charleston, WV):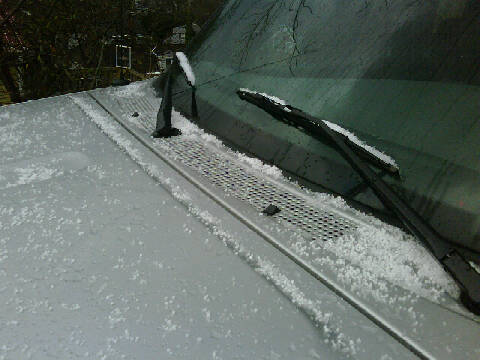 Coating of snow pellets
First burst of snow here in Charleston, in pellet form.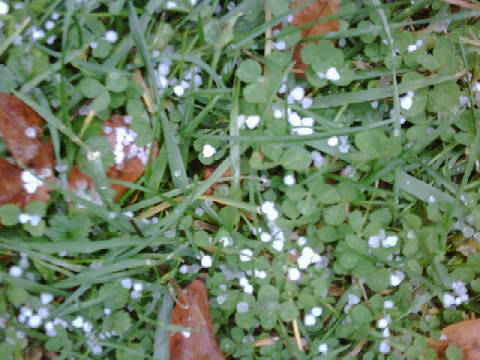 Snow pellets on grass
* * *
Update 2:50AM Friday, (Posted via BlackBerry from Charleston, WV):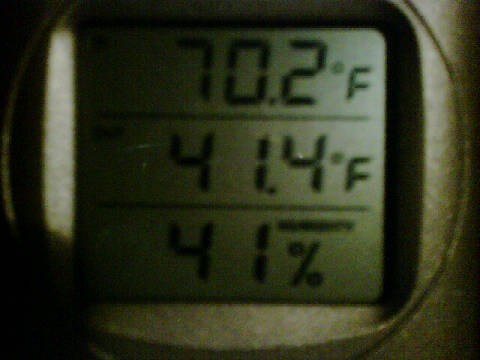 Temp (middle number) in Charleston at 2:30AM
Just completed a short drive around town for a temperature profile. The valley is at what I consider to be a safe temp for the night, above 40F. 38F was the lowest reading I could find, only in the areas well out of the valley. Furthermore, I could not see any ice crystals in the raindrops that would indicate that a changeover was imminent. With us closing in on the 3AM mark, there is not enough time for realistic further cooling before sunrise - and with no appreciably colder observations upstream (none below freezing to our immediate west), I am calling it a night for icy road coverage here in Charleston. A changeover is an eventual certainty later this morning, but it should be a non-event. Tomorrow night may hold another threat that needs monitoring, but I will hold off on beginning that assessment until midday.
* * *
Update 12:27AM Friday, (Posted via Office from Charleston, WV):
Rising dewpoints may be sealing the deal for accumulating snow in the West Virginia lowlands. Charleston's dewpoint has shot up to near freezing in the past few hours in response to light precip moistening the surface layer. Temperatures can't fall below the dewpoint, so as long as our DPs stay above freezing, the area is fairly safe from icy roads. Temps and dewpoints can sometimes slowly fall together overnight, so we are not totally out of the woods - but I'm 90% certain of the southern lowlands not having road ice problems tonight.
Above 2,000 feet, it's another story. Beckley is already at 33 with a DP of 27, so there's still plenty of room for cooling up there. I am not planning to go up there at this point, since the sparse artificial lighting in the higher-risk areas makes documentation difficult.
I may consider a trip up there at dawn, only if Charleston can stay in the clear and allow me to get some sleep tonight.
* * *
Update 10:26PM Thursday, (Posted via Office from Charleston, WV):
Switching back to the snow event updates again (the fire photos are below or here if you're interested).
Upslope effects seem to be trying to get started across the region, with the precip bands showing some of the characteristic backbuilding. Jackson, Kentucky is reporting snow at 35°F, although in the middle of a pretty potent area of radar echoes that may be producing a temporary spike of temp falls (as is common in a band of heavy snow).
While our warm surface temps are still a formidable obstacle for snowflakes to overcome, the atmosphere has a good arsenal of cold air just above us. It will be a battle between the cold air aloft and the warmer surface layer to determine where snow will reach the ground and accumulate. If upslope precip can go all night, it just might get things down to 32 degrees statewide. The key factor to watch right now is whether the upslope effect is successful in maintaining constant precip across the area after the initial bands move out.
* * *
Update 4:18PM Thursday, (Posted via BlackBerry from Charleston, WV):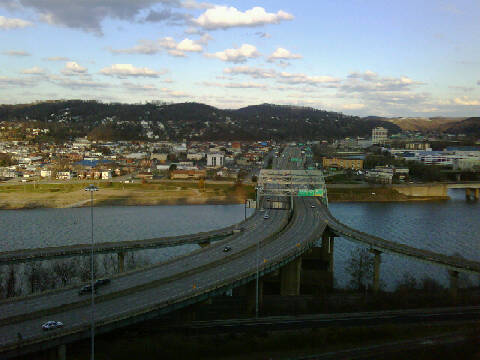 Fort Hill view now
No sign of a snow event here yet, not in Charleston at least. The frontal band of precipitation in Ohio seems to be ramping up a little, and one ob south of Dayton is reporting snow at 37 degrees. However, this main band is looking like the only notable precipitation we will be seeing in the short term, and I still am skeptical of temps ever getting cold enough here for any snow to stick at all. We'll just have to watch and see what happens when the upslope effects begin later.
On an unrelated note, I'm using this post as the first test of a new script I developed today that allows adding photos to the blog from my cell phone. The script isn't too complex, just with the option of adding a photo at the top, bottom or both ends of an update.
There is some sort of big fire burning there just beyond the Capitol - don't know what's going on there.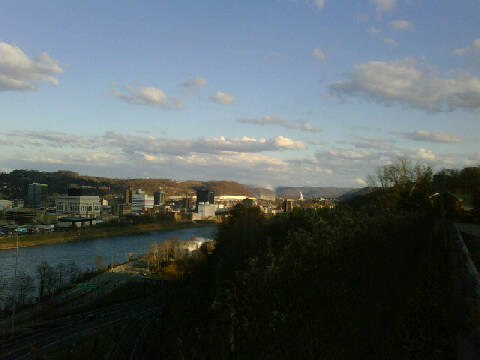 Downtown view with smoke from fire somewhere east of town
* * *
Update 12:46PM Thursday, (Posted via Office from Charleston, WV):
Looking at the data right now, I don't see this event being much to speak of at all - except in the highest elevations of the mountains. 850mb temperatures have long since dropped below freezing areawide, as evidenced by the 12z soundings at Wilmington (Ohio) and Pittsburgh. However, surface temps are still very warm across the entire region. Behind the cold front to the west, I'm not seeing any below-freezing obs until northern Iowa and Minnesota, well behind the precip. That air is at least 24 hours away from us. Where the snow is falling, precip amounts have been light - and surface temps have been too warm to support accumulations of any degree. Much of the precip is still rain, except in the far northern and western portions of the system.
When upslope starts kicking in more later tonight as winds turn northwesterly, our temps will fall some and precip rates will pick up. However, models are not as aggressive with precip rates now as they were (no surprise). I still think there will be some snow flying all around the state in the morning, but it may be of litte consequence, except in any heavier bands that set up. Temps will be too warm (even Beckley may never hit freezing overnight) and precip too light. At this point, I have no intention to choose a target area, or even go outside at all unless I see trends suggesting otherwise. In a nutshell, I see a huge 'bust' written on the wall for this event.
* * *
With this event on our doorstep, it's time to go ahead and start monitoring conditions and prepare for on-location coverage. This is a dynamically-updating post that allows updates via cell phone from the field. Newer posts are shown at the top.
All content © Dan Robinson. All usage requires a paid license - please contact Dan for inquiries.

Web Site Design and Internet Marketing by CIS Internet