Home | Blog Index | Blog Archives | Christianity & Faith Essays
Sunday, April 10, 2011 - 8:11AM CDT
Midwest storm photography days: April 8-10, 2011 (Update IV)
Update posted 8:11AM CDT Sunday: Models have been very consistent with timing and placement of convection for this evening. It looks like storms will initiate at or just before sunset in southwest Missouri and Oklahoma, and strengthen as they move toward St. Louis during the night. The line as a whole will move east rather modestly, while individual cells in the line will rocket northeastward. St. Louis can probably expect the storms sometime after midnight. Instability is shown as rather weak south of I-70, but the extreme upper-level flow (80 to 100 knots) will make these storms potent nonetheless. I am planning on positioning along I-70 west of St. Louis tonight and moving east with the storms, watching for a tornado or two to cross the interstate. With the low instability values, I don't expect a lot of photogenic lightning over downtown, but there is a signal for a nice electrified stratiform precip area for upward lightning in the metro - in which case the Prairie State smokestack will be the subject of the night.
* * * *
Update posted 5:16PM CDT Saturday: 0 for 2 so far with this current wave of activity. We managed to get our storms early this morning at dawn, but with lightning all embedded in heavy rain, photo opportunities were nil. Below, I posted the lone lightning shot I caught over New Baden this morning after sunrise. Today's 'sleeper' possibility in central Illinois appears to be a bust as well, with nothing to initiate storms present in the otherwise nice supercell environment.
So, attention then turns to tomorrow's event. Again, gas prices are going to rule out a trip to the best tornado potential zone up in northern Illinois, Iowa and Wisconsin. However, all models break out strong storms Sunday evening in Missouri, moving through St. Louis overnight. These could at the very least be photogenic cells to have some fun with in terms of shelf clouds and lightning, and if a storm can stay isolated and intense enough, a tornado or two would not be out of the question. Tornado potential south of an Iowa border-Galesburg-Joliet line looks very low at this point, so I don't expect a big event in the St. Louis area. Wind damage appears to be our greatest threat, with storms tapping the powerful jet streak overhead and bringing those winds to the surface.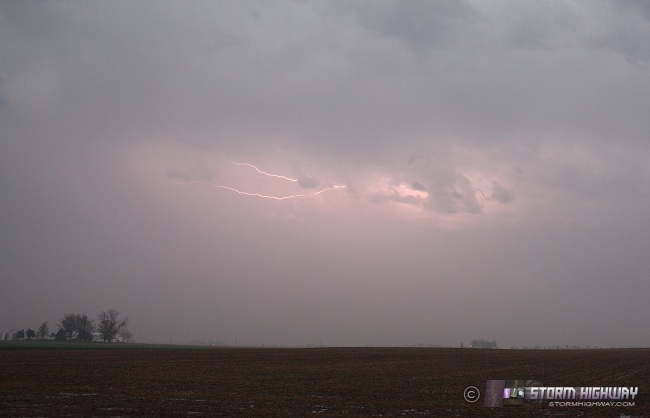 Lightning over New Baden, IL prairies on Saturday morning
* * * *
Update posted 9:51PM CDT Friday: Short-term models have not done well with today's convective evolution. It now appears the entire region will be storm-free through the night, unless the complex now in Kansas can build southward and eastward in the near term. The new 00z NAM/WRF model run still indicates warm frontal storms firing tomorrow afternoon and evening just to the north and east of STL. Not much has changed for Sunday, aside from the NAM/WRF showing the squall line much farther east on Sunday evening, practically overtop of STL. Tornado potential remains low as shown south of the Iowa border.
* * * *
Original post, 11:15AM CDT Friday: A series of severe weather setups will present themselves across the Plains and Midwest over the next three days. The Plains setups are well-covered by others, so I'll just focus on talking about the Midwestern aspect of these systems, which are the only ones I'm considering for chase potential.
Friday, April 8:
An outflow boundary from overnight storms and showers was located south of the STL metro, south of a warm front that generated the initial convection. This outflow boundary should become the focus for convection later this evening and tonight. Models indicate strong instability by evening in southern MO, with CAPEs of between 3,000 and 4,000 j/kg developing in a wind environment of 40 knot westerly 500s, southerly/southwesterly 850s and southeasterly at the surface. Short-term models fire storms in this environment, which would support a marginal supercell storm mode. Interaction with the outflow boundary may support a brief tornado threat, though surface flow is somewhat weak. Upper level support exits the region after dark, so storms in this area may be short-lived.

I will be on standby for a potential expedition in the Poplar Bluff/Cape Girardeau area later today if storms fire earlier and farther east than expected. However, it looks like this event - if it occurs - will be short-lived, too far west into the hills of southern MO, and too close to sunset for a good chase prospect. Models hint at elevated warm frontal storms developing later during the overnight hours, which would provide lightning opportunities in the St. Louis area.
Saturday, April 9:
While better tornado prospects exist farther north and west into Iowa and Kansas on Saturday, an interesting setup may take shape in southern Illinois and Missouri. Ongoing warm frontal convection from the early morning hours should still be in progress across the region. To the south and west of this activity, a warm, moist and very unstable environment should exist in a good deep-layer wind field characterized by 40 to 50 knot westerly midlevel flow, southwesterly 850s and southerly-southeasterly surface winds. Any outflow boundaries from earlier convection that can extend west into the instability axis will be areas to watch for potential supercells. I will also be watching the warm frontal convection for any westward backbuilding that can occur.
Sunday, April 10:
Sunday is a potential widespread severe storm outbreak day from Oklahoma to Minnesota, with an 80 to 100 knot southwesterly 500mb jet streak from the upper trough plowing into the Midwest overtop of a warm, moist surface. Tornado potential with this day is questionable due to unidirectional southwesterly flow at all levels. The best tornado potential will exist toward the northern parts of the setup in Iowa and Minnesota, closer to the surface low where low-level winds have a better shot of backing. Farther south, a squall line should develop in eastern Kansas/western Missouri and move east through the night. Models show the instability axis on the southern end of the setup being quite narrow, that along with the storms' arrival in STL on Monday morning gives me doubts about this event being anything of note for southern IL/eastern MO, or even an expedition prospect into central MO.
This web site is made possible by support from CIS Internet.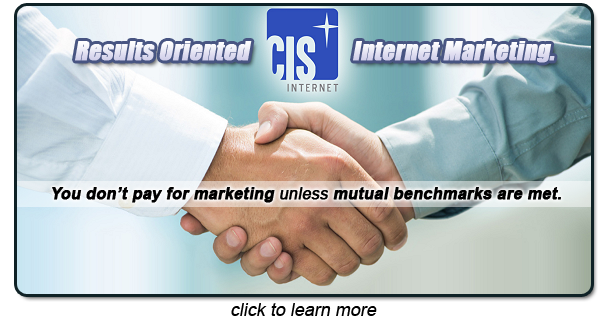 GO: Home | Storm Expeditions | Photography | Extreme Weather Library | Stock Footage | Blog
Featured Weather Library Article:
All content © Dan Robinson. All usage requires a paid license - please contact Dan for inquiries.

Web Site Design and Internet Marketing by CIS Internet