Home | Blog Index | Blog Archives | Christianity & Faith Essays
Sunday, June 19, 2011 - 6:27AM CDT
South County St. Louis tower lightning show
VIDEO: Tower lightning show in South County
An amazing night of lightning photography in St. Louis! Tonight the focus was upward tower lightning as a 200-mile long electrified stratiform precip shield was headed for St. Louis during the overnight hours. I chose the KMOV TV tower off of Reavis Barracks Road in the South County area of the metro. The show began while inside the primary cores of the leading thunderstorms. I pulled up close to the tower and shot nearly straight upward through my windshield, the only option due to the heavy rain. During the second frame, this cloud-to-ground strike hit the tower with return strokes connecting in three places, some at the top of the tower and two channels connecting to the guy wires partway down!
click to enlarge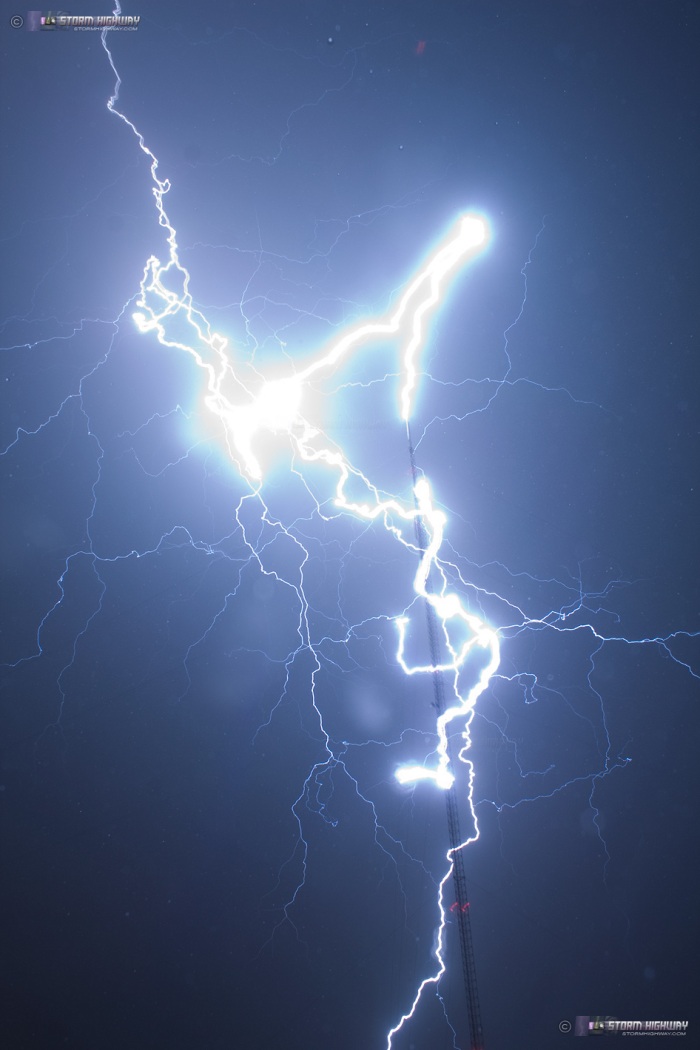 The remarkable thing about the lower portions of these channels is that they bypassed the higher-up guy wires and tower to hit points below and in between the higher guy wires - in essence managing to sneak in through a garrison of metal conductors! This just confirms how capricious, unpredictable and prone-to-breaking-the-rules lightning can be.
As the CG-heavy cores moved off, it was time to set up farther from the tower along I-55 for the upward discharges that would begin soon as the stratiform shield moved over. Within a 90 minute timespan, there were eight upward strokes to the tower, one downward positive CG that connected to the tower, and one upward leader initiated from the tower during a positive CG strike that hit very close to the tower. Counting the first CG in the core, that's 11 hits to the tower in 2 hours.
Here are the 8 upward discharges: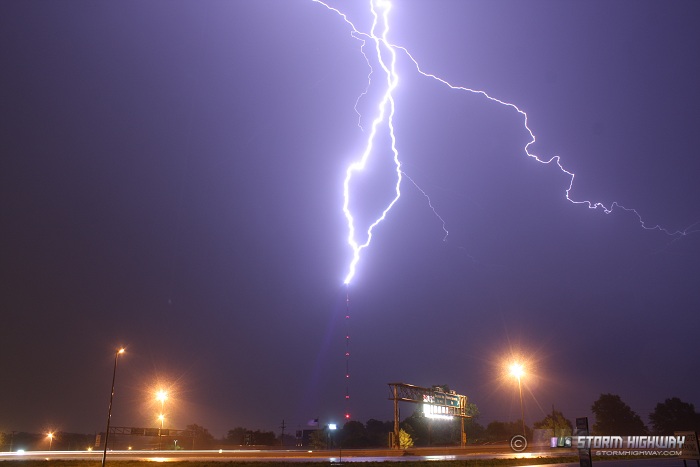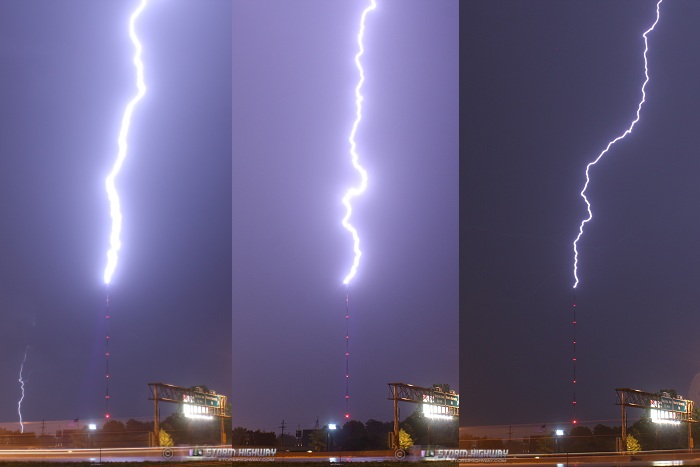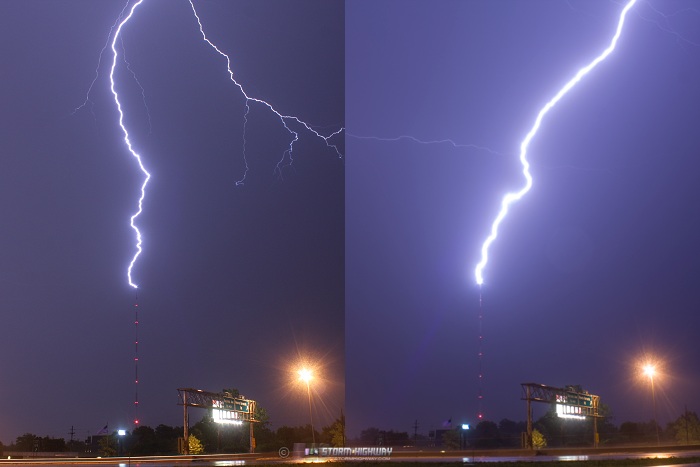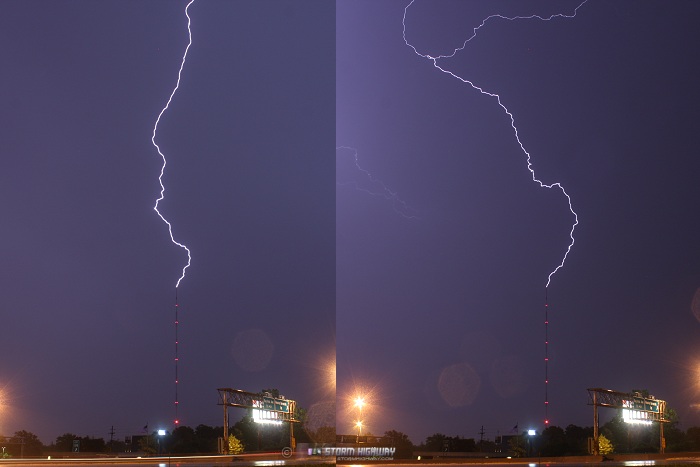 This is the downward positive CG that hit the tower, identified by the loud sonic-booming thunder (watch video), lack of branching and unusually bright channel (overexposing the frame):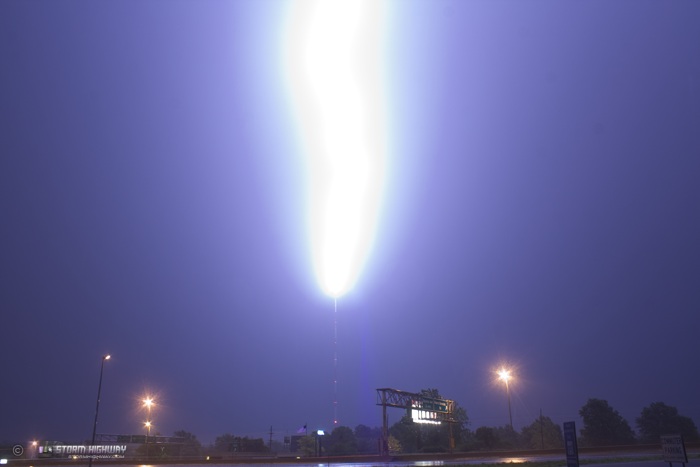 And finally, the nearby intense positive CG that drew an upward leader off of the tower. The downward positive CG, again, is identified by its intensity in both brightness and thunder volume (watch video) in addition to the distinct lack of branching. Note that the lightning channel was not actually as wide as it appears here, it is simply overexposing as is common with positive CGs when shooting with camera settings for normal-intensity lightning.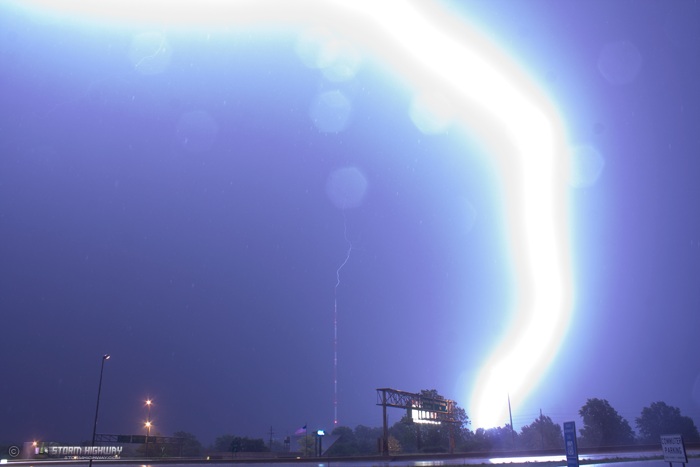 Visible lightning, other than the ones that hit the tower, was generally meager aside from this CG/anvil crawler combo a few miles away: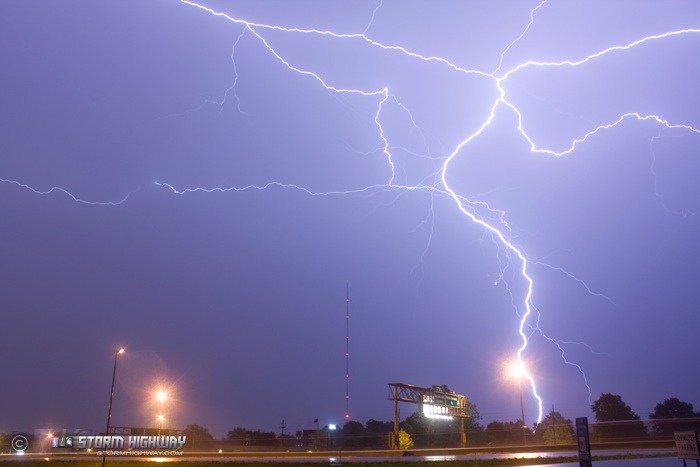 Nice work Dan! I need a good camera and to learn how to shoot lightning!
- Posted by Matt Hunt from Indy
thats amazing
- Posted by ashley
Wow. Just amazing what nature can do. Epic pics.
- Posted by Bree from St., Louis
Thanks for the comments! Definitely a fun night to be out.
- Posted by Dan R. from New Baden, IL
All content © Dan Robinson. All usage requires a paid license - please contact Dan for inquiries.

Web Site Design and Internet Marketing by CIS Internet