Home | Blog Index | Blog Archives | Christianity & Faith Essays
Sunday, June 26, 2011 - 4:11AM CDT
St. Louis and eastern Missouri storms - June 26
NEW CATALOG PHOTO: Lightning bolt behind the Gateway Arch in St. Louis
VIDEO CLIP: Lightning in St. Louis on Saturday night/Sunday morning
A 17-hour expedition today from New Baden to Perryville, MO, then over to Sullivan, MO and back to St. Louis - for nearly 5 straight hours of lightning and heavy rain over the city.
I left New Baden at noon and headed south to the warm front in southern Illinois/SE MO for storms that were expected to fire and interact with the boundary there. Storms did fire, but dissipated quickly after reaching the front. Here is the remnant of the Perryville storm updraft. Despite the updraft shriveling, the storm was still producing powerful CG lightning strikes all around.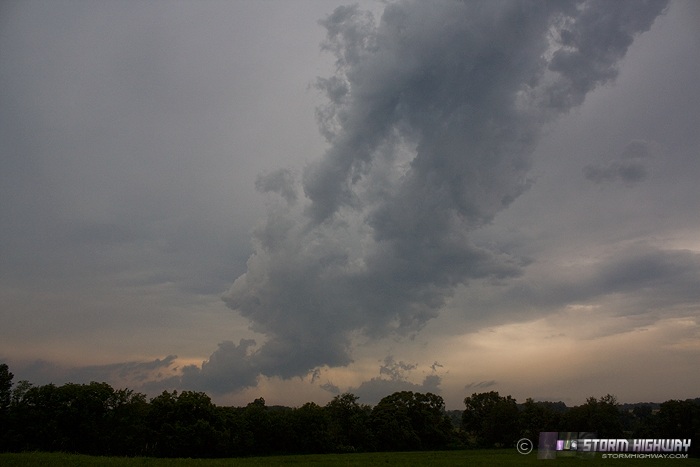 At this point, it was 3PM, and nothing looked ready to fire for several hours. A weak cumulus field was trying to get established to the west, around Rolla to Cuba, MO along I-44 and southward. This appeared to be the next play of the day, but it appeared I had lots of time before the next round of convection started. So, I decided to take a 'country road drive' on back roads from Perryville west to Sullivan instead of going back to St. Louis on I-55 then down I-44. I have been wanting to take a day and explore this area anyway, so it was nice to be able to work that into this storm photography day. I passed through Farmington and Potosi before reaching I-44, about a 2 hour and 15 minute drive. Chaseability of this area is not ideal, with lots of trees and hills - but there were more open viewing areas than I'd expected to find. There were lots of old railroad lines and mining towns that would make for a nice day of exploration and photography in the future sometime. This is the Missouri Mines state historic site in Leadington: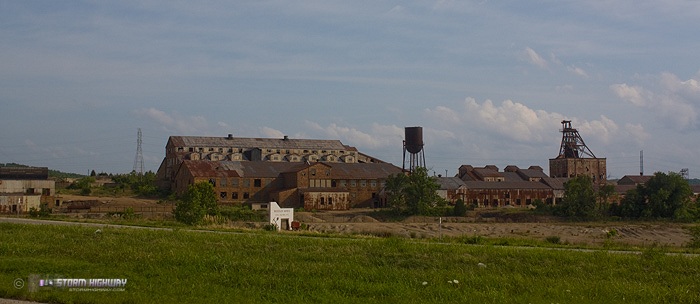 Finally, shortly after I arrived in Sullivan, updrafts started breaking through the capping inverson to the west. I followed this activity eastward on I-44, finally having to drop south from Pacific when the storms began turning right and going supercellular. Unfortunately, visibility and chaseability of the roads here are difficult, and I did not get a good view of storm structure until arriving at De Soto at dusk. This bell-shaped updraft south of De Soto was the best feature I saw all day: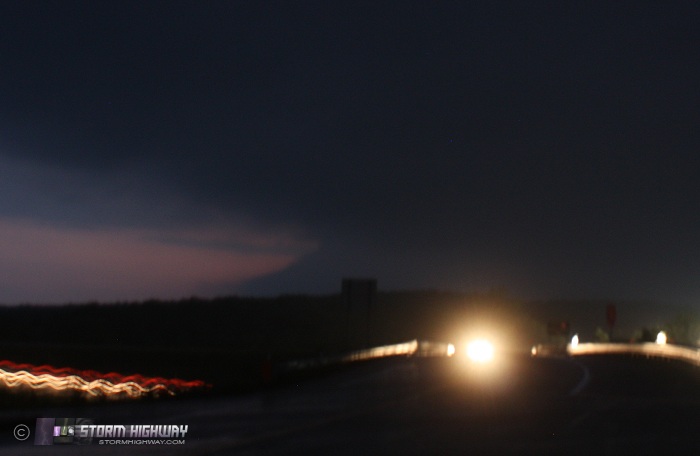 On the way, convection in the golden glow of sunset was dramatic: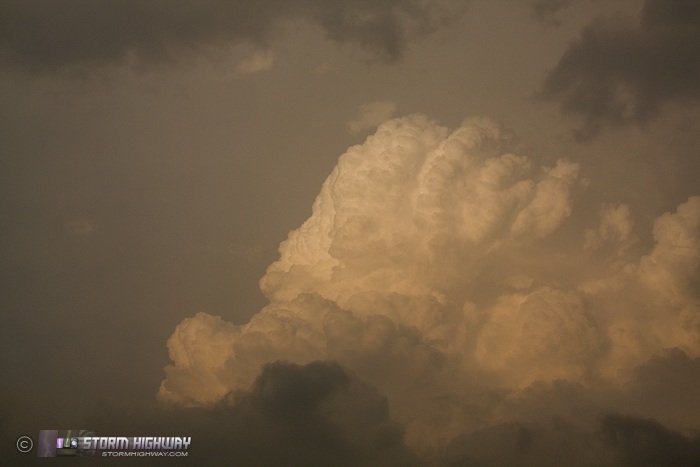 With no river crossings nearby to keep up with this storm, I shifted attention to a second supercell tracking just south of the first one, going as far south as Bloomsdale along I-55 to get ahead of it. It was well after dark now. However, about this time, I realized after watching the radar loop that the line of storms north of St. Louis was beginning to develop a cold pool, and beginning a surge southward toward the city. Storms over the city interest me more than a nighttime supercell in trees and hills (even though this second storm had a tornado reported near Leadington). So, I turned north on I-55 to get back into downtown just in time to begin a 4.5-hour+ photo session as continuous thunderstorms trained over the city. Radar estimates indicated 5 to 7 inches of rain across the metro by the time all was said and done.
My focus for the night, as always, was lightning, with the cameras on the Arch. The heavy rain made photography nearly impossible due to wind-blown drops and ground spray, but I managed a few shots.
Click to enlarge/purchase prints: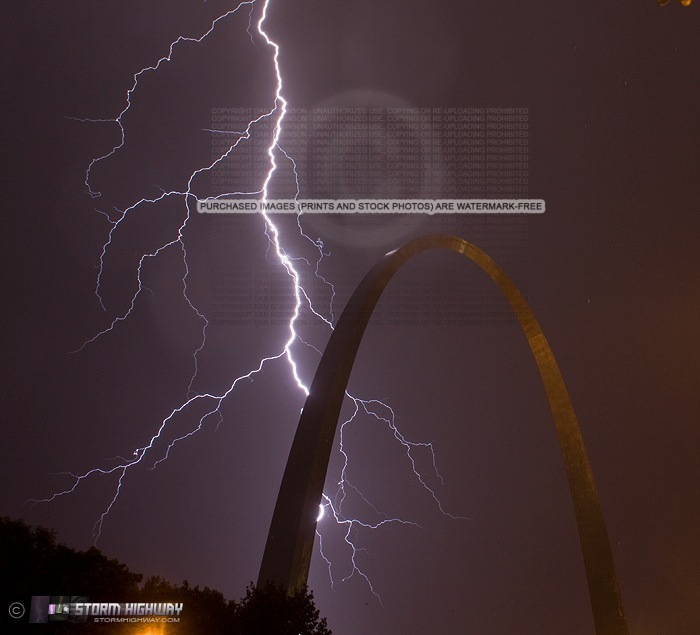 HD video grabs: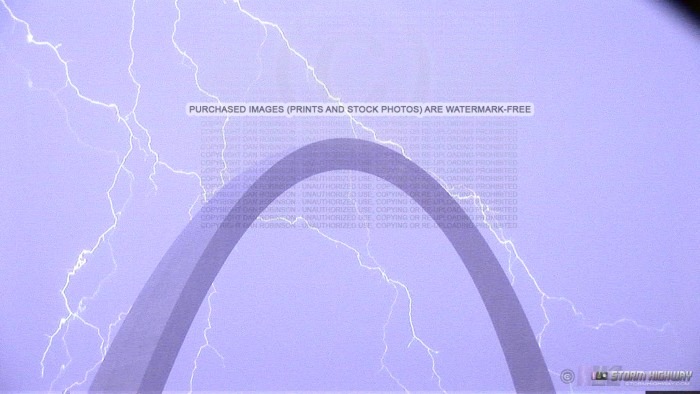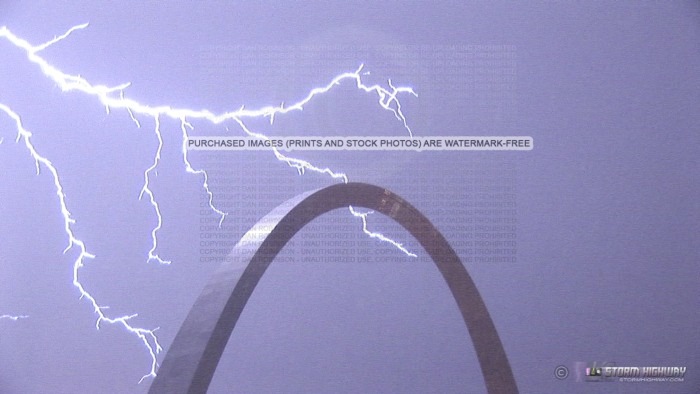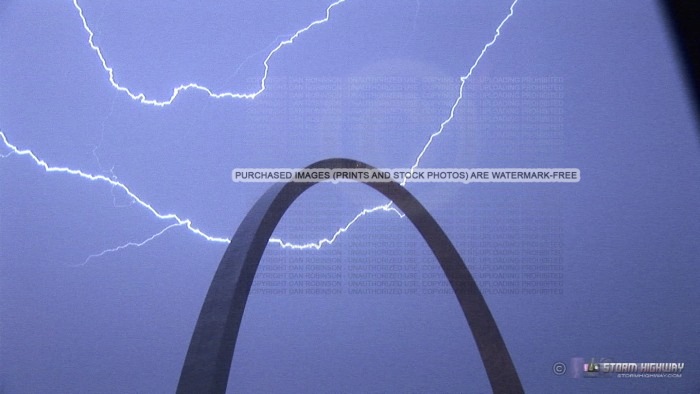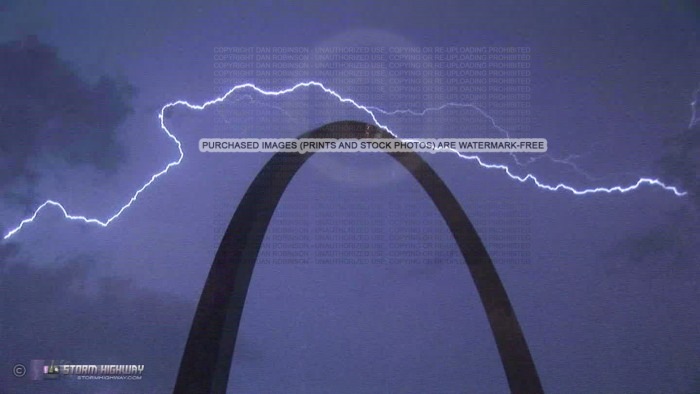 I made it back home at 5AM, completing one of my longest 'local' expeditions (start and finish at home) after 17 hours.
Other nearby chaser reports from this day:
I really love the arch shots! Great photos!
- Posted by Shawn Gossman from Southern Illinois
Thanks Shawn!
- Posted by Dan R. from New Baden, IL
All content © Dan Robinson. All usage requires a paid license - please contact Dan for inquiries.

Web Site Design and Internet Marketing by CIS Internet