Home | Blog Index | Blog Archives | Christianity & Faith Essays
Friday, May 20, 2011 - 10:50PM CDT
Old photos, 5/2011 edition
Here are two scans of old 35mm photos from the early 1990s, taken with my then-new Pentax K-1000 SLR (the camera - a graduation gift from my Grandfather - that started my storm photography career).
I-70/I-79 interchange, Washington, PA - June 1993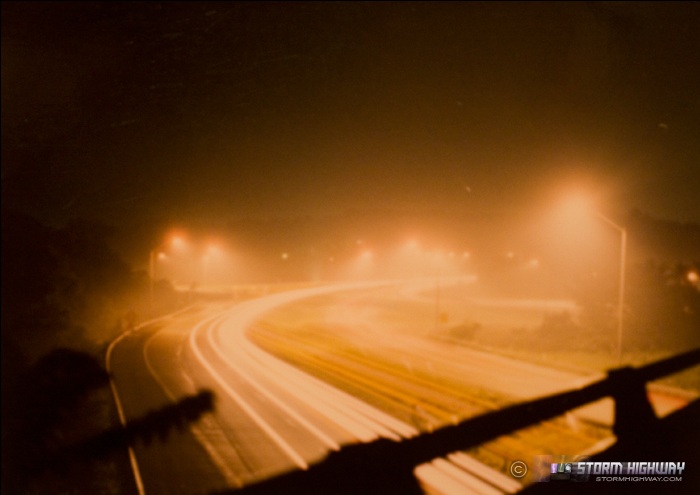 This photo is one of the very first I took with my new Pentax in the summer of 1993. This is a time exposure of the I-70/I-79 interchange east of Washington, Pennsylvania, looking west over I-70 from the Lakeview Drive bridge. The notorious sharp curve from northbound I-79 to westbound I-70 is visible on the right center part of the photo. The guardrail of the Lakeview Drive bridge is in the lower right. In December 2005, a section of this bridge (very close to, if not right under, where I was standing for this photo) suddenly collapsed onto the highway below. My brother and I happened to be home at my parents' for Christmas only a few miles away, and made it to the site to gather photos and video that aired on national TV the next day.
Amtrak in Montgomery, WV from WVIT dorm - winter 1994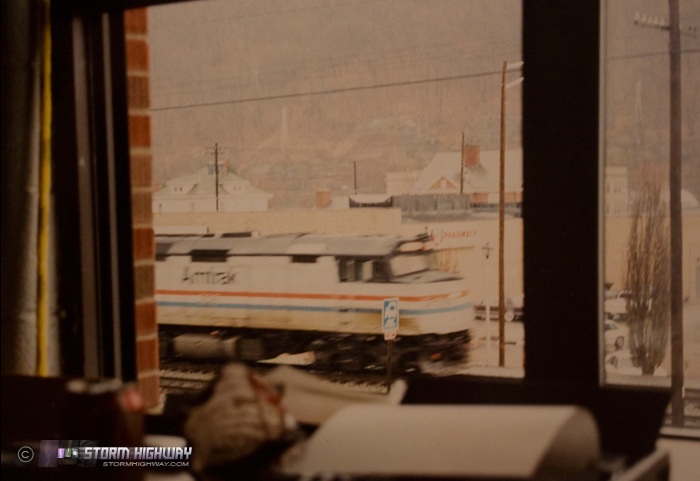 If I've accomplished anything in life, I've been able to secure bragging rights as having lived closer to railroad tracks than most people I know. During three semesters of my years at WV Tech in Montgomery, I lived in a second-floor dorm in Maclin Hall that faced toward the street and CSX (ex-C&O) railroad tracks just 100 feet outside. Here, Amtrak's eastbound Cardinal led by a classic F40PH (long out of service now) passes by outside my window sometime in early 1994. Typical early 1990s student artifacts are on the desk - a Coke, a bag of chips and a Brother typewriter (it would be 3 more years before I owned a computer). Maclin Hall is an office building now, being decommissioned as a residence hall after I graduated in 1998. You can appreciate why I love flat prairie landscapes by seeing how the background of this view (like many in this area) is the side of a mountain. I had to get close to the window and look up to see the sky - not good for a storm photographer. Needless to say, I captured very few storm photos when I lived here.
1993, 1994, couple of the best years of my life, lived in PA then and know exactly where your first shot was taken. Train looks familiar too as I've rode a few to depart from Harrisburg. Such simpler times though it wasn't all that long ago, bittersweet memories come to mind just from looking at your pictures.
- Posted by Paul from Decatur, IL
Thanks - hard to believe it's been nearly 20 years. Definitely a different time back then.
- Posted by Dan R. from New Baden, IL
All content © Dan Robinson. All usage requires a paid license - please contact Dan for inquiries.

Web Site Design and Internet Marketing by CIS Internet