Home | Blog Index | Blog Archives | Christianity & Faith Essays
Sunday, May 22, 2011 - 10:00PM CDT
May 22 chase - eastern Missouri
I went on a brief expedition into eastern Missouri on Sunday the 22nd. Aside from veered surface winds, overall conditions looked good for a tornado risk. I headed to Moscow Mills early in the afternoon, then opted to drop south on Highway 47 to intercept two supercells tracking along the Missouri River south of Warrenton. These three images are of the first storm near Treloar along the river: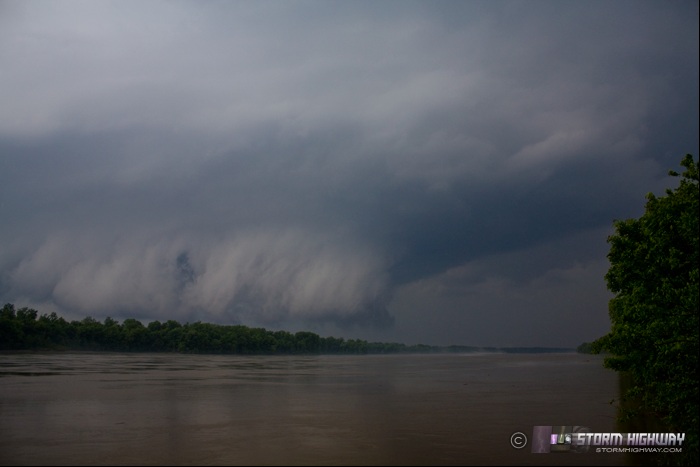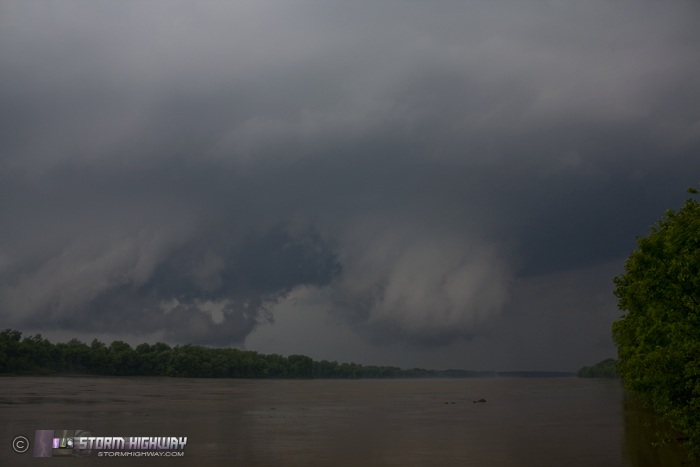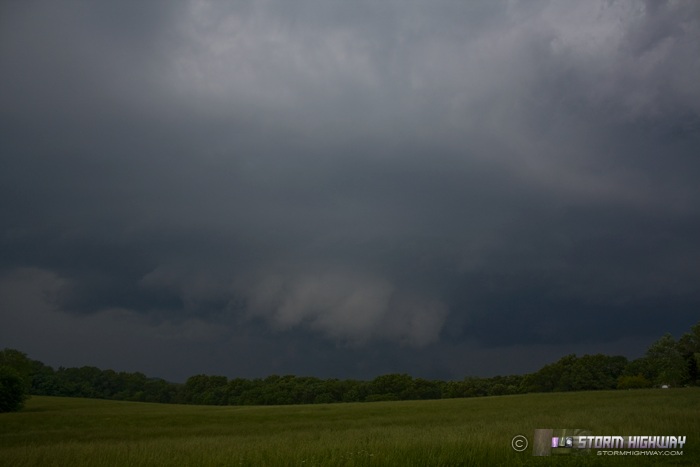 I followed the first storm to near Wright City, letting it go as it permanently lost orginization. The second storm, following right behind the first, rapidly developed a strong circulation north of Treloar, in nearly the same place as I'd observed the first storm. I dropped south on Schuetzen Ground Road out of Warrenton to intercept, since the storm would soon be crossing Highway 47 before I could make it there. This was a bad road choice, as the pavement ended about 10 miles south of I-70. I could not backtrack north due to indicated 3" hail about to cross the road, so I had to travel south on twisting dirt/gravel, along with about 8 creek fordings and low water crossings. Visibility was also nonexistent along this road, deep in a forested, hilly area.
The second supercell rapidly went outflow dominant after its brief wrap-up, and began a steady decline in intensity - so it was time to let it go. I then focused attention on storms moving toward the Troy, MO area. I stopped north of Troy to allow a storm to approach, with a few brief attempts at wall clouds but nothing more. A large complex of storms to the west spelled the end of the tornado risk. Aside from stopping to look at an area of brief radar-indicated circulation south of Foristell, the tornado aspect of the day was done. A dark shelf cloud followed me back home.
Other nearby chaser reports from this day:
Your first shot seems to illustrate Missouri's woes quite effectively and is that fog being drawn off the water and into the updraft?
- Posted by Paul from Decatur, IL
When I first got here, the fog was pretty thick on the river. Once the inflow picked up, the fog cleared. Aside from some nice flat spots along the river, this area is the worst I've ever covered in terrain wise in the Midwest. Mainly winding north-south roads with east-west options 20 miles apart. Will probably avoid this area in the future and just catch stuff up on I-70 and north.
- Posted by Dan R. from New Baden, IL
All content © Dan Robinson. All usage requires a paid license - please contact Dan for inquiries.

Web Site Design and Internet Marketing by CIS Internet