Home | Blog Index | Blog Archives | Christianity & Faith Essays
Sunday, August 5, 2012 - 4:02AM CDT
St. Louis Arch nighttime lightning show - August 4
HD EXPEDITION VIDEO: Lightning over the Gateway Arch on August 4
HD EXPEDITION VIDEO: Timelapse of 177 still photo frames
HIGH-RES PHOTOS: 'Like' the stormhighway.com Facebook page for high-res imagery and current updates.
My original plan for Saturday was to head to Chicago and spend the night, expecting a possible upward lightning event with a severe thunderstorm complex after dark. However, when I awoke, I checked radar to see that the models had been far too slow with the storms - a complex was already in full swing, about to cross into Illinois from Iowa and rapidly moving east. With the storms' arrival in Chicago estimated around 5PM, there would be no chance for after-dark lightning over the city. So, I elected to stay home, catch up on sleep, and hope for nighttime lightning over St. Louis, which all of the short-term models agreed was probably going to happen. Despite early morning storms, we cleared out nicely in eastern Missouri and southern Illinois ahead of the cold front, allowing for more than sufficient recovery of instability by late afternoon.
Storms fired west of St. Louis by sunset, and a complex was in full swing bearing down on the city by 10PM. These storms collapsed just west of downtown, sending strong outflow through the area and triggering a few severe wind reports. Though this ended chances for a good cloud-to-ground lightning show, the electrified stratiform precip area left behind put on a spectacular display of anvil crawlers for a good hour right over downtown. Better yet, the rain was light and off-and-on, with westerly winds making eastward-shooting photography (without lens raindrops) unusually easy.
Saturday morning, I had just picked up a used Canon 10-22mm wide angle lens to use in Chicago - but it was the perfect tool for our storms here in St. Louis. The following is a stack of 8 frames over a 20 minute period, shot along Memorial Drive looking east at the Gateway Arch at 10mm (full wide).
Click images for larger versions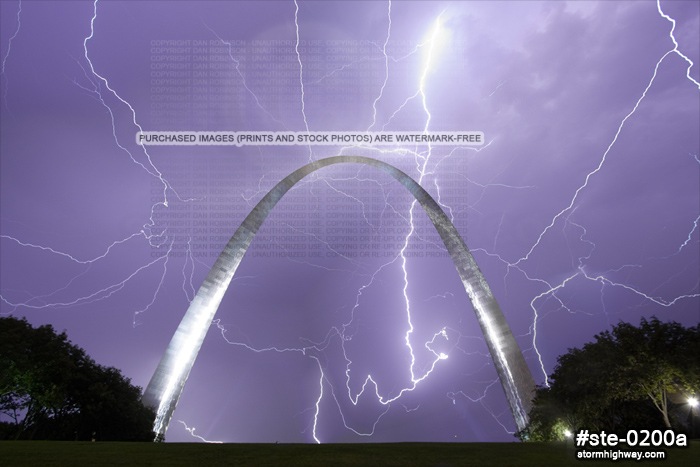 Here are two of the eight individual images used to make the stack: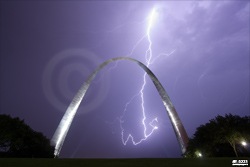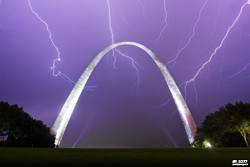 fantastic. Wish I could see such display again and have a foreground like that!
- Posted by Oscar van der Velde
Thanks Oscar! It's been a great subject for storms!
- Posted by Dan R. from New Baden, IL
All content © Dan Robinson. All usage requires a paid license - please contact Dan for inquiries.

Web Site Design and Internet Marketing by CIS Internet