Home | Blog Index | Blog Archives | Christianity & Faith Essays
Monday, December 24, 2012 - 2:13AM CST
High-resolution photo viewer; some extras from September 18, 2010
Just a quick update to post a few new items. The first and biggest is the upgrade to the St. Louis photo gallery to make all preview images high-res full-screenable! This update has taken me several full work days - not only did all of the preview images have to be re-exported at 2,000-pixel wide resolutions, but every photo preview page had to be completely re-coded. 98% of the St. Louis gallery is fully upgraded, with only a few images left to do. This system will be used for all new blog and storm photography photos as well. This brings in a feature to this web site that I liked about Facebook, that is, the ability to easily view a photo full-screen in high resolution. I also wanted to begin hosting all imagery here on my site rather than copying it to social media galleries, as this avoids the problems with future TOS copyright grabs. This upgrade does not apply to vertical (portrait-oriented) images, as full-screening those doesn't gain any resolution for the viewer. The rest of my gallery (non-STL photos) will eventually be converted over at some point, but it will be a while since the process is so labor intensive.
GALLERY: St. Louis photo gallery
Next is a couple of new items I created from the September 18, 2010 lightning bonanza in St. Louis. This timelapse animation shows 249 of the still frames shot during that storm. There were dozens of lightning bolts caught, but I only used the brightest 8 to create the final stack shown at the end:
HD VIDEO: Timelapse animation of September 18, 2010 lightning
After the rain became too heavy over downtown to continue shooting, I moved down to the Prairie State power plant in Marissa, IL to try to capture an upward lightning flash to the 700-foot tall smokestack. That didn't happen, but there were some good anvil crawlers. I've never got around to processing and posting these images until today, thanks to the St. Louis lightning shots 'stealing the show' of my attention at the time. This is a 5-frame stack of several nice discharges over the plant, unfortunately none of which produced any upward strokes.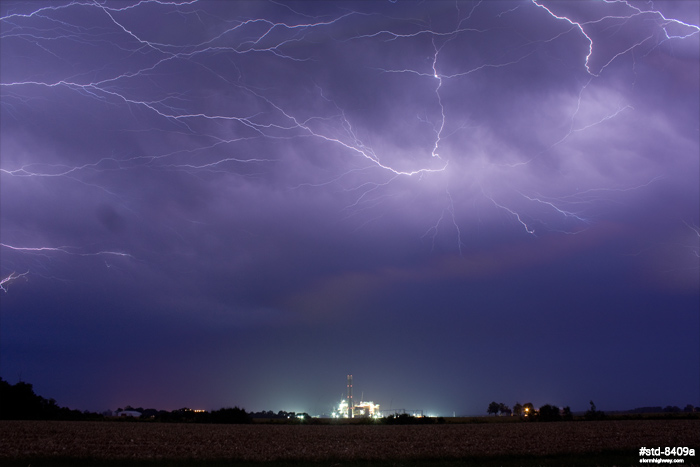 The next two weeks will be a whirlwind of storms, traveling and the transition back to my former job, so there will probably be a lot to post about in the near future!
All content © Dan Robinson. All usage requires a paid license - please contact Dan for inquiries.

Web Site Design and Internet Marketing by CIS Internet