Home | Blog Index | Blog Archives | Christianity & Faith Essays
Monday, February 27, 2012 - 4:15PM CDT
Forecasting warm-up for 2012: Tuesday's upcoming chase
Another wintertime severe weather event looks on tap for the St. Louis region (mainly to the south and southwest of the city) tomorrow night. Since the start of meteorological spring is just a few days away, it's a good time to start getting back into spring season forecasting with this warm-up exercise.
First, let's look at the NAM model. (I've been following this event now for the past 36 hours, and since the GFS is in remarkable agreement with the NAM, I'll forego other models in this post.) Next, here is the NAM forecast sounding for 1AM in St. Louis: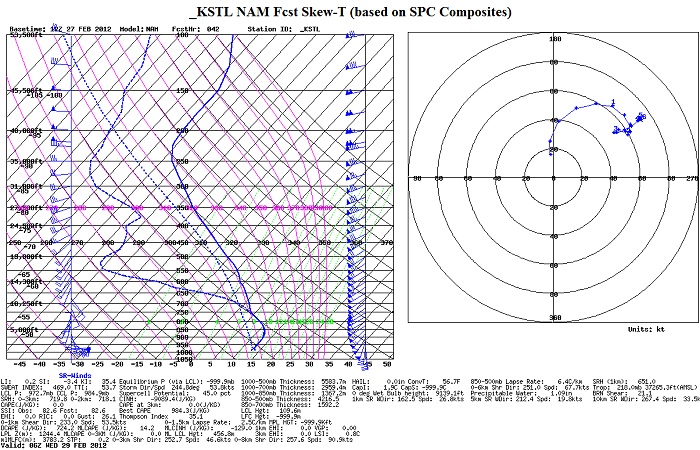 42-hour NAM sounding in KSTL for 1AM (06z) Wednesday
First of all, notice the wind profile from the surface upward - not terribly bad for a supercell and tornado risk, at least in the low levels. Surface winds are slightly backed (SE) with decent turning up through 850mb, with a widespread swath of 60 to 80 knot winds at 500mb. At the surface, 55°F dewpoints are shown nosing in along a warm front pushing into the area, with a broad swath of 500 to 1000 J/kg CAPE entrenched across the region. Precip and storms are shown being widespread across the St. Louis region by this time (1AM), likely as a large area of heavy rain/embedded storms.
My take on this event? It definitely looks like a nice night of lightning in store for the city. While the wind profiles and warm front nearby would indicate a tornado risk, the widespread precip and overpowering upper dynamics make this look like a messy MCS/squall line plowing into the region overnight. However, I would watch for any isolated cell that develops ahead of this activity, which could certainly have a brief tornado threat as it interacts with the warm frontal boundary. This threat should be limited by the angle that storms will approach the boundary, rapidly crossing it at near 90 degrees rather than at a shallower angle. Storm motions don't support much in the way of right-turning supercells thanks to the mid to upper level winds pushing so hard northeastward.
At this stage, my plans are to stay home until late evening. Storms should fire first well to the west into Oklahoma and Kansas in the afternoon, tracking northeastward through the night. I'd expect tornado chances to be the best during the afternoon and early evening along the warm front, shown now generally in a Tulsa-Bartlesville-Springfield triangle. At this time and place, convection is just getting organized and has a better chance of staying isolated. However, right now I don't see a big enough tornado potential with that to warrant the long drive down I-44. I will be watching for the renegade cell southwest of STL ahead of the main activity, but don't really expect it. Most likely, this will be a liesurely lightning/hail outing in and around St. Louis metro late into the night. Upward tower lightning might be the best play if a good stratiform area develops behind the squall line. In that case, I may head for the Prairie State power plant for another 'smokestack lightning' attempt.
All content © Dan Robinson. All usage requires a paid license - please contact Dan for inquiries.

Web Site Design and Internet Marketing by CIS Internet