Home | Blog Index | Blog Archives | Christianity & Faith Essays
Sunday, July 1, 2012 - 8:49PM CDT
July 1 southern Illinois severe storms; 6/29 derecho
HD EXPEDITION VIDEO: Hail and wind near Lively Grove, IL
Moving into my third Midwestern summer, it's been nearly a month since my last chase on June 4. Even though the severe weather season here never ends, our summers can be as slow as winters in terms of storms. There has been some activity here and there since June 4, but all several hours away and none worth spending expensive fuel on and/or vacation days to photograph storms.
As with most storms this time of year, when I saw a few cells on radar about 50 miles to my south on Sunday afternoon, I wasn't initially motivated to give them much thought. But when one started drifting into Washington County about 25 miles to the south, I decided that was close enough to spend a little bit of time to go check it out. VILs were decent, so I figured there might be some hail to see, but I wasn't optimistic. I was pleasantly surprised, then, to run into a core of quarter sized and slightly larger hail just south of Lively Grove along Highway 153, with the larger stones bouncing high off the ground. That and the racket produced by the impacts to my truck and a nearby metal building made for a refreshing audiovisual show that well exceeded my expectations for the day. Here is some video.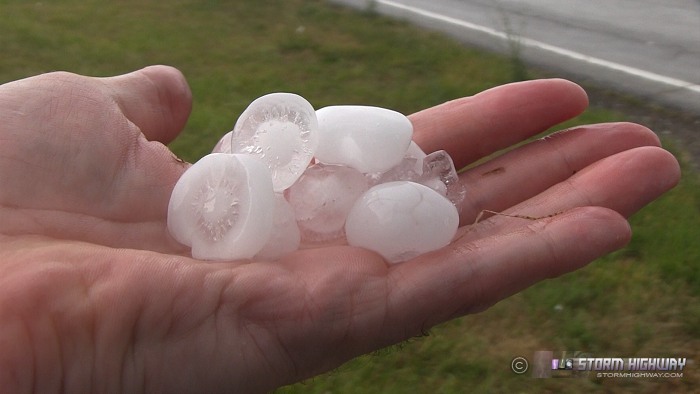 A robust outflow boundary from this complex of storms pushed northwest through St. Louis, firing a few transient updrafts here and there through the evening, but generally nothing worth venturing out of town for. I drove a half-mile north of home to get a couple of shots of the setting sun and a distant Cb and anvil: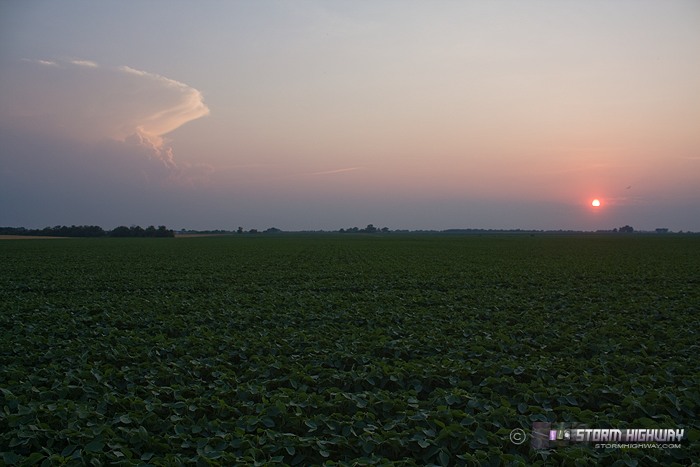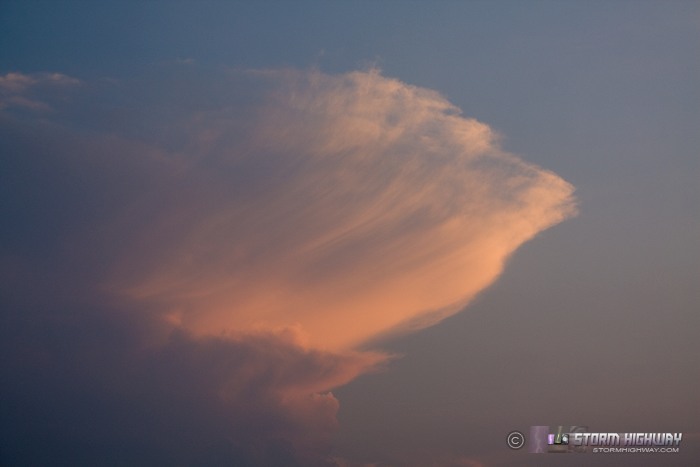 It was good to see the widespread coverage of slow-moving storms across the drought-stricken fields, but unfortunately this area will need a lot more than this to reverse the recent trends.
June 29, 2012 Midwest/Ohio Valley Derecho
On Friday the 29th, a major derecho event across Ohio and West Virginia occurred that was remarkable in many respects, and possibly historic in some. The setup consisted of extreme instability in regions that rarely see it (6000 MLCAPE across KY/OH with 4500s into WV) and the most total and widespread power outages due to convective severe storms I think I've ever heard of. The impacts of the event in West Virginia may be unprecedented in terms of percentages of people without power. There were several counties with nearly 100% of people without power, and most counties were in the 70% range, including in Charleston (Kanawha County). Nearly 70% of the grid statewide was out! That type of impact is something usually seen only with major landfalling hurricanes and the worst of ice storms.

What I've heard from friends is exactly what you'd see after a major hurricane landfall. Week-long estimates for power restoration, people sleeping in tents outside of their homes to avoid the heat, long lines at the few open gas pumps, eventual areawide gas shortages, few stores open. I lived in Charleston from 1997 to 2010, actively observing every event the region saw. This one by far is the worst in terms of impact on such a large scale than any I experienced there. There have been several smaller-scale wind events of similar intensity in that region, but none anywhere near this scale.

Here are a couple of interesting links:
SPC has some interesting radar composites on their Facebook page: SPC Facebook page
Here is a nighttime satellite image animation showing visible artificial light before and after: Satellite animation
All content © Dan Robinson. All usage requires a paid license - please contact Dan for inquiries.

Web Site Design and Internet Marketing by CIS Internet