Home | Blog Index | Blog Archives | Christianity & Faith Essays
Monday, March 19, 2012 - 9:25PM CDT
Midwest "sleeper" storm photography day in MO/IL - Hannibal/Quincy
Today was one of the types of situations I moved to the Midwest for: the 'sleeper' setup challenge. This is a day when many of the parameters needed for supercells and tornadoes are in place, yet the setup is slightly lacking in just one or two ingredients. These days have the potential to defy the official forecasts when one of those 'missing' ingredients happens to show up at just the right place and time. Many of the tornado events in this region are of this type, 'sleeper' days when no one expects anything remarkable, but one storm manages to pull something off and surprise everyone. While I didn't see any tornadoes today, the forecast and ensuing expedition was fun and challenging.
The setup was characterized by most of the ingredients needed for supercells overspreading Missouri and central Illinois by late afternoon, thanks to an approaching upper level trough: decent surface-based instability, no cap by mid-afternoon, strong and diffluent upper level winds, southwesterly 500mb winds, southerly 850mb winds and backed surface winds (a veering with height profile). What the setup lacked was a good boundary to focus convection and give a storm a source of low-level vorticity/deviant motion. This could have been a front or an outflow boundary from previous days' storms, but alas, none was apparent from morning satellite or observations. Nonetheless, all models agreed on storms firing in this environment, and if one could manage to get established, stay isolated and fully mature, it would have a good chance of producing tornadoes given the wind profiles in place.
The key to today was figuring out where storms would fire, since we had no real focus. I had expected the day to take me to Springfield, IL by 2PM to be in place for storms going up within a CAPE/EHI bullseye shown centered just south of there by the NAM model. But by the time I left, it was looking more like storms would remain more to the west, given satellite and radar trends. I targeted Hannibal, MO and started the drive there at around noon. I deviated a bit west at Bowling Green to look at some early convection going up east of Moberly, but this activity was racing north. I bailed on those, and made it to Hannibal just in time for a new storm crossing the river and heading just west of Barry, IL. Aside from a small rain-free base and heavy precip core, this storm never looked like it was going to do anything interesting as it crossed I-72: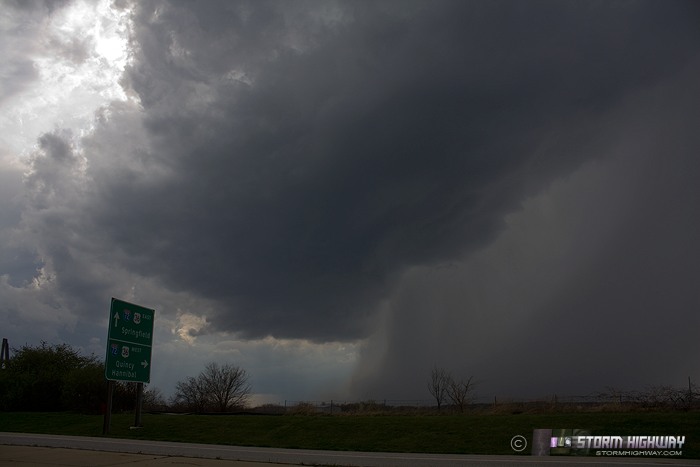 Once this first storm crossed the interstate, new convection began firing to the south. This too did not amount to much, but once it cleared the interstate, I could see the base of another storm just east of Hannibal with a briefly impressive lowering: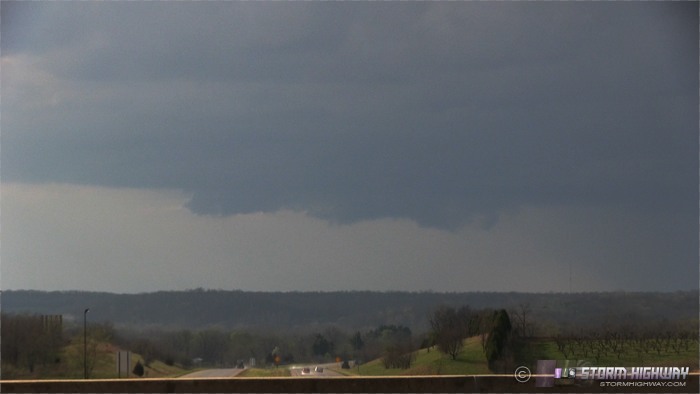 I immediately got back on I-72 then I-172 to try and catch up to this storm in the Quincy area. As I slowly closed the gap, the updraft gradually shrunk.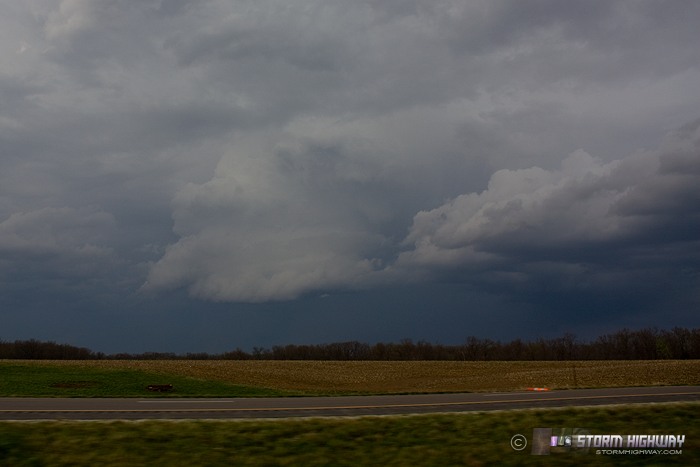 Despite looking much more anemic than when I first saw it, the storm managed to fire off a relatively consistent CG every minute or so, even long after I let it go north of Quincy.
After this, there was nothing else upstream to intercept, and it appeared the expedition was a wrap. I started the drive back and made it home at 9PM - 392 miles on the day.
Here are a couple of 'extras' from the day. This is a small area of virga (rain falling from a cloud but not reaching the ground) producing a rainbow east of Hannibal: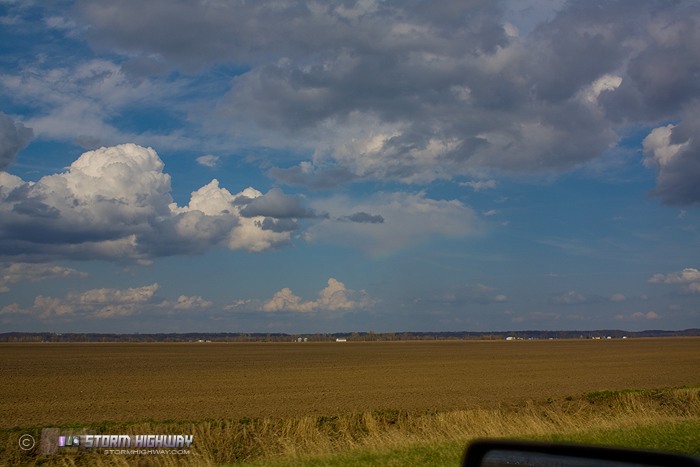 And something you don't see every day, an old General Electric 80-ton center-cab diesel switcher locomotive (numbered "SWRX 1" for the Southwind Short Line Railroad in Mount Vernon, Indiana) being hauled by flatbed truck on I-64 westbound at New Baden: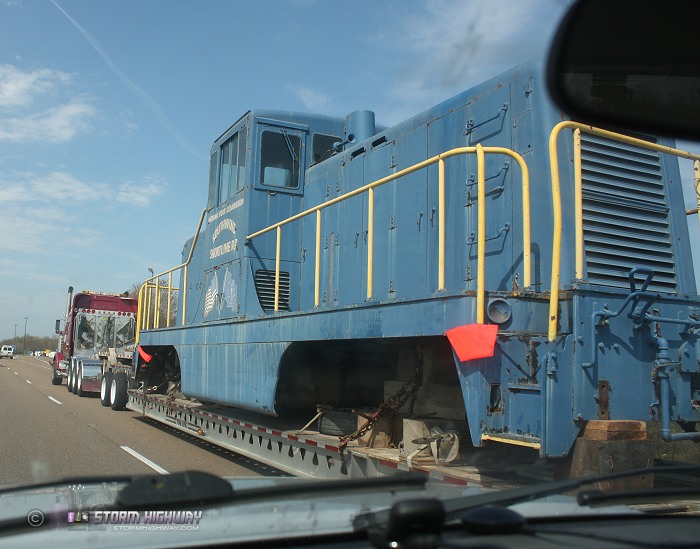 I was right there today as well..I was about 15 minutes late in getting there as I stopped in Ashland to check radar..I went to the public Use area south of East Hannibal..
- Posted by Kevin from Clinton
All content © Dan Robinson. All usage requires a paid license - please contact Dan for inquiries.

Web Site Design and Internet Marketing by CIS Internet