Home | Blog Index | Blog Archives | Christianity & Faith Essays
Thursday, March 22, 2012 - 12:45AM CDT
Cameras: the star witnesses
I'm a big advocate for cameras, in case you haven't noticed.
For the past 20 years, cameras have been my star witnesses for everything from amazing weather phenomena to crime. Cameras never lie. No one can argue with what a camera clearly records.
When it comes to storm photography, I'm used to the occasional "yeah right" facial expression whenever the subject comes up of what I've seen during my travels. When I recount events like close-up lightning, a stark white tornado bathed in sunlight, a flash flood filling a creek in seconds, twin tornadoes spinning in the darkness, a hurricane sending large objects flying through the air, and countless other accounts - having a photo or a video to show that I'm not "full of it" keeps me from being branded as a fish-story type. Storm Photography is an activity full of unbelievable experiences that transcend words, which is why I think video and still cameras have been such a foundational part of the hobby over the years. You almost have to have a clear photographic record of what you saw, or else few would believe it!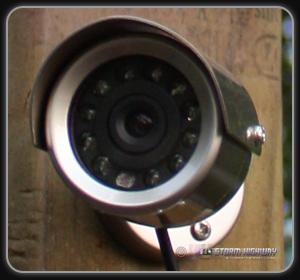 It's not just in storm photography where cameras have been my ally. Cameras have helped protect the belongings of me and my neighbors from criminals, and provided evidence to capture and prosecute them when the thieves and vandals did strike. Cameras literally watch my back (and to the front) every second I'm on the road. My word alone won't hold much sway to an insurance adjustor, a police officer or in court by a judge or jury - but my cameras' testimony will! Every time I read about burglary, assault, vandalism, fraud or any number of crimes, I think about how cameras would have made the capture of the perpetrators possible, if not prevented the crimes altogether.
We're living in a time when security cameras cost less than ever before. Basic 4-camera CCTV systems with a DVR run under $200 - ones that will record day and night, saving a week or more worth of whatever happened in their lens' view during that time. 8-camera systems can be found under $400. Most systems available today can even be viewed via the internet when you're away. Vehicle dash cameras that auto-loop record are under $100, giving you an irrefutable witness on the road. I truly believe that any money you spend on devices like these could easily pay for themselves several times over in the event of an accident or crime.
And no, I don't sell these devices, nor am I tied to anyone who does. This is an unbiased opinion. I simply believe that with as cheap as security cameras are these days, coupled with their benefits, there's no good reason not to have them running both at home and in your car (and business, if you own one).
Can I ask where you found home security systems so cheap? I've been trying to find one. Did you install your own?
- Posted by me
There are quite a few options online if you search for terms like "8-camera dvr" using Google's shopping search. Amazon seem to be the safest in terms of the balance between prices and reputable dealers. The cheaper systems are fairly low-end imports, but they do the job sufficiently for home use. I've had one of the 4-camera DVRs running continuously since 2008 (roughly $250 back then) and it's not had any problems.
- Posted by Dan R. from New Baden, IL
Do you recall what brand yours is?
- Posted by me
I have a Q-see and a Zmodo.
- Posted by Dan R. from New Baden, IL
All content © Dan Robinson. All usage requires a paid license - please contact Dan for inquiries.

Web Site Design and Internet Marketing by CIS Internet