Home | Blog Index | Blog Archives | Christianity & Faith Essays
Friday, May 25, 2012 - 1:40AM CDT
May 24 Iowan expedition: Going the distance
Due to only taking 2 days off of work to photograph storms this spring, I have maxed out my accrued vacation time - and therefore reached the point of having to start taking days off, or forfeiting future accrued hours. Thanks to the relatively slow season since April 28, I've been itching to get out on a road trip/expedition. Thursday's setup was not ideal, but I decided to use a vacation day to go on an all-day Midwest storm photography expedition.
The setup consisted of a potent shortwave trough spreading a powerful burst of winds aloft mostly over Iowa, Minnesota and Wisconsin. A narrow plume of surface moisture advancing north provided a skinny band of instability starting in Wisconsin/Minnesota and extending south-southwest, with ever wider and higher CAPE values the further south it went. A surface low would track rapidly along a frontal boundary from roughly Kansas to upper Michigan through the day, which would drag the trailing boundary southeastward as a cold front during the afternoon/evening. The northern portion of the setup in MN/WI had adequate shear but meager instability, with the southern areas in KS/MO having just the opposite. I chose to play the compromise in Iowa, where more robust updrafts could encounter the southern edges of the better shear profiles. Low-level winds were veered, so I did not expect a tornado, but thought some good storm structure might be possible. My morning target was Keokuk, Iowa, and I arrived there around 2PM.
By 2PM, storms were already firing on the front in central Iowa. I headed northward, intending to make the first intercept far north as I could, then cell-hop back south (storm speeds were going to make it difficult to keep up with one storm). As the development continued, it was rather unimpressive. A sharp drop-off of instability to my immediate east didn't bolster my hopes for the day.
After finally ending up northeast of Cedar Rapids, I decided to jog a few more miles up to Dyersville and see if I could get an image of a storm over the 'Field of Dreams' movie site. I've always wanted to stop at this location if an expedition ever took me near it. I did manage to capture one image of a dying storm behind the Field of Dreams, with a rain shaft and some textured dark clouds associated with the remnant outflow.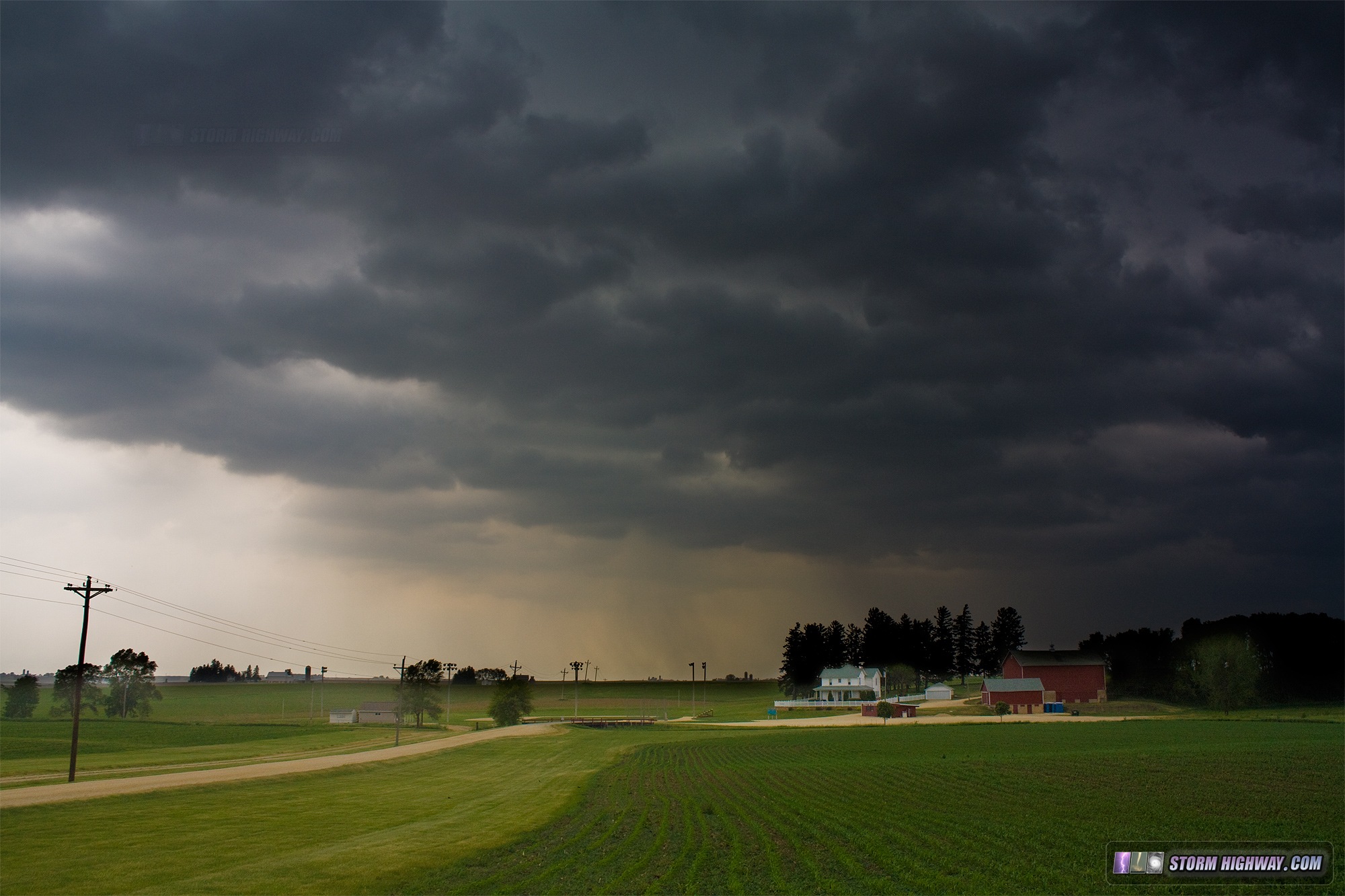 Click for larger view
Of course, I did the tourist thing, and walked around the site beforehand grabbing a couple of shots: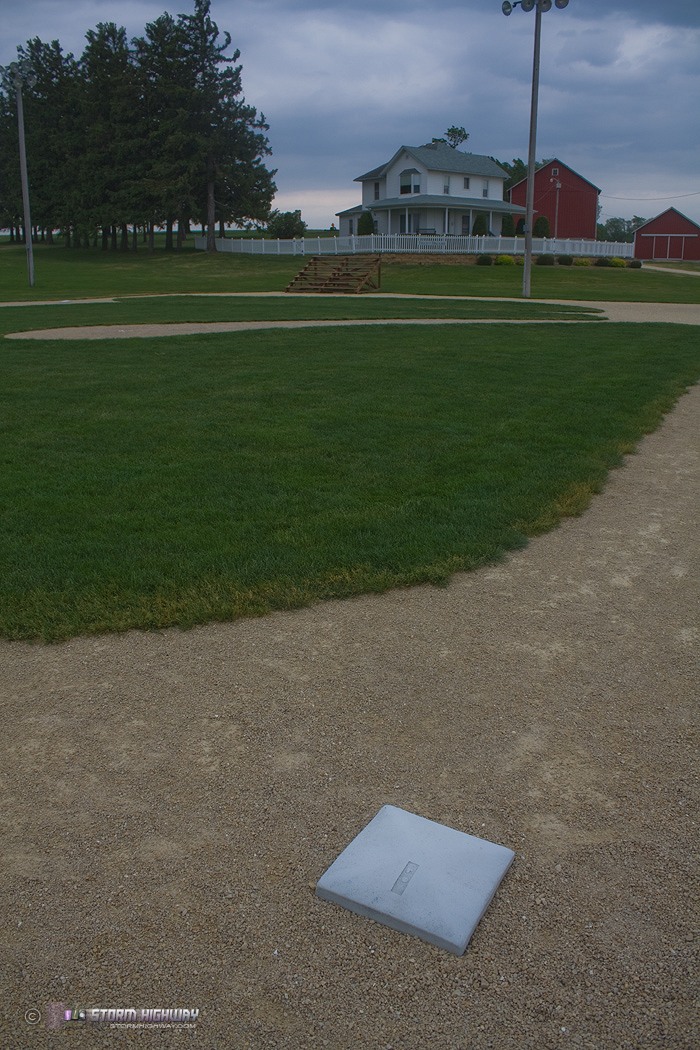 Click for larger view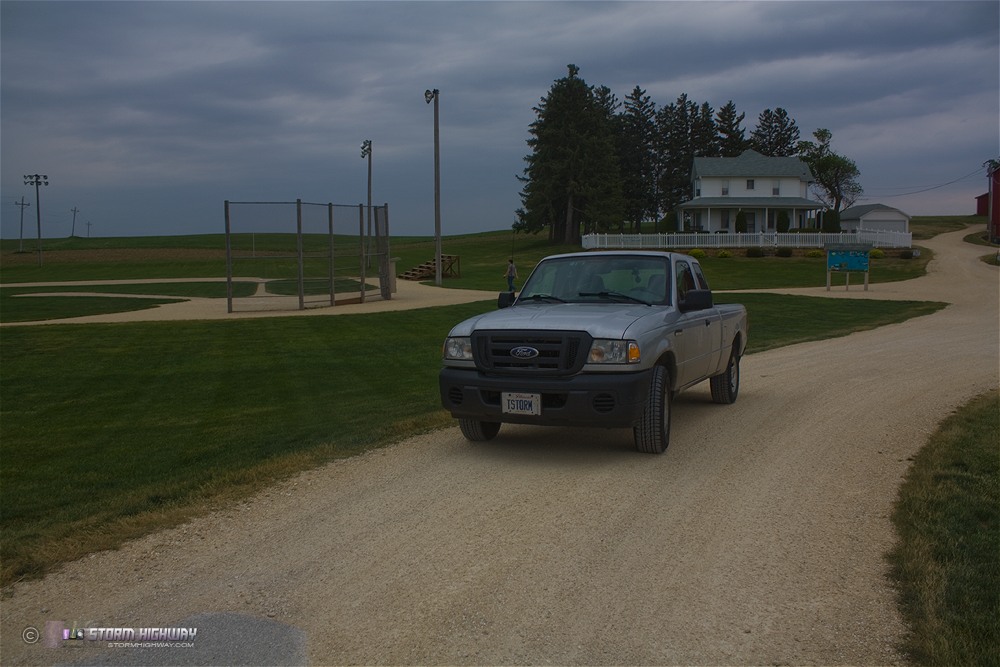 Click for larger view
I dropped south to catch the next storm in the line heading east of Iowa City, but it quickly fizzled to nothing after reaching the instability drop-off near the Mississippi River. I expected the next cluster of storms down in Missouri to do the same, so I didn't rush south to catch it. I continued south and made it back home just after 1AM. It was a fun and relaxing day, despite the lack of any real storm action.
All content © Dan Robinson. All usage requires a paid license - please contact Dan for inquiries.

Web Site Design and Internet Marketing by CIS Internet