Home | Blog Index | Blog Archives | Christianity & Faith Essays
Thursday, April 11, 2013 - 4:46PM CDT
April 10 severe storms in the St. Louis metro
HD VIDEO: April 10 severe storms
Mustering up the motivation to put together this expedition log was not easy, with yesterday being one of the most painful storm photography/photography defeats that I can remember. One of my main photo/video goals since moving to St. Louis was to capture a lightning strike to the Arch. To that end I have covered nearly every thunderstorm that has passed over the city during the past 3 and a half years, most of those requiring rolling the cameras for hours at a time in pouring rain, in the middle of the night, cold and drenched to the bone and sleep-deprived. I discovered through this process that the Arch is not struck by lightning as often as one might think (a subject of an earlier post). It is actually quite the rare event.
It happened tonight. I was on Market Street, reaching into my back passenger door to pull out the tripod to get set up, when the flash and one-second-later crash of thunder happened. I didn't see it, but knew immediately that I'd missed it. Seconds count in storm photography. 30 seconds in this case. To miss it, and be that close, after 3 1/2 years of focused and determined work, is a crushing blow. I keep recounting what I could have done differently and what the video would have looked like had I been half a minute earlier. But, there's nothing to do but move on and keep trying again. I'm always willing to take the misses and busts with all of the amazing things I do get to see and capture, and this one's got to be no different. But it will take a while this time.
I started the day rather confident that I would see a tornado in my 'home chase area' from this setup. A favorably-oriented warm front bisected the metro area from southwest to northeast, and storm motions were at shallow enough angles to the boundary for one to grab it and turn. To the south of the front, strong surface-based instability and backed surface winds were present. Aloft, a powerful jet associated with the upper trough I'd just spent 3 days observing in the Plains was finally going to have a good low level environment to work with. I started the day downtown, watching for an upstream storm to fire south of the front and move toward it. One finally did, which I caught at Hazelwood just off of 370. I followed this storm for the next 2 hours to Alton, and then up I-55 to Litchfield. Although presenting some impressive structure at times, it was elevated and outflow dominant for its entire life, despite developing several strong hook presentations on radar. I don't think the storm ever was able to get an updraft established to the south of the warm front, with everything staying just a couple of miles or more too far on the cool side of the boundary.
This was the view at West Alton, MO as the storm produced prolific lightning: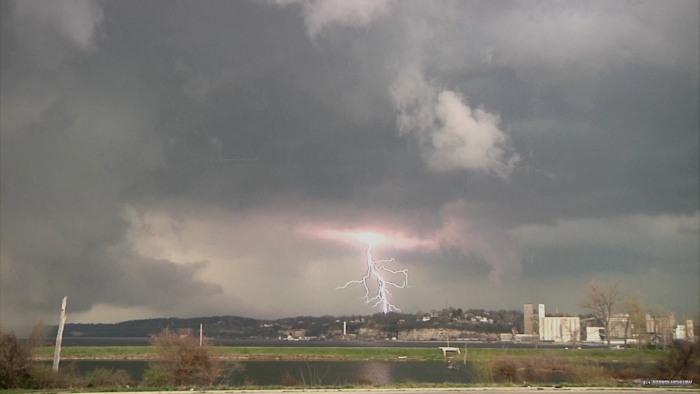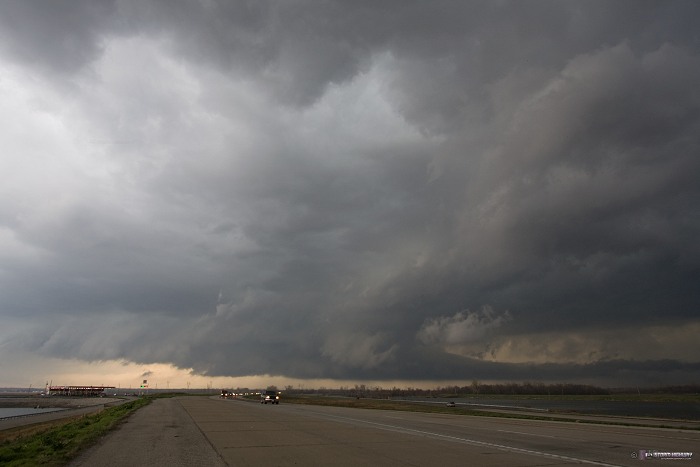 Video of that scene is linked above. Nice structure looking west from I-55 at Livingston, IL: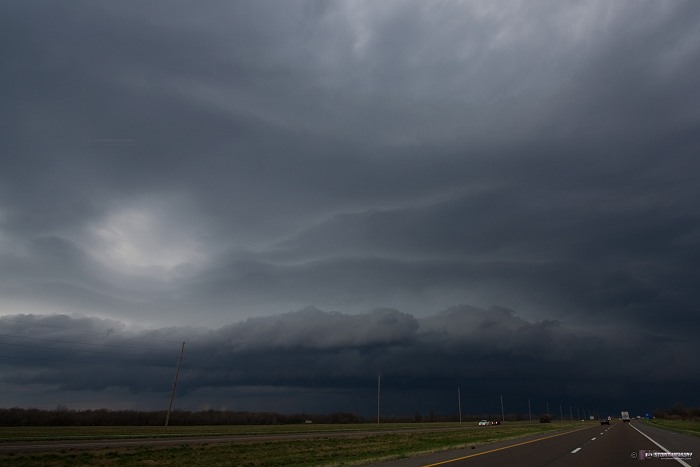 I finally decided that this storm wasn't going to be worth staying with, especially since it was now across I-55 and requiring stair-stepping county roads to keep up with. I headed back to St. Louis to await the next storm that might interact with the front. That didn't happen, so it was time to shift into 'lightning mode' and set up for the Arch. This is the view from the classic riverfront vantage point: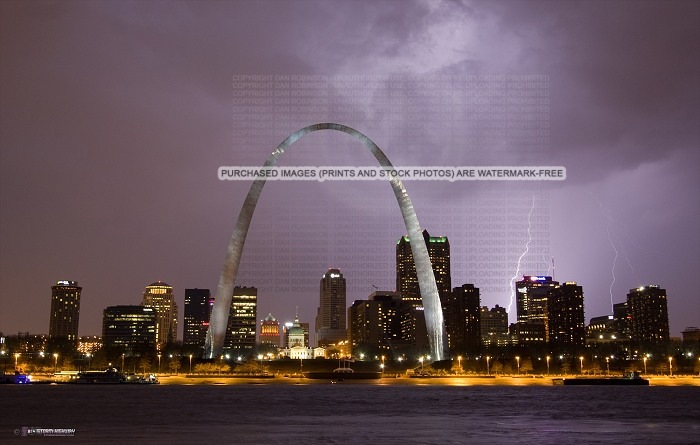 Video of this scene is also linked above. With the main squall line now only a few minutes out, it was time to head over to Market Street to get an east-facing view so that the wind-driven rain would not dot the lenses of the cameras. And you already know the rest of that story.
As with the last 3 1/2 years, awaiting the next chance......
Have faith and patience, it will happen when you least expect it and greater than you could've ever imagined.
- Posted by P from Soy City USA
Don't give up! Lots of people out there enjoy reading about your travels and the pictures you post are fantastic. Looking forward to the summer months and your coverage!
- Posted by Dave Whitaker from North Carolina
Thanks for the comments. Will keep trying!
- Posted by Dan R. from New Baden, IL
I was going to ask you if you ever got lightning striking the Arch but this blog post answers that. I'm not sure if you remember something called Saturday Scholars, but I think that was you speaking at that 3 years ago because I saw a lot of your videos. No wonder your Youtube videos looked familiar! I'm going to try to film lightning striking the Arch this spring. What's a good spot to film the St. Louis skyline from Illinois? Now that I mentioned that, THAT was the question I was going to ask at the end of the seminar. Well, nearly 3 years late on that, but none of the other st. Louis storm photographers I know try to film lightning hitting the Arch. That's got to take a lot of patience and a lot of memory on your cameras.
- Posted by Tim
All content © Dan Robinson. All usage requires a paid license - please contact Dan for inquiries.

Web Site Design and Internet Marketing by CIS Internet