Home | Blog Index | Blog Archives | Christianity & Faith Essays
Friday, August 9, 2013 - 7:49AM CDT
MCV storms and possible spinup at Carlyle, IL - August 8
Thursday's setup was another MCV originating from storms in southwestern Missouri. Skies out ahead of the MCV (and in its core) began clearing out before it crossed the state line into Illinois. Here is a satellite image showing its structure just after noon: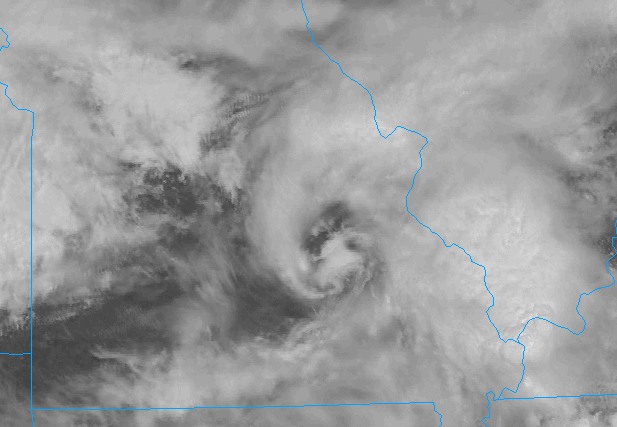 The general rule is you don't ignore any 'spinny thing' like this (surface low, MCV, upper low) that develops instability in or close to it - so this was an storm photography day. Storms began firing on the western side of the circulation by 2PM, and by 4PM a large, messy MCS was in progress along Highway 50. I followed it west along Highway 50 to just past Carlyle. A persistent updraft base was present on its southwest side, but motion was weak. Outflow repeatedly undercut attempts at organization. Finally, just over Carlyle Lake north of Highway 50, the base lowered and a ragged wall cloud developed with strong rising motion noted at its base: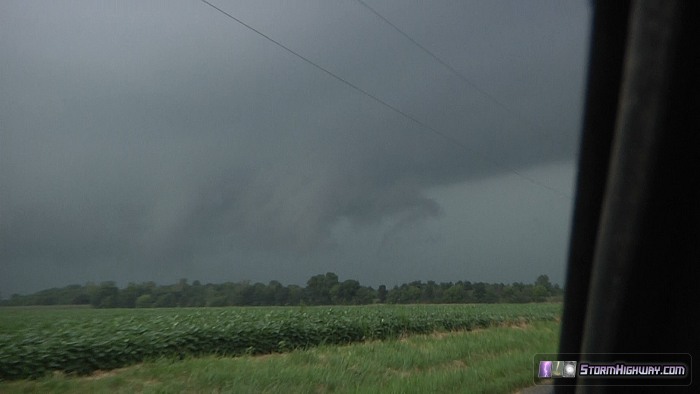 A very low funnel (or funnel-like scud cloud) appeared for about 15 seconds. Contrast was poor, and even when carefully scrutinizing the video, I can't make out whether or not this was rotating. Therefore I will not call it a tornado, unless later additional evidence proves otherwise. This is an extreme contrast-enhanced video still of the feature at its maximum definition: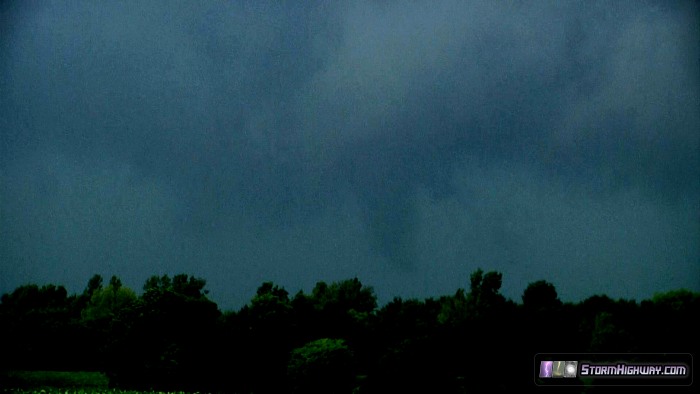 About this time, another surge of outflow was beginning to impact the wall cloud. A tail cloud developed along the edge of the outflow, with strong horizontal motion right-to-left into the wall cloud. The motion in the base was at its maximum speed at this stage: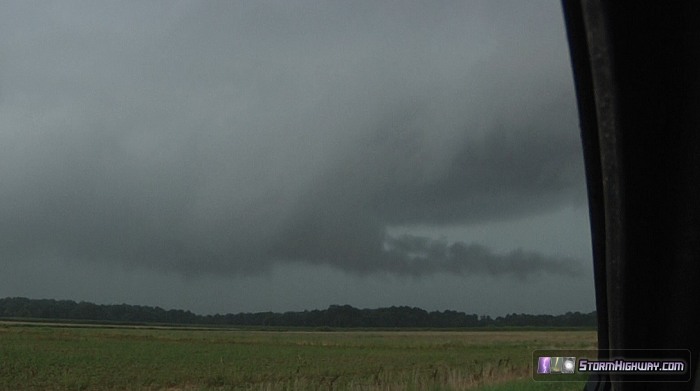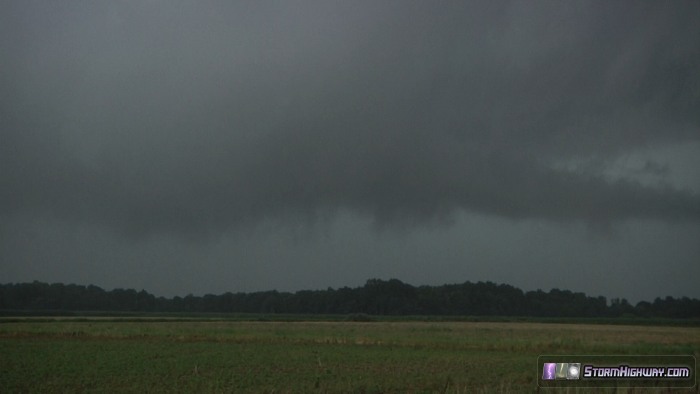 After this, the outflow rapidly obliterated the wall cloud, leaving nothing but a disconnected arcus along the outflow's leading edge. The main reason I hesitate to call the earlier feature a tornado is because outflow can cause rising motion and low cloud 'fingers' along its leading edge. Since I can't tell from the video if the 'funnel' was rotating, I can't rule out the possibility that the feature was outflow-associated scud. Right now I'd put my confidence level at 25% tornado, 75% outflow feature.
After this, the storm displayed no further attempts at low-level organization, so I called it an expedition and headed home.
All content © Dan Robinson. All usage requires a paid license - please contact Dan for inquiries.

Web Site Design and Internet Marketing by CIS Internet