Home | Blog Index | Blog Archives | Christianity & Faith Essays
Tuesday, February 26, 2013 - 12:22AM CST
Thundersleet in New Baden, IL - February 25
HD DASHCAM CLIP: 'Thundersleet' lightning strike in New Baden, IL
Quick post to show some of the 'thundersleet' (lightning during sleet) we experienced here Monday night. I saw a few snowflakes mixing in during this event as well. At the time of this posting, we're now completely changed over to rain, and so I have yet to see how much snow accumulation we'll see here, if any.
After seeing a few distant flashes outside and hearing deep rumbles, I went out for a few minutes to try and grab some stills. When I got back home, I left the car power on to keep WxWorx lightning data fresh in case there was anything worth going back out for. As a result, the dashcam was running for this fairly close CG right as more sleet started here in town: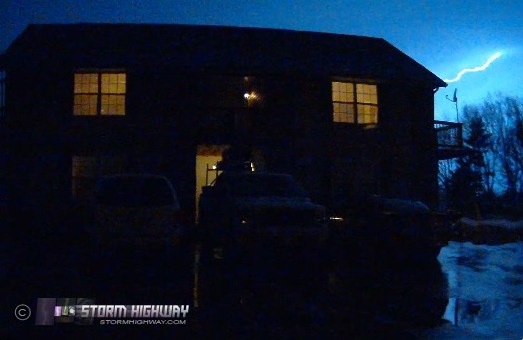 I mostly 'struck out' on the stills captures, with the lens pointed just a little bit too far right for this bolt to the south. As paltry as this is, it at least keeps the "lightning stills every month" streak going.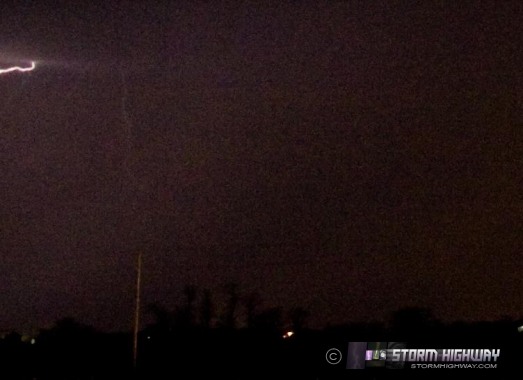 Dan, March 1st is just about here, traditionally the start of the convective season in the US. Any early predictions on what kind of season it will be, based on existing patterns, trends, or official 90 day forecasts? And are you making any upgrades to your vehicle or on equipment that you plan to bring with you on expeditions?
- Posted by John from Western Canada
John, I never know what to expect at the beginning of a season - any forecast past 14 days is purely guesswork. I can say that there will be supercells and tornadoes *somewhere* in the Midwest and Plains this spring, and I hope to be there for some of them :) As for equipment, I'm running the same setup as last year - no new upgrades.
- Posted by Dan R. from Shiloh, IL
All content © Dan Robinson. All usage requires a paid license - please contact Dan for inquiries.

Web Site Design and Internet Marketing by CIS Internet