Home | Blog Index | Blog Archives | Christianity & Faith Essays
Thursday, May 27, 2013 - 11:45PM CST
DAY 8: St. Louis to Concordia, Kansas
GPS LOG: GPS track from this expedition
It was apparent to me that the upcoming week looked good for storm photography in the Great Plains, the only question was how early to leave to begin my third expedition of the spring. A decent setup existed in northern Kansas/southern Nebraska on Monday the 27th, but St. Louis was also due to get a good round of severe weather that afternoon. After waking up early that morning and studying the data, I made my decision to abandon the St. Louis play and leave for the Plains target at 9AM.
Once again, the move to St. Louis from West Virginia pays off, allowing me to make a go/no go decision on the same day as a potential Plains trip! The drive to my target in north-central Kansas was roughly 8 hours, meaning I would arrive in my general target area around 5PM, right as storms were beginning to fire. In my West Virginia days, this type of decision would have had to been made no later than 8PM (eastern time) the previous day, in order to give me enough time to make the drive and get a few hours' sleep on the way. It sure is a welcome perk to get a good night's sleep before a potential storm photography day with that "decision deadline" being in the morning of the expedition.
I had to drive through a large, expansive MCS traversing central Missouri, which I encountered just east of Columbia. This concerned me, because heavy rain often causes accidents on the interstate that could cause long traffic backups. I pulled up Google Maps' Traffic feature, which has been very handy during travel. It shows in realtime when a backup occurs on a highway, allowing you to exit early and go around it. Thankfully, no backups or accidents happened, and I was able to breeze through the convective complex with no problems. I finally emerged from the last of the light rain east of Kansas City, and it was smooth sailing from there on west.
The setup in Kansas was a typical compromise between more certain initiation north with weaker instability/weaker cap, or stronger instability/stronger cap southward. I chose and stuck with the southern target, even after a storm went up in the northern one fairly early. I arrived at Sylvan Grove, KS, my effective target for the day, just as storms began to fire to the west. I followed the more dominant cell northeastward, running into and caravanning with Clarence Bennett, who had driven out from Tennessee. The storm initially showed promise, with decent low-level structure eventually developing, but it could not overcome problems with outflow repeatedly undercutting each good updraft/low level infow attempt. This was the best the storm looked near the town of Hunter: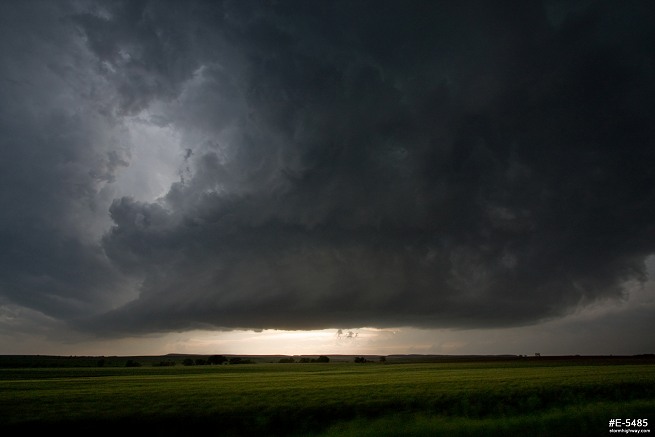 Shortly after this, the strong cap quickly killed the storm, and with sunset now past, I chose to call off the expedition and get my hotel room in Concordia.
NEXT PLAINS EVENT: Bennington, Kansas tornado, May 28 >
All content © Dan Robinson. All usage requires a paid license - please contact Dan for inquiries.

Web Site Design and Internet Marketing by CIS Internet