Home | Blog Index | Blog Archives | Christianity & Faith Essays
Friday, October 4, 2013 - 11:35PM CDT
10/4 IL chase & another first: missing tornadoes on purpose
As I type this while enjoying my evening coffee, I've just finished watching all of Friday's tornado videos from Nebraska and Iowa that have come in from storm photographers: Tornadoes that I missed because of a deliberate choice to not go on a long-distance expedition today.
I could have been there. I didn't have any obligations on Friday, in fact, I had scheduled the expedition several days in advance. The setup was a no-brainer, with an obvious target that I and everyone else knew was going to produce. In fact, I set my alarm for 3AM, gathered up my stuff, plugged in my battery chargers in the car and hit the road at 4AM.
Just past Wentzville, I stopped to look at the latest runs of the short-term models. The target was shown nearly into extreme southeast South Dakota. The prospect of the now 8 to 9 hour drive ahead, then the equally long drive back with an arrival time after sunrise (and that with no stops to sleep), made me sit and gather my thoughts for about 20 minutes. St. Louis was progged to receive a round of severe weather on Saturday, with minimal-yet-still-present tornado probabilites. If I continued on to Nebraska and Iowa, I wouldn't be able to get back in time to cover the local event with adequate sleep.
Finally, I did something I've never done before on a big storm photography day: I hit the eastbound ramp to I-70, headed home and went back to bed.
As I sit here with those tornado images and videos I missed - on purpose - fresh on my mind, I feel absolutely no tinge of remorse or regret. I have reached a point in life where I'm not willing to put in the sleep-deprived marathons to see a couple of tornadoes on a single day. I'm not sure what that means, but I can tell you I'm perfectly fine with it.
What I did do on Friday was catch up on a few work tasks, then headed east on I-64 to intercept a persistent storm moving up from the southern border of the state. We had around 25-30 knots of westerly flow at 500mb, 1500 j/kg of surface-based CAPE, southeasterly surface winds and southerly 850's. While the low level flow was generally weak, overall it was not a completely negligible setup - certainly enough for a 'mesoscale accident' type of day.
This was my first view of the storm at Ina, south of Mount Vernon. This is the northern and eastern side of the storm, with a forward-flank gust front pushing toward me and wrapping back to the south. The whole thing was weak at this stage, with lightning activity ceasing about 15 minutes prior to my arrival here.
This was the view to the west, with cumulus unsuccessfully trying to gain some height: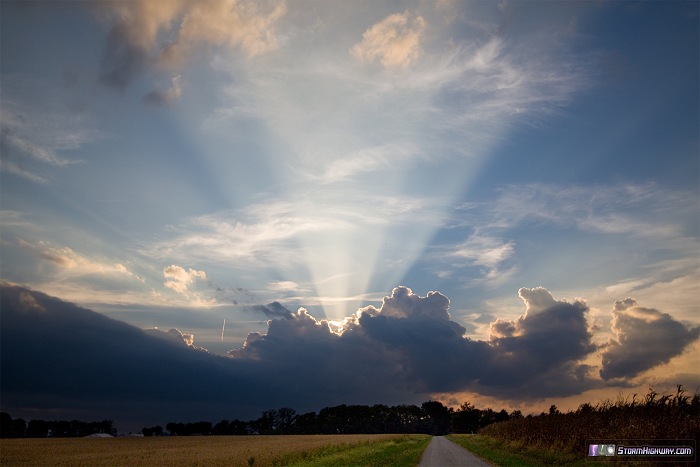 I kept ahead of the storm on its north side, expecting to cut it loose at Mount Vernon and head home. At this point, I didn't feel it was worth trekking through the core to see what was on the updraft side.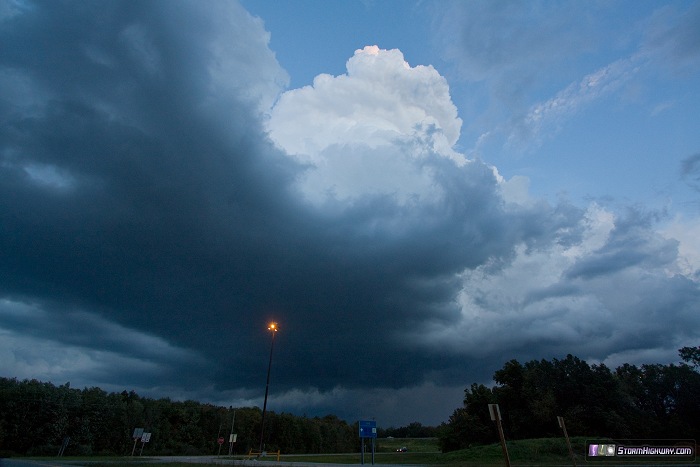 But then, lightning activity suddenly spiked, with a marked increase in radar reflectivity. I went ahead and pushed east on I-64, skirting the heavy precip to get a view of the southern side of the storm. At this stage, the lightning activity dropped off again, leaving an ill-defined shelf cloud in the fading twilight.
So, I'm very happy to be sitting at my desk right now, getting ready to sleep in my own bed - rather than trudging south and east, sleep deprived, on the dark highways trying to get back here for Saturday's storms. I'd likely have conceded Saturday's expedition to the fatigue, and got a hotel room to the tune of another $70-$100. Seeing the tornadoes would have been nice, sure - but if I'm blessed with more years of 'chaseable life', I'll be seeing more anyway - either within a few hours of home, or on the multi-day trips to the Plains in the spring.
All content © Dan Robinson. All usage requires a paid license - please contact Dan for inquiries.

Web Site Design and Internet Marketing by CIS Internet