Home | Blog Index | Blog Archives | Christianity & Faith Essays
Wednesday, August 27, 2014 5:00PM CST
Lightning striking the Gateway Arch twice - August 27, 2014
VIDEO: Lightning strikes the Gateway Arch twice, August 27
Lightning struck the Gateway Arch twice on Wednesday, August 27, 2014. The first was a direct cloud-to-ground strike, the second an upward lightning leader in response to another close strike nearby. These are both still frames from the HD video.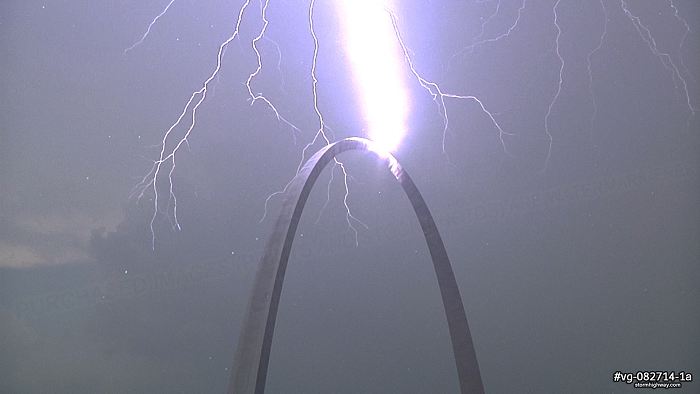 Lightning strikes the Gateway Arch on August 27, 2014
Prints: You can order a small print of the above image by clicking here. (Keep in mind that this is a 1920x1080 pixel frame from hd video, so the size/quality of the print will not be the same as a shot from a still camera.)
Upward leader from the Arch as a close lightning strike hits nearby: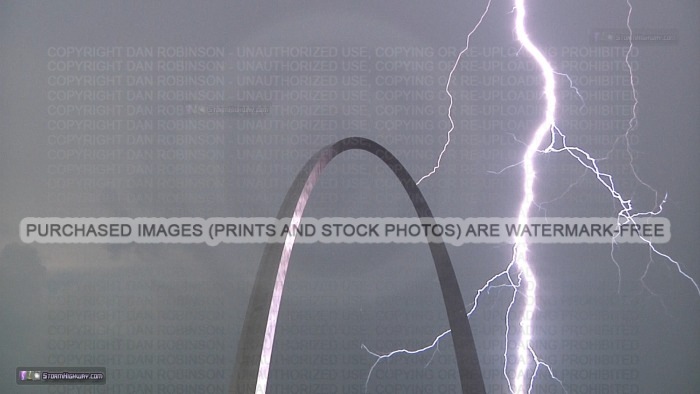 Click to view larger version
More lightning behind the Arch later in the afternoon (click to enlarge):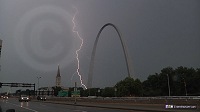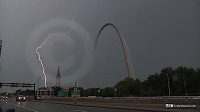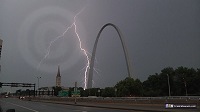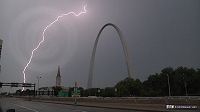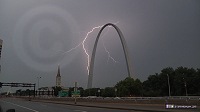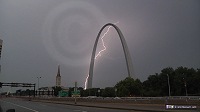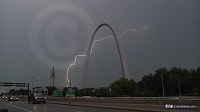 I have been covering St. Louis storms intensively since January of 2010, and this is the first Arch strike I've captured. I left early from a business trip in Charleston, WV at 8AM CDT that morning, and made it to downtown St. Louis with only moments to spare. This happened about 10 minutes after I arrived and got set up. Every minute counts in storm photography/expeditions!
RELATED POST: How many times is the Gateway Arch struck by lightning each year?
GALLERY: St. Louis Storms and Weather Photo Gallery
wow! how did you do it? is this for real?
- Posted by Stephen Engelmeyer from Normandy, MO
This is why I miss my city.... Stuff this cool would never happen in Nebraska.
- Posted by Kate from Lincoln, NE
now that's an awesome picture hopefully no-one hurt
- Posted by kim
You finally did it! That was a great shot! As jealous as I am right now that you finally got the money shot of lightning striking the arch, you earned it. Maybe the next lightning storm over downtown won't happen during school. I missed it by only 15-20 minutes.
- Posted by Tim
Eeno Sarrinen was the architect. Simple and briliant!
- Posted by Mary Ford
Sure would like to know if you can buy a copy of both strikes and how much that would be? Would make Great Wall art.
- Posted by Don Meis from Barnhart ,mo
I right clicked and saved photos giving the props in the title. I love this pics!
- Posted by Anna
Priceless!! Love my Arch! My St. Louis! :)
- Posted by DMM
Awesome Photo!
- Posted by JSlay from STL
Did anything happen to the Arch?
- Posted by Madelynn from St.Louis
This would be cool to see in person
- Posted by scott from quincy
Micheal Brown in heaven with God, God allow him to make his mark on the city....the second one was made by God he want us to change the way we treat each other.....
- Posted by tony
Fantastic! Nature is so beautiful!
- Posted by Marie E from GA
Wouldn't there have been a loud crack of thunder at the time of the strike??
- Posted by Jess
That is a very cool picture! My Dad had a part in making the Arch. Hope it didn't do any damage.
- Posted by Linda from High Ridge, MO
What time did this occur? We have surveillance footage of the arch and would like to look it up. Thanks!
- Posted by Bob from STL
Love our Arch..
- Posted by ginnie from St louis area
Awesome timing for these photos!!
- Posted by D Rich from 63090
it's not Michael Brown its called nature!
- Posted by rod from festus
Thank you everyone for the comments, likes and shares! For those that would like a print, I added a link to this image in the printing system. Bob, this was sometime around 4PM-4:30PM CDT.
- Posted by Dan R. from New Baden, IL
Never thought much about it when I lived there. I am now in Tenn and kind of, no really miss St.Louis. Soulard Zoo All the good stuff that goes on there. My Grand daughter took some visitors to our zoo. They were all excited about a new member ready for this? It was a cow.HA
- Posted by Shirley from Clarksville Tn
we were outside at the Dome, very near the Arch at that time...LOTS of lightening!!
- Posted by bmrw
wow, just wow! My daughter lives there and works by the arch, she tells me all the time what intense storms Sy Louis has. Great Job!
- Posted by juanita leeson from Ohio
That's is the best lighting strikes I have ever seen! I could see these pictures on many walls around the world! It just shows the bueaty in nature and the arch. I would love a copy of both strikes put together in a way that they are just one of a kind and I don't think anyone will ever get a shot like those in fore ever! I am just a plain jane looking at pictures.
- Posted by Terry from Altoona Ia
Well, the Arch is a rather large lightning rod!
- Posted by Bill from Vancouver, WA
Amazing shot!
- Posted by Aaron from 63640
Wow amazingly beautiful another one of Gods creations mother nature! These are amazing shots!
- Posted by Kiera G. from Saint Louis, Mo
Bill, it's a lot rarer than you think. According to one of Dan's other posts, the arch only gets struck a couple times a year.
- Posted by Tim
Wow! Awesome shot!
- Posted by Linda
Great picture!My Dads Co.St.Louis Lightning Protection Co.installed lightning rods on Arch in the early 60's.My Dad brought the lightning rods home for my brother and I to touch!We touched the highest point on the arch!
- Posted by RAND from ST.LOUIS
Keep storm observer Danny Murphy in your thoughts and prayers. While photographing a storm in iowa, he was struck by lightning. He survived, but is in a lot of pain and is recovering in sioux City.
- Posted by Tim
wow! how did you do it? is this for real?
- Posted by Saumyaranjan biswal from Bhubaneswar
I was in it when this happened. It was really loud. No one was hurt.
- Posted by Norm porter from Missiouri
This web site is made possible by support from CIS Internet.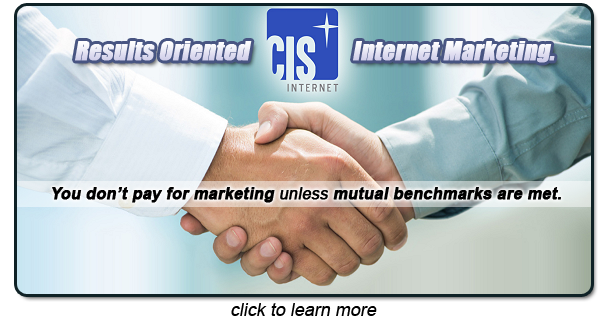 GO: Home | Storm Expeditions | Photography | Extreme Weather Library | Stock Footage | Blog
Featured Weather Library Article:
All content © Dan Robinson. All usage requires a paid license - please contact Dan for inquiries.

Web Site Design and Internet Marketing by CIS Internet