Home | Blog Index | Blog Archives | Christianity & Faith Essays
Monday, February 10, 2014 12:06PM CST
Stan Musial Veterans Memorial Bridge dashcam crossing timelapse
HD VIDEO: Musial Bridge crossing time-lapse
Following the task of shooting video on Sunday night of yet another snow event in the St. Louis metro area, I made my first crossing of the new Musial Bridge. I pulled the video from the front dashcam and rendered a quick 10x timelapse showing the approaches and crossings from both directions (approaching and leaving via the I-64 ramps).
I snapped this image at 10mm while driving back across eastbound (there was no other traffic around me). Of course with it being night in a moving vehicle, I wasn't able to get a sharp image, but I think the motion blurring made this particular one interesting: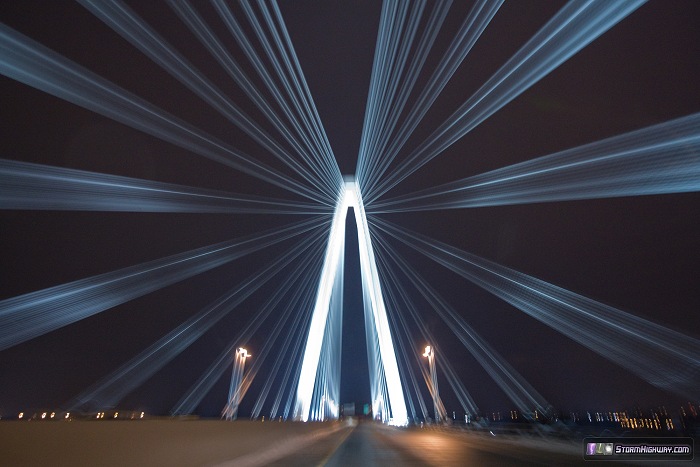 In other news, as you'd expect, I'm looking forward to storm season returning here in a few weeks. There are already some signals in long-range models that we could see a severe weather event toward the last week of February, not unheard of here in the Midwest. I am definitely ready for warmer weather and storms, though I admit the season is sneaking up faster that I'm prepared for right now.
And on an unrelated note, I'm becoming a bit of a copyright activist. There is a disturbingly widespread attitude in society (on the internet at least) that the intellectual property of content creators like me should pass into the public domain sooner than later. That would include all of the photos in my gallery and everything in my stock footage catalog. In other words, if people of this persuasion got their way, I'd lose the right to exclusively profit from all of my life's work before I passed away, and my heirs couldn't receive any benefit from it either. It's an absurd proposition that thankfully USA lawmakers have seen through up to this point. Nonetheless, it's disconcerting that there is such a strong voice of support for such a thing in the general "everything should be free" internet public. Anyway, I'll be blogging more about this in the future, so stay tuned!
On the night of February 20th, accuweather says there'll be a few strong storms. I usually wait until 4 days out to look at any severe outlooks as noaa doesn't issue risk areas until a week out when there's more certainty. I'm not saying nothing will happen, I'm just as iffy on long-range forecasts as every other observer. I'll still keep an eye on it as it gets closer to the 20th. As for the new bridge pictures, it is frustrating trying to take nighttime pictures, even standing still but nevertheless those are some pretty good pictures, especially the 2nd one.
- Posted by Tim
Correction on the last comment. It's the afternoon of the 22nd now.
- Posted by Tim
Thanks Tim! Definitely hopeful for storms!
- Posted by Dan R. from New Baden, IL
While this current severe weather threat had a day 5 outlook, there's only been a few isolated severe thunderstorms so far (although it's only 10 in the morning Thursday), a couple in western missouri and one in southern iowa. Unfortunately, it seems that cold weather's going to return in the next week or so and will probably stay that way for a couple of weeks or so. Keeping my fingers crossed that they're wrong. Had enough of this cold weather already!
- Posted by Tim
All content © Dan Robinson. All usage requires a paid license - please contact Dan for inquiries.

Web Site Design and Internet Marketing by CIS Internet