Home | Blog Index | Blog Archives | Christianity & Faith Essays
Thursday, June 5, 2014 - 10:15PM CST
June 3 Nebraska/Kansas expedition; Nebraska City tornado
HD VIDEO: Severe storms, lightning and tornado in Nebraska/Kansas - June 3
All along, I had planned to choose a secondary target for this day due to chaser traffic. By Monday night's 00z data, it appeared this would be in northwest Missouri, where models showed a few storms going up on the warm front in an environment with adequate instability and upper support. A good right mover might have even taken me back close to home.
I left home at 9PM Monday and arrived at Rockport, MO for the night. I was not 100% committed to my target, and wanted to allow enough time to bail to the primary if needed. Eventually, short term models started backing off of storms firing in my target area, with several discrete supercells indicated in central Nebraska. Everyone else saw these model images, so I won't rehash it. Anyway, that caused me to bite on the primary target and continue west into central Nebraska. After awaking and continuing northwestward, I encountered these somewhat rare altocumulus virga formations near Hamburg, Iowa:
I ended up with everyone else at Ansley (north of North Platte, NE), and my story is similar from that point until the Lincoln area. I watched radar in dismay as a beefy supercell went up in my original target area in NW MO, apparently producing at least one tornado according to a video posted to Twitter . At Ansley, a huge horseshoe funnel testified to the low-level wind environment in place:
The cap killed off the target convection near North Platte. This was my view just before letting it go:
I subsequently jumped on the storm coming southeast from Ord. I caught it near Clarks/Osceola...
...and stayed ahead of it all the way to Lincoln. The storm's fast speed meant there was no way to get up into the notch and stay with it safely, so I didn't try. I saw a tight but weak gustnado at close range in Osceola. Southeast of there, the gust front raced far ahead of the precip cores and appeared to be slowing. For a brief time it looked like new updrafts were beginning to go up ahead of the storm, as the character of the clouds changed from the typical whale's mouth to more flat bases. Looking back now, I think this was just wishful thinking. Near Friendship, a large and dense dirt plume rose up from the ground, with clear cyclonic rotation (front portion going south, back portion going north).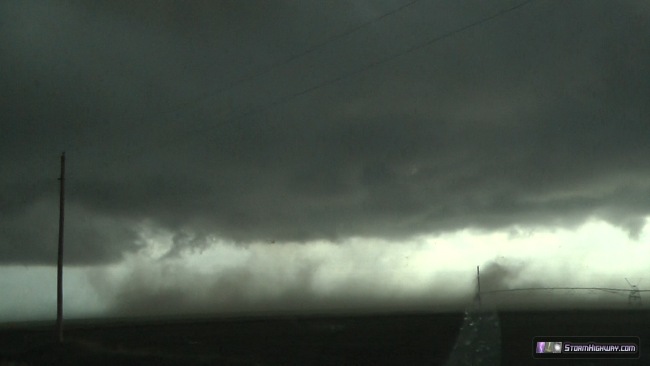 This looked tornadic at first, but I think it was more likely on the western edge of an intense outflow surge curling around. At best it may have been a very large gustnado. I did see it show up as a tornado report at the time. The entire dirt plume rapidly began surging south soon after, which rose all the way to cloud base and was impressive to watch.
I dove down to I-80 then east to Lincoln, stopping briefly to get a shot of the storm over the city.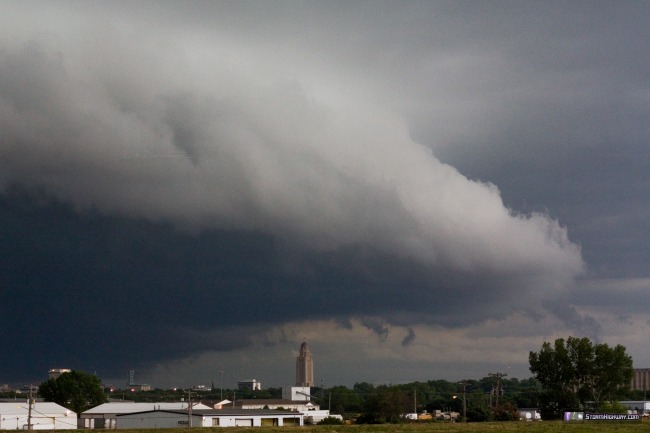 There were some cool rotating eddies under the leading edge of the shelf cloud: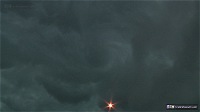 I stayed due south of the storm until Nebraska City. A strong couplet began showing on radar around the Unadilla area: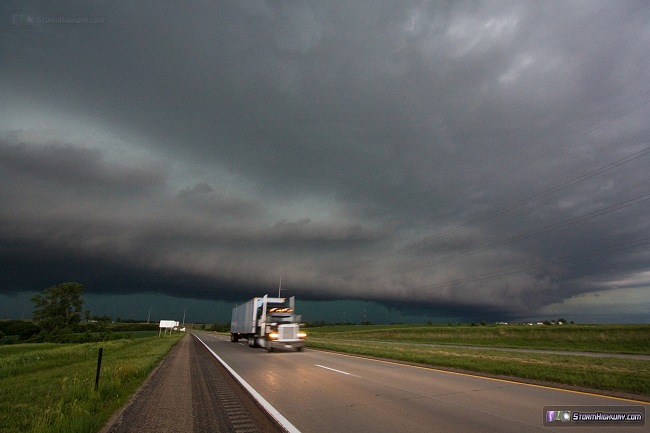 I pulled ahead of the storm to get a better look into the notch, and saw this: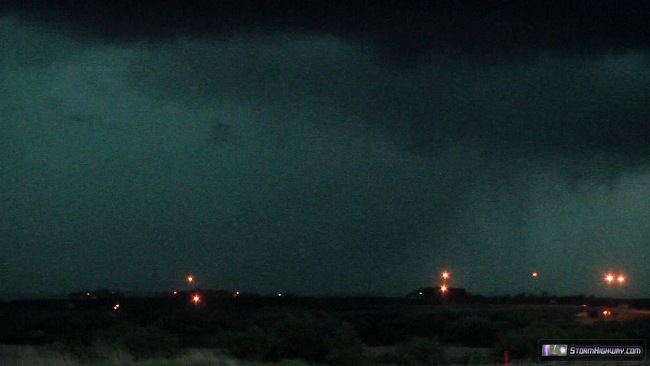 After reviewing my video (which has much better low-contrast capability than my eyes), it appears that this was indeed a tornado just northwest of Nebraska City. I downloaded some archived Level III radar from OAX to get a closer look at the storm than what I had available with WxWorx. Here is an infographic showing the base reflectivity and velocity images from KOAX at 8:37PM CDT (01:37Z):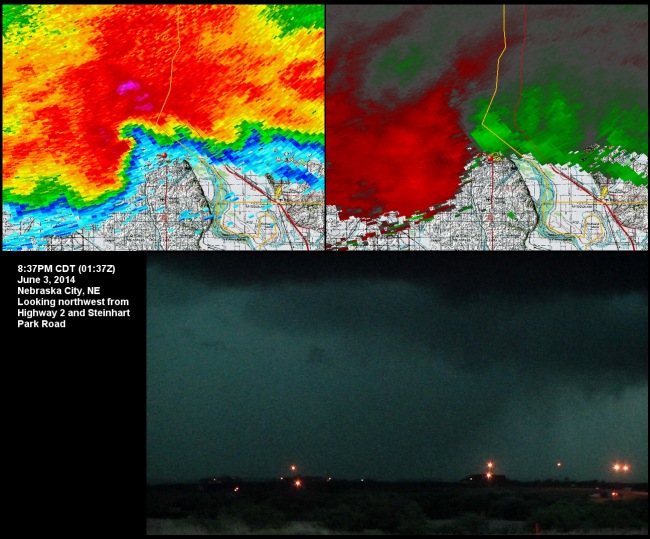 The video image shown is looking northwest from Highway 2 and Steinhart Park Road at the same time, as a lightning flash backlit the tornado. At the time, I was not confident that what I was looking at was anything more than an area of heavy rain, which was consistent with everything I'd observed/heard reported with the storm all day. I did not observe any power flashes or any other indications. Only after this detailed post-analysis of the video did I realize this was likely a tornado. Otherwise, I would have most certainly called this in at the time, especially since it was heading straight for Nebraska City. I have not been able to find reports of damage in Nebraska City from this as of yet.
Since I travel by myself and usually "marathon" my Plains trips, I often do not have time to do a detailed post-expedition analysis like this until after I arrive home. I sent this information to OAX - I'll update this page if I hear anything official.
I watched the storm move over Nebraska City, then took refuge at a gas station as the hail moved over (I had to stop as I was almost out of fuel). I jumped south into Kansas to catch the next supercell in the line, battling precip the whole way. I intercepted this second storm at Hiawatha, and stayed with it all the way to Arkansas City. It also developed several strong couplets and was tornado warned, but I never saw anything as it was apparently buried deep in the rain.
Up until Hiawatha, the lightning from these storms had been virtually non-existent all day. I hadn't seen a visible channel of lightning yet, but that changed - the storm at Hiawatha was going absolutely nuts with lightning. Constant 'anvil zits' in the high parts of the storm, continuous thunder, and a barrage of CGs every couple of seconds out ahead. I captured several dozen handheld stills of bolts from inside the car, not feeling safe enough to go outside with the tripod.
At Atchison, two back-to-back close strikes hit in front of me which I captured through the windshield. Unfortunately the misting rain and windshield wipers ruined these, but they're still interesting to look at. One channel of the second strike here hit the power lines along the road.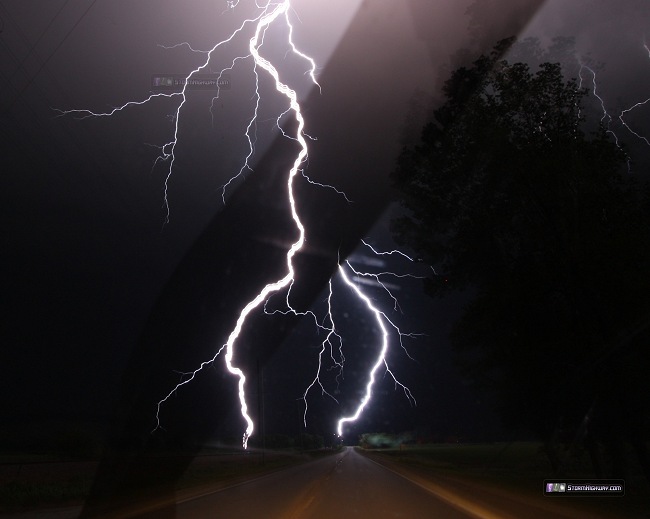 I drove all the way back to St. Louis, wanting to get home ahead of the storms for two reasons: I didn't want to drive all the way back in heavy rain, and two, I didn't want to miss the storms coming through my home area. I easily stayed ahead of the advancing line, stopping once at Columbia for a couple of lightning shots:
I arrived home at 5AM, and seeing the line was a big mess of heavy rain and diminishing lightning, just went to bed and let the line roll over me in my sleep. The lesson from the the day is, once again, to stick with your target. I'm OK with what I saw, but would have loved to have been on that lone storm in NW MO that no one else got. Certainly would have been nice to have less than half of the miles and gas expense for the day!
Forecast update: Three Great Plains trips is usually all I can afford in a single season, so barring an unbelievably intense system arriving on the Plains in June, my season is likely over. I still have some funds in reserve, however - and the Euro model has been showing a monster trough on the west coast by mid-month. I'm not optimistic yet, due to climatology not favoring this type of scenario - and the fact that by then, the cap will be at its summer strength and likely not allowing storms to fire where the wind profiles are best (similar to what we saw this past event). Nonetheless, I'll keep the probability table going until this system comes and goes.
The following table charts the probability of a Great Plains storm photography expedition happening for several indicated date ranges in the near future:
2014 Plains Storm Expeditions - Probabilities as of May 30

June 6-12
0%
June 13-16
10%
This hasn't been a good year for storm photography. Most of the tornadoes were rain-wrapped in hp supercells (in other words, hardly any photogenic tornadoes), there were several moderate risk letdowns and worst of all, when there was an outbreak it turned tragic. Also, just about every single storm that approached from the west fizzled out before getting here.
- Posted by Tim
All content © Dan Robinson. All usage requires a paid license - please contact Dan for inquiries.

Web Site Design and Internet Marketing by CIS Internet