Home | Blog Index | Blog Archives | Christianity & Faith Essays
Friday, March 28, 2014 11:04AM CST
Quality lightning surprise on March 27 in New Baden, IL
HD VIDEO: Still sequence animations of March 27 lightning
I had been on the fence about covering the meager tornado risk taking shape in central Missouri region on Thursday. I woke up to a socked-in visible satellite view of clouds over the entire state, which was slow to burn off as the day progressed. As a result, the instability axis appeared to be narrow, giving storms a very short window of opportunity for tornadoes in far western Missouri. That was the primary factor that made me choose to stay home. A three-and-a-half hour drive for maybe 25 minutes of questionable tornado potential wasn't enough for me to pull the trigger on an expedition. Had I gone, my tentative target for the day was to play the I-70 corridor around Boonville, MO due to the better low-level wind fields closer to the surface low.
As it turned out, the storms maintained supercell characteristics much longer and farther east than I expected, and tornadoes occured in my target area. I likely would have seen the Trenton, MO tornado had I decided to photograph storms and stick to my target. As the storms progressed east, I expected them to completely die out before reaching St. Louis due to very weak or non-existent instability in our area. So, I didn't even leave my apartment to go downtown like I normally would have, instead waiting here at home to watch whatever would pass overhead. To my surprise, the storms intensified after crossing into Illinois, putting on a show of unexpectedly quality lightning and providing my first lightning shots of 2014. It's always nice to get 'on the board' with the first lightning photos of the year, especially since I'd already seen tornadoes more than a month earlier!
As with many storms, the visible lightning was better on their back side. I began with CG lightning approaching from the west, then transitioned to shooting from inside the car after rain started falling. After the rain stopped, the storms put on their best display of intricate discharges to the east of town over I-64.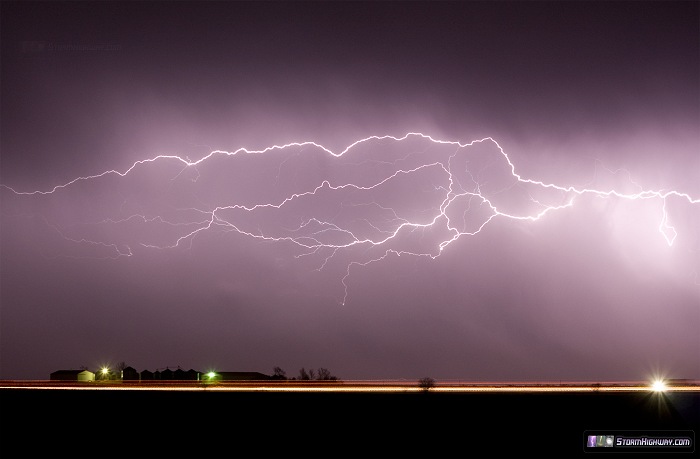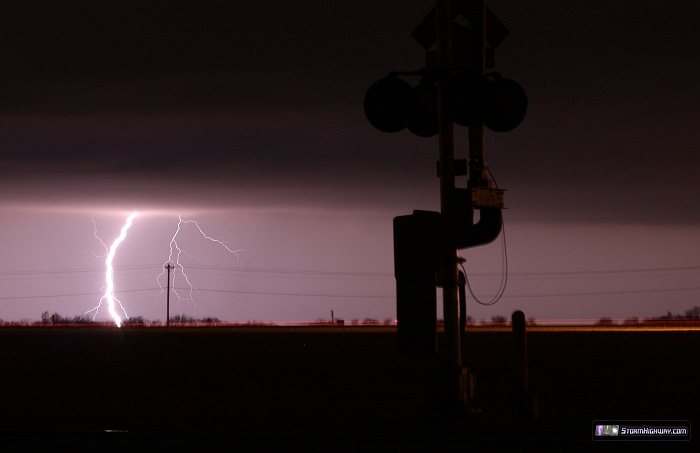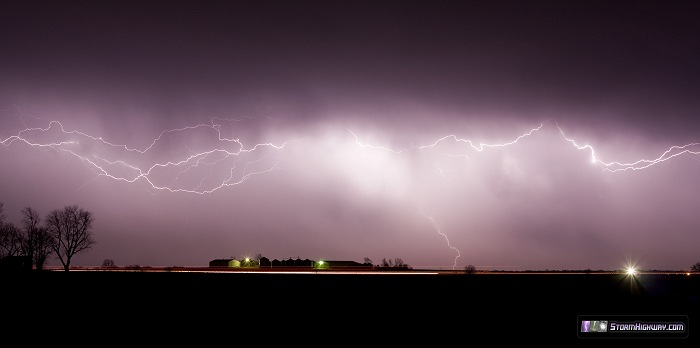 12-frame stack: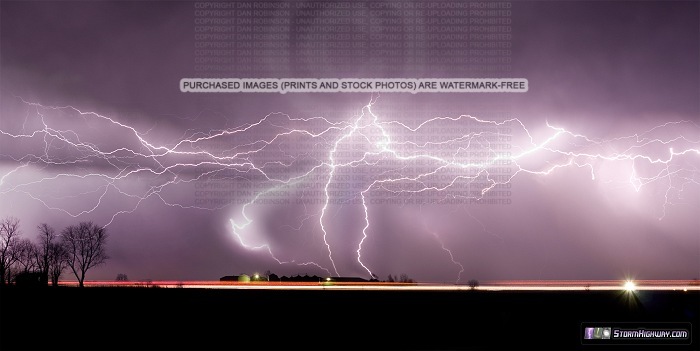 All content © Dan Robinson. All usage requires a paid license - please contact Dan for inquiries.

Web Site Design and Internet Marketing by CIS Internet