Home | Blog Index | Blog Archives | Christianity & Faith Essays
Tuesday, May 13, 2014 - 1:27AM CST
Day 1: Nebraska tornadoes
HD EXPEDITION VIDEO: Tornadoes, lightning and incredible motion in Nebraska HP supercell
GPS TRACK: GPS path for May 10 and May 11 expeditions
What I expected to be a two-day Midwest severe weather event (Missouri on the 10th and then Iowa on the 11th) turned into my first Great Plains trip of the year. The primary tornado target on Sunday the 11th shifted well west of Iowa, requiring me to cross into Kansas and then into Nebraska - officially making this Plains trip #1.
I had planned originally to return from Saturday's Missouri expedition to shoot the storms over St. Louis. This was to be followed by a short night's sleep in my own bed at home, then a very early wake-up for the long haul back west into Nebraska. After seeing that Saturday's storms were not very productive in the visible lightning department, I chose to not make the 2.5-hour drive back into St. Louis. Instead, I used that time to cover some miles north and west toward Nebraska. This would require the expense of a hotel room, but would result in a relatively short drive to Sunday's target, and better yet, that on a full night of sleep. I stopped for the night in Cameron, MO and arrived at my target near Beatrice, Nebraska on Saturday afternoon.
The first storm of the day went up well to the west near Red Cloud, and appeared to be elevated and heading north of the mainly stationary warm front. For this reason, I hesitated in jumping on this initial activity for some time. Eventually, however, it appeared that this storm might eventually turn right enough to latch onto the front, so I moved in to make the intercept. I reached the storm just southeast of Sutton, Nebraska at the time a large tornado was reported. Though it's clear that the tornado was in progress as I was watching the storm (very strong radar couplet), I could not see it from my vantage point due to it being buried in precip. This was my view about 6 miles southeast of Sutton: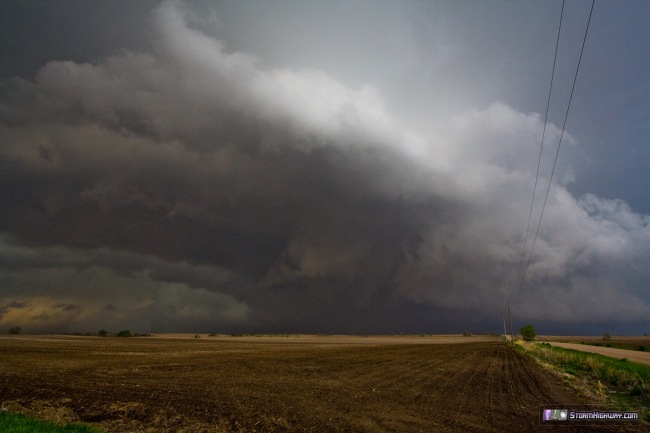 Even after torturing this image with extreme contrast enhancement, I was not able to make out the tornado. It was simply buried too deeply in the rain. So, I will not count this as one of the day's tornado sightings.
A large RFD gust front was apparent with the storm, with dust being kicked up well to the south of the hook. This outflow reached my location south of the storm, and now it was clear I was dealing with an HP that would require looking down the inflow notch for any hope of seeing tornadoes. I finally reached this viewing position near the town of Beaver Creek, about 1.5 miles south of I-80. Almost immediately the rain parted to reveal a tornado in the bear's cage: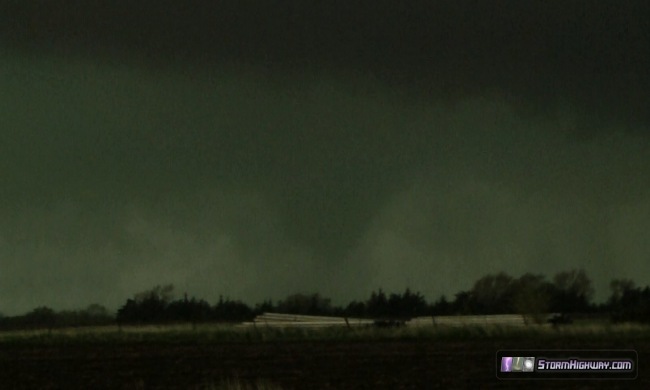 This tornado appeared to be associated with an occluding circulation, with a new circulation intensifying ahead of it. The clouds at the top of the above image are the base of the new wall cloud. Rather extreme motion was present here, with the RFD creating rapid cascading downward motion as inflow raced in from the north with ground-dragging scud tags. It was a rather amazing display of atmospheric power! Due to the speed of the cloud motion and rain curtains, it is very likely a tornado was already in progress at this point - but I could not verify that at ground level as neither debris or condensation were yet present. You can watch the video above to see and judge for yourself, however. Finally, the new circulation tightened up and produced a bona-fide tornado, but unfortunately did so right as it wrapped completely in rain: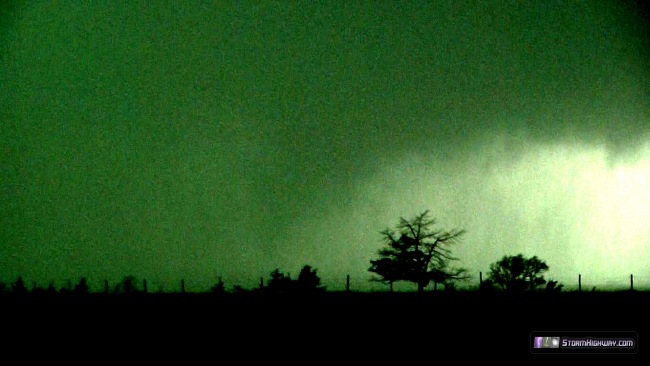 At this time, a loud roar could be heard to the left of all of this (the video camera also picked up the sound). A distant tornado roar is somewhat similar to hail roar, so I can't say for sure that the sound was a tornado - however it was entirely possible.
I jumped back onto I-80 to keep ahead of everything, exiting at Seward and going about a mile north before stopping to look again. Cloud motion/inflow was just as rapid as before, but it all seemed to be flowing into an area of deep and dense rain where nothing could be seen: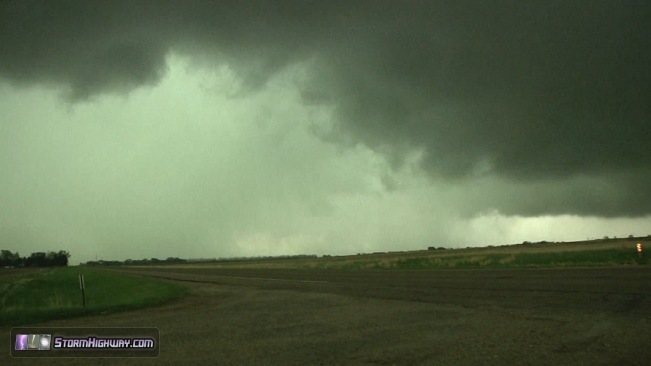 Several times (see the video link above), there were some apparently denser masses visible in the rain that could have been tornadoes, but even with heavy contrast enhancement, I was unable to confirm that. Again, consequently I won't count those as tornado sightings. I was on the lookout for spinups along the inflow, which seemed imminent a few times. With the precip catching up again, it was time to move. My intended route was up to Seward, then east on Highway 34. However, heavy precip overtook me in downtown Seward - and as I moved east on 34, northerly winds suddenly increased. It looked as if a tornado was either imminent or in progress to the southeast, so I immediately stopped, turned around and headed back west. That was a precautionary action that directly resulted from the El Reno encounter last year. I likely would have had room to go east another mile to see if there indeed was a tornado hidden in the rain, but I just didn't feel that it was worth the risk.
As I turned around, I looked up to see that I was inside of a large wet RFD clear slot, with brighter sky wrapping around what was likely a tornado just to the southeast. The RFD winds were very intense here. At this point, I was worried about hail damage, so I pulled into one of the narrow alleys in town next to some buildings to wait out the hail. I didn't see anything larger than quarter-sized stones.
Once the hail subsided, I decided I didn't want to mess around with this storm any longer. Now that it was north of I-80 and heading toward the Lincoln metro area, I felt that the storm was probably too dangerous to get into a position required to see anything. I was now a good distance behind it anyway. Nonetheless, I got back on I-80, passing flipped semis and snapped-off road signs at the Seward interchange. All of the damage was west-to-east, so it's possible this was just RFD and not a tornado. I'll defer to damage surveys before making any conclusions.
I eventually caught up to the storm's longitude just past Lincoln, thanks to the mostly 75mph speed limits on I-80. However, the storm appeared very messy and disorganized on radar, and in addition, I could see a troubling mass of storm photographers marked by Spotter Netowrk icons clustered on the only good road available to follow the storm. I decided to leave this storm and focus on new ones coming up farther southwest. At this time, the lightning in the anvil precip of the storm became frequent and intense. A pair of TV towers south of the interstate began taking multiple upward strikes.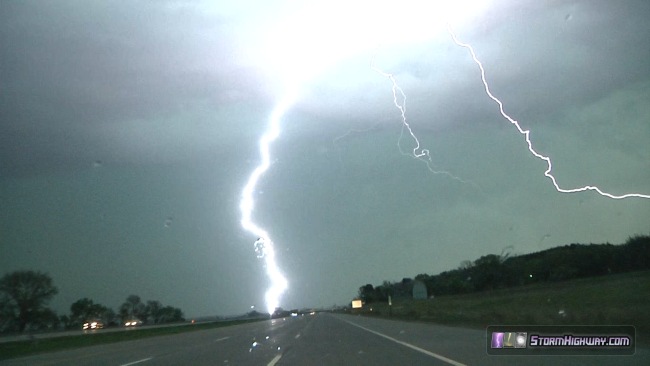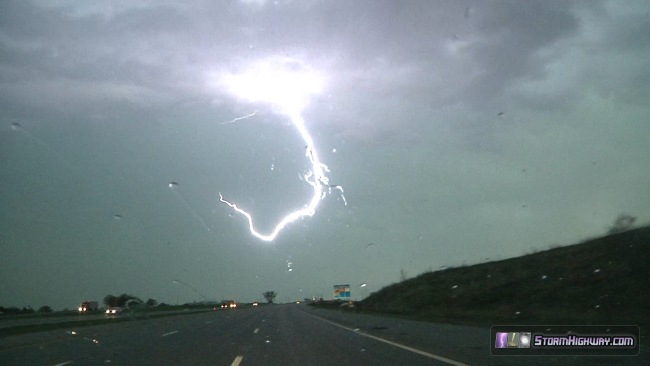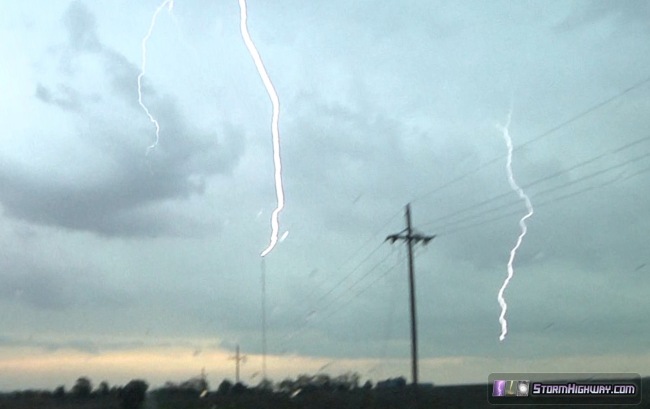 I drove to the south side of one of the towers, hoping to catch an upward strike with the supercell in the background. I was too late, as the storm's lightning barrage ceased just as I arrived and set up. I made one more stop to view one of the secondary storms moving past Syracuse, which showed nothing of interest. I didn't wait for the third storm that would also pass close to Syracuse, so I started the long drive home, arriving just after 3:30AM.
Upcoming storm forecasts
I have not looked at the forecasts in much detail, but right now there is another trough shown moving through sometime early-mid next week. It could provide the next round of opportunities - so right now I will give it 50% probabilities.
The following table charts the probability of a Great Plains storm photography expedition happening for several indicated date ranges in the near future:
2014 Plains Storm Expeditions - Probabilities as of May 13

May 14-18
2%
May 19-23
50%
All content © Dan Robinson. All usage requires a paid license - please contact Dan for inquiries.

Web Site Design and Internet Marketing by CIS Internet