Home | Blog Index | Blog Archives | Christianity & Faith Essays
Sunday, May 25, 2014 - 11:48PM CST
Plains trip #2 accounts, photos, videos - May 20-23
HD VIDEO 1: Colorado supercell, lightning, possible tornado - May 21-22
HD VIDEO 2: Chaser convergence (crowds) timelapse on May 21 near Byers
GPS TRACK: GPS trip path from entire trip - May 20-23
I returned Friday night from a two-day storm photography expedition to Colorado, my second "unplanned-last-minute" Plains trip of the year. These last-minute trips are a result of the better setups not being evident many days out, but appearing in the short-term and requiring short-notice departures. I've decided to combine the days of this recent trip into a single post.
Tuesday, May 20: Models began to converge on a good severe weather/tornado setup in a rather unconventional place for May: the Denver metro area and areas to its northeast in Colorado. This would be a long haul, but I decided to jump on it. I left St Louis at 5PM on Tuesday with a planned overnight stop in Salina, Kansas, where I arrived just before midnight.
Wednesday, May 21: After a morning departure from Salina, I arrived on the Denver storm of the day as it was moving out of Aurora. I watched it approach along 25th Street north of I-70, then parked 1 mile south of 26th Street and 88th Street just east of DIA, just northeast of the approaching notch to try and get a glimpse of what might be lurking inside.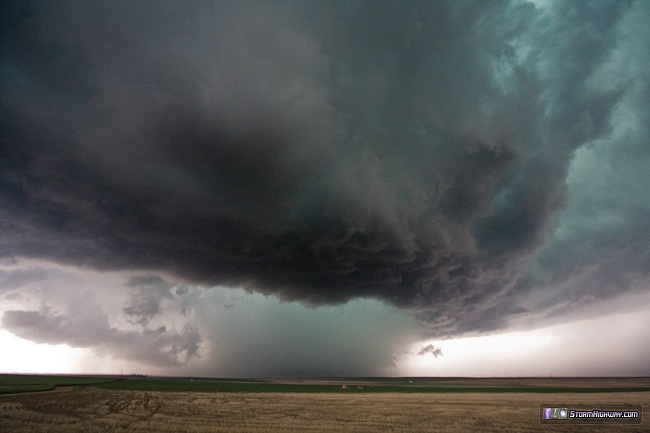 I got a very low-contrast and questionable look what may have been the reported tornado. Until I can get some detailed locations and times, I'm not inclined to 'count' it just yet: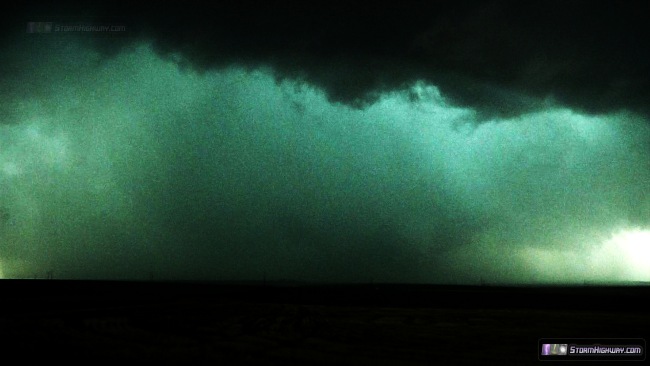 I left this location about 30 seconds too late, as the hail core northeast of the meso gave me a glancing blow - and two spider cracks in the windshield - as I moved east on 88th.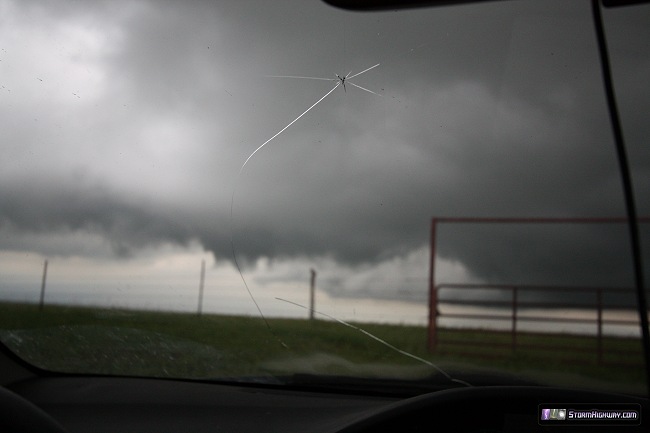 The storm appeared to cycle again northwest of Byers with a strong RFD cut slicing 3/4 of the way around a conical-shaped wall cloud, but motion in this feature was rather weak: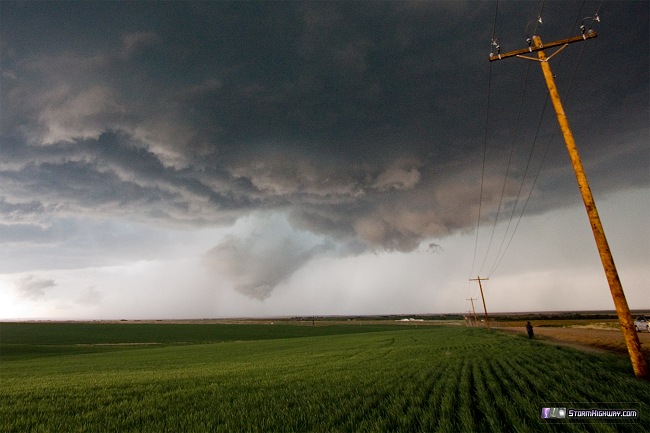 The storm again cycled northeast of Byers with surging RFD, but I was forced south to US 36 and out of optimal position in order to access what appeared to be the only bridge across a north-south creek. Once pulling onto 36 eastbound, I hit massive chaser convergence, with a long slow-moving line of traffic and dozens if not 100 vehicles parked along the road (see the timelapse linked above). For this reason I opted to continue far ahead of the storm to re-position on gravel roads and thus avoid the crowds. The storm unfortunately began merging with cells to the south at this point, ending the expedition. I headed back to Aurora to spend the night.
Thursday, May 22: I was not impressed with this day's potential, so I put priority on visiting with friends in Denver and Colorado Springs. We visited Garden of the Gods before lunch:
I arrived at Limon by late afternoon, and paused for a while trying to decide on continuing east or going back toward Denver to look at the storm east of the metro. The Denver storm increasingly looked like garbage, along with flash flooding and observer crowds - so I chose to move east to position ahead of a new line of storms developing around Kit Carson.
I passed through the precip cores of this linear complex, also mainly garbage - aside from the vivid lightning show. I was generally not successful in capturing good video any of the many close CGs. I pulled far ahead of this line, now presenting a strong gust front with blowing dust under a nice striated shelf cloud near Cheyenne Wells.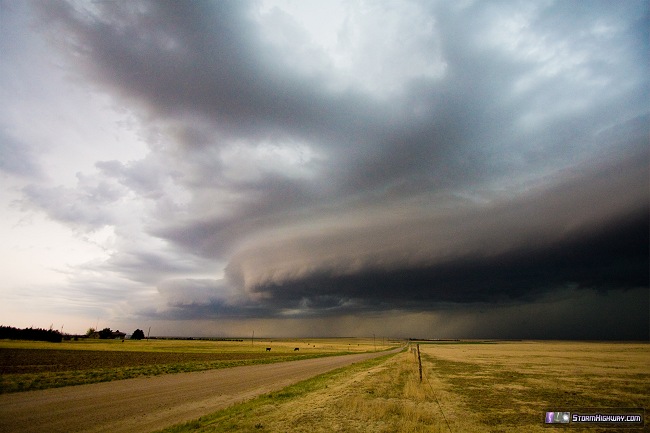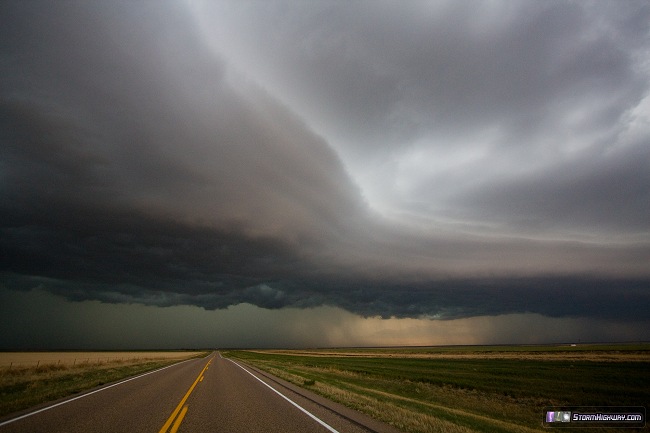 This is a 7-frame panorama of this scene:
The funnel-shaped lowering back behind the shelf cloud here is not tornadic - it is what we call a 'scud bomb', a benign low-hanging cloud associated with cold outflow.
This activity slowly lost its appeal, with a broad area of steady rain out ahead killing any chance to stop and shoot the nice lightning show. I ended the day at Goodland as the storms moved over, at that point with mostly invisible in-cloud lightning and heavy rain.
Friday, May 23: I was not impressed enough with any additional setups to continue observing, so I headed home the next morning. On the way, I stopped and photographed a contrasty dark-based rain shower at the scenic overlook just south of Manhattan.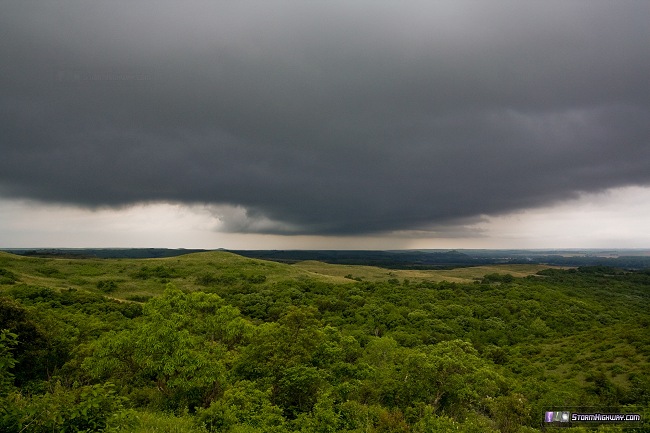 Otherwise, there was not much happening in Kansas or Missouri the rest of the way. I arrived home at 11PM Friday to bring Plains trip #2 to a close.
Upcoming forecast update: While the remaining days of May appear to be marginal for severe storms, some signs are showing up for at least a modestly active start to June. Currently, long-range models show the possibility of a shortwave trough moving through, bringing southwest flow of 40 to 50 knots over the central Plains during the June 1 to 3 time frame. Following this, a northwest flow pattern is shown establishing itself over the Plains/Midwest. While not ideal for tornadoes, northwest flow can still bring worthy chase opportunties. Both the southwest and northwest flow regimes should have plenty of instability to work with - most of the time, when you have good upper support over good instability, there will be "doable" storm photography opportunities somewhere.
At any rate, it doesn't appear the season is quite done yet. I suspect that the ample rainfall happening over the southern High Plains now may delay the onset of the summer ridge we'd normally expect this time of year. It's not over until it's over - there have been good northern Plains trip setups well into late June in past years. As I've said before, June 15 is my usual end-of-season date - and anything can happen as long as the season's still here!
The following table charts the probability of a Great Plains storm photography expedition happening for several indicated date ranges in the near future:
2014 Plains Storm Expeditions - Probabilities as of May 25

May 26-31
0%
June 1-6
30%
That first picture reminds me of the el reno tornado. As for the tornado lookalike near the shelf cloud, look closely enough and you'll see that the scud bomb doesn't reach the ground but it'd be very deceiving to less experienced storm photographers, but good pictures!
- Posted by Tim
Very nice shelf!!
- Posted by David provoost from The Netherlands
All content © Dan Robinson. All usage requires a paid license - please contact Dan for inquiries.

Web Site Design and Internet Marketing by CIS Internet