Home | Blog Index | Blog Archives | Christianity & Faith Essays
Monday, October 13, 2014 8:56PM CDT
Rope tornado at New Baden, Illinois - October 13
VIDEO: New Baden, IL tornado on October 13
Another prolific fall tornado event further validates the Midwest's reputation as an observable region year-round. I stuck to my now-standard plan of staying in my home area when there is any tornado risk affecting the St. Louis metro, rather than going on a long-distance trip to photograph storms elsewhere where tornado parameters are higher. This strategy paid off once again, as I observed a brief tornado exactly 1.1 miles from home today in my town of New Baden, Illinois (just east of St. Louis) at approximately 1:35PM CDT today. This was my first October tornado intercept, and my closest one to home yet (it doesn't get much closer than that without a direct hit). Following the tornado, I did a quick damage survey and reported this information to the NWS (initially, this tornado was not known by anyone aside from those it affected).
I initially drove into St. Louis to observe a break in the squall line that exhibited some radar-indicated rotation heading for downtown. After this passed to the north of the city, I headed back east to observe additional circulations crossing I-64. The tornadic circulation at Shiloh was completely rain-wrapped and invisible. As I approached New Baden from the west, a strongly rotating wall cloud with rapid cloud motion and intermittent rope funnels came into view from the south. This region crossed Highway 161 at Ruth School Road at the west end of town with minor tree damage noted. Trash can islands at the new Casey's General Store were moved several feet westward. The tornado then impacted barns at a farm on Ruth School Road north of I-64/161 interchange. A pole barn was completely collapsed, with significant roof damage to an adjacent barn. Sheet metal from the barns was wrapped around tree branches at the residence. A flattened area of corn was just north of the damaged barns. Damage to the barns appeared to be in the EF1 range. Fortunately, there were no injuries. No other damage was found north or south of these locations.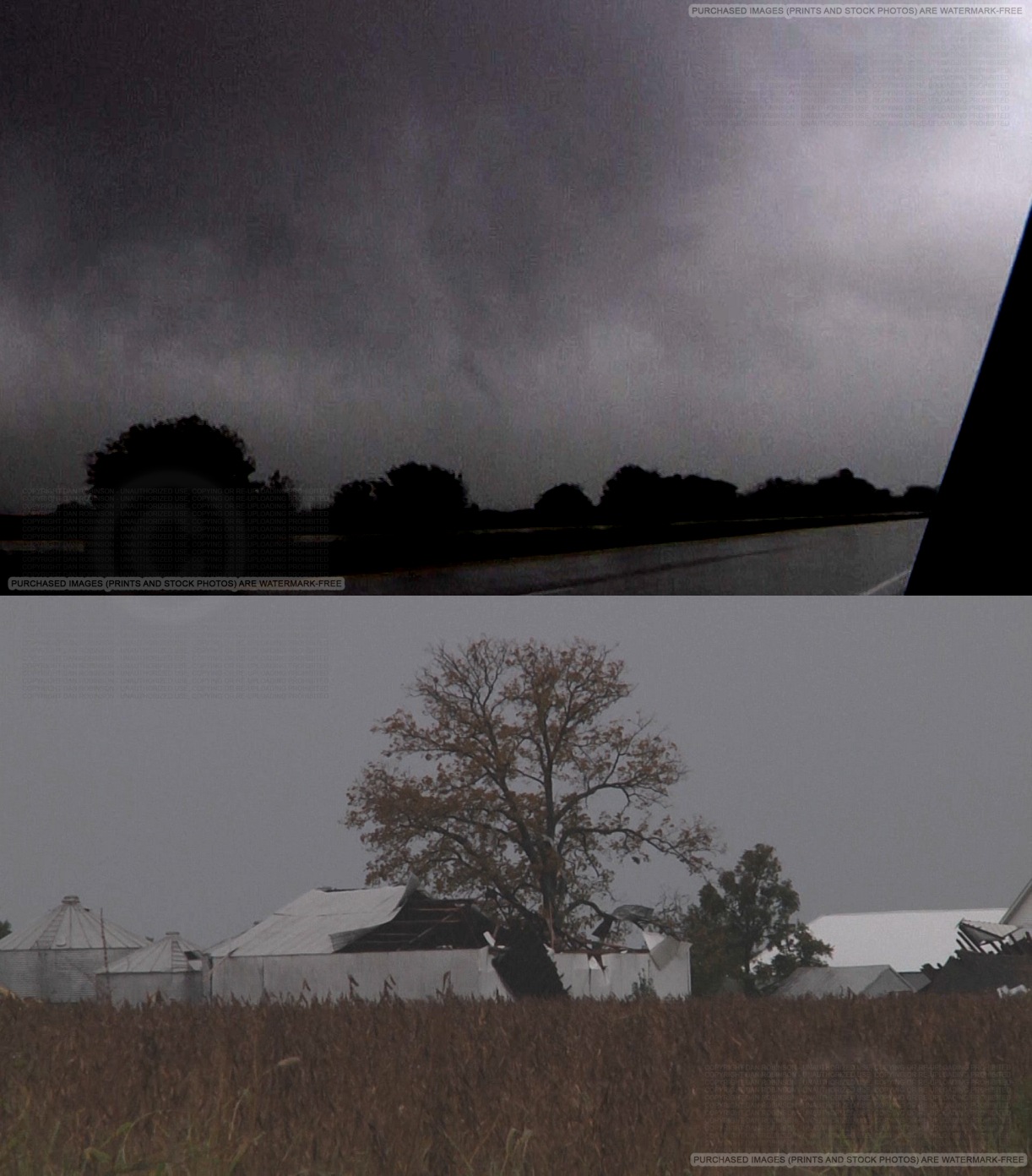 This system produced other tornadoes in Illinois from separate storms, including at Shiloh, Moweaqua and Decatur. As with many events in the Midwest, I expect that there are likely other tornadoes produced that were not observed/photographed. The damage at Moweaqua appeared to be in the low-end EF3 range, with at least one home completely destroyed.
As with other Midwestern tornado events, I plan to assemble archived radar and more links on this page when time allows.
Thanks for posting the video and storm photographer report. I was driving by at the time you videotaped the tornado. The silver SUV looks like mine! There was a break in the heavy rain and I saw this swirl of leaves and the rotating dark clouds above. First time seeing this. Interesting to look back and see what I was trying to get away from!
- Posted by Anne
All content © Dan Robinson. All usage requires a paid license - please contact Dan for inquiries.

Web Site Design and Internet Marketing by CIS Internet