Home | Blog Index | Blog Archives | Christianity & Faith Essays
Saturday, April 11, 2015
Missouri/Illinois and St. Louis storm photography recap: April 2-9
HD EXPEDITION VIDEO: Lightning over the Gateway Arch on Wednesday, April 8
Here's a recap of storm photography during the active period of severe weather in the St. Louis and surrounding regions during the past 10 days. Since each day presented a tornado risk in the St. Louis metro area, I did not travel far from home on any of the events. I don't like to stray too far even when tornado chances are greater elsewhere, as I've learned any risk here can produce closer to home. I've reached the point where I very much enjoy covering storms in my "home area" this way, and am willing to accept missing some more significant events farther away (such as the northern Illinois tornadoes on the 9th). In fact, I will only travel to the Great Plains (or even upstate Illinois) when I can be sure of no tornado risk simultaneously affecting the STL metro. I figure, why travel far away when I can see good storms at home?
Thursday, April 2
This event had some potential in its eastern MO/IL sector. The initial drawbacks were the sinking cold front and lack of a strong low to the west to help back our low levels. What ended up nullifying any tornado risk here was persistent clouds and rain early in the day, which greatly limited our available instability. If not for that, I believe a couple of the storms I saw yesterday would have had a decent shot.

Initial storms early in the afternoon were high-based and bland, but by late afternoon I started seeing surface-based updrafts south of I-64. Two storms passed just north of Sparta, IL, the first presenting a strong RFD surge on radar before I could get a visual on it. This first storm rapidly weakened as I approached it. I observed this second storm trailing just behind the first: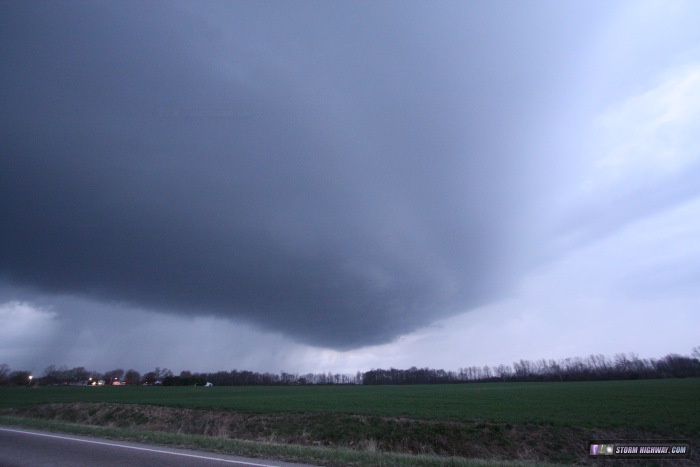 The updraft of this second storm was rounded with a weak RFD cascading on the back side. It had strong enough inflow to turn winds southeasterly just ahead of it (the ambient surface winds were southwesterly). It didn't produce much lightning until moving off to the northeast near Coulterville.
The next round arrived after dark and was a little more interesting. These appeared to be mostly elevated supercells passing south of the STL metro. This one at Fayetteville, IL had a pronounced VIL spike at the time of this image (a 2-frame panorama stitch):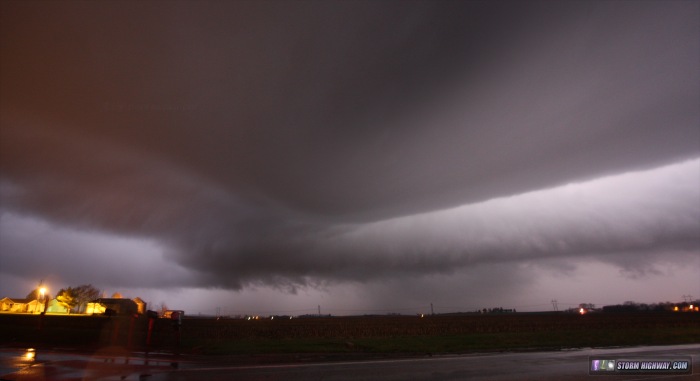 The long arcus was feeding into an area of broad rotation on the left. On radar, a RFD surge eastward was noted in the area to the left of this image. The area on the left side passed directly over my location in Fayetteville. Prior to the main hail/rain core arriving, I experienced a rapid wind shift from southerly to westerly as heavy rain began, followed about 30 seconds later by a instant shift to northerly with a fine mist/fog moving rapidly. At this time I could see visually I was in a precip-free notch, and on radar, a pronounced RFD surge was visible essentially overhead. The SRV image at the time showed a broad circulation centered just north of the road and tracking east all the way to Okawville. I hesitate to call this a couplet, but at times it seemed to be approaching this definition. I was quickly overtaken by the RFD precip core at St. Libory and couldn't get a visual on anything happening to my north.
In all, an interesting day that almost lived up to its potential.
Tuesday, April 7
I awoke early in the morning to see an elevated supercell (very low or no tornado threat) in progress on I-70 and heading for the St. Louis metro area. Radar VILs were maxed out, and significant hail in excess of 2 inches was being reported. Despite the early morning hour, I headed out the door to await the storm's arrival downtown. On Sunday, I had just completed building and installing a new hail shield rig for my car, and this storm threatened to put it to its first test. As with most supercells, I expected this one to gradually turn right and follow the northern (cool) side of a warm frontal boundary that dipped to the southeast. After a few ups and downs in intensity, I finally let the storm catch up to me in Kirkwood, but only observed pea-sized hail. It turns out the most significant hail of the event was in Ballwin, where hail piled up several inches deep.
Wednesday, April 8
April 8 featured an easy target and easy chase. I awoke at daybreak to do a final data check to decide whether to go to south-central Kansas, or stay home. With 40-45kts of WSW 500mb flow overtop of at least 2000 j/kg surface CAPE, backed surface winds in Missouri and Illinois and either an outlow boundary or warm front to choose from, it was an easy decision to stay in the Midwest. As I've mentioned before, when there is a potential tornadic supercell environment close to home, I'll chose it over the Plains, even if the Plains targets are better in quality. I targeted the supercell tracking along an outflow boundary into the STL area at midday, opting to wait for it on the Illinois side of the river rather than intercept on I-44. As it turns out, the storm turned hard enough that I ended up having to go all the way down to Perryville, MO. Unfortunately, the storm became outflow dominant as soon as it moved out of the virtually unchaseable region between I-44 and I-55 (during which time it produced an EF1 tornado in Potosi and dropped 3-inch hail). I observed some interesting structure at a distance with a great CG barrage, then some murky structure in the rain as it was on its last gasps. I went back into St. Louis for some lightning photography to close out the day.

Images from April 8 (click for larger versions): CG barrage and distant flanking line. The meso of the storm was deeply buried in the rain on the right side of this image.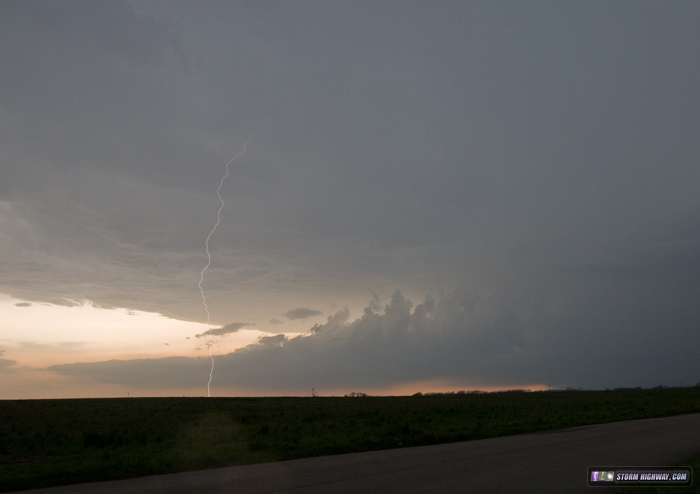 Structure as the dying meso became visible in the heavy rain at Perryville. Not much left of it here.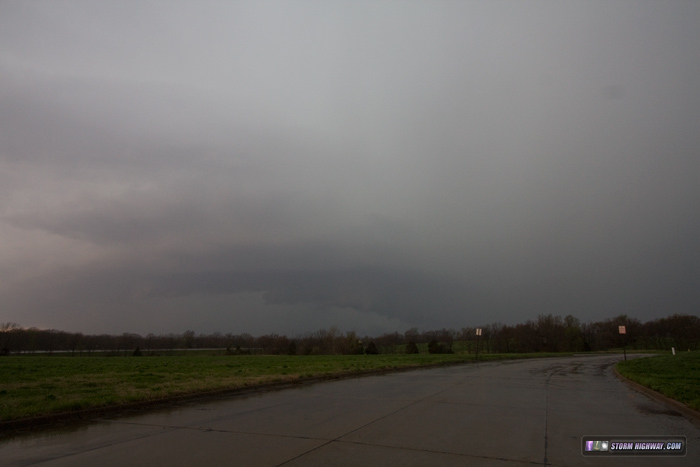 Back in STL for lightning over the Arch again: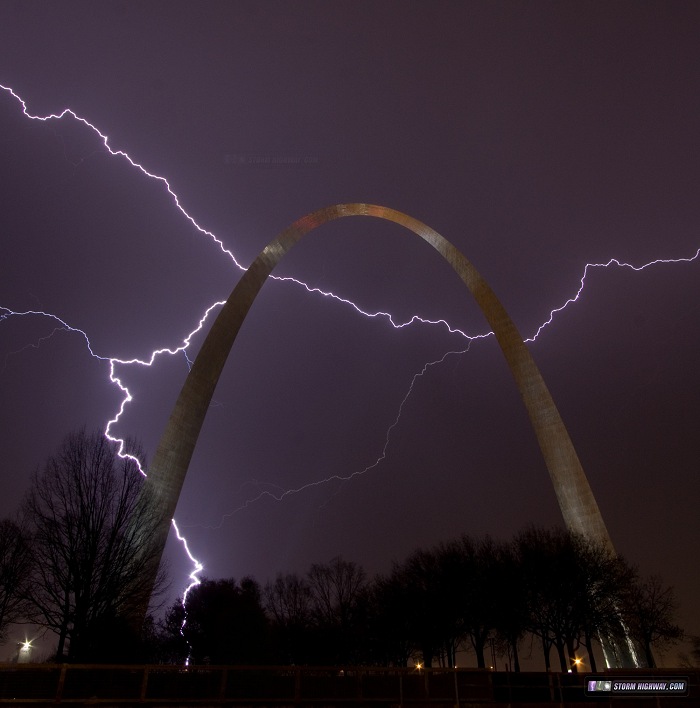 The gallery has a couple of stacked versions of this event, plus the individual frames.

Thursday, April 9
I knew the warm front was going to be the place to be this day, but when there is also a threat for tornadic supercells at home, again, it's hard for me to get motivated to stray too far. I didn't leave home until 3PM, and was able to make a leisurely drive up to Jerseyville, IL to catch my first storm of the day. As it approached, the original meso became engulfed by a new core developing just to its south. This pretty well hosed the storm until it was right on top of me, at which time the new updraft became dominant and a strong rain-filled RFD surge blasted across the road, snapping many small tree limbs and severely bending others. I had no hope of catching up again as the visibility was near zero, and I feared that there could be fallen tree limbs in the road I could not see in time. Once out of the precip, I dropped down to I-70 and briefly attempted a catch-up move paralleling the storm to the south, but quickly abandoned that idea once darkness fell. I estimated I'd have had to go to Effingham to get back in position, and the instability was starting to drop off that far east anyway. I ended the day by standing out in the post-frontal winds a mile from home and doing some lightning photography of the departing storms to the east.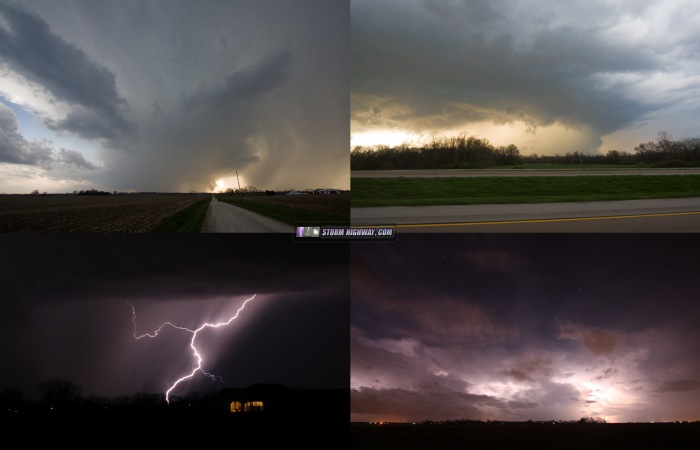 We have a nephew who expeditions out of Wichita, KS that we follow, but I love that you're in our 'neighborhood'!! Your pictures are spectacular.....love seeing them
- Posted by Vickii from New Baden, IL
Thanks for your blog Dan. I follow it every year and wish that I could chase as you do. Have a safe, productive storm season. One request, if I may. In your chase narratives, could you include more information about what life on the road is like during storm season, especially when it comes to finding accommodation and decent food in some of the very remote areas of the country in which you find yourself observing, when there are large numbers of storm photographers in that same area with you. It must be a problem at times. Thanks
- Posted by John M. from BC, Canada
This web site is made possible by support from CIS Internet.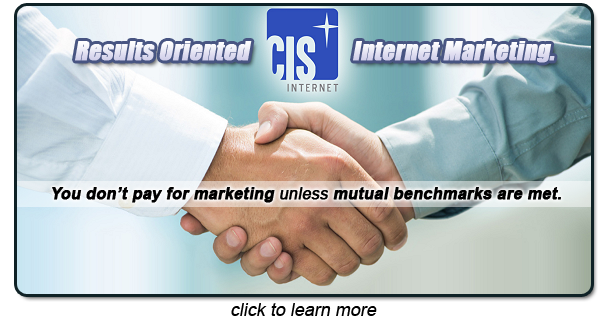 GO: Home | Storm Expeditions | Photography | Extreme Weather Library | Stock Footage | Blog
Featured Weather Library Article:
All content © Dan Robinson. All usage requires a paid license - please contact Dan for inquiries.

Web Site Design and Internet Marketing by CIS Internet