Home | Blog Index | Blog Archives | Christianity & Faith Essays
Thursday, August 6, 2015
Sunrise-lit shelf cloud; other storm photography images from July 26 - August 5
I'm going to re-start the old site tradition of inserting a small message at the beginning of expedition reports. I like to try to make this site about more than just showing some storm images now and then. Are you a Christian encountering questioning of your beliefs? If you live in the USA, the answer is probably something like "yes, almost every day". Whether you are a Christian or not, if you're serious about learning the facts behind the history of the Bible, the person of Christ and the logical arguments for the existence of God, I want to introduce you to this web site: Reasonable Faith by William Lane Craig (I have no affiliation with that site, I am simply a big fan). There are many sites like those out there that I highly recommend, but those two are a good start. If you have any questions, please contact me and I'll direct you to even more resources. You might also be interested in some Essays and Topics I've written. Christianity is solid, logical, rational and evidence-supported on all levels. Those resources will show you why, and help you respond to those who would say otherwise. I've spent over 8 years investigating Christianity and the claims of atheists/skeptics myself, and as a result, my faith is stronger now than it ever was. My motivation for posting this is that I want to help others find the information and answers that have really helped me.
Now, on to the storms!
August 5, Part 1: Morning sunrise-illuminated shelf cloud
VIDEO: New Baden shelf cloud timelapse, August 5

Shelf clouds/roll clouds/arcus clouds are produced from thunderstorm outflow winds. If you've covered and/or observed weather for a while, you've probably seen that these formations tend to be most dramatic when they happen early in the morning. Overnight, the air near earth's surface tends to cool and saturate, which makes cloud formations more dense, 'full' and dramatic when thunderstorm outflow plows through it. Such was the case on Wednesday morning, August 5. A line of storms formed near the Mississippi River near Perryville, MO and moved north into Illinois, passing just to the east of St. Louis. The shelf cloud ahead of these storms was already impressive in its own right, as many morning shelves are. But, as the sunrise began peeking through the clouds to the east, the entire shelf cloud formation was bathed in the direct orange glow of the rising sun. This is the first time I've seen a nice shelf cloud front-lit like this, and it was a sight to behold (and photograph)! Below are several multi-frame panorama stitches of the shelf cloud before and after sunrise as it moved from crossing I-64 at New Baden to crossing I-70 near Greenville, Illinois: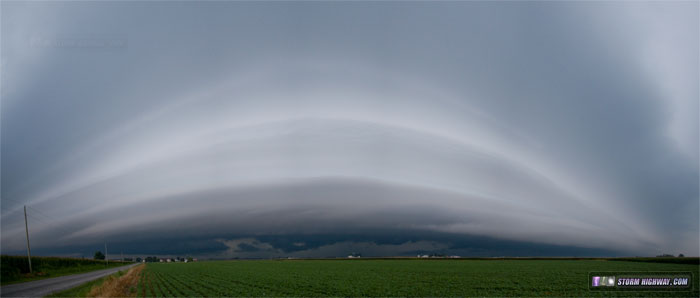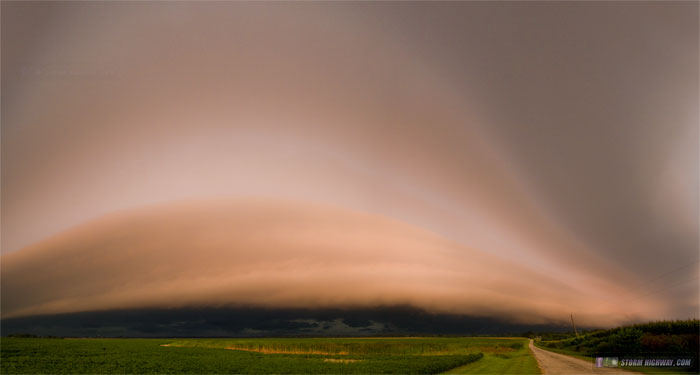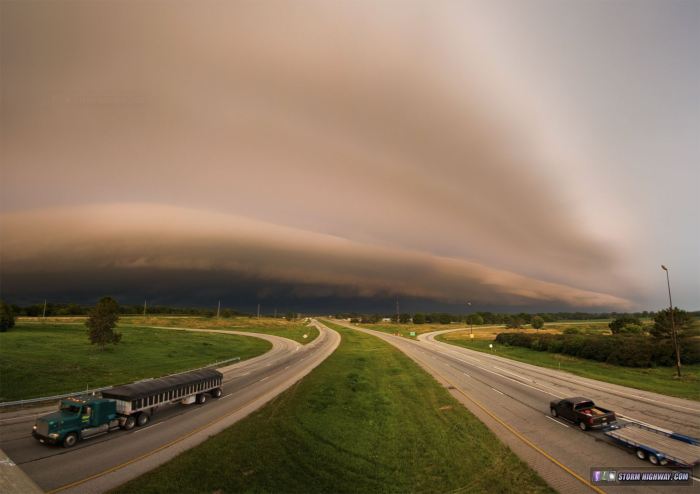 August 5, Part 2: Weak pre-tornadic circulation
An MCV/surface low hybrid was spinning its way toward St. Louis on the afternoon of the 5th. These are never things to ignore if there is any instability available, so I went over to the Union/Villa Ridge/St. Clair area in Missouri to see if I could find anything interesting. I rarely expedition in this area because the terrain is very hilly and forested, and views are hard to come by. I was, however, able to get a nice view of this circulation near Villa Ridge spinning *something* down to the ground, fully condensing at times. I have seen several such events over the years in similar environments. This did not appear to reach the 'violent' or 'damaging' threshold to be called a tornado, in my opinion - but it was certainly a feature that, given more instability, certainly *could* have easily reached tornadic intensity.

In the absence of another term for this, I'll call this a "sub-tornado". Here is the video so you can see and decide for yourself.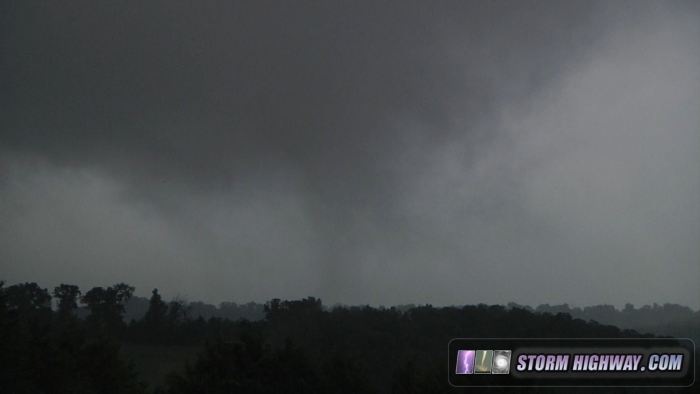 August 4: Hamel, IL lightning
I shot video and stills of this small storm as it crossed I-55 at Hamel, Illinois on the morning of Tuesday, August 4. (Here is the video clip)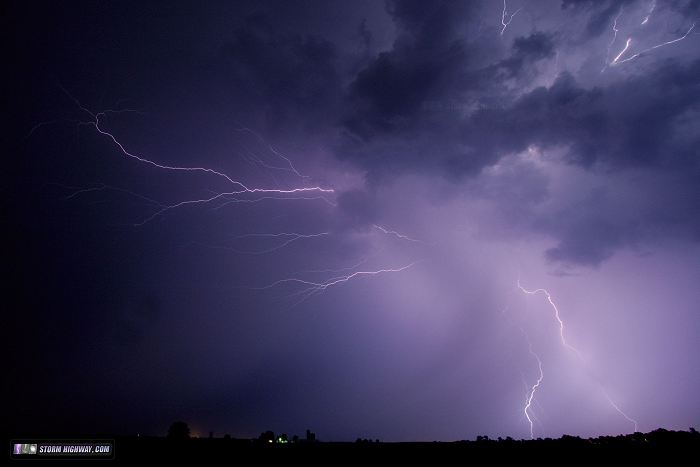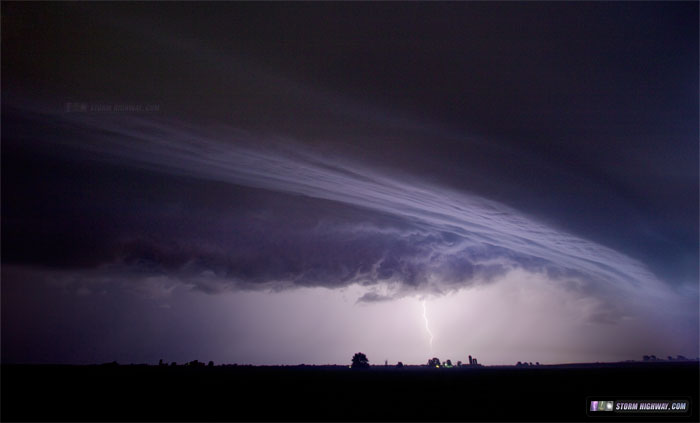 July 27, Part 1: Storm and lunar halo, New Baden, IL
This small thunderstorm fired after dark on Monday, July 27 just south of my town, complete with the moon and high cirrus clouds producing an optical halo: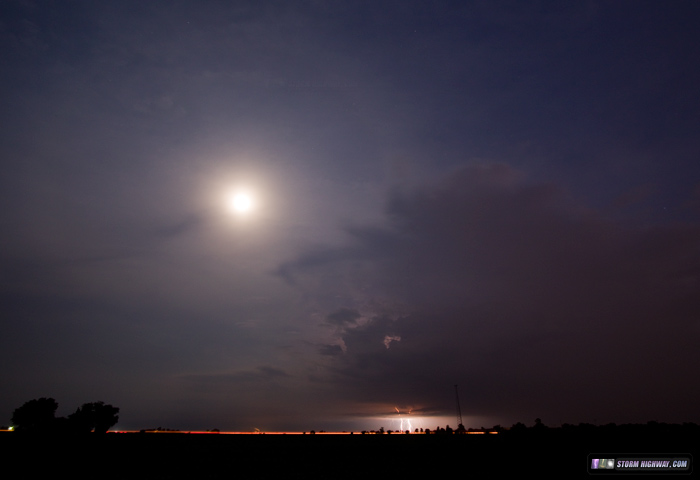 July 27, Part 2: Early morning lightning southeast of St. Louis
I shot these storms around Mascoutah, New Baden, Belleville and Freeburg, IL before sunrise on the 27th.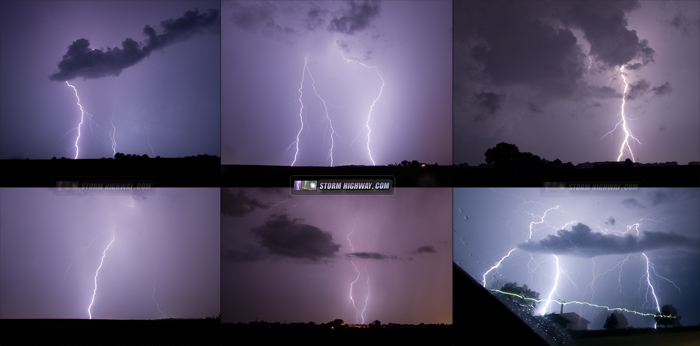 July 26: Morning shelf cloud at New Baden, IL
Panorama stitch of another morning shelf cloud at New Baden from weakening storms on Sunday the 26th:

That's it for this update! Until next time....
Essays and Topics on Christianity and Faith >>
Those storms were something else! I was very impressed with the lightning show. :) And yeah, the light pollution at night is ridiculous.
- Posted by Athena from Saint Louis
All content © Dan Robinson. All usage requires a paid license - please contact Dan for inquiries.

Web Site Design and Internet Marketing by CIS Internet