Home | Blog Index | Blog Archives | Christianity & Faith Essays
Wednesday, July 22, 2015
Storm chase roundup for July 1-19: An active summer!
Another largely frustrating, but at times fun, interval of active severe weather affected the Midwest region in the middle of July. Again, our tornado/severe weather season never ends here, so although this was not unexpected, this July has been one of the most active since I've lived here.
July 1: Weak St. Louis storms
A short trip downtown for weak storms moving over the city. No photos or footage captured.
July 11: Supercells with insane lightning barrages
VIDEO: July 11 Illinois supercells

Today was a sort of 'sleeper' day, with a warm front, strong instability to its south, and a puff of upper level support moving overhead - something you never ignore if you're an Illinois observer. I drove up to west of Jacksonville to get on this initial storm that spun up a meso on the north side of a broad push of outflow. This is the view looking west near Meredosia in the Illinois River valley. From the start, this storm was a prolific CG producer - a theme that would continue the entire day. This image is a panorama stitch with a video frame of the lightning stacked in:

I stayed ahead of the meso of the storm to Jacksonville, where I broke off to switch to another supercell getting started to the southwest. This second storm initially was north of a surge of outflow from the first storm, but intensified once it finally caught up to the boundary and began ingesting surface-based parcels. I got right up under the RFD/inflow interface and was able to stay with this region for most of the way to Litchfield. Despite some strong RFD punches and rapid motion, the storm was never able to spin anthing up from what I could see. Despite that fact, the storm was raining down cloud-to-ground lightning strikes like I hadn't seen in years. Quite the show! The video shows this barrage. By Litchfield, I had a headache from the large number of close blasts of thunder.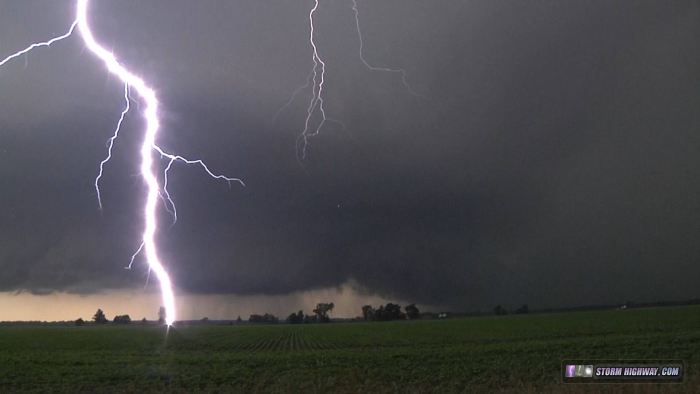 Once the storm began crossing I-55 at Litchfield, it began shriveling, while new storms were going up to the northwest. I broke off and headed to catch up the third storm of the day at Carlinville, which quickly dissipated due to being too far northeast into the previous storm's outflow. A fourth storm was going up to the northwest, slightly southeast of the track of the previous two and with better access to the unstable air to the south. I caught up to this storm near Hagaman, which continued the day's crazy lightning show: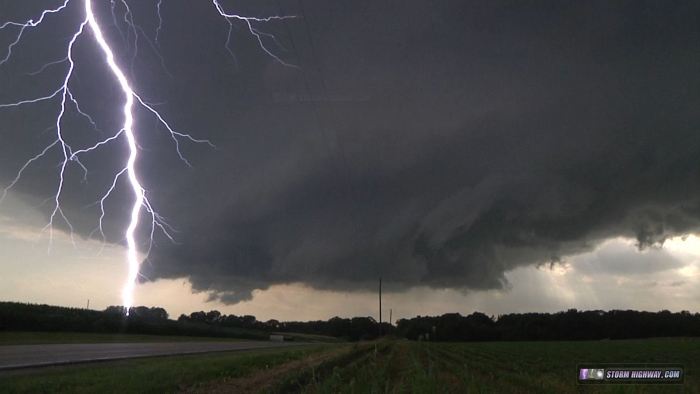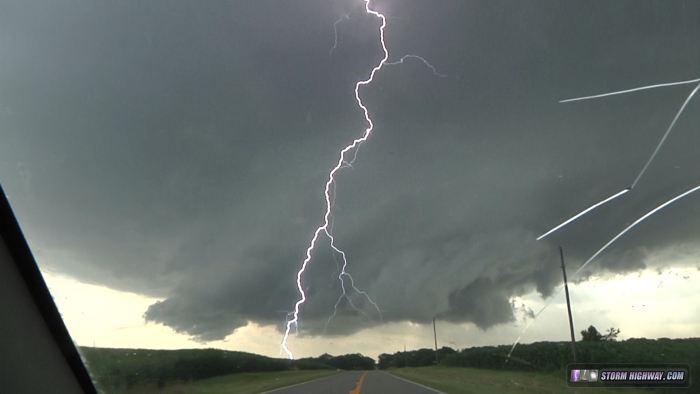 This storm produced a brief cinnamon swirl funnel that I could not get the camera on in time before having to dive south to escape the approaching precip. Other than that, the story was the same as the first - some big RFD pushes, but nothing getting it done from my vantage point. storm photographers Skip Talbot and Jake Thompson reported a brief/minor condensation swirl west of Gillespie at about the time I was shooting this next structure image, but I didn't see it from my vantage point.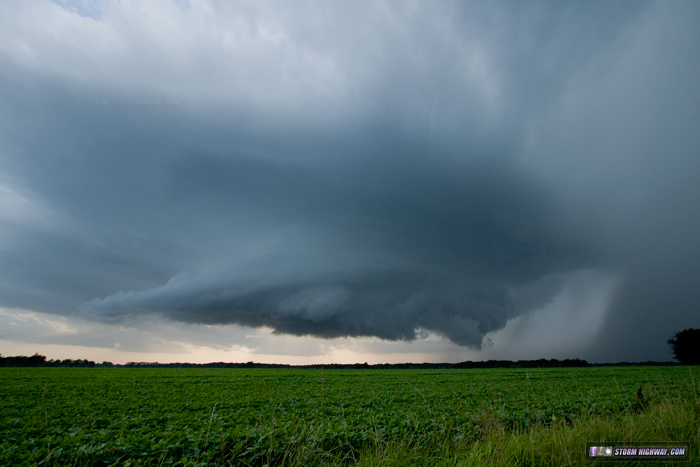 Once this storm finally dissipated east of Gillespie, the event was over with - I made it home just after sunset.
July 13: Supercells in northern Illinois
The July 13 setup looked like a major event by all accounts, with extreme CAPE topping 7,000 j/kg, 50 knots+ of bulk shear and a warm front across central/northern Illinois. The setup was not very dissimilar to the 2004 event with produced the Roanoke, IL F4 tornado, 11 years to the day. Many storm photographers from all over the country made the trip to the Midwest, including good friend Greg McLaughlin from Tulsa, OK who covered with me this day. After hanging out at Mark Sefried's house near Peoria, we started the expedition my mid-afternoon. After a brief diversion to check on an initial storm near Dwight, IL, we I settled on the storm moving into Ottawa. Despite some impressive RFD and promising looks a few times, the storm couldn't get it done - inflow was too weak. The highlight was watching the storm move through the wind farm. Since the turbines automatically turn to face the wind, collectively they were a visual microscale mesonet, revealing the surface flow pattern under the storm. At one point, turbines surrounded the wall cloud, showing the inflow into it from the southeast, east, north and northeast.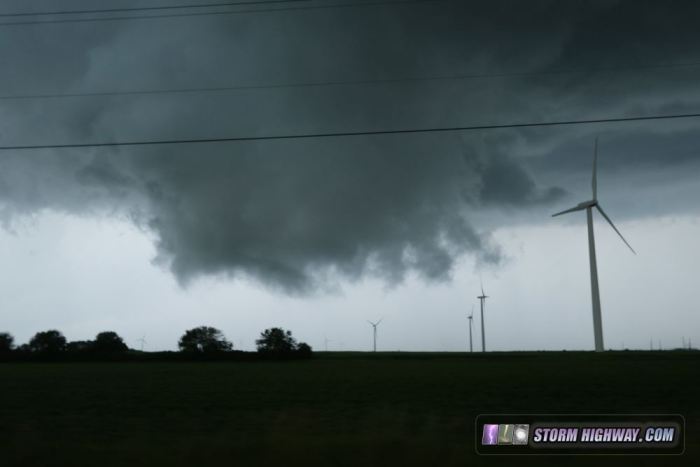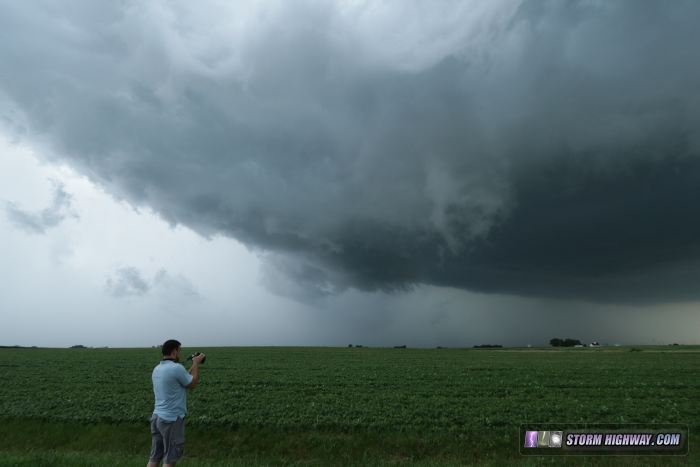 At that point was the best the storm looked, and it was all downhill from there. The RFD/forward flank gust front ran far ahead of the storm for the rest of the evening. We broke off the expedition at Dwight and headed home, opting to not continue into Indiana given the fading daylight and lack of reports from ongoing storms there. We also encountered for a moment what was probably a record Illinois observer convergence (running into Skip Talbot, Marcus Diaz and several others).
July 14: Pennsylvania trip
My family's big annual get-together in Pennsylvania was the week of the 14th, so after the 13th's expedition was over, I got on the road heading east. I encountered some storms near Louisville, one which had this double pileus cap: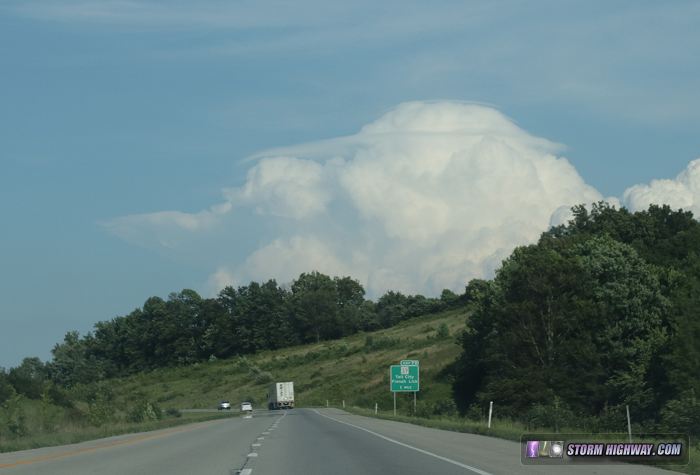 I also passed through Cincinnati during the All-Star Game:

July 16: Missing a big Illinois tornado day
Since I was in Pennsylvania, I didn't chase this day, so I'm only including it here for the commentary. I knew this day had potential, and I would have been observing it had I been home. Anyone that has lived and covered in Illinois knows that you NEVER ignore a day like this - warm front, strong instability and some upper support. The obvious place to be was where storms interacted with the warm front, which produced numerous tornadoes around the Galesburg area - at least one quite large and violent.

I was incensed at missing this. I've covered countless 'sleeper' days just like this in the Midwest over the last 5 years that never produced this big. Then, the three days I'm out of town this season, one of them goes absolutely nuts. My priority is seeing my family, however, so they take precedence. If I had to make the same choice again, I still would have chosen to go to PA. I see plenty of tornadoes every year, I don't get to see all of my family in the same place nearly as often.
July 19: Early morning and late night rounds of lightning
Two rounds of storms - one after midnight in the early morning hours, and another the same day late at night just before midnight, provided a couple of lightning photography opportunities. I shot the first round of storms from Litchfield to Livingston: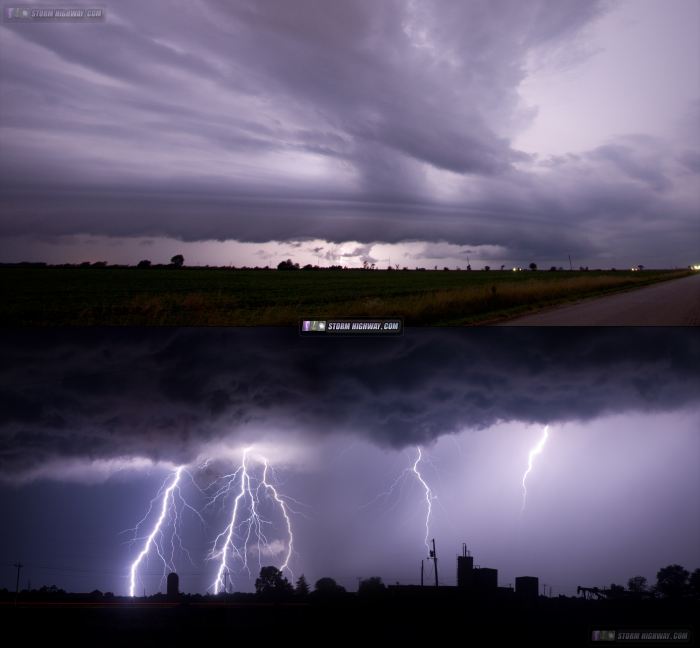 The next round of storms late at night went up directly over downtown St. Louis. I was set up for these at the riverfront, battling quicksand on the recently-flooded riverbank and clouds of merciless mosquitoes. The storms produced no visible lightning while they were over downtown, and only sporadically visible CGs as they tracked to the east. The best show was after they had passed well to the south and east, when several areas of distant CGs were visible. Despite being 45 miles away, the 50mm lens did a decent job of capturing the action.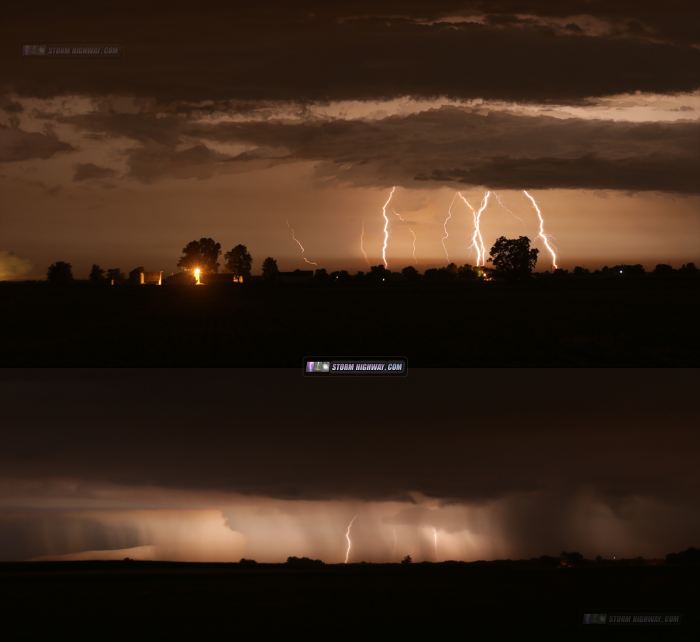 I put together this collage of shots from the day.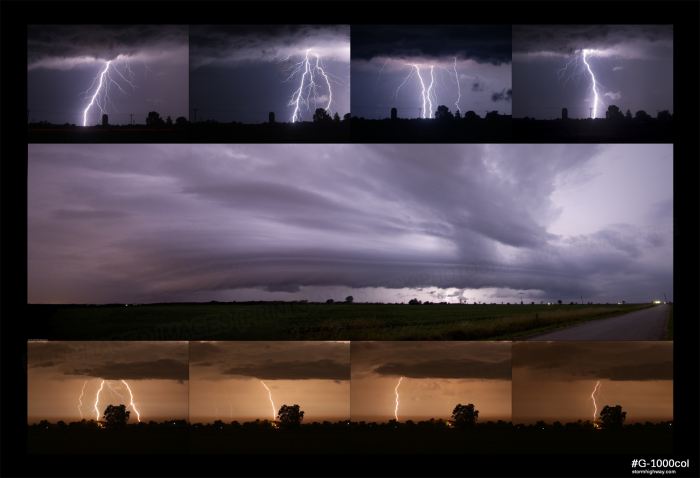 July 20: St. Louis morning storms
A trip downtown for morning storms moving over the city. No photos or footage captured.
June 29: Close lightning strike at New Baden
VIDEO: Close lightning on June 29

Better late than never - I realized I forgot to include in previous posts these images from a short lightning photo outing here at home on June 29. While shooting a storm about 6 miles the south, a clear-air lightning strike hit ground a couple hundered yards to my south, just out of camera range. I posted this dashcam clip that shows the short flash-thunder interval.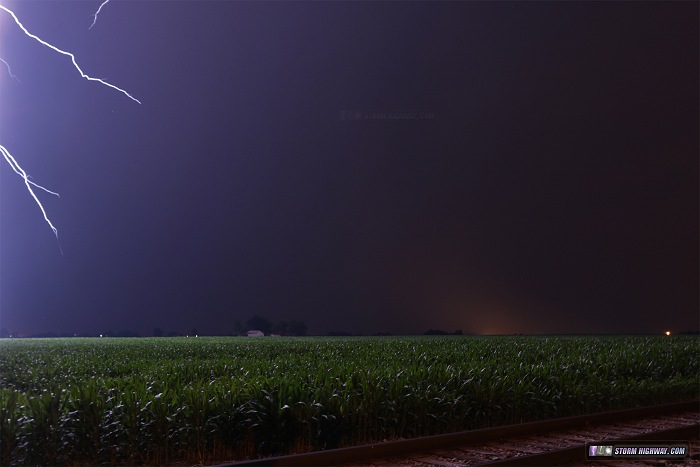 I also captured this stackable sequence with a train at the railroad crossing west of I-64.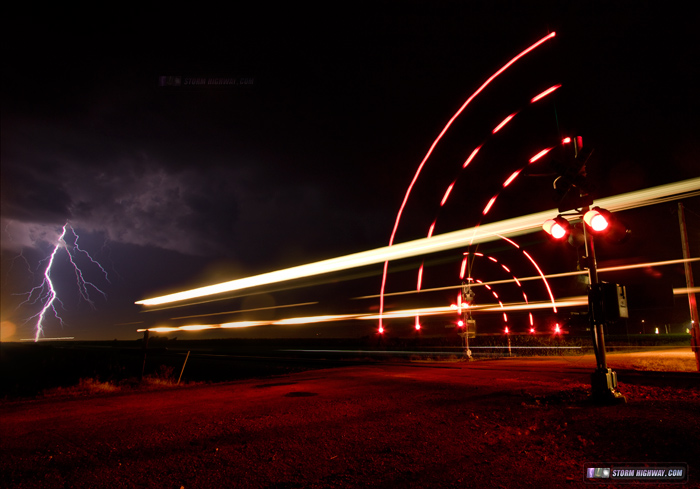 That's it for now - hopefully more to come later as the weather cooperates into August!
This web site is made possible by support from CIS Internet.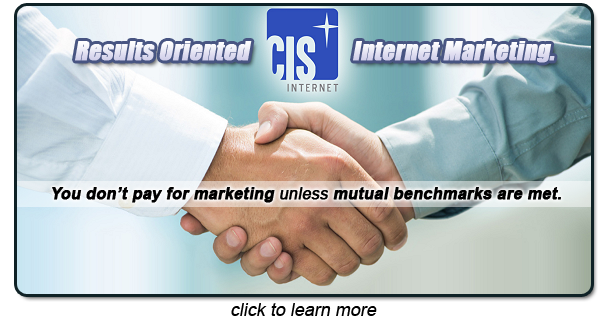 GO: Home | Storm Expeditions | Photography | Extreme Weather Library | Stock Footage | Blog
Featured Weather Library Article:
All content © Dan Robinson. All usage requires a paid license - please contact Dan for inquiries.

Web Site Design and Internet Marketing by CIS Internet