Home | Blog Index | Blog Archives | Christianity & Faith Essays
Monday, June 29, 2015
Tornadoes at Eolia, Missouri and supercells into St. Louis - June 28
EXPEDITION VIDEO 1: Tornadoes at Eolia, MO
EXPEDITION VIDEO 2: Tornadoes at Eolia, MO and supercells (extended footage)

After a rough season, it only takes one day to make the year. Sunday was that 2015-reedeming day for me. I started out in Hannibal, MO where the first target storm of the day went up. I was on it at its first RFD cycle directly overhead west of town. After a couple more valiant attempts, the storm moved off over the river and out of reach. Due to road flooding concerns along the rivers, I chose to cross into IL and head down to Louisiana via Rockport to re-intercept on the IL side, where I had seen via the IDot site earlier in the morning that that segment was still open. The storm put on a great structure show as it approached and finally crossed fully into Illinois, but the RFD was just overpowering all attempts to organize low-level circulations.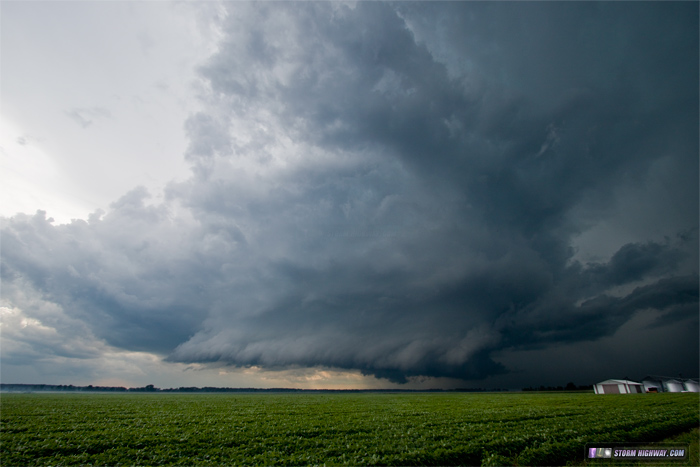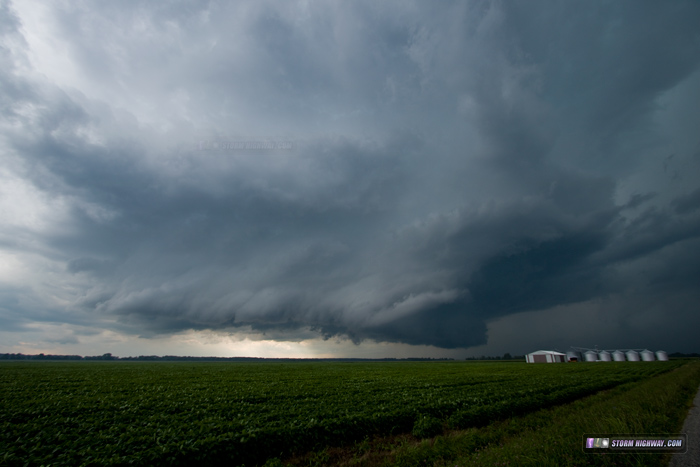 All this time, an LP updraft was doing some interesting things to my south: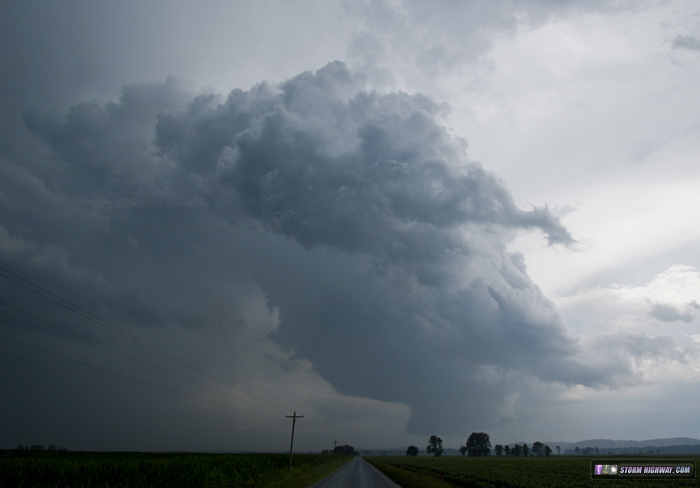 After this point, the storm was clearly too far east of the boundary and not ingesting any of the high-CAPE air to the west, so I crossed back over into Missouri and headed south on 61 to catch up to a new storm that was quickly going nuts. I made it through the northern part of the hook just in time to watch the circulation wrap up and produce just west of the highway at Eolia, then cross.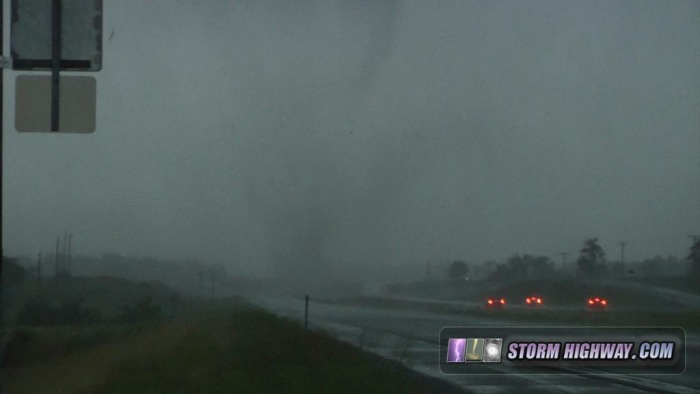 The tornado moved east of the highway for a short distance, with a funnel intermittently condensing part of the way to the ground.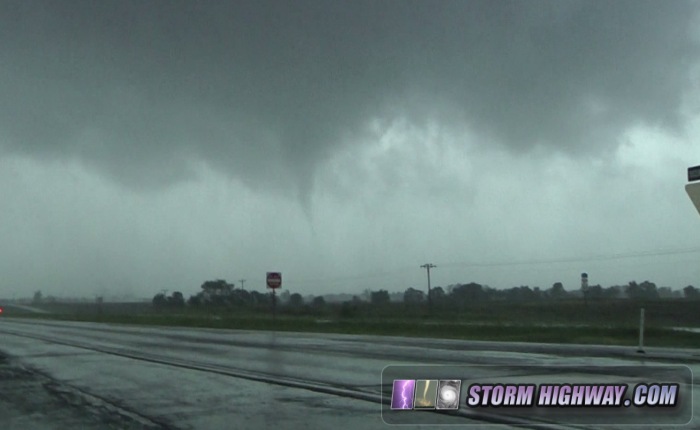 Southerly winds suddenly picked up at my location, leading me to believe that the visible tornado was actually an embedded subvortex in a larger circulation moving south. I moved south quickly on Highway 61 in response, stopping again at the Eolia exit. As I did, a tornado was evident west of the road within rapidly-circulating rain curtains. A snaky funnel briefly condensed within this broader zone of rotating rain curtains.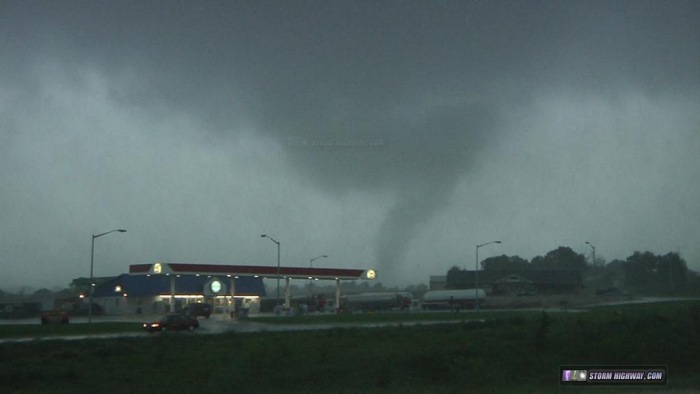 I had first assumed that this was a continuation of the earlier tornado, but NWS damage surveys confirm that it was in fact a second, separate tornado.
Eolia tornado #1 track and survey
Eolia tornado #2 track and survey
Still thinking this was the original tornado, I expected southerly motion - but it now appeared as if the tornado turned easterly again. In actuality, this was a new tornado that had really been moving east all along, a fact I didn't realize until the NWS damage surveys were done. I had to dart back north on Highway 61 to get out of the way. After losing the entire circulation in heavy rain, I saw that the storm was becoming more linear. So, I dropped south to Wentzville to see if it could re-organize, as its western flank was still very well isolated from other storms to the south. And sure enough, the storm began to 'go nuts' again just north of I-70. This was the structure view at Lake St. Louis: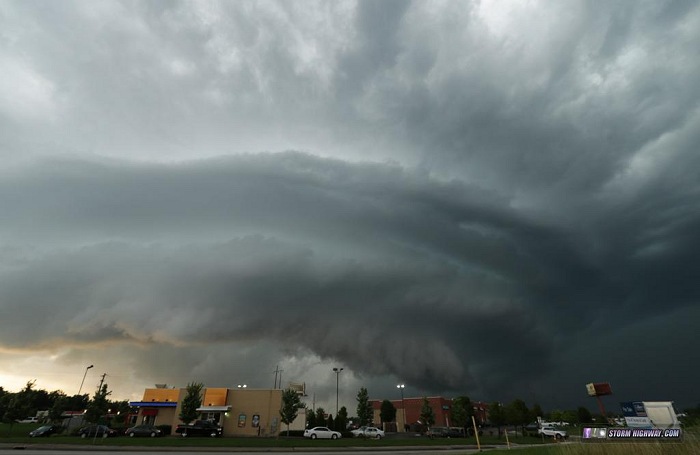 The meso began drawing in surface inflow at a rapid pace just east of here, and I observed what appeared to be a truncated cone tornado deeply embedded in the rain just north of the I-70/370 interchange. I observed small tree branches and leaves falling from the sky just to the east of here. The storm developed a new circulation to the south, so I dropped down to I-64, then I-55 and finally I-255 to Columbia, IL to keep up with the storm. I did not have visual for a time I was inside the forward flank core, but I did not see any evidence of a tornado during this time (power flashes, etc). Although the storm was now outflow-undercut, it was putting on a top-tier lightning show, so I stopped a couple more times to capture a few frames before heading home.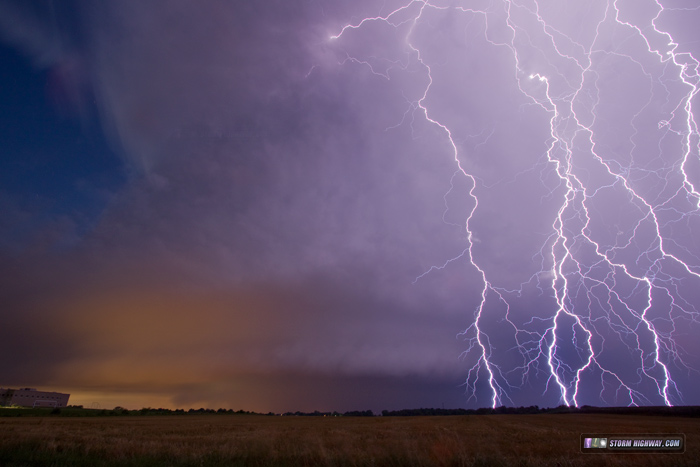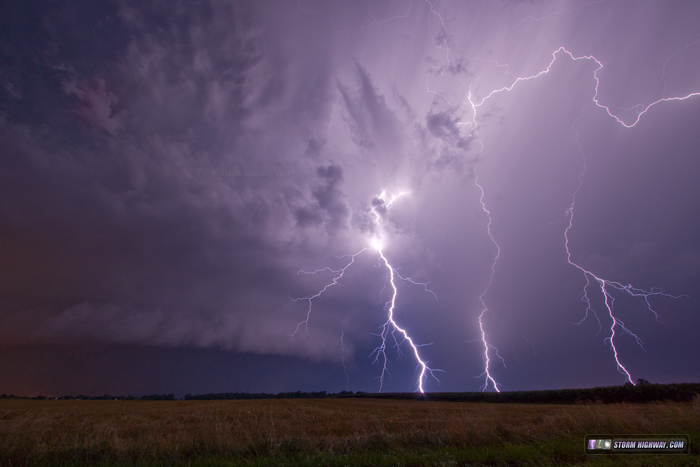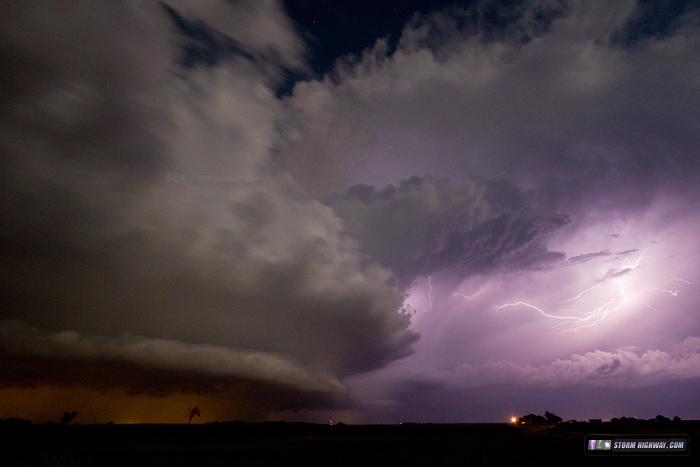 All content © Dan Robinson. All usage requires a paid license - please contact Dan for inquiries.

Web Site Design and Internet Marketing by CIS Internet