Home | Blog Index | Blog Archives | Christianity & Faith Essays
Saturday, March 28, 2015
First expeditions of the year: Missouri/Illinois, March 24-25; Winter recap
HD EXPEDITION VIDEO: Lightning over St. Louis on Tuesday night (March 24)
The first thunderstorm expeditions of the year are in the books! To be specific, one tornado expedition (bust) on Tuesday and a lightning outing on Wednesday. On Tuesday the 24th, I headed west on I-70 and targeted the northern end of a surface low/warm front setup in the vicinity of Clinton/Sedalia/Warsaw, right on/just north of the warm front where winds were still backed. The plan was to stay with the lifting front northward and hope that a discrete storm on the northern end of the expected cluster of storms would isolate and cross the boundary. I abandoned this plan when the extensive leading stratiform/junkvection from the initial development all but killed my target environment. I wasn't really in position to go after anything else, so I hopped down to I-44 to go home, staying just ahead of the dwindling but racing-eastward MCS. Despite the bust, it was great to get back out and see lightning/hear thunder after this long and convection-less winter. Here are some images from that event:
Updraft and rain core at the leading edge of messy storms near Hermitage, MO: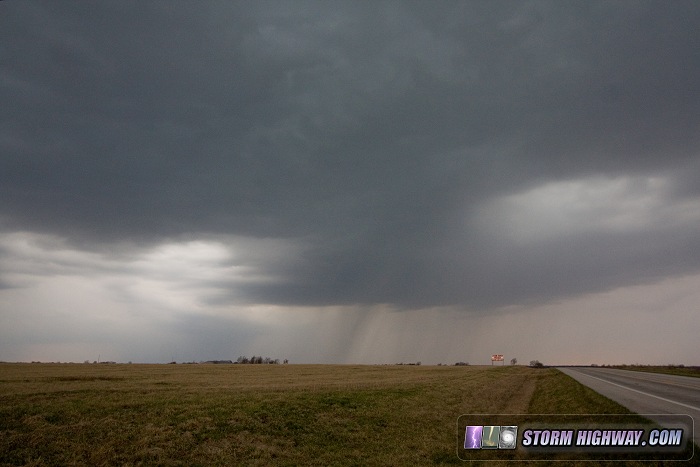 A daytime lightning flash near Newburg along I-44: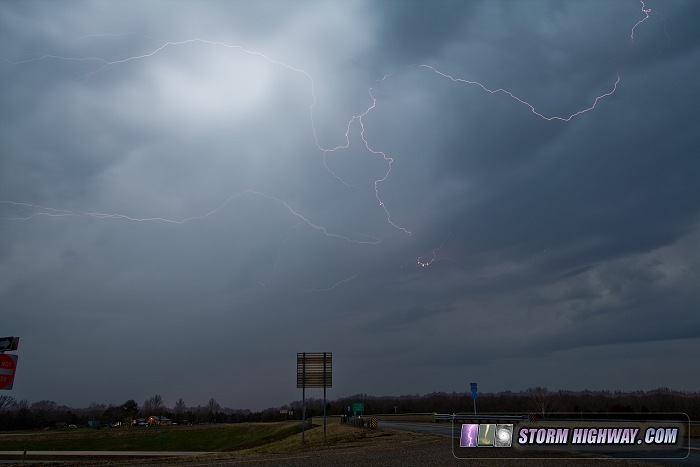 Lightning over the Arch back in St. Louis: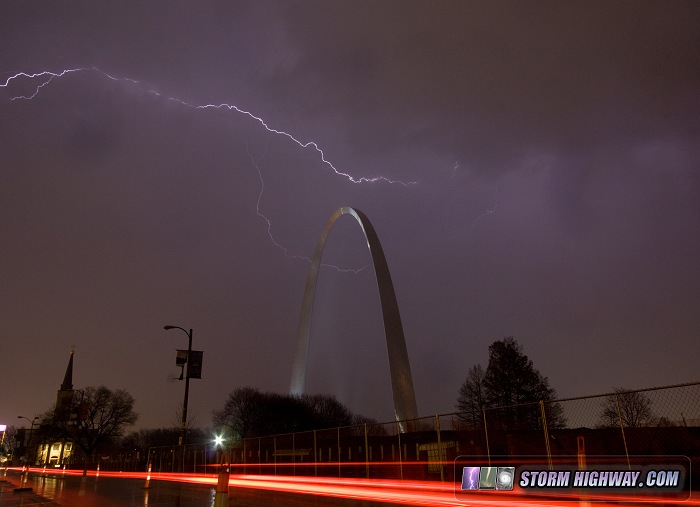 A frame from the video: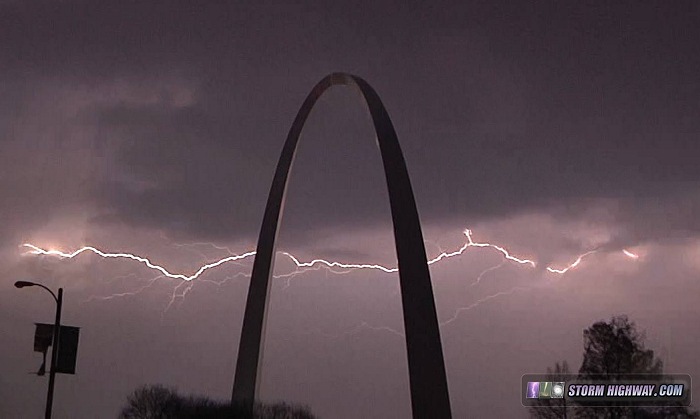 On Wednesday the 25th, the best Midwest target was around Cape Girardeau in Missouri along the stationary front (Oklahoma was out of my range for this setup). However, even though it was only a 2 hour drive away, I decided it wasn't a good enough play to photograph storms for several reasons - the storms would not arrive until after dark, and the surface-based instability axis was narrow and fading with the loss of daylight. Instead, I decided to stay close to home and do some lightning photography with the stratiform precip shield that would be moving over. Even this was going to be iffy with the charge-supplying convection being so far to the south. In the end, we did have a rather extended period of intermittent anvil crawler/positive CG activity up here that provided a few photo opportunities.
I ended up spending way more time that I intended to trying to capture a pre-planned composition of one of our local railroad crossings with the storm. In addition for shooting the actual lightning for about 45 minutes, I waited in the cold wind (by then low 40s F) and rain for another 90 minutes for a train to complete the stackable sequence. Even though the trains here are normally 30 to 45 minutes apart, I never got a train this night after over 2 hours. I finally just gave up, unwilling to endure the steadily dropping temps and increasing north wind against my rain-soaked clothes (I was standing holding an umbrella to shield the camera).
A couple of nights later, I returned to the same location to capture the image of the train as I'd originaly intended. Now I know this is stretching even my own rules of stacking (by shooting the one frame days later), but honestly, nobody cares. I wanted to finish this image! Sure, I'll never be able to enter this into a journalistic photo contest, but hopefully the purists can cut me a little slack after standing in the cold rain for 2 and a half hours. As with my other stacked images, I make full disclosure on how the image was captured, so no deception can be claimed. I'll just call this one an art piece if that's what I need to do.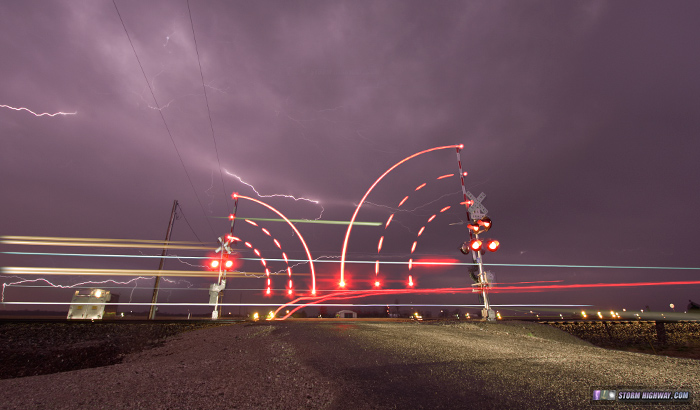 All content © Dan Robinson. All usage requires a paid license - please contact Dan for inquiries.

Web Site Design and Internet Marketing by CIS Internet