Home | Blog Index | Blog Archives | Christianity & Faith Essays
Friday, March 6, 2015
Annual March 1 post; Stormtrack relaunch; STL winter events
It's that time of year again! I'm a little late this time in making my annual meteorological spring blog post, but I've been very busy with many different projects and just haven't had the time to do it earlier. After a particularly brutal winter mainly along and east of the Mississippi River, the light is finally at the end of the tunnel. Today, we begin a warmup that *should* be a permanent end to this relentless barrage of Arctic air intrustions and frequent snow/ice events. Although models don't show any severe weather setups (or even decent thunderstorms) on the horizon, at the very least we are finally seeing daily temps at or above the low 50s (F) for as far out as long range models can reasonably be trusted. Short bursts of winter storms can still happen of course into early or even mid-April, but any of those should be brief one-day-or-less things in an overall increasingly warmer spring pattern.

The new Stormtrack web site and forum was relaunched last month! The site is already seeing a surge in new and former members returning to this old stalwart of storm photography. Many new and old features have been brought in and/or revitalized, including a completely new forum back-end, chat room, social media integration, an improved Who's Who in Storm Photography directory, the new Storm Photography Event Archive, and more! One of the biggest and most significant features of the new site is the full and entire catalog of Stormtrack magazine back issues all the way to 1977, available for free viewing!

If you are a former member of the site, please consider coming back and helping to re-establish what has been the only real central place storm photography has ever known. The owner and admins of the new site have been working hard and spending significant time and money to make all of this possible, all for what is hoped to be for the good of storm photography (the site is a non-profit effort).
Recap of St. Louis winter events
St. Louis has experienced an above-average number of winter storms this season, many of them since the first of the year. I was of course out covering all of them.

January 11-12 St. Louis winter weather: I covered icy road impacts during a winter storm in the St. Louis metro from St. Charles to Alton. No footage captured.

February 4 St. Louis freezing rain: Covering freezing rain from St. Louis to Alton. No footage captured.

February 16 St. Louis winter storm: Another winter storm coverage event around the St. Louis metro. No footage captured.

February 18 New Baden, IL snow squall: A snow squall moved through New Baden this night with some of the most intense snowfall rates I'd ever experienced:

February 26 St. Louis winter storm: Another winter storm coverage event around the St. Louis metro with no footage captured.

February 28 St. Louis winter storm: A major winter storm in St. Louis this day. Five MODOT plows including the "towplow" clear I-64 at Creve Coeur (west of downtown) during the February 28 storm:

A couple of my own slides/fishtails as viewed from my front dashcam during the event:

March 4 St. Louis snow: Car crash caught on tape at the Loughborough exit of I-55 at Carondelet (south of downtown) during a light dusting of snow: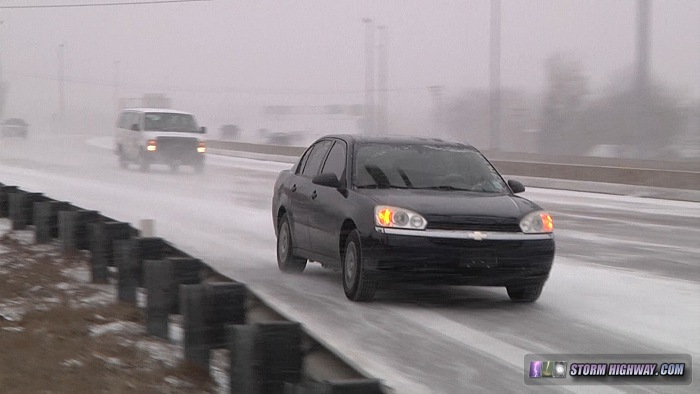 March 18 Wintry precip: Some light sleet fell east of St. Louis this day. I drove to Nashville to keep an eye on the road conditions, but encountered no impacts.
That's all I have for now. Hopefully we'll have some storms to talk about in the next couple of weeks. Until then, stay tuned!
All content © Dan Robinson. All usage requires a paid license - please contact Dan for inquiries.

Web Site Design and Internet Marketing by CIS Internet