Home | Blog Index | Blog Archives | Christianity & Faith Essays
Tuesday, April 12, 2016
Plains storm forecast update No. 5: for April 12
Our anticipated system is now within a week away, and remarkably, not much has changed from previous model forecasts. We've still got the big western upper trough shown, but we also still have the disruptive belts of upper flow across the Gulf of Mexico (red circled area below) that will foul low-level moisture return and thus keep this system from presenting a potential series of Plains tornado outbreaks. While I do still see supercell/slight tornado potential from west Texas into eastern New Mexico this weekend (green circled area below), it's nothing that I feel is high-confidence enough to make the very long trip down there to photograph storms it.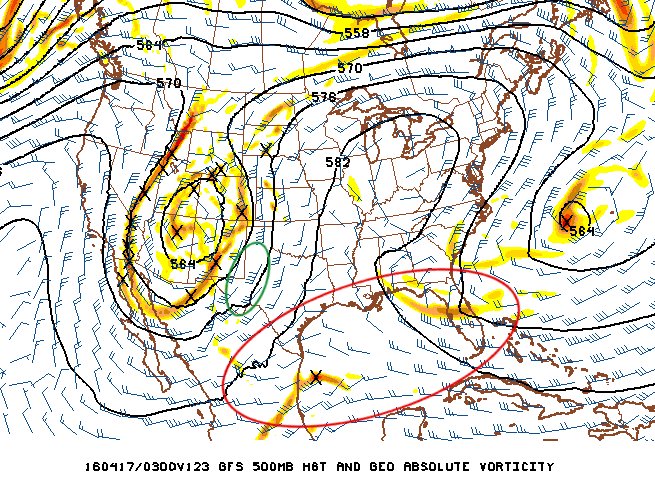 GFS model 500mb winds forecast for Saturday night, April 16
One new detail that is beginning to emerge is that the western upper trough may separate (what we call "cut off") from the large-scale pattern with time. This could result in the trough becoming a "cut off low" circulation that will simply stall and/or drift slowly around the Plains and Midwest as it weakens through next weekend. While a cut-off low is typically very rainy and stormy, they are usually bad for severe weather in general while they hang around, thanks to lots of clouds, rain and unidirectional wind profiles from the surface upward. If anything, this feature would help quell some of the short-term rainfall deficits in the Plains - something that may give a slight edge to low level moisture later in the season if/when we finally do get a favorable pattern for tornadoes.
As with before, beyond this I'm not seeing any signals for a big "classic" severe weather/tornado setup in the Great Plains for as far out as models can be reasonably trusted. Therefore I'm placing low confidence in the first Plains storm photography expedition happening anytime soon. Regardless of that, I do see some possibilities for a Midwestern setup or two to materialize within the next two weeks, so some "local" observing may not be entirely ruled out.
The following table charts the probability of a Great Plains storm photography expedition happening during several indicated date ranges in the near future:
2016 Plains Storm Expeditions - Probabilities as of April 12

April 12-14
0%
April 15-17
10%
April 18-22
10%
All content © Dan Robinson. All usage requires a paid license - please contact Dan for inquiries.

Web Site Design and Internet Marketing by CIS Internet