Home | Blog Index | Blog Archives | Christianity & Faith Essays
Thursday, April 28, 2016
April 21-27 storm photography recap - Kansas, Missouri, Illinois
I have little motivation to write this post, but here it is anyway. Aside from a few lightning shots on Wednesday evening, I struck out miserably with this latest system. Tuesday's bust wasn't necessarily my fault, as the setup itself tanked in terms of tornadoes (or anything photogenic for that matter). I completely blew Wednesday's event, with tornadoes on the warm front near Raymond, IL, 45 minutes from home.
April 21: Weak storms east of St. Louis
A brief outing to St. Jacob, IL for uneventful storms on the eastern St. Louis metro. No photos or videos captured.
April 26: Kansas bust
April 26 chase GPS log >
I started the day at 7AM at Junction City, Kansas, waking early to keep all possible target areas in play. I noted an outflow boundary from the overnight storms near/along I-70, and as the morning evolved, I saw no good reason to leave this area for other targets farther south. The day ended up a big mess. The OFB was not favorably oriented for the storm motions. I observed several storms as they crossed I-70 between Junction City and Topeka, and saw nothing worth taking out a camera. The largest hail I saw was around an inch.
As I promised I'd do, I archived video of the entire day from my four dashcams. This timelapse of the day from Salina to Kansas City is viewable in 4K resolution.
My dashcams captured two vehicles hydroplaning off of I-70 in rural Riley County, between Junction City and Topeka. Both were very hard to see due to the pouring rain. I only posted the one that is somewhat visible. You can see the car spinning followed by the big spray of mud as it leaves the road in this video clip from my front and driver's side dashcams.
April 27: Missouri/Illinois bust and lightning
The warm front was the obvious play of this day, the question was where storms would mature and interact with the boundary. Models suggested that storms would fire somewhere along/north of I-70, mature, and then approach the warm front in the Hannibal/Quincy/Springfield area and points northwest toward the Iowa border. Visible satellite seemed to be confirming this scenario.
I arrived in Bowling Green, MO by 3PM as convection began firing just to my south near Wentzville. I began moving east across the river into Illinois to stay with this storm as it approached the warm front, now just to the northeast. However, the storm's top looked mushy, and it soon fell apart - all but vanishing on radar. All convection in the vicinity was fading, and it simply looked as nothing would be able to get going in my target area before dark. I expected convection to increase in intensity south and west of St. Louis as the upper support arrived (hopefully before sunset), so I returned to the city with the intention of moving east or north into Illinois once an upstream storm could get established. As I did this, the storms near Litchfield and Vandalia suddenly exploded right on the front - and I was hopelessly out of position. Completely incredulous, I just gave up and went home.
After dark, the storms I'd originally expected did finally develop, putting on a light show around the STL Metro East as they moved northeast. By then, it was too long after dark and the warm front too far northeast to be worthy of following the storms to the boundary. So, I just stayed in town and shot some lightning photos.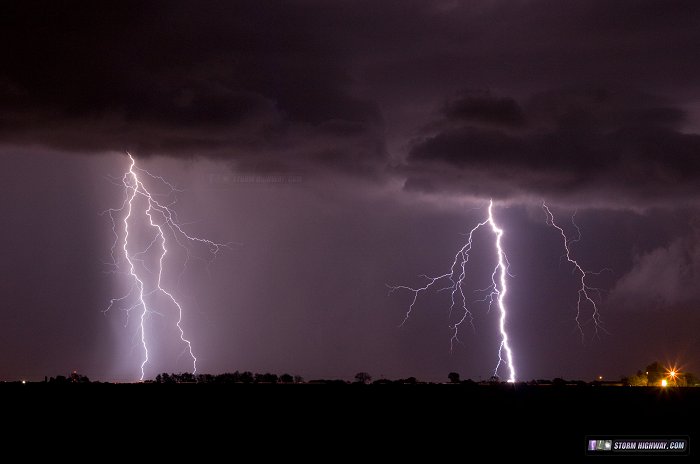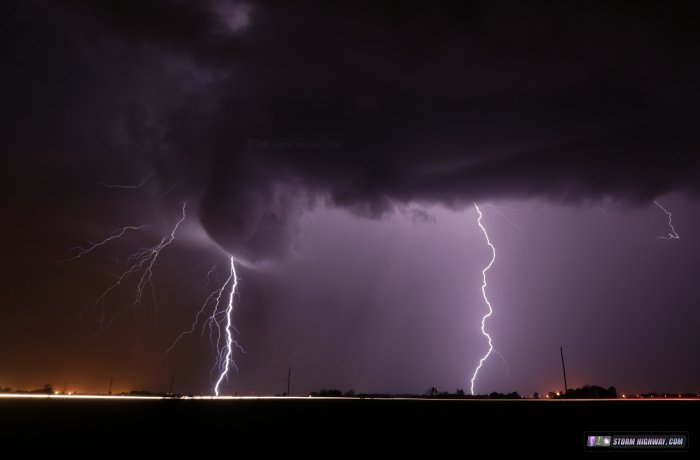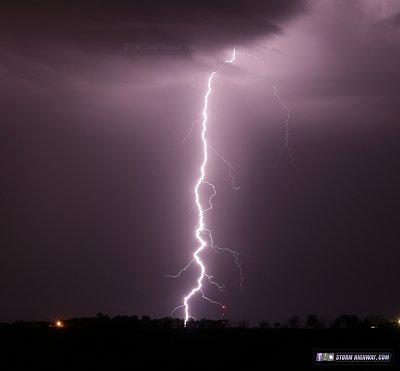 You can view a great video of the tornado near Raymond, IL by Paul Hadfield here.
All content © Dan Robinson. All usage requires a paid license - please contact Dan for inquiries.

Web Site Design and Internet Marketing by CIS Internet