Home | Blog Index | Blog Archives | Christianity & Faith Essays
Saturday, August 27, 2016
4 days of southern Illinois/STL metro storms, August 24-27, 2016
This post's title may be a bit premature, as our string of daily storms may not be finished. But since I have the day off today, I figured I'd go ahead and post some of the sights from the past four events while I have time.
August 24: storm structure and lightning - Marissa to Oakdale, IL
As the tornado outbreak raged on to the east in Indiana and Ohio, I wondered if the atmosphere would have something similar in store here at home. An east-west outflow boundary was hanging out south of I-64 on this evening, favorably oriented with about 20 knots of westerly midelvel flow aloft. A storm fired down near New Athens at around 6PM. I arrived on it at Marissa shortly thereafter, and watched as the Prairie State power plant's exhaust plume clearly showed the low-level flow into the updraft: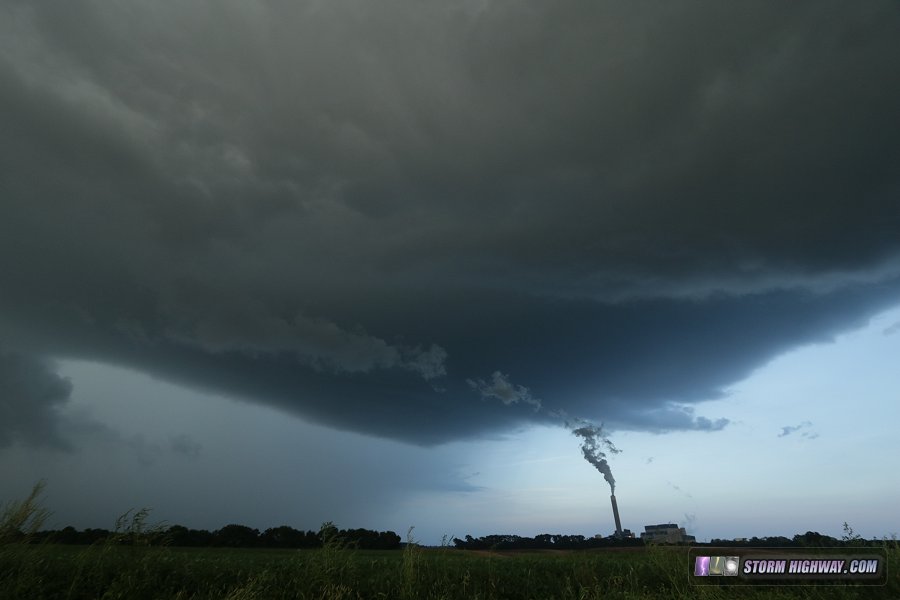 Eventually, the storm's outflow undercut the storm, the power plant's plume again providing a unique visualization: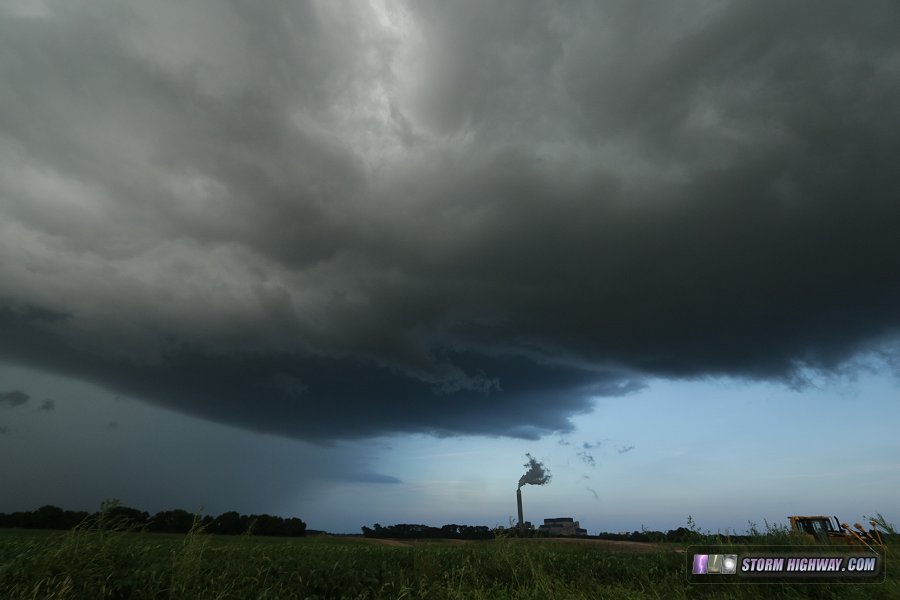 As I moved east, the storm finally got a solid inflow going, and quickly ramped up in intensity. Cloud-to-ground lightning in the forward flank became frequent (around once every 15 seconds).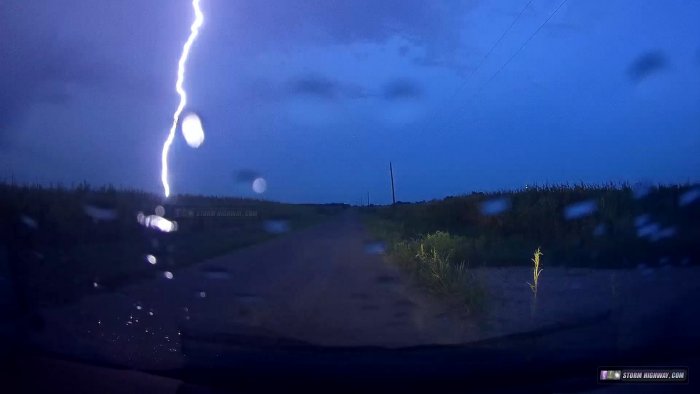 A rounded base was evident overhead, and a small wall cloud took shape with fast rising motion: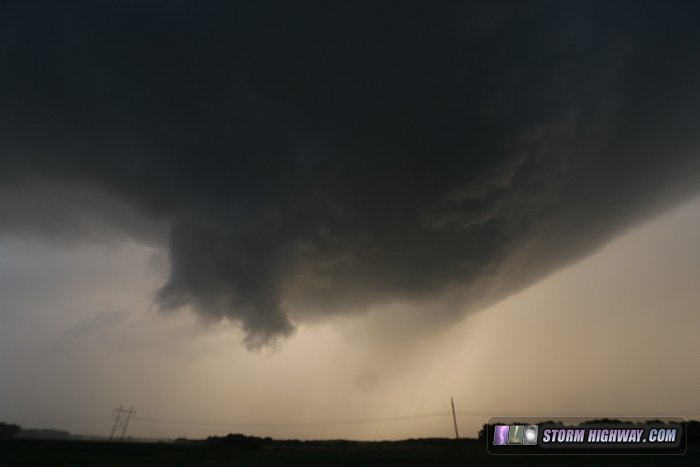 This good look was short lived, but the storm retained the rounded base structure for another 20 minutes as it approached Oakdale: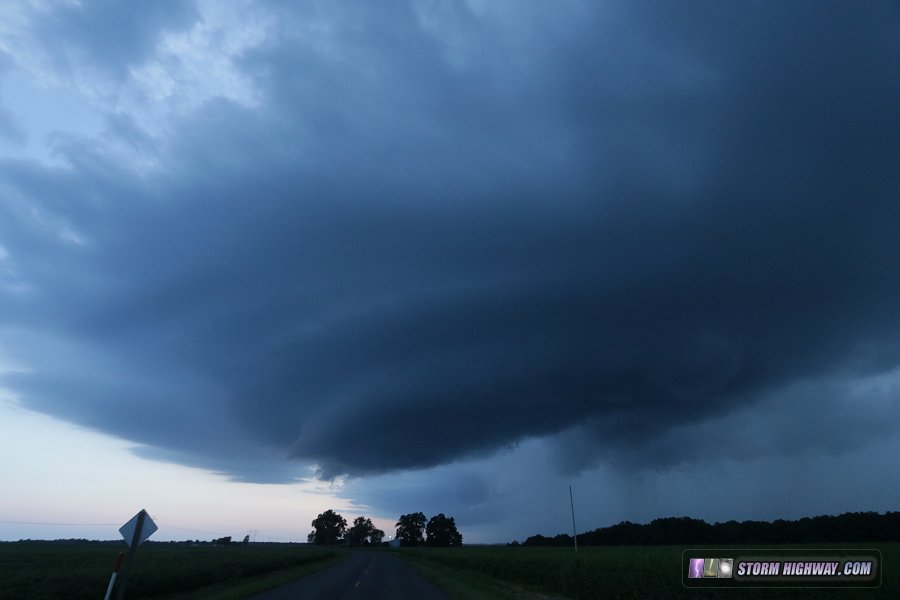 At this point, both my current storm and another new updraft to the west were hurling spectacular cloud-to-ground lightning "bolts from the blue" several miles to the south in clear air. It would have been perfect to be distant from the storms had I known these would be the show of the day. I was too close to get a good angle on these, but I tried. Alas, the lightning was not cooperative. I fired off about 30 frames of this scene where two bolts had previously arced out of the top of the western storm and hit in the clear air on the left of the image. The storm simply would not do it again for me: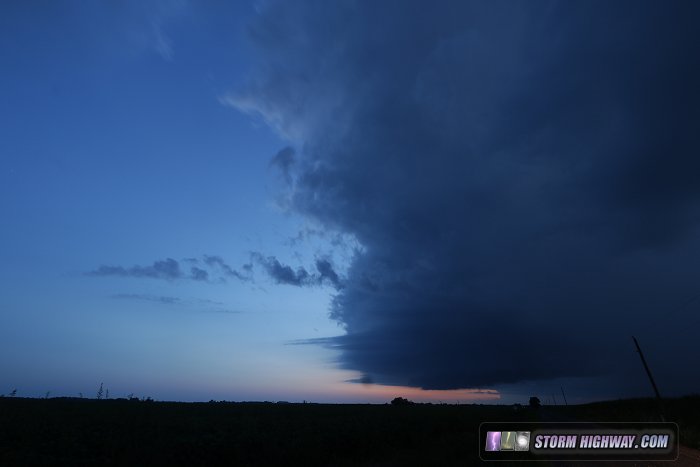 Some video of the lightning and a close call on a 90-degree turn is here.
August 25: structured storm at Winchester, IL; lightning at Mt. Olive, IL
The HRRR model had been consistent this day showing an isolated strong storm firing near the cold front around Quincy/Hannibal and dropping east-southeast. I will admit that I did not do a proper forecast this day (as I had to work). I covered mainly based on the fact that it was only an hour's drive north, and there was a cumulus field up where the model wanted to fire that storm. As it turned out, the model did very well - the event played out almost exactly how it depicted it (a somewhat rare thing).
I could see the storm as I approached it north of Carrolton, but thanks to the high corn and not-so-chase-friendly terrain in this small area, I did not have a good visual under the base until I was almost right on it at Winchester. I finally got clear enough views for these two quick photos of the storm on either side of Winchester after sunset: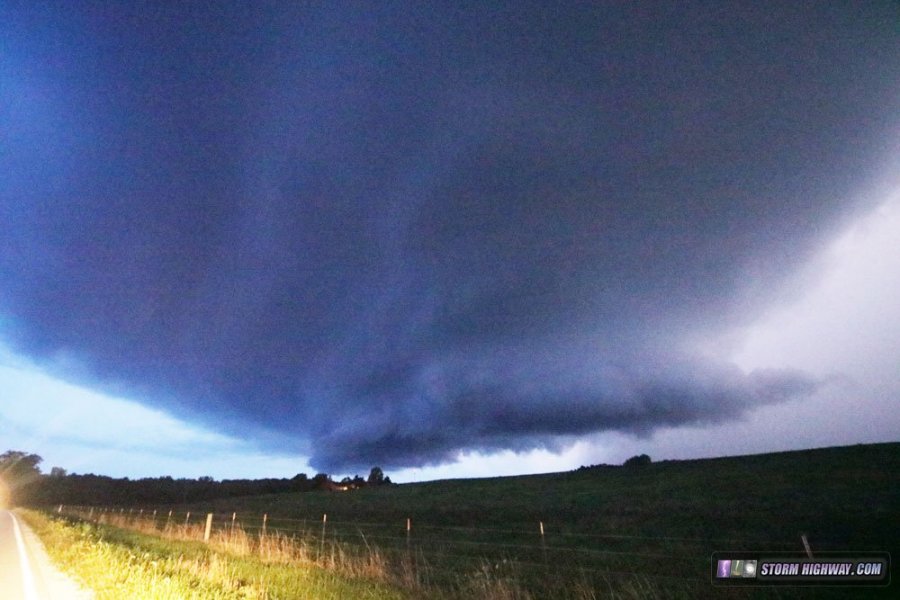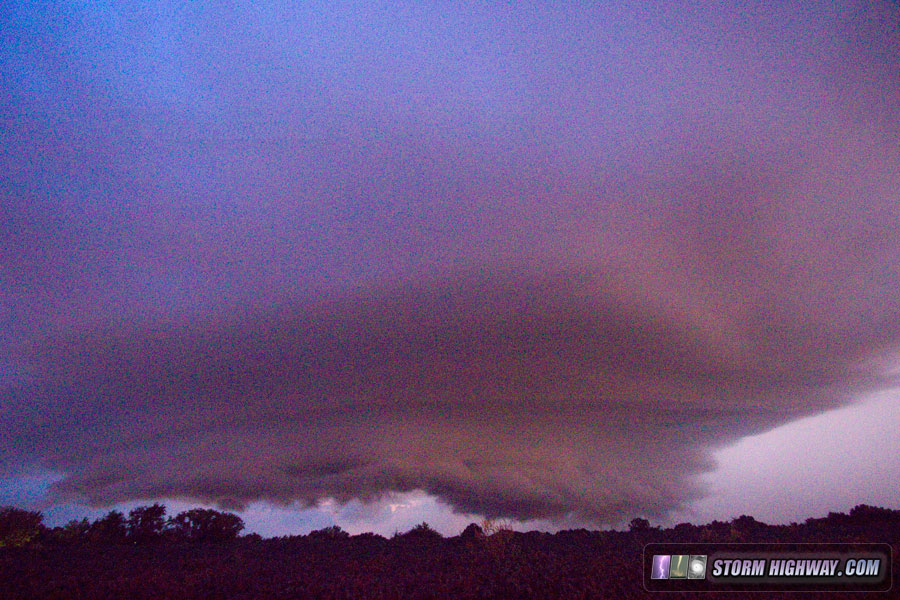 All of the storm's (rather anemic) lightning was in its forward flank, so there was not much to light up the storm for photography. Since it was now dark and I couldn't really see anything, I left the storm at Murrayville and headed back toward home.
As I turned east on I-64, a new cluster of storms was really beginning to put on quite the nice lightning show to the northwest, so I decided to head back up to Staunton to try for some lightning shots. At one point, this storm began taking on a "supercell shape" on radar, but visually it was clearly undercut with a long shelf cloud racing out ahead of the precip. Lightning was frequent, but disappointingly, not much in the way of visible bolts.
I went up to Mount Olive to investigate where any circulation would have been, and saw nothing of the sort. I let the storm overtake me, and discovered the source of the frequent flashes was a top-tier barrage of CGs out of the back of the storm. It took me a few minutes to find a spot with a view (the corn is oppressively high right now), making me miss quite a few nice bolts. I grabbed these two before most of the bolts disappeared into the dense rain core of the storm.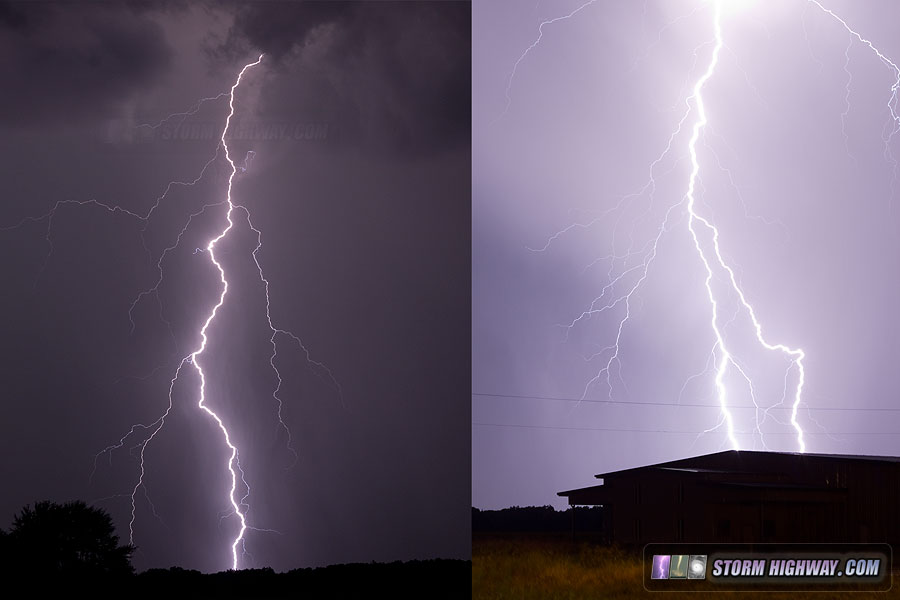 August 26: storms from Trenton to Belleville, IL
Despite marginal parameters, I was interested in landspout/funnel potential as slow-moving storms erupted on an outflow boundary that streched from Carlyle down through Red Bud. The setup for these events is very common in the Midwest, and most do not produce. It's almost impossible to predict which one will "hit it" just right and spin something up, so they are rarely things I will chase unless one is very close to home like this.
I followed the developing convection as it unzipped along the boundary from Trenton to Belleville. Some of the updrafts briefly looked robust as they punched upward through a few pileus caps: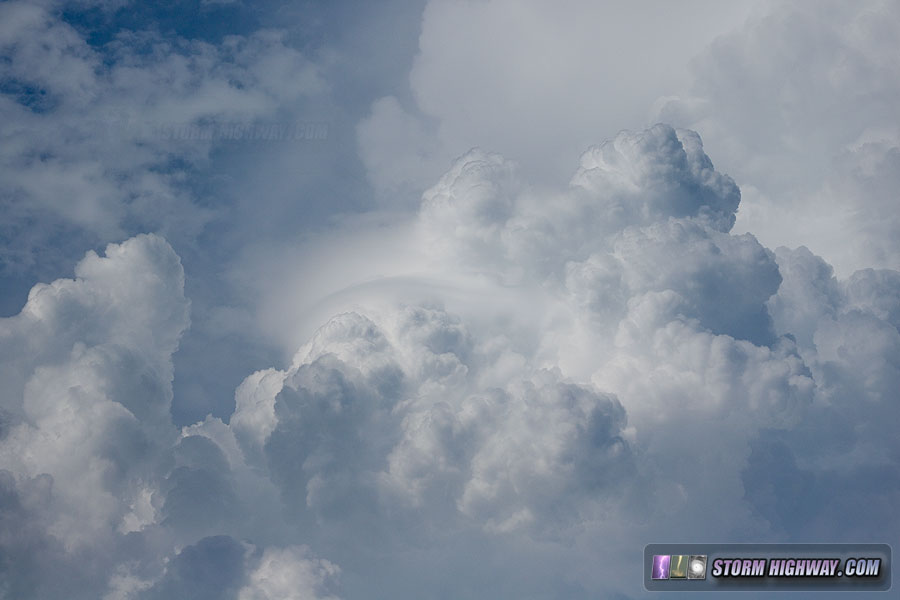 Unfortunately, the outflow from the first storm at Carlyle was too strong, surging west/southwest and undercutting each new updraft before it had any time to spin up something in the low levels. Finally, the outflow outpaced the storms, effectively ending the episode of convection as the low levels stabilized. The last sight of the day was this narrow but structured updraft over Belleville: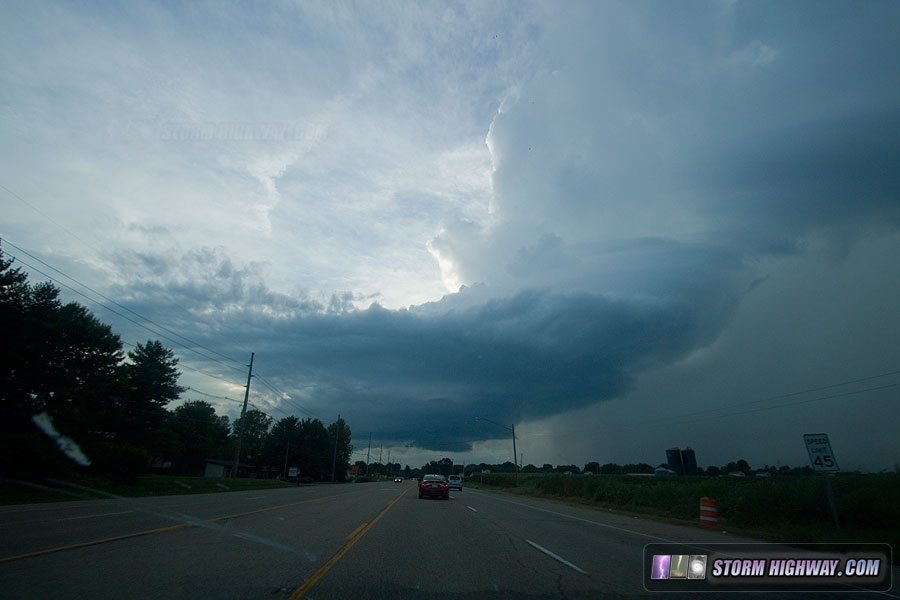 This vanished 20 minutes later, followed by its core of heavy rain fading over Fairview Heights.
I saw several social media photos showing that the Carlyle storm did produce a nice funnel. I was on the storms too late as it turned out, as the storm's persistent outflow was the death knell for any further potential.
August 27: Distant lightning over the St. Louis skyline
I battled hundreds of mosquitoes on the Mississippi riverfront for this five-image stack of a storm over Wentzville, MO flashing behind the St. Louis skyline. Notice the cloud-to-air bolt on the left-hand side: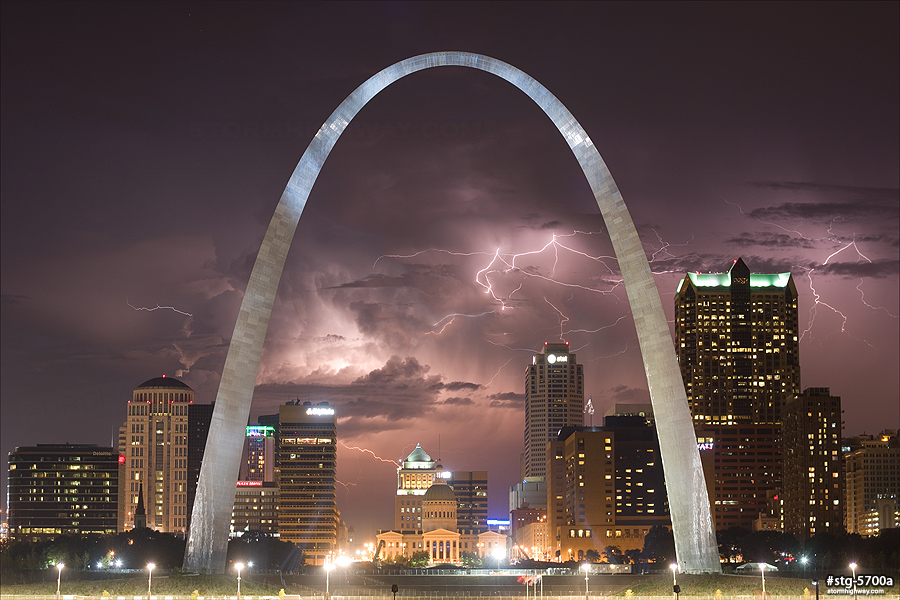 View full screen | Buy a print
This web site is made possible by support from CIS Internet.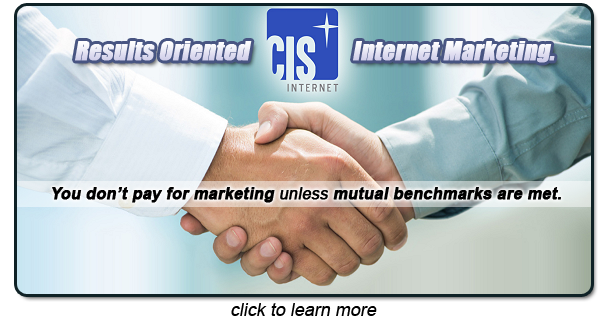 GO: Home | Storm Expeditions | Photography | Extreme Weather Library | Stock Footage | Blog
Featured Weather Library Article:
All content © Dan Robinson. All usage requires a paid license - please contact Dan for inquiries.

Web Site Design and Internet Marketing by CIS Internet