Home | Blog Index | Blog Archives | Christianity & Faith Essays
Saturday, June 3, 2017
Storm Photography photo/video roundup for May 20-29
Here is a roundup of some Midwest storm photography during the last part of May in Missouri, Illinois and the St. Louis region.
May 20: Lightning show at New Baden, IL
This was barely a day worth going out for, but a surprisingly potent line of storms put on this show of vivid lightning in the St. Louis Metro-East, which I shot from just outside of town at home.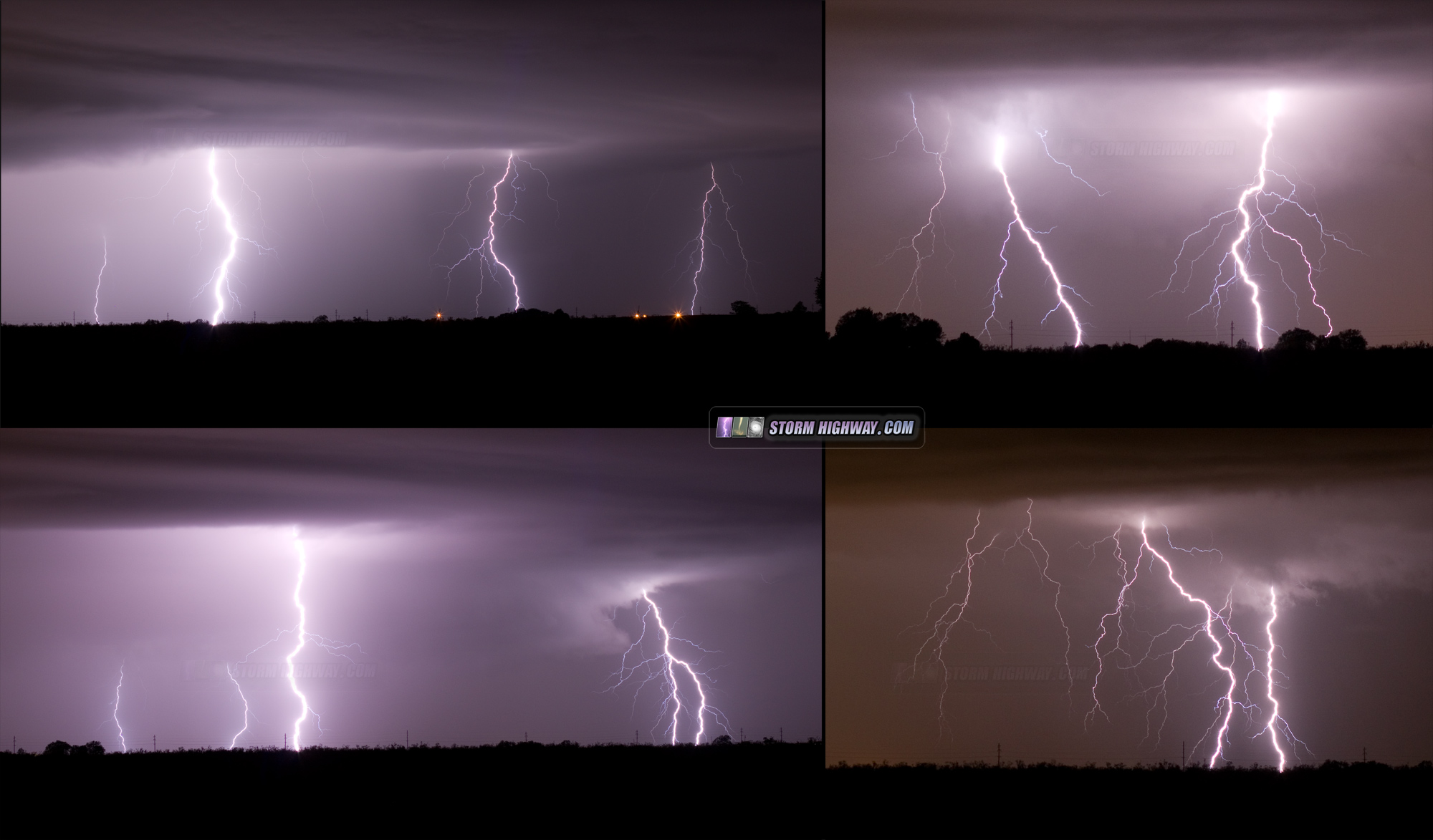 May 26: Central Illinois supercell
The warm front in central Illinois had been on my radar for the the past day, but I didn't call off of work to photograph storms due to the fact that short-term models had the cap squashing any storms by early afternoon. However, by mid-morning, the models flipped and started showing storms persisting along the boundary for the duration of the evening. This was not a situation to ignore, so I left work at noon and made the trek north to Bloomington-Normal.
The obvious storm of the day initiated west of Peoria and strengthened as it approached Bloomington with frequent lightning. However, it was cold and outflow-dominant. Thinking that it may get its act together as it encountered the boundary, I stayed with it. This was not a leisurely task, as the storm was moving at a good clip - I could not stop for more than a minute at any given location. Finally, as the storm crossed Interstate 55, it began gaining supercell characteristics both visually and on radar.
There was no surface-based inflow, however, as forward-flank outflow and the RFD continually undercut the inflow notch. This continued for the rest of the expedition, and I did not note any low-level inflow making into the storm - everything was constantly being undercut by northerly winds blasting out of the core. Nonetheless, the storm had some mean-looking structure as it tracked southeast, along with a broad circulation and beefy hook echo on radar: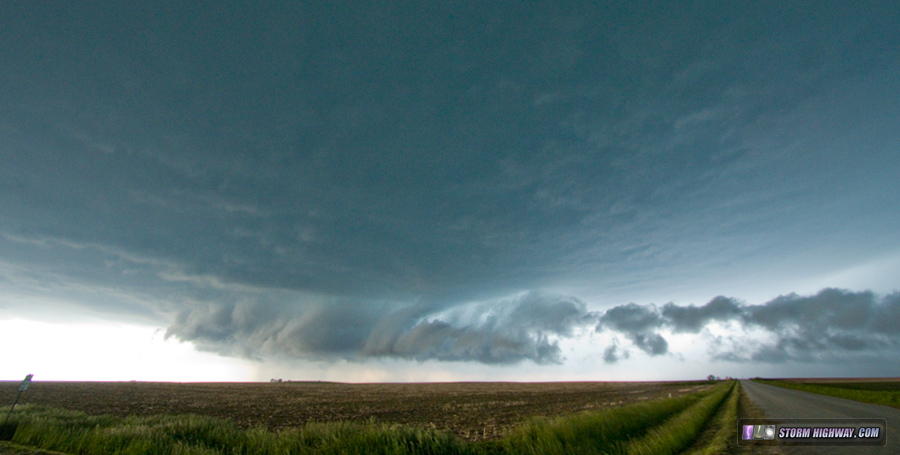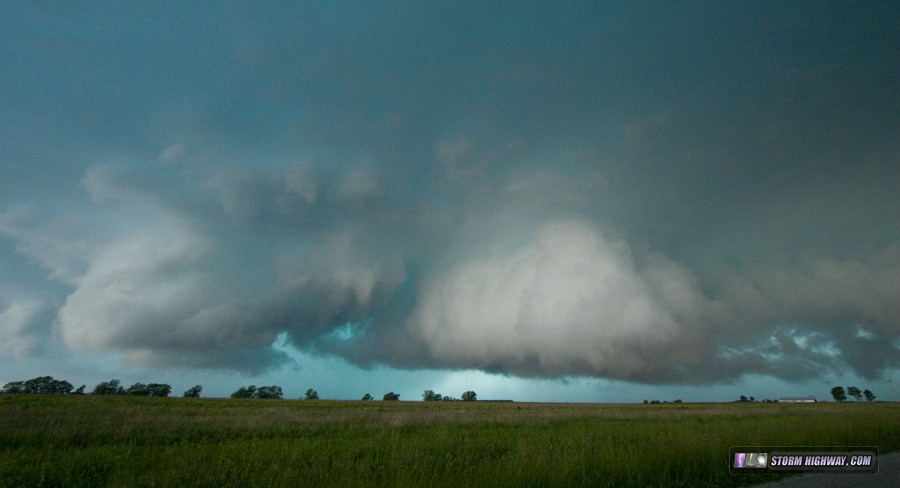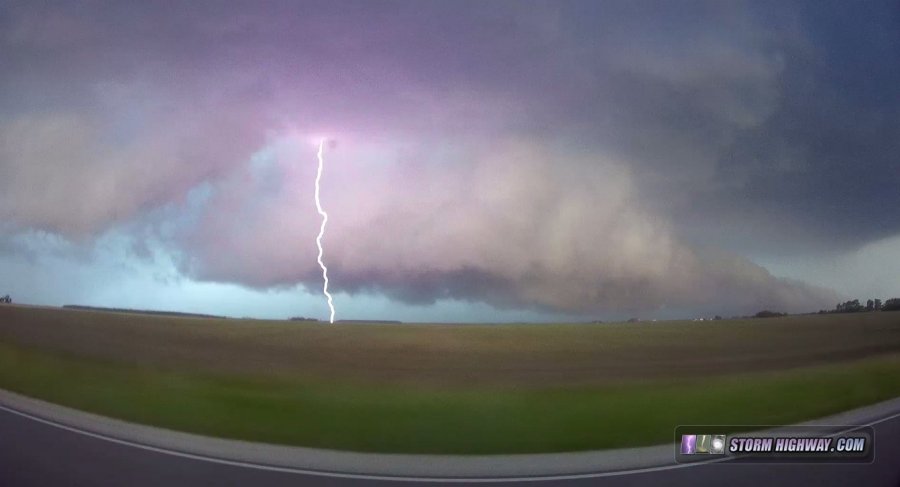 With fading daylight, work at 5:30AM the next morning and another big storm photography day to follow on Saturday, I broke off of the storm at Danville, IL and started the 3-hour drive home.
May 27: St. Louis tower lightning
4K VIDEO:
St. Louis tower lightning
My target for this day was the frontal boundary draped across central Missouri and southern Illinois. The question was where to be along the front. A derecho-bow echo was forecast to rapidly evolve in western-central Missouri and blast east-southeastward. Some tornado potential existed with these storms as they first initiated, but in central Missouri well to the west of St. Louis (possibly just east of Kansas City). Models also hinted at a few leading storms firing on the front closer to St. Louis, possibly offering some tornado potential closer to home into Illinois and its better chase terrain.
I was still in pre-storm forecast mode when storms fired before noon, much earlier than expected, in both targets. This pretty well destroyed any storm prospects for the day. Convection and attendant cloud cover would limit destabilization and foul inflow of storms later. Not seeing much of a reason to drive hours to the west, I instead opted to drop south to Perryville and catch the early storm cluster moving toward the boundary. This activity was disappointing, with very little lightning and a mediocre shelf cloud as it passed overhead. The environment around St. Louis was also faltering, as weak convection continually fired and dissipated over the metro area. By mid-afternoon, my entire home chase area was convectively overturned and essentially out of play, aside from the open warm sector way down in Cape Girardeau. Some QLCS spinup potential existed down around Cuba-Rolla along I-44, but these storms were running out of time before hitting the convection-neutralized air in eastern Missouri.
The final squall line of the event in Missouri was tracking east through Jefferson City-Columbia, so the only play I could see would be the shelf cloud from this passing over the city. However, the squall line rapidly collapsed as it hit the stable environment west of the metro, and the shelf cloud was dissipating by the time it entered the metro area. With no photogenic opportunities over the city skyline, I decided the old standby subject of upward lightning would have to do. I drove over to the Shrewsbury tower cluster and captured a few upward hits as the weakening stratiform precip region passed overhead.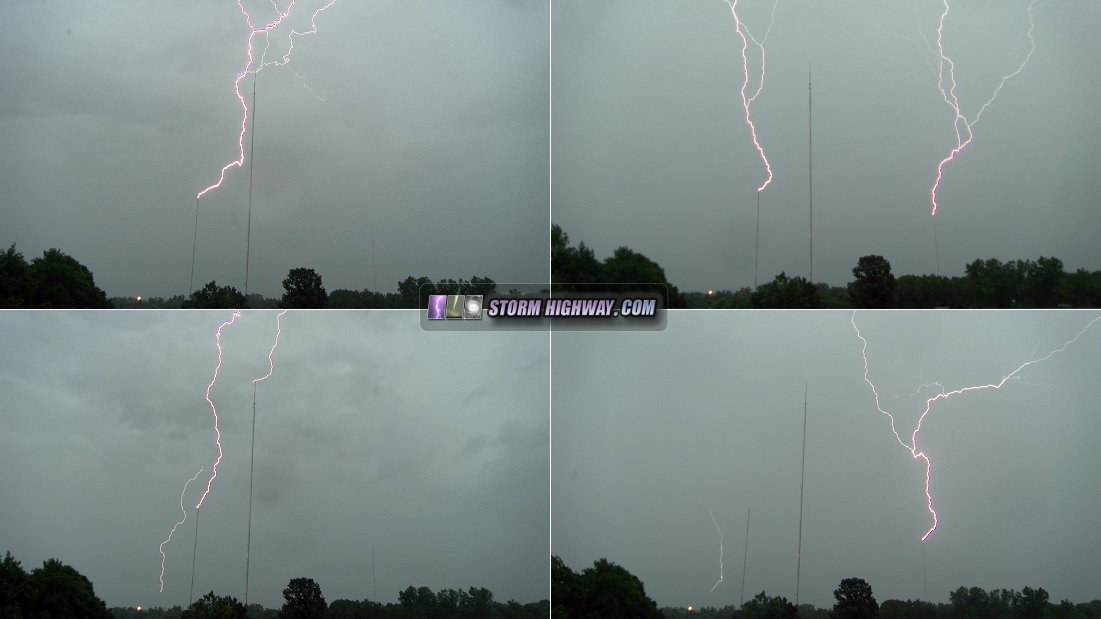 May 29: Gateway Arch rainbow with lightning
This was a very marginal day for storms, but a few were poised to fire at about the right time to possibly produce a rainbow over the Arch downtown. It did happen, but too early: the high sun angle meant a low and otherwise pretty disappointing rainbow. I did manage to get this rolling-shutter-free rainbow+lightning combo: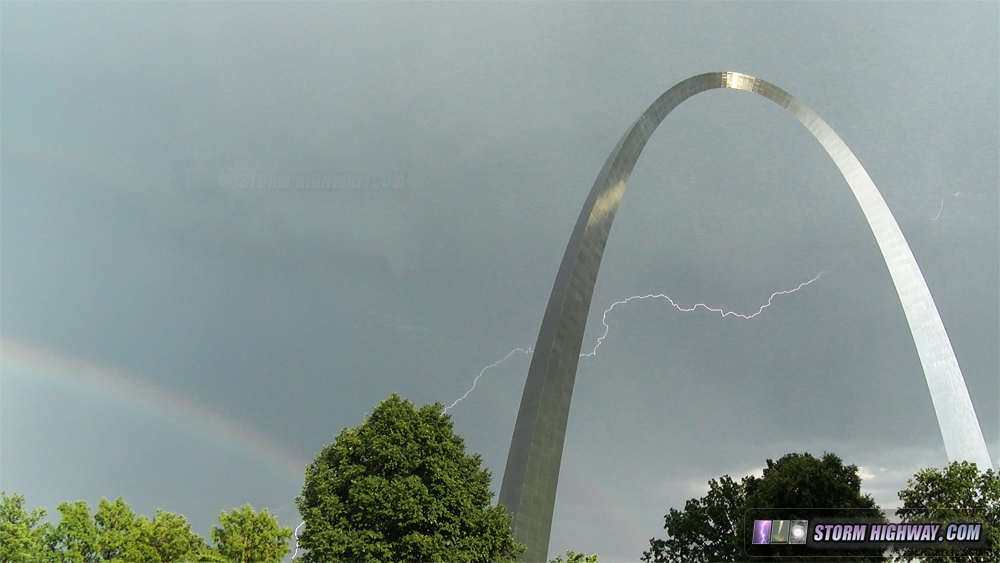 GO: Home | Storm Expeditions | Photography | Extreme Weather Library | Stock Footage | Blog
Featured Weather Library Article:
All content © Dan Robinson. All usage requires a paid license - please contact Dan for inquiries.

Web Site Design and Internet Marketing by CIS Internet