Home | Blog Index | Blog Archives | Christianity & Faith Essays
Sunday, April 15, 2018
Storm Photography roundup for February 4 - April 13
The 2018 spring storm season has been slow to start, with more winter events in the Midwest than convective severe weather! Here is a roundup of my outings during the past few weeks:
February 4: St. Louis snow
I went out to monitor road conditions in St. Louis during snow. No footage captured.
February 5: St. Louis metro snow
A trip to Gray Summit, MO for more snow. No footage captured.
February 9: Central Missouri freezing rain
I left late to cover overnight freezing rain that would be affecting central Missouri in the Columbia area starting around midnight. I ended up heading to Booneville whene I found the worst impacts on a few untreated streets, but it was too dark to shoot video. MODOT was doing a good job with keeping the main roads and highways treated. I headed back into Columbia as the temperatures continued to drop, but found no further impacts. No footage captured.
February 10: St. Louis freezing rain
Freezing rain eventually arrived in St. Louis on the 10th. I did my usual circuits around the city, but road treatment kept impacts to a minimum. No footage captured.
February 18: St. Louis metro storms
A trip from downtown to Alton for thunderstorms moving through the metro area. No photos or video captured.
February 20: St. Louis metro storms
More winter thunderstorms moved through the metro this day. I started in Troy, MO and ended in Alton, but saw nothing of note. No photos or video captured.
February 21: St. Louis winter storm
A smattering of precipitation types from freezing rain to snow impacted the metro this day. I did my normal monitoring of road conditions, but saw little issues. No video captured.
March 4: St. Louis storms
Another trip downtown for thunderstorms. No photos or videos captured.
March 6: St. Louis snow
The typical circuit covering snow in the St. Louis metro area. No footage captured.
March 7: St. Louis snow
Another outing for snow, mainly in the southern St. Louis metro area. No footage captured.
March 24: Illinois thundersnow bust
Parameters looked good enough for thundersnow in central Illinois during this event that I chose to forego predawn thunderstorms in St. Louis for the potential for lightning in the heavier bands of snow to the north. I arrived in Peoria before sunrise, repeatedly moving north to stay in snow as a warm layer aloft kept changing the precip type to sleet. Finally, the cold air won the battle and the snow began in earnest by mid-morning. I set up within a wind farm just east of I-39 at Minonk and shot video for the next 4 hours as the snowdrifts piled up around me. Despite prolific lightning just to the northwest in Iowa, only a few strikes showed up in the precip shield over Illinois - and I did not witness any at my location despite blizzard-like conditions: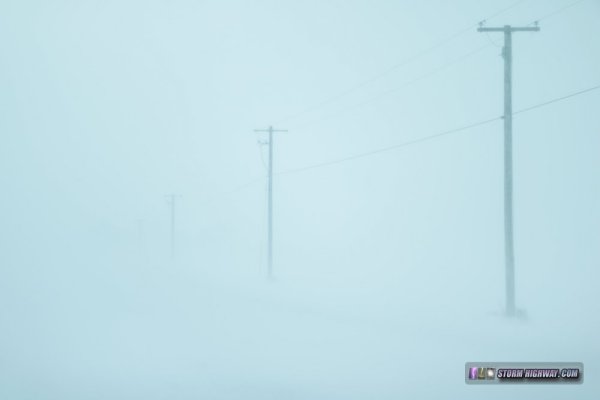 I was on a county road only about a quarter-mile off of a main highway (which was being regularly plowed), but with blowing and drifting snow, getting that short distance back to the main road was going to be a challenge. I was able to power through three 4-5 inch drifts across the road with no problem, but a fourth one - about 12 inches deep - was too much. My car was high-centered, the drive wheels spinning in mid-air. I had no choice but to get out and start digging out the snow from underneath. I happened to be in front of a farmhouse, the resident of which graciously brought out a snow shovel. Together we dug out the car - and a path through the rest of the drift - in about 45 minutes.
I timelapsed all of this from the front dashcam:
The NWS reported an official measurement of 12 inches just north of where I was, with higher drifts.
April 1: St. Louis winter weather
St. Louis' last April freezing rain event was 24 years ago (in 1994), showing just how rare this event was. I set up next to the I-70 Blanchette Bridge in St. Charles, where three accidents occurred once the bridge began icing over. I captured two of these on my primary 4K camera, the first captures of this type I've managed during the month of April:
April 2: Illinois lightning/hailer
A marginal environment for after-dark elevated supercells existed in the St. Louis metro this night, bringing hopes for the first lightning photography outing of the season. However, after sunset, the cold surface layer was more February-like than April. Temperatures in the 40s meant dense fog and mist as the warm air began moving in aloft. When the storms came in, I could see nothing but flashes - no point in trying to pursue anything. I decided to wait for some storms moving straight toward home. Thanks to the fog, no bolts were visible aside from this close one which hit the new cell tower on county line road and I-64 in New Baden:
After this short outing south of town, my main storm photography laptop crashed, forcing a short period of having to use my cell phone for weather data (something I hate) over the next 2 days. After 11:30PM, the next round of storms had a little more upper support, producing some dime-sized hail at Fairview Heights: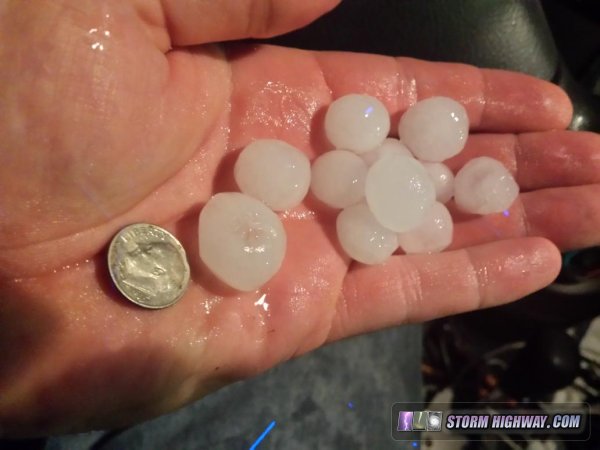 April 3: Illinois supercells
A half-decent setup for supercells and tornadoes existed this day, stretching south of Interstate 64 down through the Missouri bootheel. There was not much urgency to go anywhere, as the environment right at home was not all that bad. The first couple of storms that moved toward the STL metro were not very impressive visually, so I began "cell-hopping" down south. A storm's circulation at Marissa was blown apart by RFD, the next option being a supercell heading toward Chester. As I approached this storm's updraft, more convection developed to its south, choking off the updraft and moving the next area of interest near Gorman. I jumped on this new circulation and caught it easily right at Gorman. The RFD here was overpowering the circulation, leaving no surface inflow, and the area of interest raced off into the hills to the east. This circulation later organized significantly and produced a tornado near I-57, far to my east.
The next supercell in the line was crossing at Cape Girardeau, so I headed down to Thebes to watch this one approach. The problem was the main highway right at this location was lined with trees on both sides of the road, so I did not get a good visual on the storm as it raced overhead. I ended up letting the rain-filled RFD overtake me with the main circulation just to my north, completely obscured by the precip. I drove back north and found no evidence of a tornado where the circulation had crossed.
The next storm to the south at Sikeston had just produced a confirmed tornado, but I decided not to make the extra 45-minute drive farther away from home to catch it. This was probably the right call, as the storm's circulation became completely rain-wrapped prior to the time I would have arrived on it.
I did not shoot any photos or videos during this event, and there was nothing interesting worth pulling from the dashcams.
April 13: St. Louis lightning
There were 4 potential target areas of interest during this event. The two with the better tornado parameters were more than 7 hours away, and both had issues that made me consider them out of play for such a long drive: the Arkansas target was in horrible terrain/trees, and the Iowa one had too many caveats (cold, sinking boundary and weaker CAPE). This left southwestern Missouri and central/northern Missouri targets as my realistic options, and neither of those were very impressive. I had originally planned to be on the road by 11AM toward one of them, but as the day evolved, I wasn't seeing a reason to leave. Aside from a couple of transient circulations as the storms approached the St. Louis metro after dark, in the end, the visible tornado threat in Missouri was a total bust.
I instead turned my focus to lightning in the metro after dark. Cloud-to-ground lightning was anemic and buried in heavy rain cores, leaving the trailing stratiform shield as the only option for photos and video. I set up at the Shrewsbury tower farm briefly, but lightning flash intervals were in excess of 6 minutes, and no discharges were producing upward flashes from the towers. These dashcam shots as I was driving to different tower vantage points were the only interesting things I captured. At least I did see some lightning, a welcome change from how this spring has gone so far!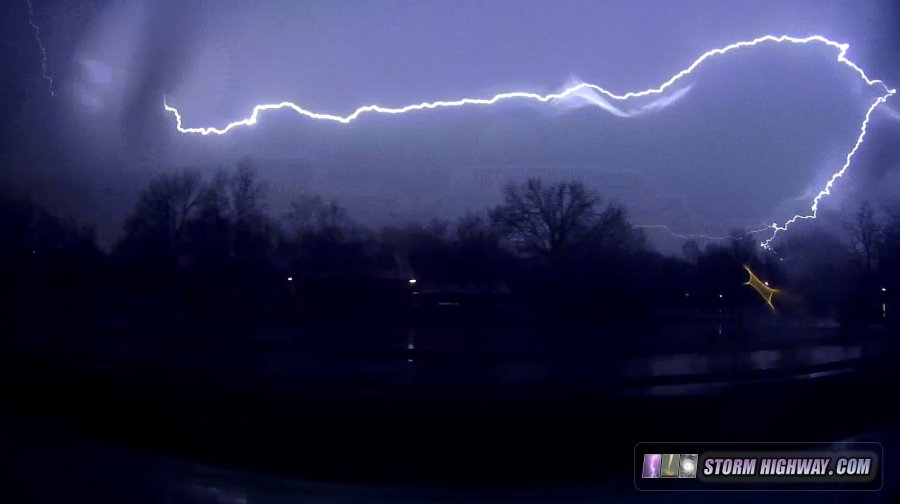 GO: Home | Storm Expeditions | Photography | Extreme Weather Library | Stock Footage | Blog
Featured Weather Library Article:
All content © Dan Robinson. All usage requires a paid license - please contact Dan for inquiries.

Web Site Design and Internet Marketing by CIS Internet