Home | Blog Index | Blog Archives | Christianity & Faith Essays
Monday, July 23, 2018
Extreme explosive convection in southern Kentucky - July 20, 2018
The main event of the anomalous July upper level trough was supposed to be Friday the 20th. A broad area of storms in extreme surface-based instability was shown by models from Memphis, Tennessee up through Cincinnati, Ohio. The better upper support would be in the southern regions, but I preferred something with an outflow boundary or warm front to work with on the northern extent of the system. The warm front was far to the east at Louisville, but there was an outflow generally along the Ohio River along the Indiana/Kentucky border from overnight storms. I felt this boundary might drift north to I-64 by storm time, so I chose the Evansville, Indiana area as my initial staging point. I left home at 11am. On the way there, storms began firing very early along this old outflow and produced a tornado near the warm front-outflow intersection west of Louisville. Once again, this happened at 1PM, much earlier than I had expected - so I was out of position for it.
Once at Evansville, I went south of Henderson, KY to look at some new storms coming over from southern Illinois. These were in the process of dying as they crossed I-69, and weren't worthy of following. At that point, there were no storms aside from the original activity moving east of Louisville, and no agitated cumulus fields presented themselves anywhere else in the primary target region. As models continued to show the "main event" storms firing closer to 6-7pm, it now seemed to be a waiting game. I parked in Beaver Dam, KY for a couple of hours waiting for something to get going. Models kept pushing the supercellular phase of the event farther and farther south, but I wanted to keep the old outflow near the river in play - even though I could not see it on satellite or radar.
At 6PM, cumulus began bubbling up to the south and east in line with the earlier Louisville activity. Seeing no other signs of storm development farther to the west or north, I decided this was probably the only play for daylight storms. I headed down to Bowling Green as these new storms finally got going. As I approached them, the convection was some of the most explosive and intense-looking I'd ever seen - with midlevel inflow banding and updrafts knuckling over in the *middle* of the towers. Huge overshooting tops blasted past anvil level higher than I'd ever seen before, even in the Great Plains. It was quite a show, and was the highlight of the trip: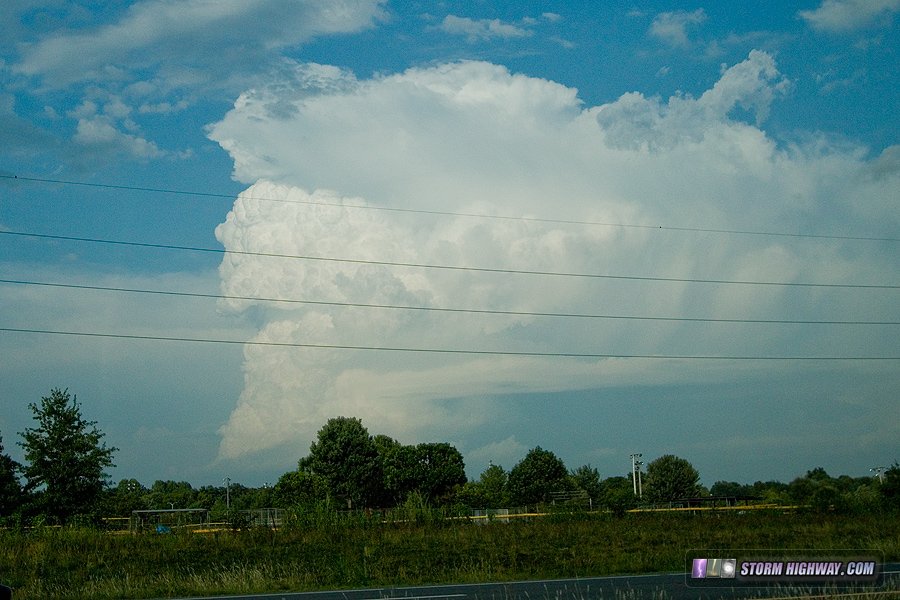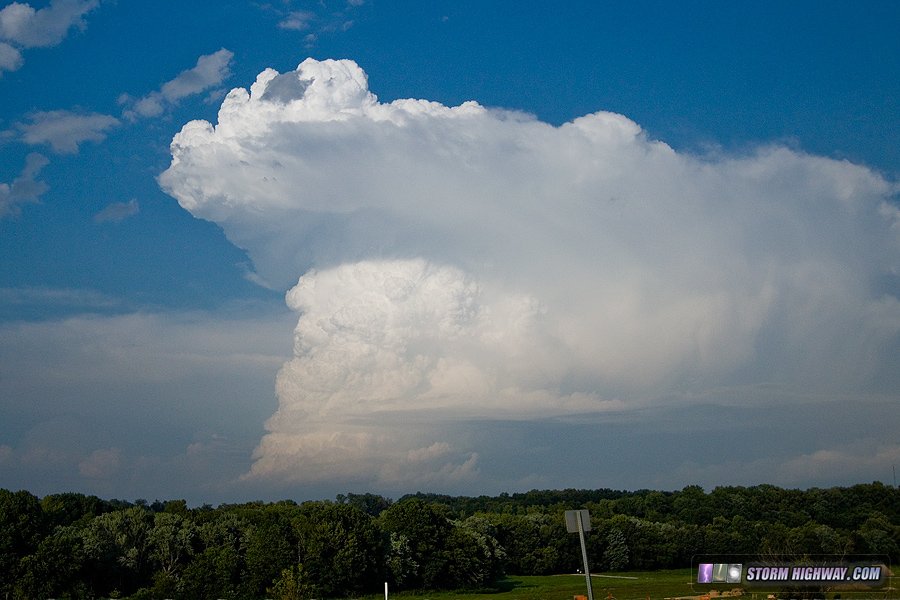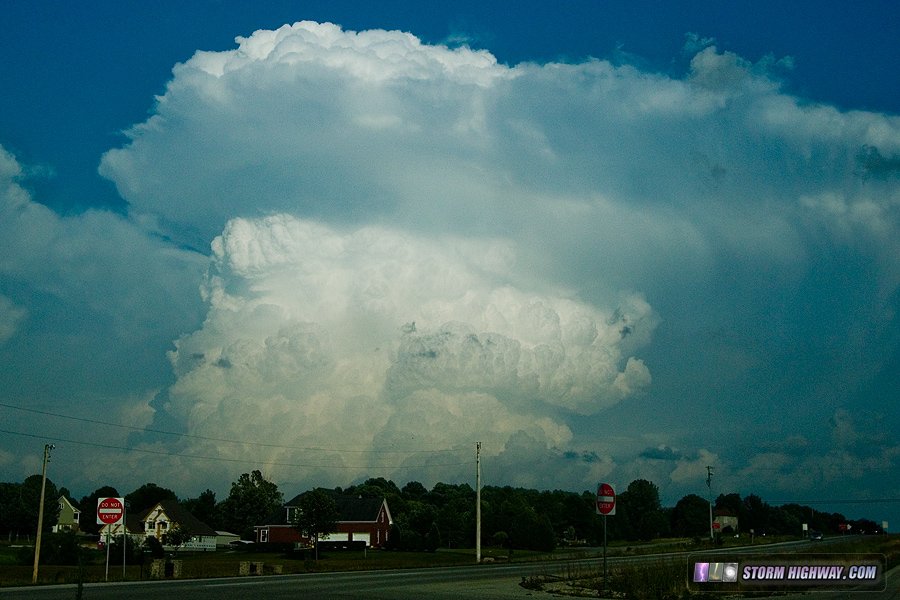 The problem I had now as I closed in was that these storms were moving into the Appalachian foothills, with ever-curvier roads, higher hills and more trees. Despite the roller-coaster roads, I caught the southernmost cell at Tompkinsville, Kentucky, which had a nice-looking occluded meso with RFD carving all the way around. Due to the trees and hills, I did not get a vantage point for photos of this while it was looking interesting. A new storm just to the west was also going up in this storm's inflow, meaning the old cell was on its last legs anyway in terms of tornado potential. This new storm began intensifying rapidly as it tracked right on the Kentucky/Tennessee line. I managed to get a good view of its base east of Hermitage Springs, TN with the setting sun. The RFD was strong, but as had been my theme the past 2 days, no surface inflow was making it in down low.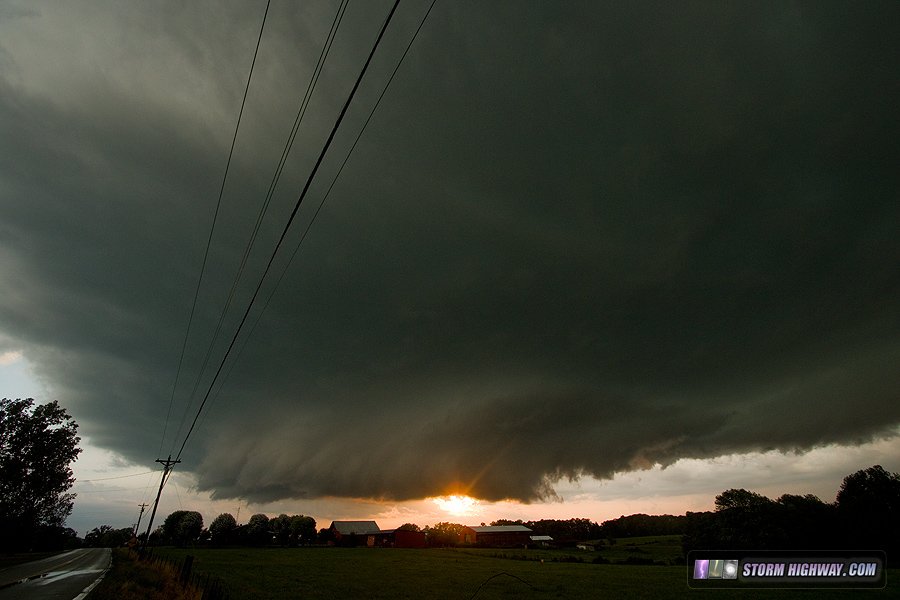 Despite the terrain, the roads were just good enough that I was able to keep up with this storm for the next 30 minutes. It spun off a couple of nice occlusions with rapid rising motion, but not quite enough to get it done tornadowise. I finally lost the storm due to limited roads and falling darkness, and turned around to head home at Whitleyville.
At this time, new storms were firing right on the cold front back up at Evansville, IN on my way home. I met these at Owensboro. There was a great cloud-to-ground lightning barrage, but I could not find a clear viewing location before the precipitation core moved over me. One bolt hit about 100 feet next to the road with a shock wave that rattled the dashcams (included in this video):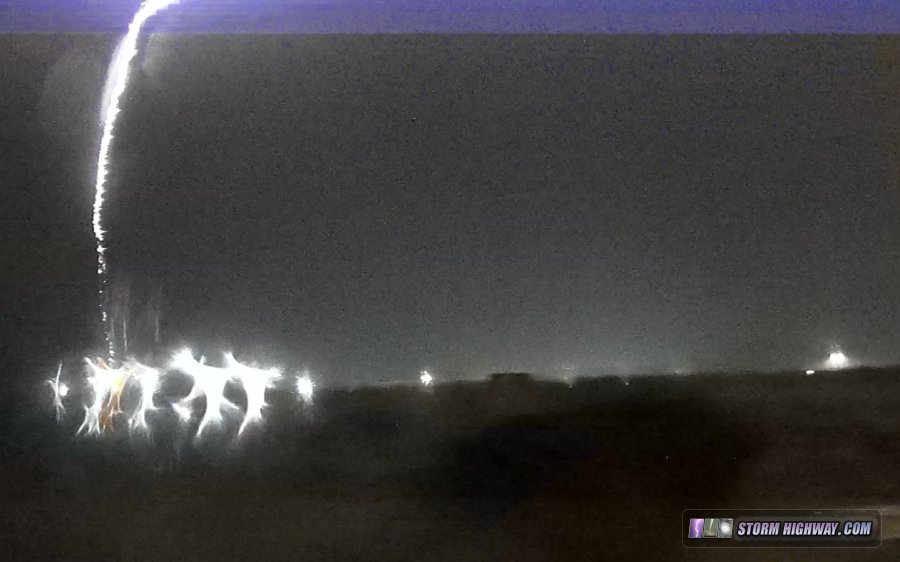 Once across the river in Indiana, I tried to set up for a timelapse of the departing storms, but low clouds behind the cold front spoiled the view. That was the end of the active expedition, and I arrived back home at 2AM.
This web site is made possible by support from CIS Internet.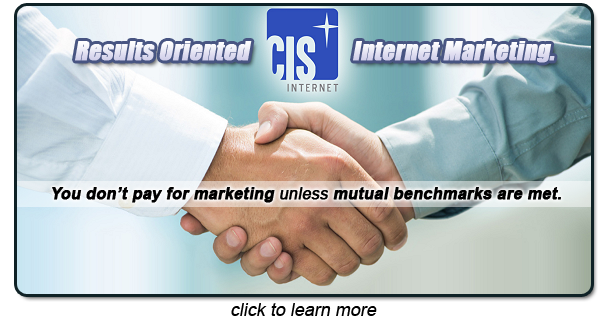 GO: Home | Storm Expeditions | Photography | Extreme Weather Library | Stock Footage | Blog
Featured Weather Library Article:
All content © Dan Robinson. All usage requires a paid license - please contact Dan for inquiries.

Web Site Design and Internet Marketing by CIS Internet