Home | Blog Index | Blog Archives | Christianity & Faith Essays
Monday, December 9, 2019
September-November 2019 storm photography roundup
I fell way behind on my expedition log updates, so here is one big page with all of the trips since the beginning of September. A LOT has happened over these last few months!
Milliseconds: Lightning in Slow Motion (short film)
The biggest item to report is that I released my main video project of the 2019 storm season. My primary focus this year was capturing lightning with a Chronos 1.4 high speed camera at 1,500 frame per second. This video represents 50,000 miles of storm photography from New Mexico to Mississippi to Chicago and everywhere in between shooting lightning between March and September. It was a joy shooting slow motion footage at this framerate, something I'd always had on my storm photography goals.
September 8: Dawn storms in St. Louis
A weakening line of storms moved into St. Louis just after dawn on this Sunday morning. There was a dramatic shelf cloud on the leading edge of the outflow, which I captured over downtown from the Eads Bridge.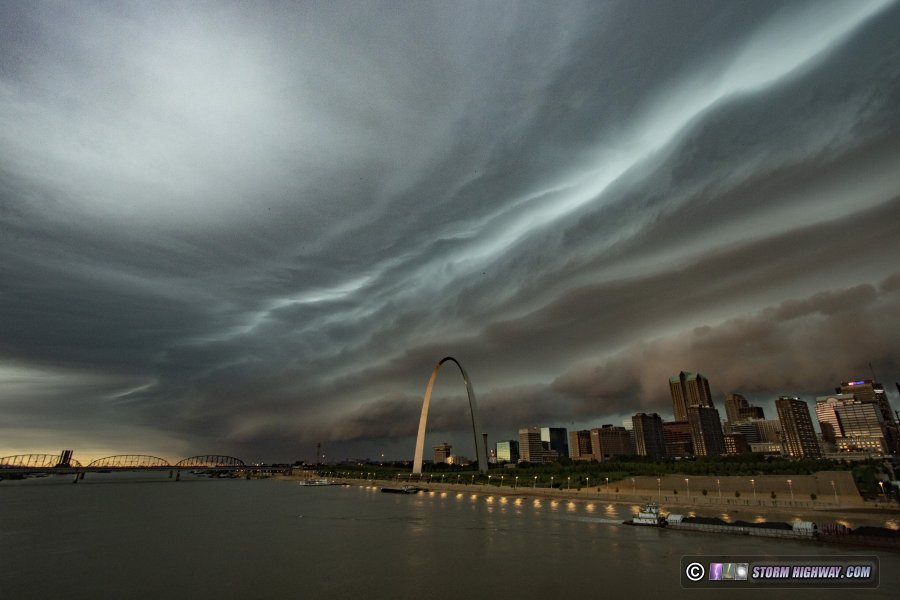 There was a large trailing stratiform region behind the initial line of storms, but it was weakly electified. I set up at the Shrewsbury towers once again. Only one upward discharge occurred to the towers: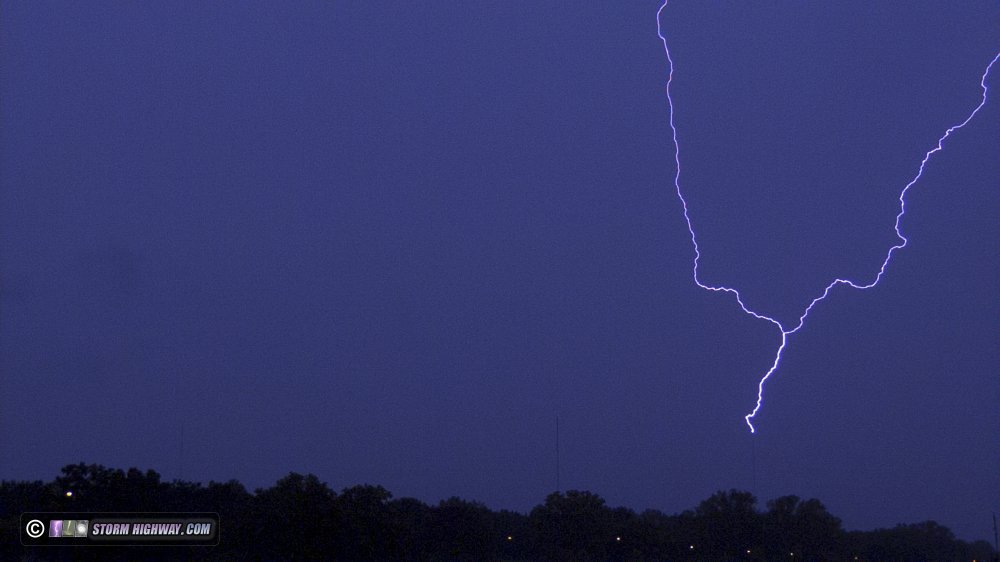 September 12: Chicago lightning trip #8
Another run to Chicago for possible upward lightning, the eighth such trip I've made in 2019. The storms weakened before arriving, so I left early and headed home so I wouldn't need to drive 3 hours in rain. I missed one upward strike to the Sears Tower after I left, but it was in grungy clouds and precip that would not have made for a good high-speed capture.
September 14: Chicago lightning trip #9
Yet another Chicago lightning trip, the second one in three days and the ninth of the year. This time, models agreed on a large complex of storms moving in just before or right at daybreak. My plan, then, was to get a few hours of sleep on Saturday afternoon, drive up for the storms, then get back home in time for church on Sunday morning. However, I couldn't sleep in the afternoon, so I decided to drive up early and get a hotel to get the nap in later.
When I arrived at my hotel in Willowbrook, there was a guest checking in ahead of me who paid via phone reservation, but the hotel's system didn't show their room as paid. This was a near-30 minute delay while the clerk called various places to try and get the problem resolved to no avail. This eroded into my already short sleep window, and I didn't actually fall asleep until after 1:00 AM.
I had my laptop set up with a Blitzortung map, which plays a sound that I use as an alarm to wake me up when lightning strikes happen in the map area. Just after 2AM, my very poor 1 hour of sleep was interrupted by the Blitzortung map: an early round of storms was moving in. I drove into the city and set up, but the storms didn't produce any visible bolts. I went back to the hotel, only to turn around for the main round of storms that were moving in faster than expected after 4AM - meaning no more sleep for me.
I always take all of my cameras inside to my hotel rooms, and in this night's process knocked my high speed camera's very finicky focus out. When I set up the second time as the storms began, I had to go through the painstaking task of resetting the focus and confirming it was good by opening test files on the laptop. During this time, my DSLR clicked away on continuous 10 second exposures. During the 6th exposure and while I was busy fixing the focus on the high speed cam, an upward lightning flash hit the Sears Tower. I didn't know it happened until I saw photographer Barry Butler's shot of it on Twitter. I reviewed my DSLR shots, and there it was: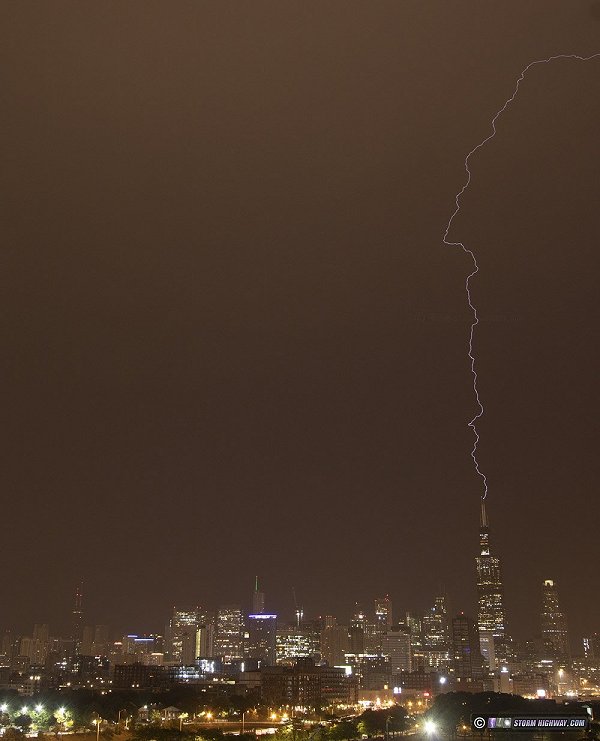 Although I was frustrated to miss this on the high speed camera, I was hoping more for a post-sunrise strike since the high speed cam can't expose foregrounds well at night, even the Chicago skyline. I kept shooting until 7:30AM, but no other visible lightning flashes occurred over the city. Another bust!
With my awake time approaching 24 hours with only an hour of broken sleep, I wasn't going to make it back home that morning. I went back to the hotel, slept until the noon check out time, then started the drive home with yet another empty high speed camera memory card.
September 22: Marginal storms in the STL metro & end of the Yaris era
Despite weak parameters, a healthy dose of sun along with strong surface flow provided a good overlap of vorticity and low-level instability right in the St. Louis metro on this Sunday afternoon. I drove up to Wood River to watch a new storm approach from the west. Two days before, the slight drone of a failing rear wheel bearing on my car began. Three of these have gone bad on my car since I've owned it, the only recurring issue I've had with my car. In the past, the noise gradually got louder over the course of a few weeks, giving plenty of advance notice to schedule a repair.
As the storm approached, I got on I-255 south heading for the turn east onto I-70 to stay ahead of the storm. A mile from the 270 interchange, the low drone of the wheel bearing suddenly got louder along with some metal-on-metal popping and scraping noises. The brake fault lights on the dash lit up. I pulled over, the desintegrated bearing now clearly evident in a swaying close-to-fishtailing rear of the car. I limped at 10mph onto I-270 west to the Pontoon Beach exit, where I discovered I'd lost about 95% of braking power. I stopped at a hotel's gravel truck lot and backed in, at which point the wheel separated and the suspension dropped to the ground.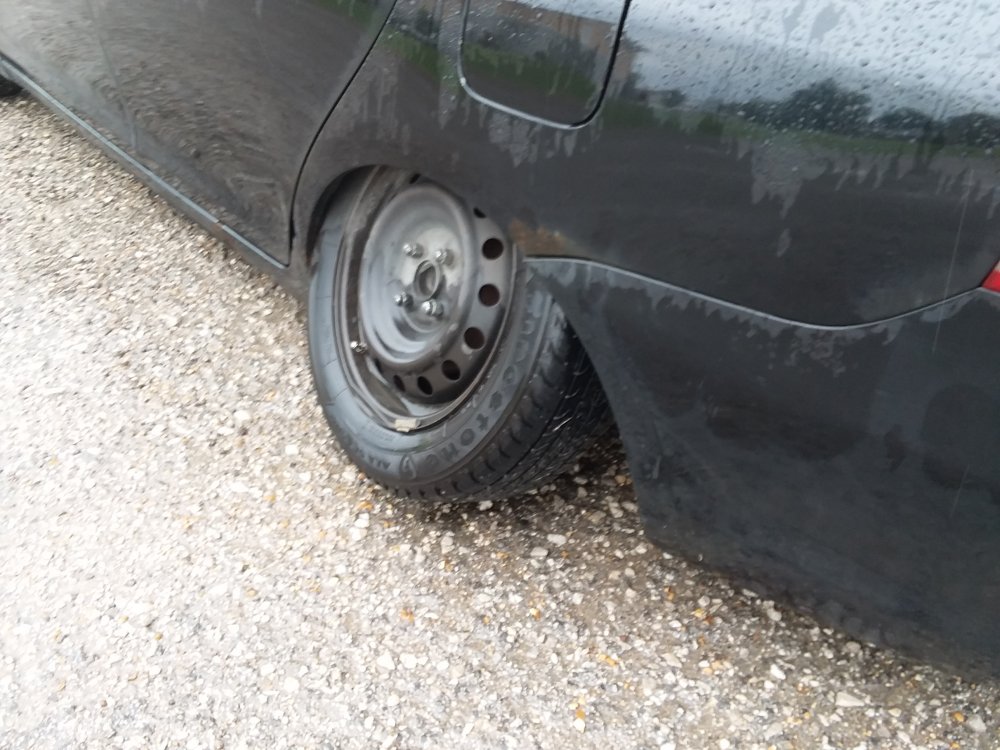 The cost of impending bearing repair along with the brake issues and the necessary tow back to the shop was finally too much to consider for a 318,000 mile car. So, the Yaris ended its duty that evening after 7 years of faithful service. The wheel bearing failure crisis certainly could have been much worse, especially had I needed to embark on Chicago trip #10 for storms the previous night.
October 10: Lightning east of STL
A short outing after dark for storms from New Baden to Trenton. Despite a few decent cloud-to-ground strikes, I had no captures of note.
October 21: St. Louis early morning storms
Another round of predawn storms in St. Louis. I set up at the Shrewsbury tower farm for upward lightning, but no strikes to the towers happened.
October 28-30: Icy road trip to Amarillo, Texas for freezing rain
The season's first winter weather coverage trip was for a freezing rain event in the Texas Panhandle. I captured this footage in Bushland along I-40 west of Amarillo:
October 31: Icy roads trip to Lincoln, IL
I was only home for a short night's sleep after the Texas trip before heading back out to cover snow north of Springfield, IL. County roads were covered along and north of Lincoln, but I did not encounter any issues on the treated main highways: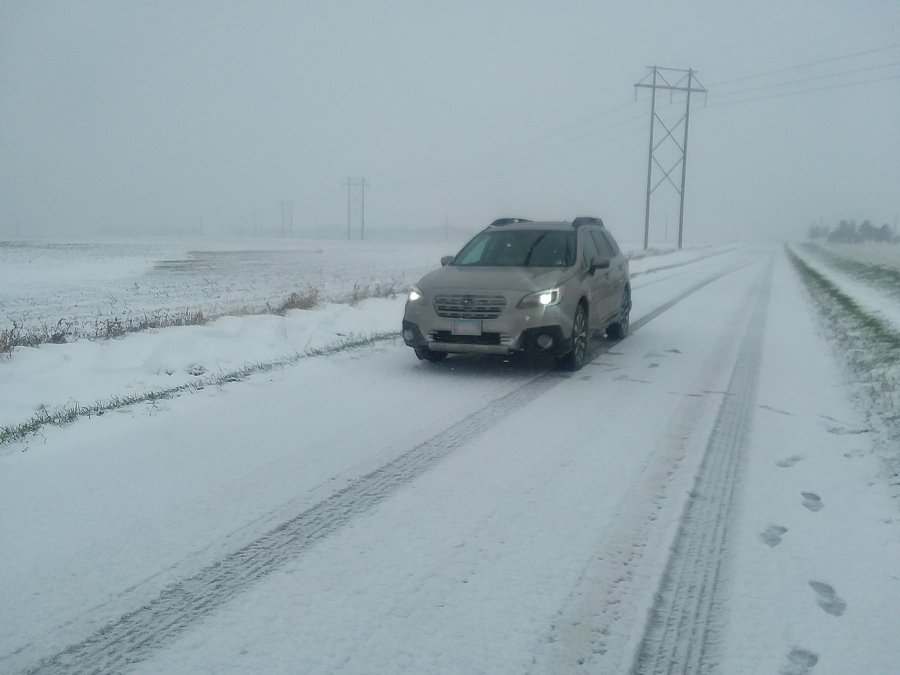 A major icy road event struck St. Louis after an early but otherwise routine snowfall got ahead of road crews. The big story from this night, however, was the huge meteor fireball that exploded over the skies west of the city. I saw and captured the meteor incidentally while shooting footage of traffic struggling on the glazed roads. This day's log has its own page
here
.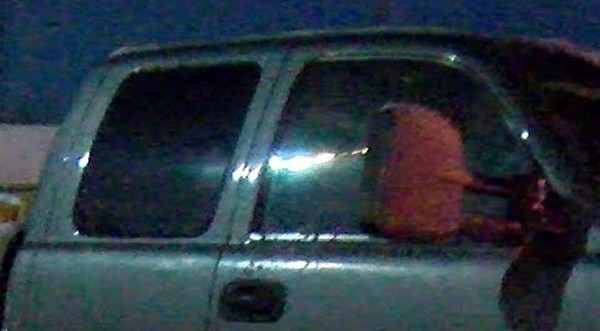 November 23: Icy roads trip to Peoria, IL
A day trip up to Peoria for snow/sleet/freezing rain, beginning after midnight. Other than a few lightly iced bridges on I-155 north of Lincoln, the trip was uneventful.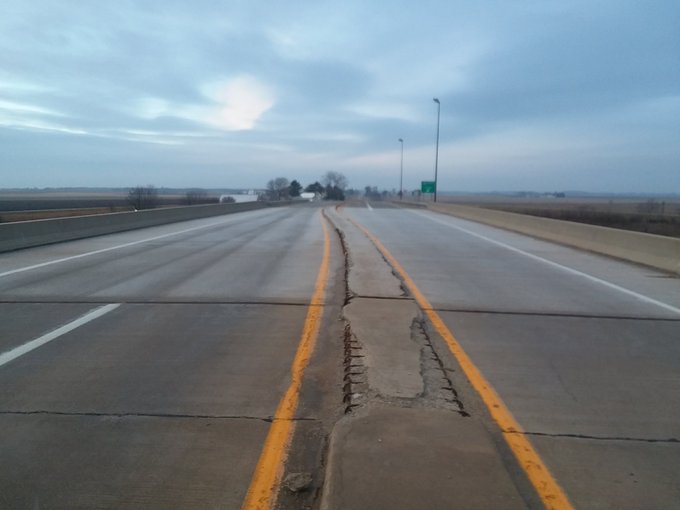 November 26: STL Metro-East tornado-warned supercell
My original plan for this day was to drive to Sedalia junction, MO then drive east just ahead of the line of eventual storms and watch individual updrafts as they crossed Interstate 70. I was dissuaded from this by 3 things: all models holding off convection until after dark, the insane Thanksgiving traffic already making the roads crazy at midday, and CAMs persisting about a lead line of supercells potentially peaking in the St. Louis metro sometime between 10pm and midnight. By the time I left for my expedition at 8PM, traffic was starting to calm down. I drove up to Wentzville, MO to watch the first storms in the metro area, but they stopped producing lightning about 30 minutes before arriving. After that, a strengthening line of storms was taking shape south of I-44, appearing to align with the activity the CAMs had been hinting at. I ended up a mile from my apartment just after 10pm watching this approach. It too stopped producing lightning as it got to within 30 miles of me. About 15 minutes later, a supercell structure on radar emerged (more impressive on reflectivity than velocity). That was the only thing you could call successful about this expedition, that I managed to be in a tornado warning. With the storm about 10 miles out, lightning started up again to provide a partial view of what was going on - but no structure of interest was visible in the flashes.
This was my lightning-illuminated view of the tornado-warned storm at New Baden, looking in the general area the circulation was on radar.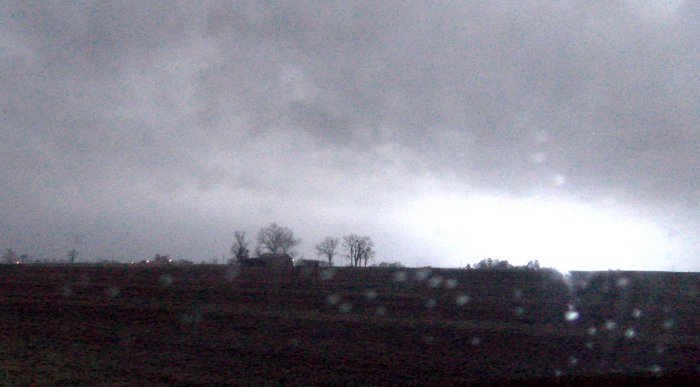 November 27: Synoptic high wind event in STL area
I went out to Pontoon Beach and back to see if anything interesting was happening during a period of high winds behind a strong cold front in the St. Louis metro. Other than a few power flashes in East St. Louis area, I didn't see any real impacts.
November 29: St. Louis Black Friday thunderstorms
Multiple rounds of thunderstorms moved across the St. Louis metro on this night into the next morning. Dense low clouds and fog obscured all lightning channels, leaving nothing but flashes and rolls of thunder to the observer. I set up downtown for a Christmas tree-lightning combo shot. The storm fought me at every turn, with no visible bolts and east winds driving rain into the lens.
December 2: Snow band icy road event in St. Louis Metro-East
A stronger-than-forecast snow band stretched from Alton to New Baden early on the morning of the 2nd, creating a very narrow (1 mile wide) swath of icing where it crossed area roads. I monitored and reported the icing along I-64 and Highway 161, but no incidents occurred in these areas.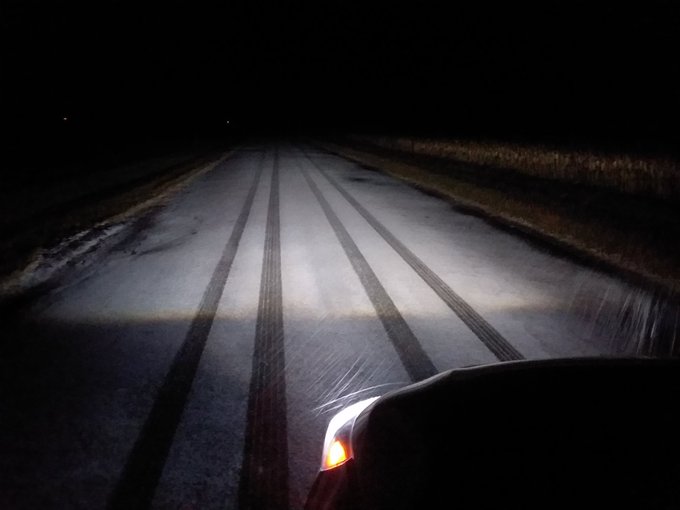 Up in Troy at the I-55/I-70 interchange, the icing caused a serious accident involving tractor-trailers that made national headlines.
December 10: Snow event in northern Illinois
I begain the drive toward Bloomington-Normal as a light snow event moved across northern Illinois. The road impacts remained north of there, however, so I turned around at Springfield.
GO: Home | Storm Expeditions | Photography | Extreme Weather Library | Stock Footage | Blog
Featured Weather Library Article:
All content © Dan Robinson. All usage requires a paid license - please contact Dan for inquiries.

Web Site Design and Internet Marketing by CIS Internet