Home | Blog Index | Blog Archives | Christianity & Faith Essays
Tuesday, September 3, 2019
August 2019 storm photography roundup
August was another busy month of chasing, with a couple of good days among another mostly unproductive stretch.
July 30: Dissipating early morning storms in St. Louis
I set up in Maplewood for upward lightning from the Shrewswbury TV towers for about an hour, but the storms didn't cooperate.
August 6: Uncooperative storm at Okawville, IL
I followed several late afternoon thunderstorms as they developed near Albers, Illinois and moved down to Okawville. There were a few good lightning strikes including some "bolts from the blue", but none struck where I had my camera aimed.
August 12-14: 36 hours of storms from central Illinois to St. Louis
This period featured rounds of thunderstorms every 3 to 6 hours for a day and a half straight. I managed only a couple of naps in between for about 3 hours' sleep total. The first rounds of storms began in St. Louis at 10PM Monday night the 12th, lasting into Tuesday's late morning hours. Lightning was uncooperative, and I only caught one bolt during this time - and it was out of focus. After the morning storms were done, I caught a brief nap before prepping for the next round to the north, which featured a setup with tornado potential from the Quad Cities area east into central Illinois. Models however started showing this setup would bust, only firing storms at sunset closer to Springfield. Finally at 7pm storms initiated along I-72 from Hannibal through Springfield, and I headed north on I-55 just before sunset.
A lone storm went up to the west near Troy, Missouri, producing a nice crepuscular ray display: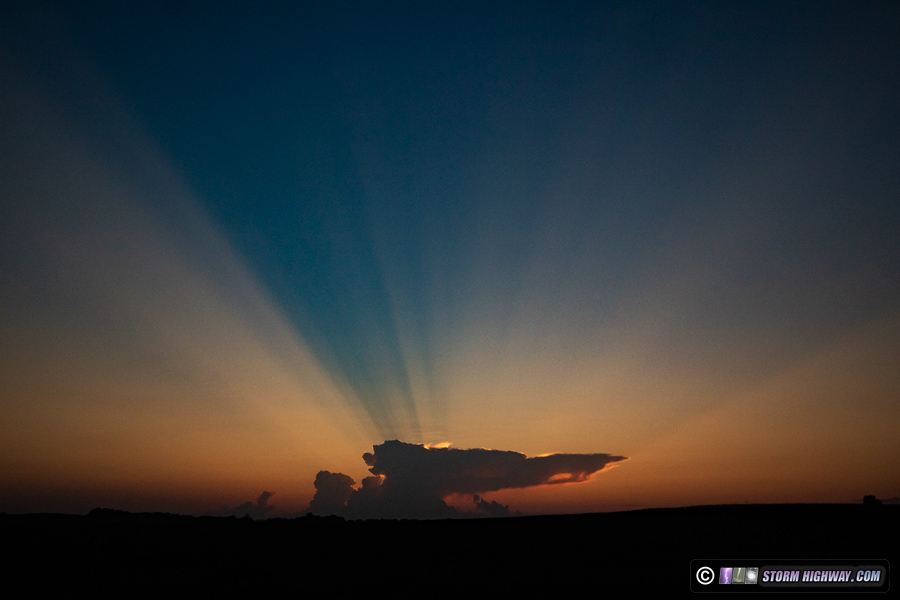 The storm just east of Springfield was slightly south of the rest of the cells on I-72, and looked like the best candidate to produce a tornado along the warm frontal zone. I diverted northeast to Pana to get ahead of this, but thanks to the high corn and trees, I never had a visual on the base when it produced its tornadoes near Assumption. I arrived on the storm at Shelbyville, but by then it was lining out. CG lightning was intense, but none cooperated for my cameras.
I headed back home, but only briefly as even more storms were heading for St. Louis. I caught this bolt at 4AM at the Arch: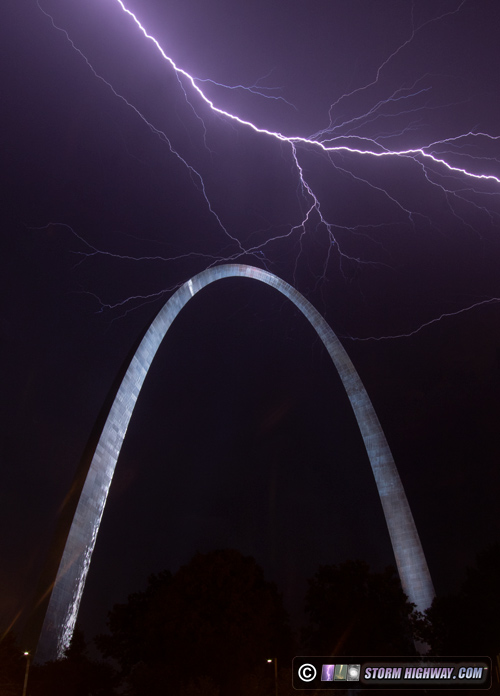 Yet another round of storms arrived at daybreak, which offered nothing of photogenic value. I arrived home to end this local storm photography marathon at 10AM Wednesday.
August 16: Morning storms in St. Louis
Another hour or so spent trying for upward lightning at the Shrewsbury towers from Maplewood after sunrise. The nearby Porsche St. Louis dealership called the police on me, which I had to spend 15 minutes dealing with. No lightning strikes occured in my camera's field of view.
August 17: "Bolts from the Blue" and lightning from St. Louis to Farmersville, Illinois
This was one of the best lightning days of the year for me, a welcome change from the rest of the season's fare. I started out before sunrise, heading for new storms near Carrolton, Illinois. I kept ahead of them east across I-55 at Farmersville, where one storm produced some vivid cloud-to-ground bolts ahead of the precipitation: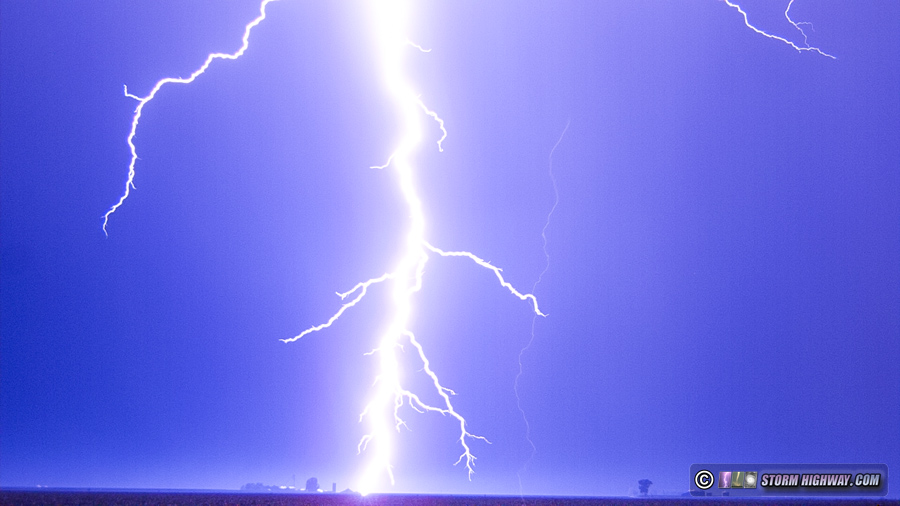 The rest of the day was quiet until just before sunset, when new storms developed near Columbia, Illinois southeast of downtown St. Louis. I followed these into the night as they slowly moved northeast. On several occasions, the storms produced spectacular "bolts from the blue", what we call cloud-to-ground bolts arcing from the tops of the cumulonimbus towers out into clear air and striking the ground many miles away from the storm. I missed the first rounds of these, but managed to catch the last and most impressive examples just after sunset east of New Baden. This Youtube clip has the stills and dashcam video from this event:
August 18: Chicago lightning trip #6
This was my 6th trip to Chicago this year for upward lightning. Multiple rounds of thunderstorms were expected there in the morning, so I left home after midnight. I encountered some storms near Dwight that produced a couple of decent high-speed lightning captures. After I arrived in the city, there was only one upward flash to the Hancock during the storms, and it was mostly hidden behind low clouds and fog. I did get a couple of nice cloud-to-ground bolts behind the skyline, so the trip was not a total loss.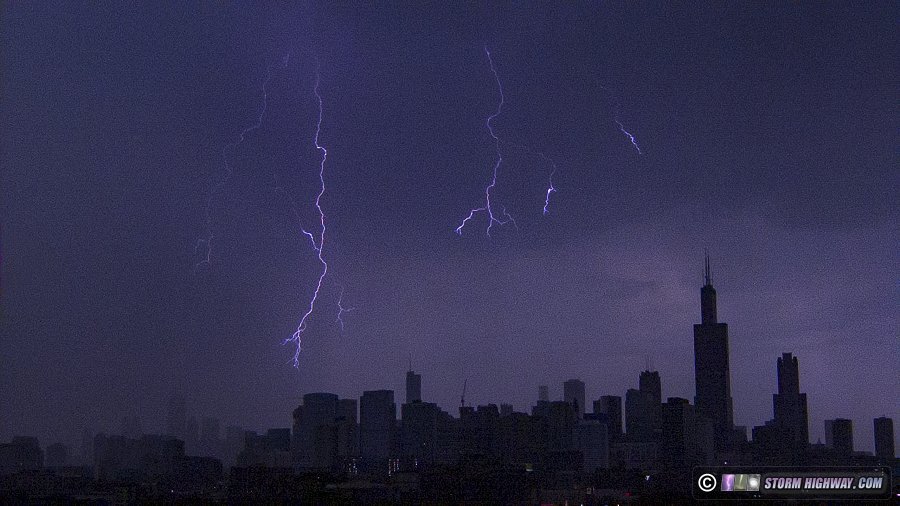 August 19: Lightning from Mascoutah to Trenton, Illinois
Surprisingly lightning-active storms fired this day just south of St. Louis. I was caught off guard, and didn't arrive on them until they were moving into Mascoutah. Several new updrafts pulsed periodically and produced barrages of bolts as I followed the storms to north of Trenton. I frustratingly missed about a dozen good bolts, but caught one next to a rainbow that had appeared on the south side of the precip shaft - one of the better captures of the season!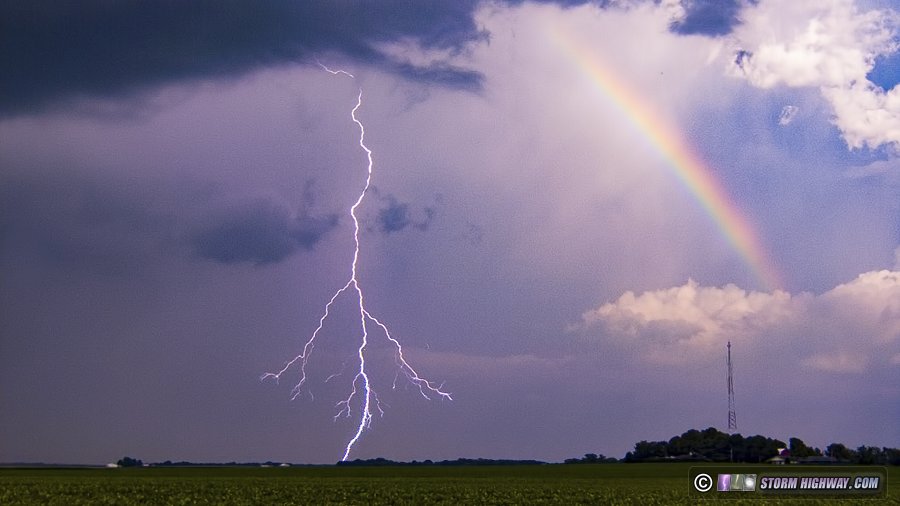 The Trenton storm also produced several bolts-from-the-blue that I missed capturing. Later that evening, I saw that skies were clear overhead and that a strong storm was at Mount Vernon, 40 miles to the east. I went outside and sure enough, it was not only visible, but producing more bolts from the blue! I set up my 50mm lens and captured a couple of them: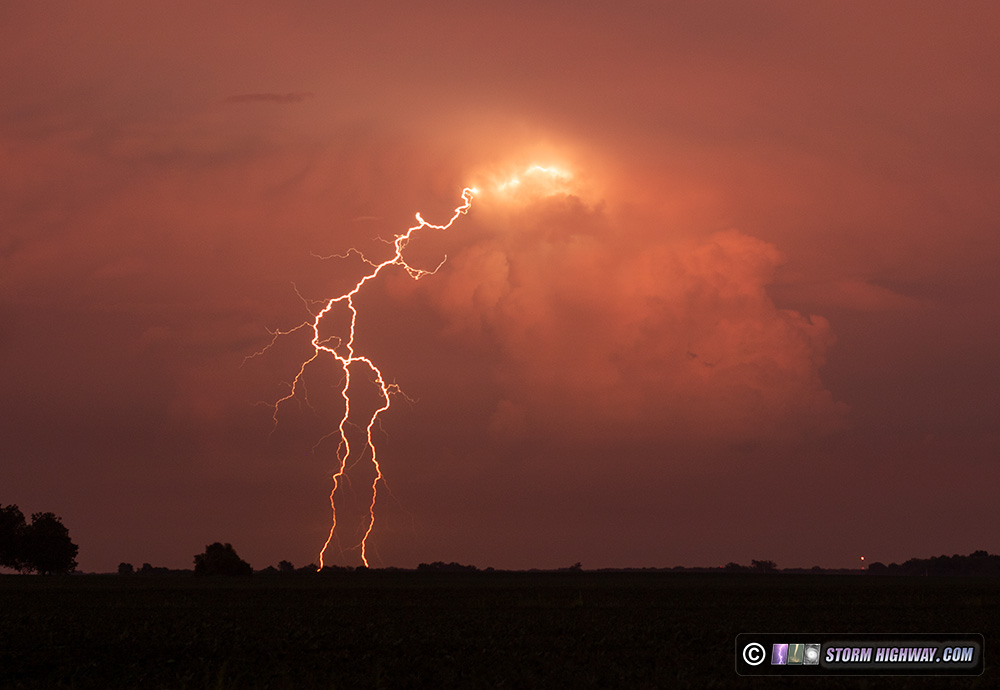 August 20: Chicago lightning trip #7
Another trip to Chicago for upward lightning, this year's 7th. These storms didn't produce any quality lightning over the city.
August 21: Uncooperative St. Louis nighttime storms
The overall 2019 theme of lightning frustration continued this night. Very lightning-active storms fired right after sunset west of St. Louis, and I went downtown to set up for my shot at the Arch. The barrages of lightning lasted nearly an hour, but stayed completely south of downtown. Eventually, the storms developed a trailing stratiform precip shield over the metro area, so I moved to the Shrewsbury TV towers for upward lightning. Literally one second before pressing the record button on my camera, the lone upward discharge of the night hit two of the three towers simultaneously. After I got home, I reviewed the dashcam video of the bolt and was relieved that it was a rather boring event with single-channel leaders - so no huge loss in missing it on my better cameras.
August 24-25: Wichita, Kansas upward lightning
Anxious to get a couple more MCS (storm complex) stratiform lightning events before the summer storm season winds down, I headed to Wichita, Kansas on Saturday night the 24th to try for upward lightning at the Wichita TV tower farm. Four upward discharge events occured to the towers. The best one consisted of three of the five towers getting hit simultaneously: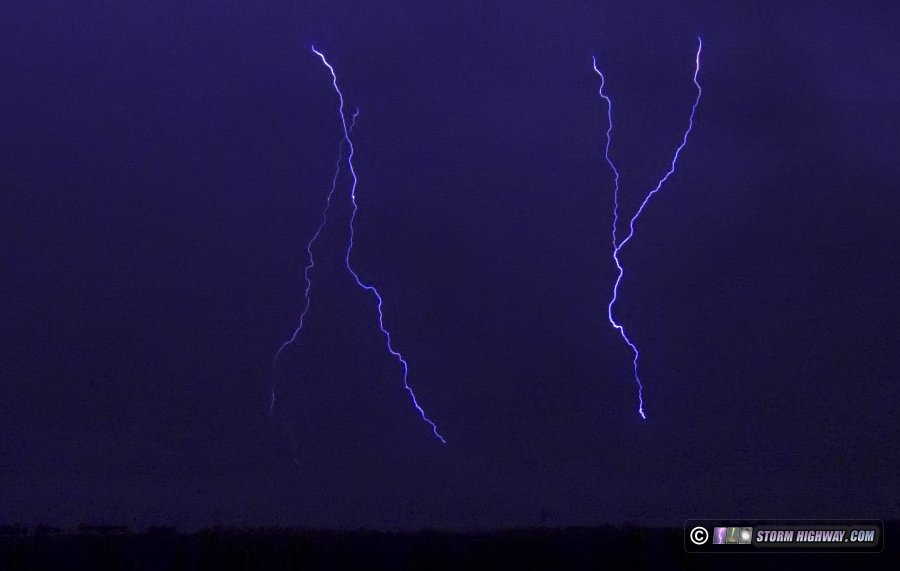 August 26: Cape Girardeau, Missouri lightning bust
A large MCS (storm complex) was moving across central Misssouri at midday, but was going to miss St. Louis completely to the south. Since instability ahead of the complex was strong and the system had a nice electrified stratiform precip region, I decided to head down to the Cape Girardeau, MO TV towers for another shot at upward lightning. The storms completely dissipated before arriving, and I didn't see one visible lightning channel the entire day.
August 29: Columbia, MO and Kansas City lightning trip
Since models hinted at a long downtime for good storms heading into September, I decided the big storm complex that was shown for central and western Missouri this night would be worth another MCS lightning trip. I left Saturday evening and arrived on a storm at Prairie Home, Missouri (west of Columbia) just after sunset. The cloud-to-ground bolts were uncooperative, but I did catch two quality positive "anvil crawler" discharges.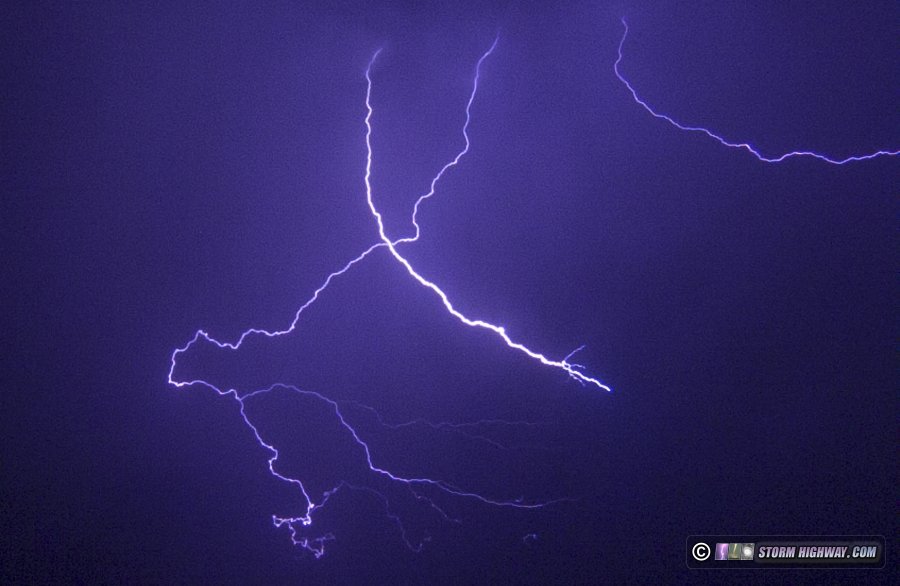 I continued west into Kansas City for stratiform region lightning that lasted into the morning hours, capturing a few upward events along with this interesting complex upward-to-downward discharge as an "anvil crawler" connected to an upward leader channel: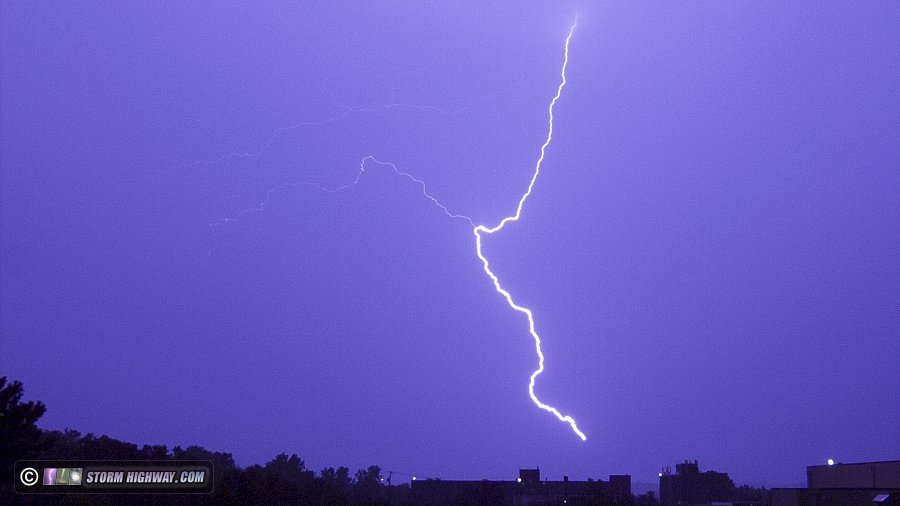 August 30: Mascoutah to New Baden, Illinois thunderstorms
I followed a couple of storms from Mascoutah back toward home this night, but none of the infrequent visible bolts cooperated for my cameras.
August 31: Short-lived storm in the St. Louis metro
Models agreed that the only storms the Midwest would see this night would be along the I-72 corridor after midnight, so I wasn't paying attention when a lone storm fired in Chesterfield at sunset, catching me off guard. I drove to St. Charles to catch the storm, but it dissipated just prior to my arrival. Later, I chose to not go up to Springfield for the overnight storms that did develop as expected.
August 31: Hurricane Dorian no-go
I was set to depart for Florida's Atlantic coast on Saturday the 31st to intercept Hurricane Dorian, but cancelled the trip once models settled on the storm curving out to sea.
September 3: Missed Chicago lightning
In one of the biggest heartbreaks of the year, I missed an incredible upward lightning display in Chicago - likely the best in 10 years - thanks to models all agreeing that storms would dissipate long before reaching the city. I had set my alarm for midnight and was prepared to leave at 2AM, but all models were insistent on storms fading by the time they reached northern Illinois. By the time it became apparent the storms weren't dying, it was too late to make the 5 hour drive in time. I could only hopelessly watch the event unfold from home. As you can see from my previous logs, I have made the drive to Chicago 7 times this year already in attempts for this very thing. One of the most soul-crushing observing defeats of this decade for me.
GO: Home | Storm Expeditions | Photography | Extreme Weather Library | Stock Footage | Blog
Featured Weather Library Article:
All content © Dan Robinson. All usage requires a paid license - please contact Dan for inquiries.

Web Site Design and Internet Marketing by CIS Internet