Home | Blog Index | Blog Archives | Christianity & Faith Essays
Sunday, May 30, 2021
2021 Great Plains storm expedition logs
My return to the Great Plains in 2021 (after a year off due to the pandemic) was a good one. Blessed with success and safety, I came away with 7 tornadoes, a top-tier tornado intercept, a few quality high-speed lightning shots and some "keeper" stills. It's as good as you could hope for in what was a challenging season. Though I'm still on standby for one more possible trip if June offers anything worthwhile, it appears that the season is winding down into the typical summer ridging pattern. So, without anything further, here is the log of all of my Plains storm expeditions this year.
Season Totals:
Plains expedition trips: 4
Plains storm days: 13
Days on the road: 17
Plains tornadoes: 7
States: Missouri, Kansas, Nebraska, Oklahoma, Texas, Colorado
Great Plains Expedition Days
Day 1, May 7: St. Louis to Salina, KS (Trip #1 start)
I made a late departure from home to avoid the madness of daytime I-70 traffic in Missouri. I stopped in Salina, arriving there at 7AM for a few hours' nap.
Day 2, May 8: Supercell and lightning from La Crosse to Topeka, KS
I awoke in Salina and moved west to La Crosse as storms began firing. Two cells emerged initially, with the northern one ultimately taking over and drifting northeast. I initially was south of the storm, then chose to go north to I-70 to move ahead of it as it crossed the interstate. I accomplished this at Ellsworth. The storm was a prolific CG producer, and put on quite a show with lightning and sunset colors near Salina. I stayed ahead of the storm on the interstate all the way to Topeka, making several stops for high speed lightning shots. Nearly every DSLR exposure caught lightning.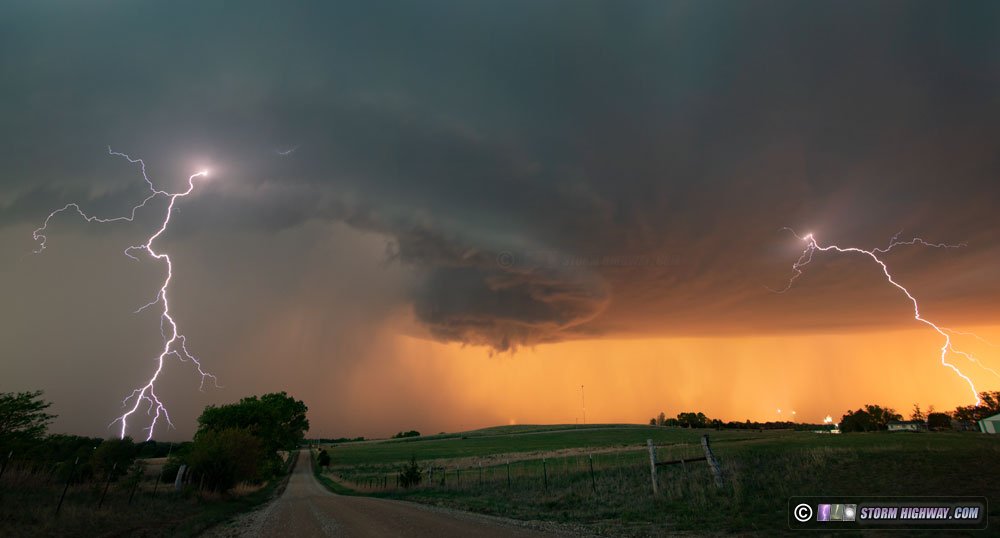 2-frame panorama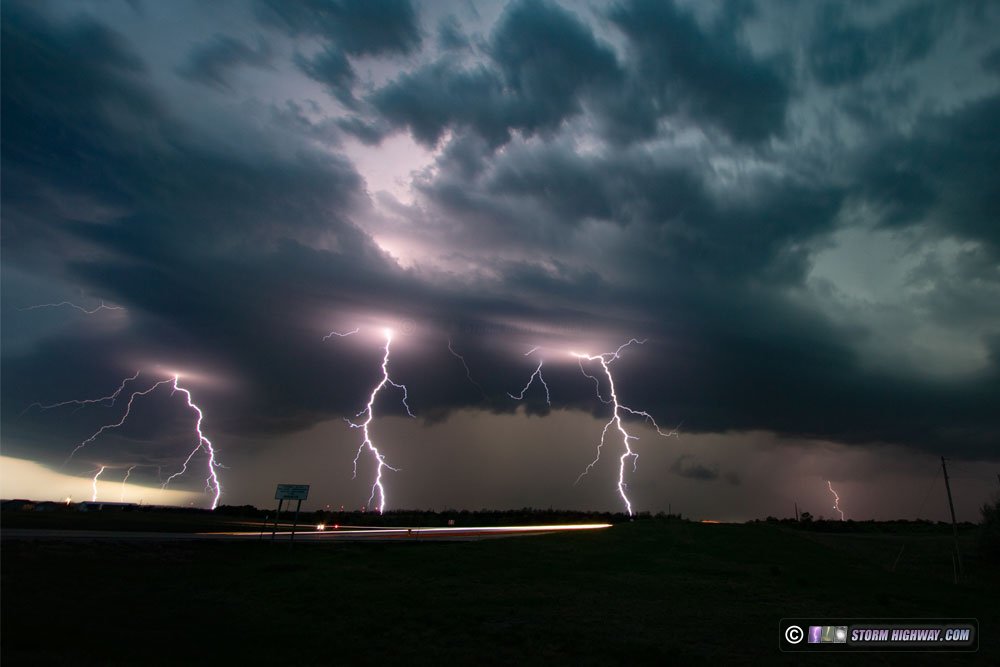 3-frame stack
The storms eventually congealed into a large squall line, so I spent several hours in Topeka trying for upward lightning off of one of the TV towers west of town. Intracloud and cloud to ground lightning was nearly continuous from the main cores to the south and the stratiform region overhead, but no upward flashes occurred to the towers. I did get some nice audio recording of the thunder here. Radar showed that a much larger stratiform precip area was heading for Kansas City, so I decided to head east to set up at the towers east of downtown KC. When I arrived, however, a solid deck of low clouds had moved in behind the cold front, enshrouding the upper two thirds of the towers in the clouds and completely blocking the view of any upward lightning. I ended up calling the expedition at this time, heading east to Booneville to stop for the night.
The following video includes bolts captured on the high speed camera from this day (which I had set to record at 6,000 frames per second).
Day 3, May 9: Booneville, MO to St. Louis (Trip #1 end)
A short 3-hour drive home brings the season's first Plains expedition to a close.
Day 4, May 15: St. Louis to Wichita, KS (Trip #2 start)
The plan tonight was to shoot lightning in Kansas as thunderstorms fired on a warm front moving northward through the state overnight. I arrived on the storms at Rock (the location of a
tornado intercept in 2004
), but the lightning was uncooperative and mostly unphotogenic. I headed to Wichita for the night.
Day 5, May 16: Wichita to Liberal, KS (via Kansas City), Emporia supercell
One thing I've learned is that you can't really try to forecast and intercept storms in both the Plains and the Midwest at the same time. If not, you end up with a day like today. I awoke this morning with models showing tornadic supercell potential back home in St. Louis. To my dismay, this seemed perfectly reasonable, with a stationary/warm front oriented favorable for northeast-moving storms to root on and turn right. One run of the HRRR even had a monster supercell with a strong helicity track going right through the metro area. It was enough to make me head east back toward home instead of going west as planned for a marginal setup in the western Kansas and Oklahoma/Texas panhandle regions.
By the time I arrived in Kansas City, storms and heavy rain had overspread the state of Missouri with a horrendous drive on I-70 awaiting me. Short-term models were also backing off of the STL supercell idea, with very weak CAPE indicated for any storms that could fire in this area. With trepidation on missing something back home, it was after noon when I turned around and headed back out west.
The same frontal boundary that had caused my concerns about St. Louis supercells/tornadoes was also draped more or less parallel to my route back to Wichita. It wasn't long before thunderstorms began firing on this boundary by mid-afternoon, and I encountered one of them at Emporia. As the storm's base emerged out of the haze, I was greeted by a healthy-looking, ground-scraping updraft base and RFD cut beginning to slice in. I exited the highway and drove up into the RFD clear slot, with an area of focused rotation evident very close to the ground. Frequent cloud-to-ground lightning began firing off all around. A surprise tornado looked like a real possibility, and with LCLs at the treetops, I thought it would not take much to do it. It was essentially the same thing I was fearing happening in St. Louis later.
But, the storm just couldn't get it done - minutes later, outflow from the forward flank pushed south and obliterated everything at the surface. I got back on the highway and resumed the trek west.
The drive I had ahead was a long one, and I would not make the better target in the northern Texas panhandle in time. So, I didn't push very hard. I passed through many towns I hadn't seen in years - Pratt, Bucklin and Greensburg. Models showed the possibility of new storms at sunset in extreme southwest Kansas (between Elkhart and Johnson City), so I headed in that direction. By late evening, storms were indeed firing in this area and I was finally in range.
I moved north to Sublette to position in range of two areas of storms that had fired, but as the sun dipped behind the anvils, all of these updrafts dried up and vanished. Models insisted on a stronger line of storms after dark from the Panhandles northward, and this indeed began happening as darkness fell. I headed down to Hugoton to set up as these approached.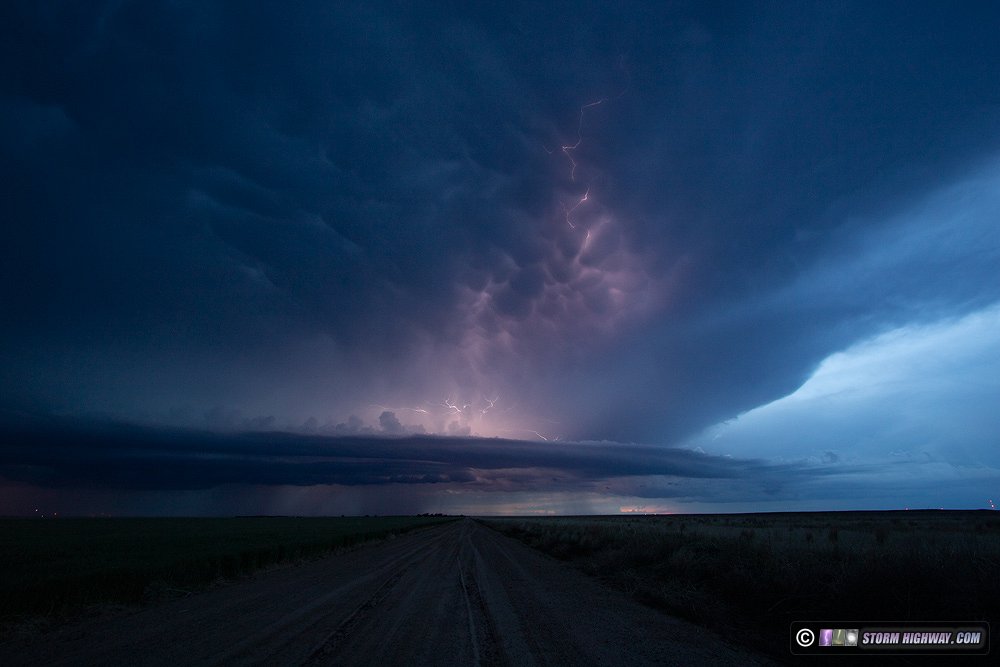 There was not a lot of visible lightning and I didn't capture much of interest here. I did see a series of power flashes from a lightning-induced flashover event, but I missed capturing this on my A-camera.
After shooting the storm for 45 minutes and seeing nothing of real photogenic value, I headed to Liberal for the night.
Day 6, May 17: Forsan, Texas tornadoes
I went to bed the previous night expecting a decent setup for tornadoes from Amarillo to Lubbock in the Texas panhandle. However, when I awoke, I saw that an overnight MCS had shunted the good moisture all the way down to the I-20 corridor, with the obvious play being the outflow boundary-dryline intersection in the Midland-Odessa area. The situation was similar to the Elmer, Oklahoma day in 2015, where I went to bed in North Platte expecting to be targeting Nebraska the next day - only to wake up to MCS-scoured moisture way down to the Red River. In that case, I had an impossible 9-hour drive to get south into position, obviously not making it in time and missing the tornadoes by several hours.
Unlike the Elmer day though, this time I was in better shape. I had awakened earlier and had only a 6 and a half hour drive to get into position. I made it just in time as my target storms fired at Midland (my farthest-south spring tornado target).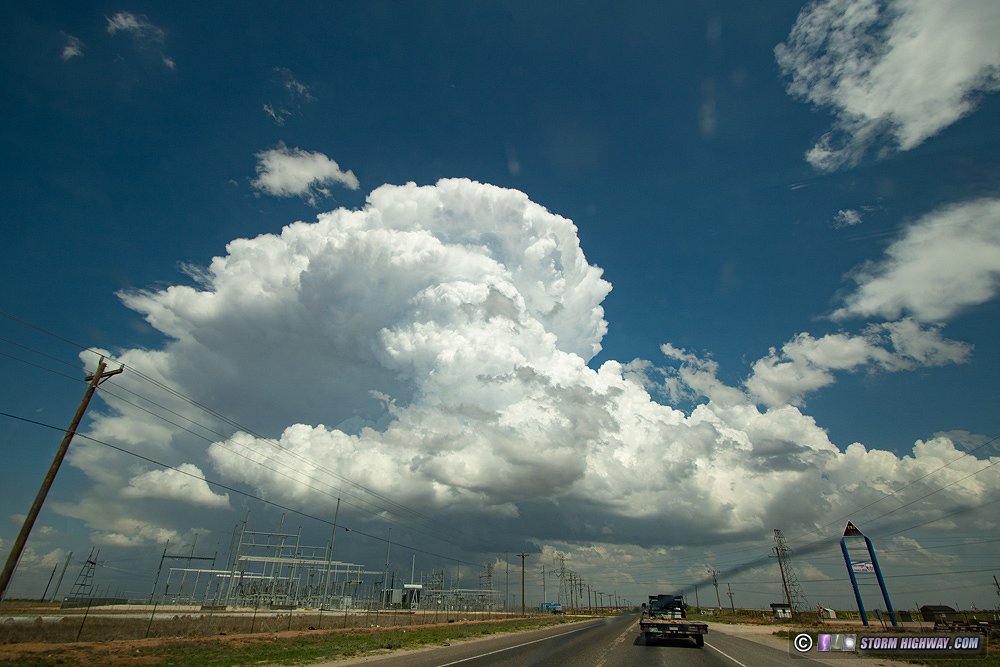 It took a bit of time for these to finally organize into a supercell south of Big Spring. The problem along and south of I-20 in Texas is that the terrain is hilly and low scrub/trees are fairly constant everywhere, meaning there are very few nice, open views. The road network is also more sparse, with much fewer areas to pull over. But I felt that the potential here was worth those trade-offs.
I watched the storm slowly approach at Forsan. The first RFD cut of the day formed quickly in the storm's massive rain-free base, and I had a good view at my location. A wall cloud and funnel formed, and those closer to it confirmed a ground circulation. Soon, baseball-sized hail began crashing around me. Even though I have hail guards on my vehicle, I'm still skittish about remaining in hail that is already that large that far away from the tornado.
There were only two viable roads to keep up with this storm - one to the south moving southeast, the other due east - and both several miles apart. Neither were ideal, as the storm was moving just south of due east. When the next meso wrapped up and became imminently tornadic, it was in no-man's land with no trustworthy roads available to get closer. I managed to find a less-blocked-by-scrub-and-trees view on a gravel road and watched the tornado develop, on a hair trigger to move if the giant hail made a return.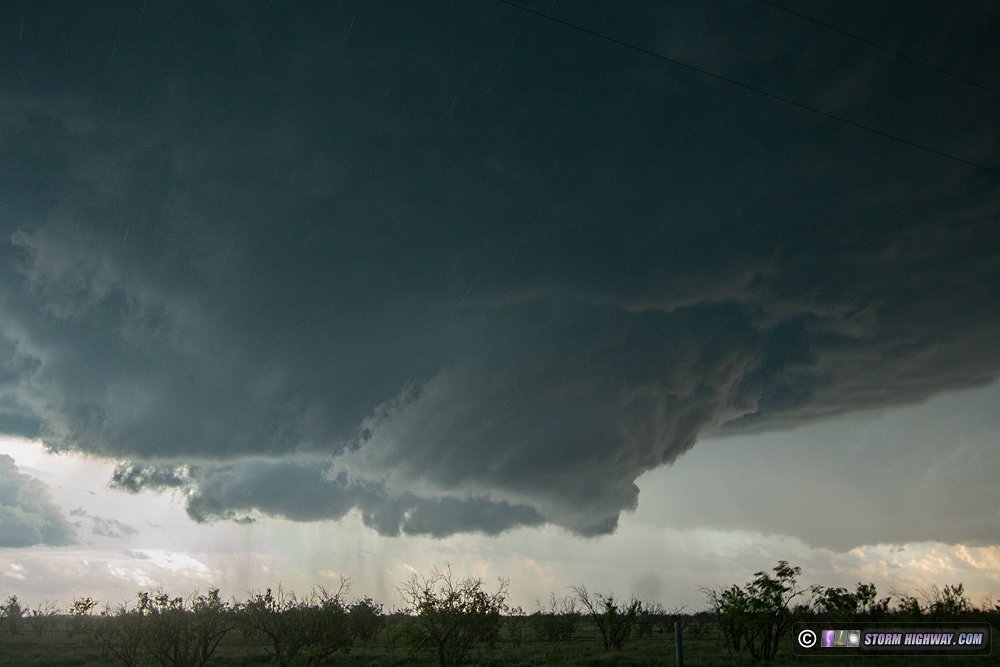 The scene was quite spectacular, with a sculpted supercell and tornado due south: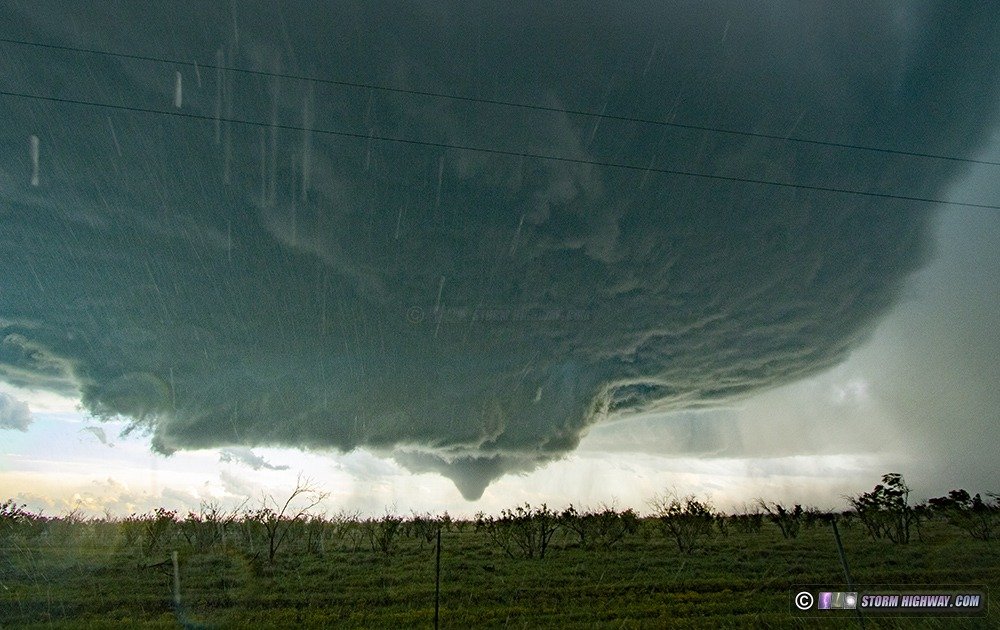 Once the tornado moved east of me and precipitation started ramping up, I moved east to the north-south Highway 163 to get a chance at a road-crossing shot. But by now, the tornado was completely rain-wrapped and I wanted nothing of the sort, especially with the bad views and no escape routes. While on the trek southbound to move south ahead of the storm, a brief snaky satellite tornado spun up to the southeast of the main tornado (also heavily shrouded in rain).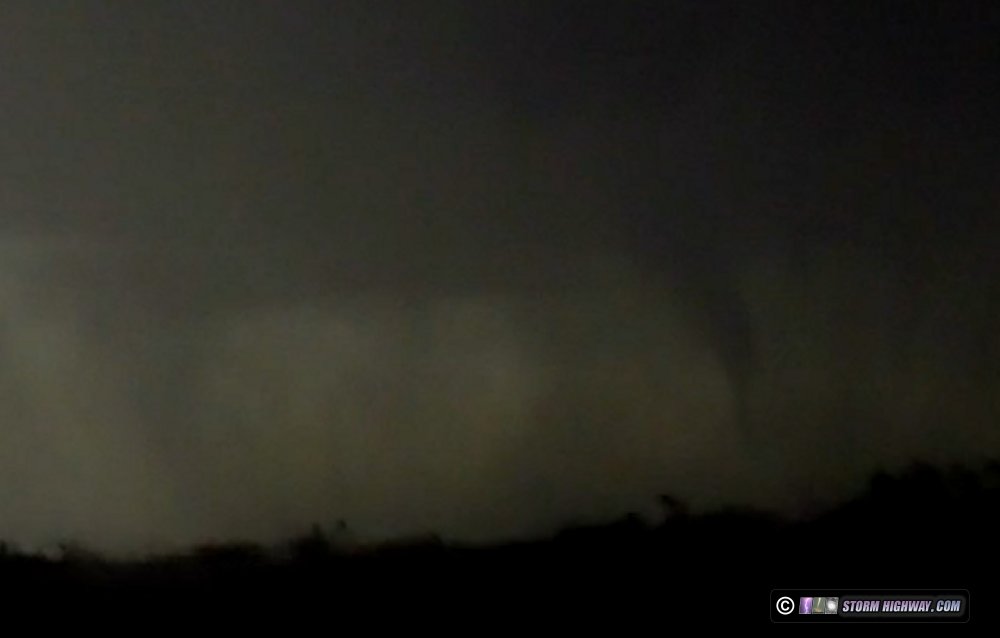 Once I was out of the RFD south of the storm, the road options continued to be problematic with only one - Highway 158 out of Sterling City - providing any real continued view of the storm. By now however, the storm was visually becoming more linear, and it was clear the tornado show was over. Lightning on the front side of the storm had not been very photogenic, so I turned north at Robert Lee in order to get to the back side of the storms on I-20.
I located a tall TV tower in the Abilene market located near Trent that I thought would be good for upward lightning. While on the south I-20 frontage road searching for a spot to set up my cameras, I hit an unexpected speed bump - yes, an actual, on-purpose speed bump *on a frontage road* - at 35mph, causing a violent jolt that rocked the entire vehicle. I stopped to assess the damage, finding one of the hinge bolts for the rear window hail guards completely sheared, and the other bent. This meant that the rear window guards were no longer safe to leave mounted, so I had to remove them and store them inside until I could make repairs. I was not expecting any further large hail encounters this trip, thankfully.
After dealing with the hail guard situation, I looked some more for upward lightning viewing spots - but the tower (visible to the south) had not produced any upward discharges. So, I decided to call it a day and head to Abilene for the night. As I arrived on the outskirts of the city, a flurry of positive CGs began firing off to the north. I was able to stop and grab a nice high speed shot of one of them before turning in for the night.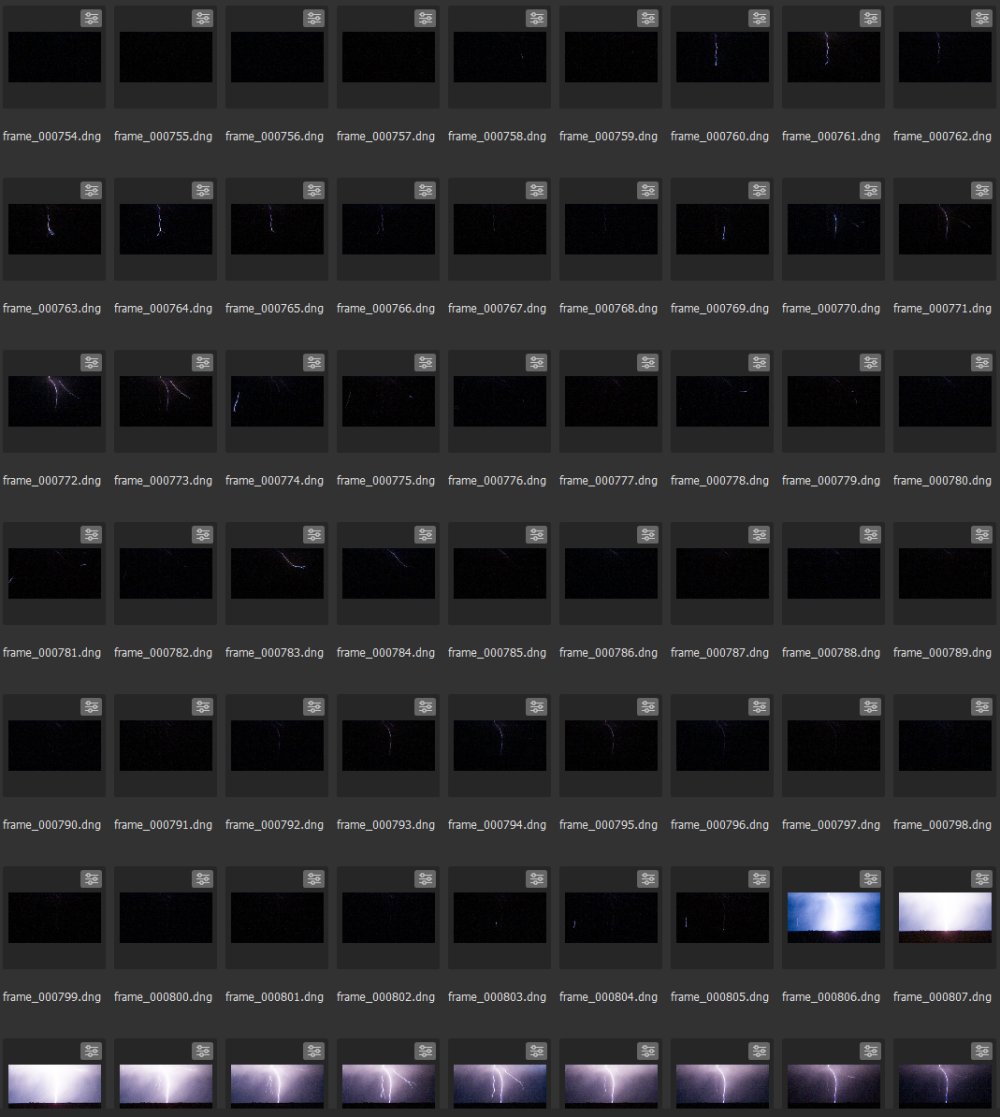 Day 7, May 18: Gustnadoes and lightning near Muleshoe, Texas
Today's setup was marginal, but one I felt could provide some nice lightning opportunities in the Texas panhandle. I drove up to the New Mexico border area near Arch, NM and followed storms east from there to Interstate 27. I captured two nice negative cloud-to-ground lightning bolts at 6,000 fps at Muleshoe, then encountered multiple gustnadoes along the outflow.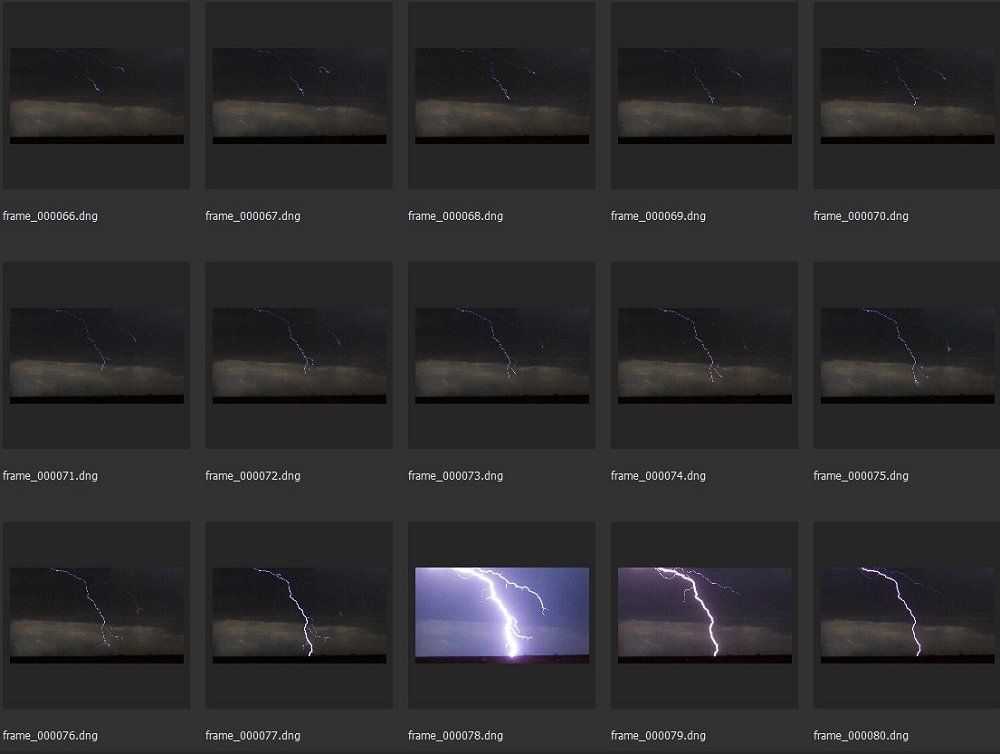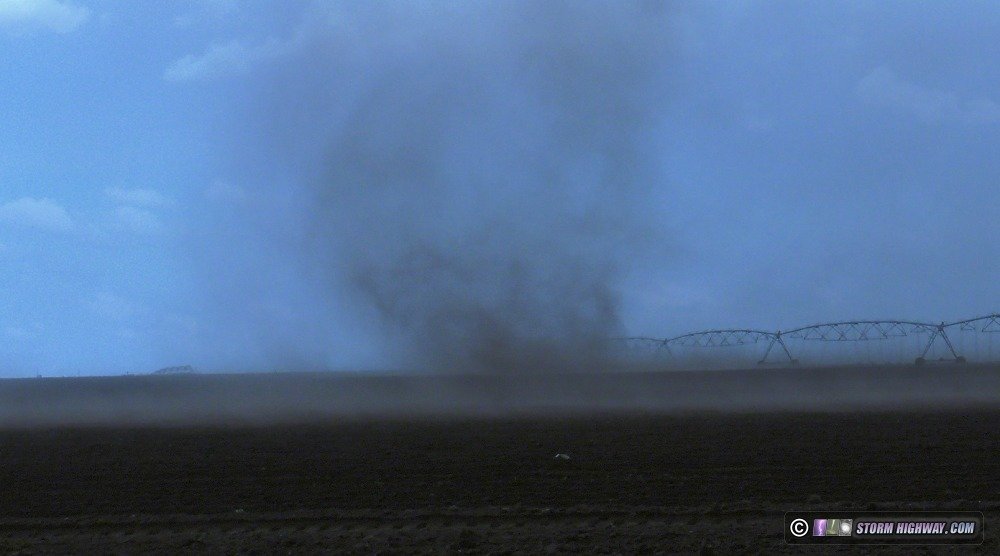 I ended the day in Lubbock, where mammatus filled the eastern sky over downtown.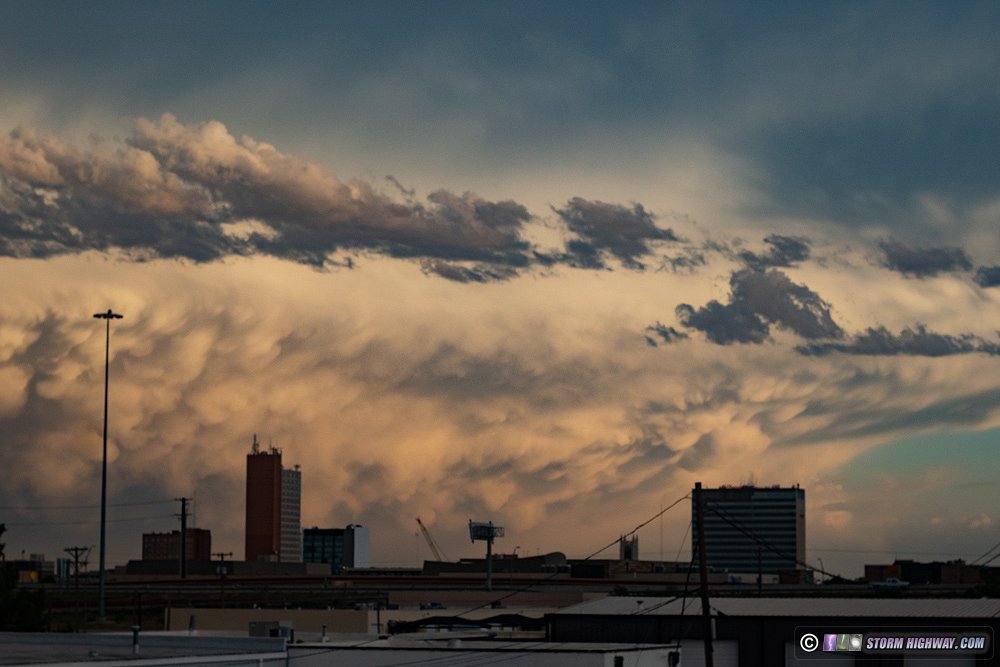 Day 8, May 19: Weak thunderstorms near Freedom, Oklahoma
Another very marginal day for severe thunderstorms presented itself with potential for storms from Kansas down into north Texas. I decided to just start heading home and stop to shoot anything that caught my interest. To maximize the chance I'd see storms, I drove east to Paducah, Texas then north through Shamrock to Shattuck, Oklahoma, as models showed storms firing in these areas by mid-to-late afternoon.
I made it to Woodward, Oklahoma as the first cells of the day fired, but struggled to maintain. Other storms fired in northwestern Oklahoma, with the better one I saw near Freedom. None were producing visible lightning bolts, so I decided to abandon them at sunset and resume the trip east toward home. I ended the day in Wichita.
Day 9, May 20: Wichita, KS to St. Louis (trip #2 end)
After 7 more hours of driving, I was back home for the conclusion of Great Plains trip #2.
Day 10, May 21: St. Louis to Salina, KS (Trip #3 start)
Model variability has made trip planning this season difficult. I had expected longer downtime after Trip #2, otherwise I'd have stayed out on the Plains. Nonetheless, during the 24 hours I was home, I managed to fix the rear window hail guards and get a full night's sleep. I headed to Salina for the night, making most of the drive after sunset.
Day 11, May 22: Storms from Otis, CO to Big Springs, NE
I woke up in Salina in what I thought was plenty of time to make it to the day's target in northeastern Colorado. Alas, the curse of early-initiation days is that you never really leave early enough. Instead of storms firing at 4PM and producing tornadoes by 6, this day had tornadoes at Brush, Colorado already at 2PM - and I was 90 minutes away when they happened.
I got on the storm at Otis, CO, following it northeast to Big Springs, Nebraska but never seeing surface inflow make it into the storm's updraft on the north side of the RFD gust front. Lightning was also lackluster.
My last attempt to keep up with the storm ended at a gravel-turned-mud road north of Big Springs, NE. I only traveled 50 feet into the suddenly-muddy section (which do not announce themselves visually, they look the same on the surface), but still only narrowly avoided getting stuck. The car slid sideways to the edge of the road, where thankfully there was no ditch to cause the sure catastrophe. Driving in reverse at a 45-degree angle, I was able to make it back to the non-muddy section and turn around. Prayer and AWD made a difference.
I stopped for the night at Big Springs, heading out one more time after dark for another round of thunderstorms that weren't producing much in the way of photogenic lightning.
Day 12, May 23: Arriba, CO tornado and supercells from Lamar, CO to Goodland, KS
This was another early-initiation day, so I left extra-early, early enough to find good coffee in Sterling, CO before heading down to Lamar to meet the first storm of the day. The problem I was having now was the secondary roads were very bad in these areas. They would start out near the paved roads with ample gravel/aggregate and plenty of traction, but would devolve into slippery mud with minimal gravel after 5 or 6 miles, requiring a lengthy backtrack to pavement (I don't mess with muddy roads at all, I turn around immediately upon encountering one). This meant that I would have to stick to paved roads for this day's event.
After the Lamar storm moved north of I-70 and started crossing Highway 71, the next paved road north to re-intercept was 40 miles east at Seibert. Of course, while I was making this lengthy jaunt east and north, the storm produced a tornado near Akron, about 20 minutes before I arrived back on it. The storm was increasingly HP at this point, so I chose to drop back to I-70 for additional rounds of supercells moving up from the south.
The plan was to get gas at Seibert and await cells crossing the highway, hoping they do something interesting while in view. Right before driving into the town, however, I looked to the west to see a well-defined funnel hanging below the flat updraft bases of new storms to the west.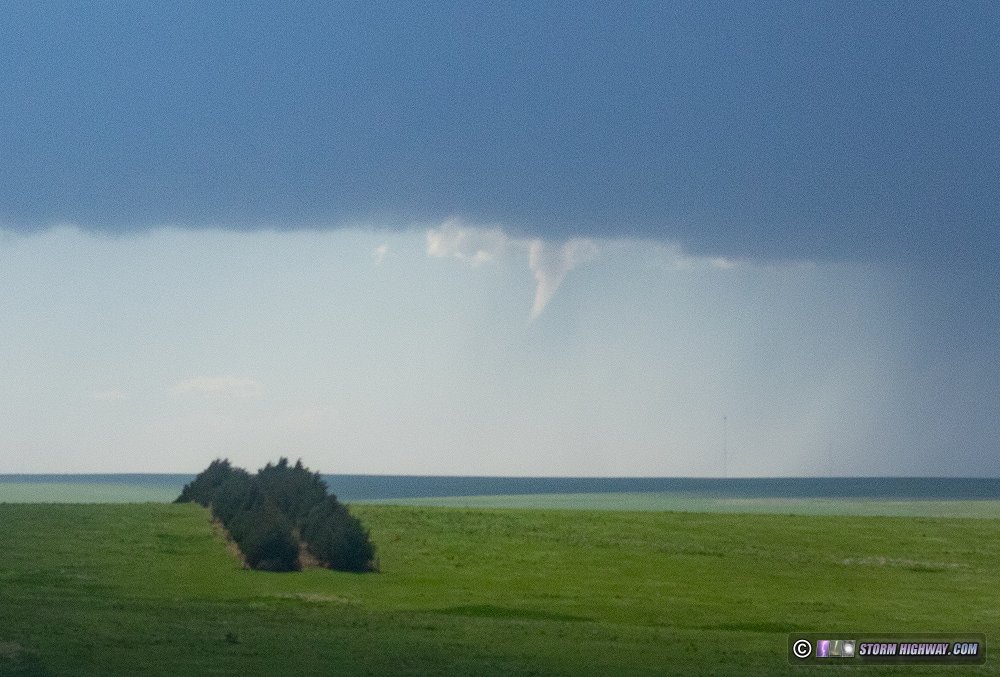 It turns out this funnel was near Arriba, about 22 miles away. Another photographer who was closer confirmed that this had a debris cloud at ground level, making it a tornado.
After finally getting gas at Seibert, I made my way slowly east as storms approached and crossed I-70. Some of them wrapped up nicely with RFD clear slots cutting in, albeit high-based with none appearing close to producing a tornado.
Lightning was also meager, although a burst of positive CGs at sunset allowed me to catch one on high speed off to the side of the frame near Kanorado.
Not expecting these storms to do much else, I headed to Hays for the night.
Day 13, May 24: Rexford and Selden, KS tornadoes
Today's target seemed rather simple, though I admit I was not paying as much attention as needed to the remnant outflow from last night's storms. All eyes were on the surface low and the cumulus field focused at Tribune, where the first storm (and the day's apparent target storm, at the time) fired by 1PM (much earlier than I'd prefer). I made it to the storm at Leoti and watched as it attempted several wall clouds that all got obliterated by outflow just as they were looking good.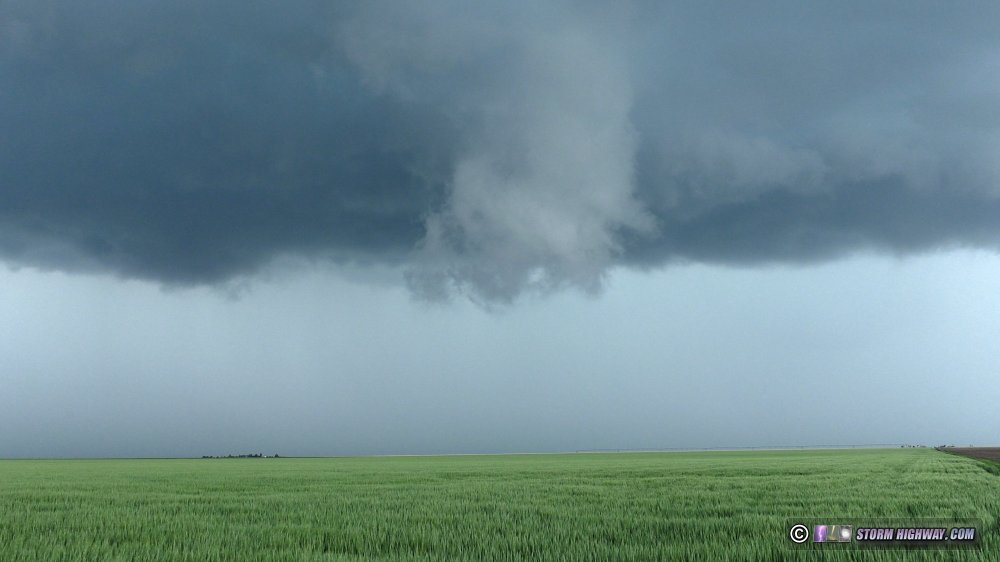 As I moved east to stay with this storm's updraft, I discovered that *all* of the secondary roads in the area were very sketchy (lots of partially-muddy sections). I made it two miles east of Highway 25 on them before saying "no way" and heading back west to the highway. There were no other paved roads to easily stay with the Leoti storm, with Highway 83 being the closest at 25 miles distant. Not an impossible task, but now I was seeing the tornado reports from the storm up near I-70, 40 miles away. Those storms didn't look very beefy on radar, but since they were producing so quickly, it was evident they had some sort of boundary to work with up there. They were only 40 miles to the north, and would take about the same time to catch up to as the Leoti storm again. So, I ditched the Leoti storm, heading north on Highway 25 through its core.
I had another mud road scare on this drive north. GPS shows Highway 25 as continuing paved straight north to Highway 40 west of Winona. What the maps don't show is that where Highway 25 turns east to Russell Springs, the 65mph paved road north suddenly goes to 45mph, starts down an incline that hides what's ahead, then turns to mud just past the intersection! I saw it in time, slowing to 25mph before hitting it, sliding to a stop, and reversing out. The tire tracks showed that many drivers before me had not been so fortunate - with several tire track ruts leading into the ditches. No one was stuck there, so they'd either been pulled out already or had sufficient 4WD and mud tires to get themselves out.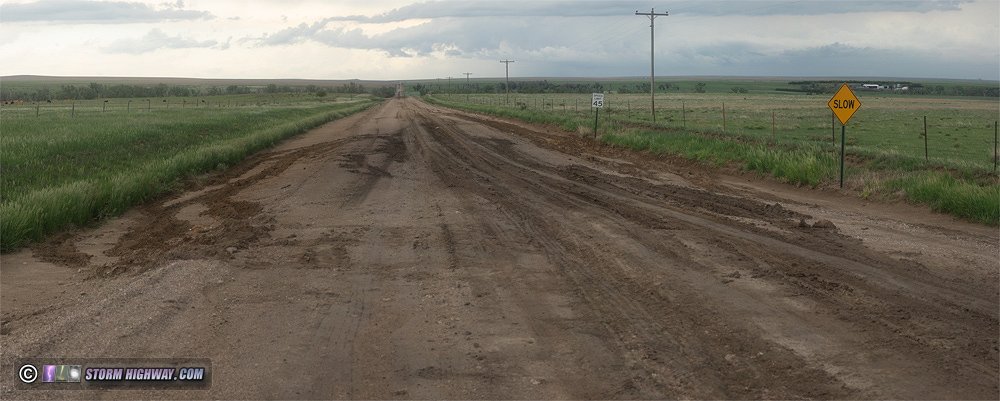 Continuing north on Highway 25, west on Highway 40 then north on Highway 83, I was now on the new storm east of Colby that had reportedly produced tornadoes already. It appeared to be on a downward trend though, with a cold linear look to it. A funnel soon appeared under this grunge, giving me some hope it could still have potential.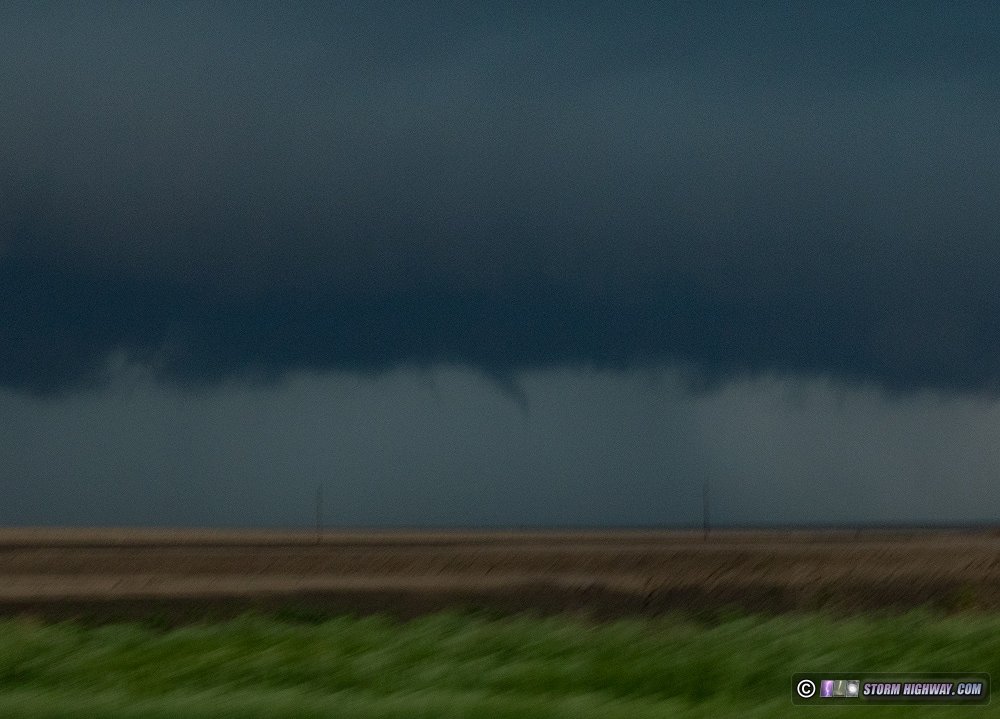 Again, the secondary roads in this area were absolute no-gos, completely saturated, rutted mud - so it was paved-roads-only for this storm. Thankfully, Highway 83's east-northeast orientation perfectly matched the storm's track.
At Rexford, I stopped ahead of the storm to watch it approach. At this point, the storm was rapidly intensifying both visually and on radar. What had been a lazy shelf cloud extending to the north now became a tail cloud racing into the new meso with ever-increasing speed.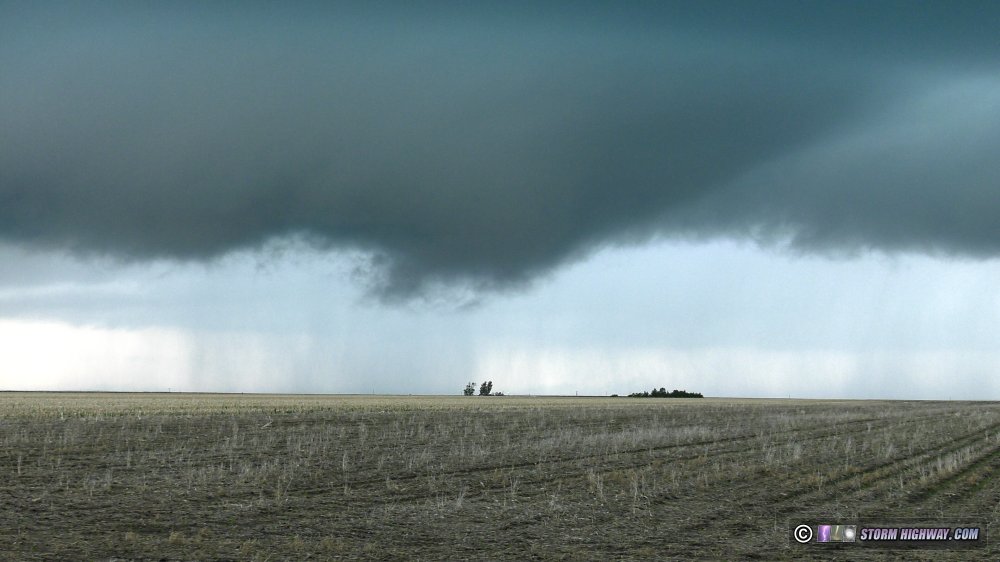 An RFD clear slot developed and began cutting in - and it looked like we were in business.
I moved up to where the RFD was carving around just north of Rexford, and had time to tripod a shot of the classic tornado spinning up horizontally, then being pulled vertical before quickly wrapping in rain: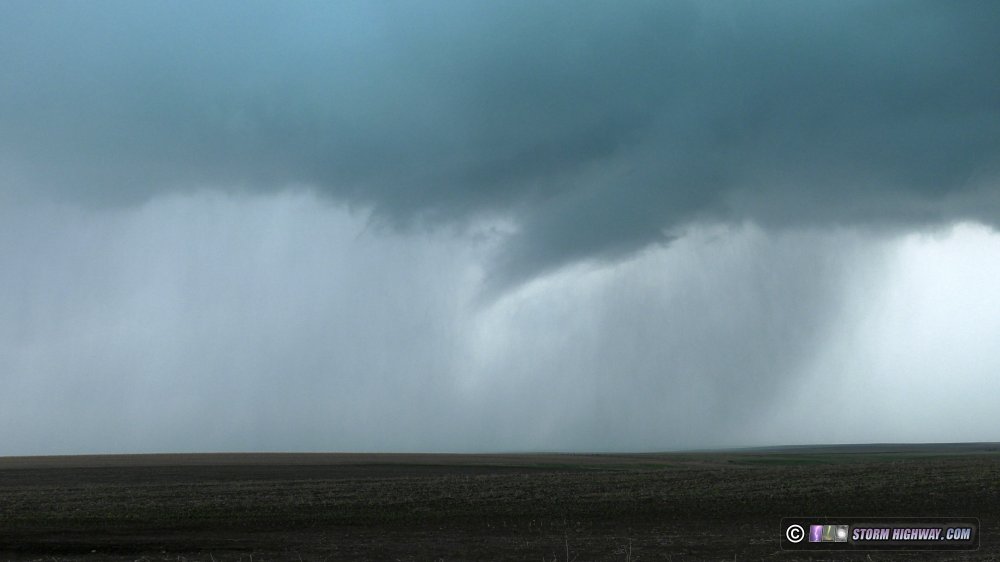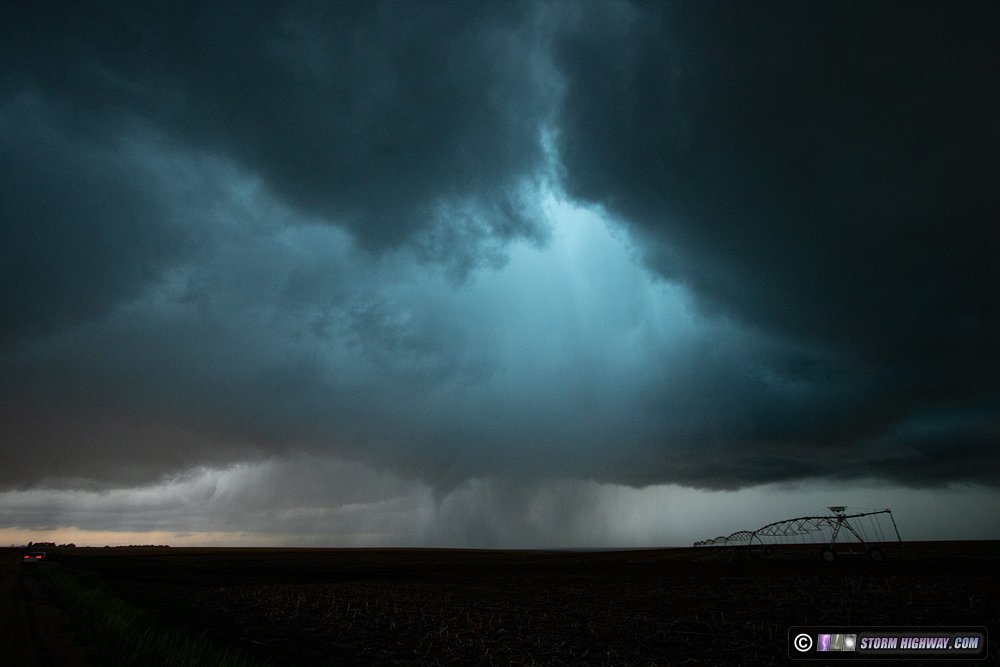 The new meso was quickly taking shape to the east, with a much stronger RFD surge that passed overhead only a minute after I stopped to watch again a short distance down a dirt road between Rexford and Selden. The new tornado developed quickly.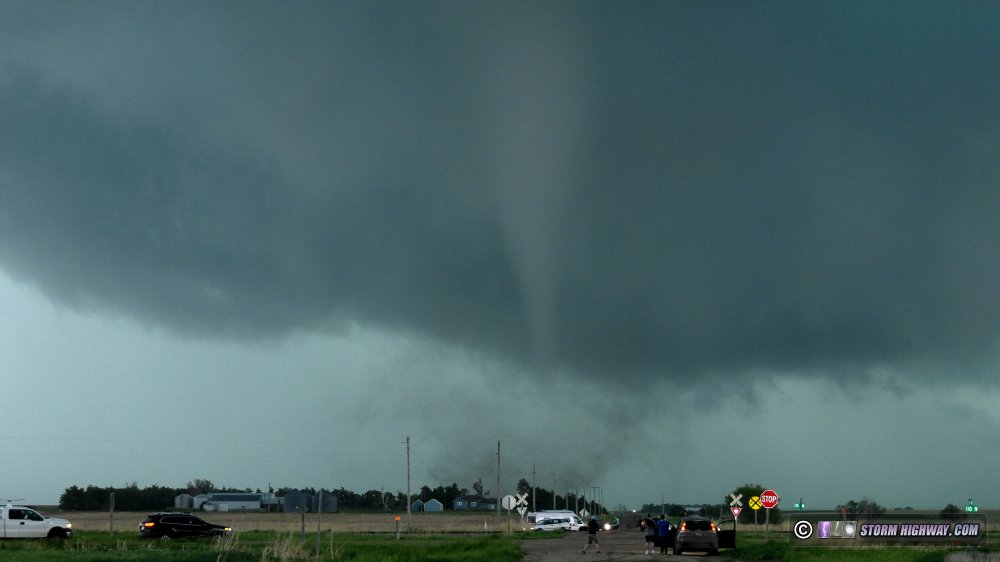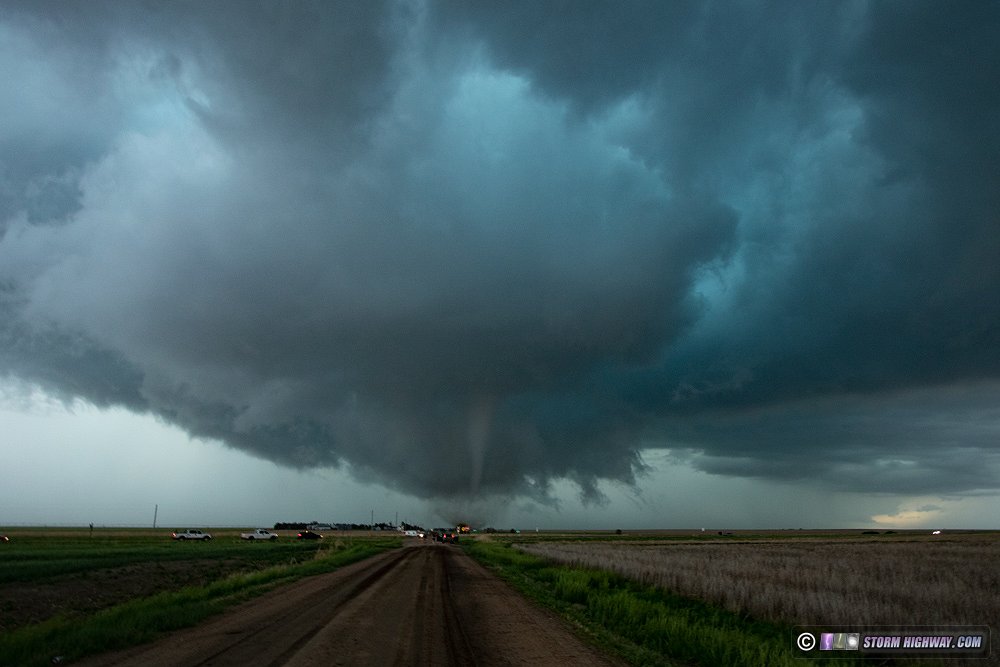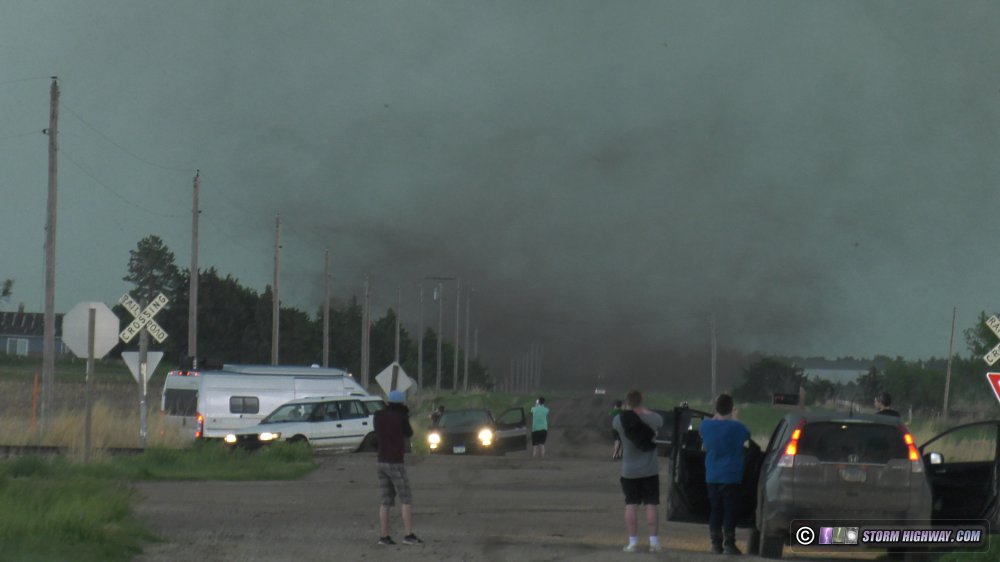 After it crossed my road to the north, I got back on Highway 83, pacing the tornado as it moved east.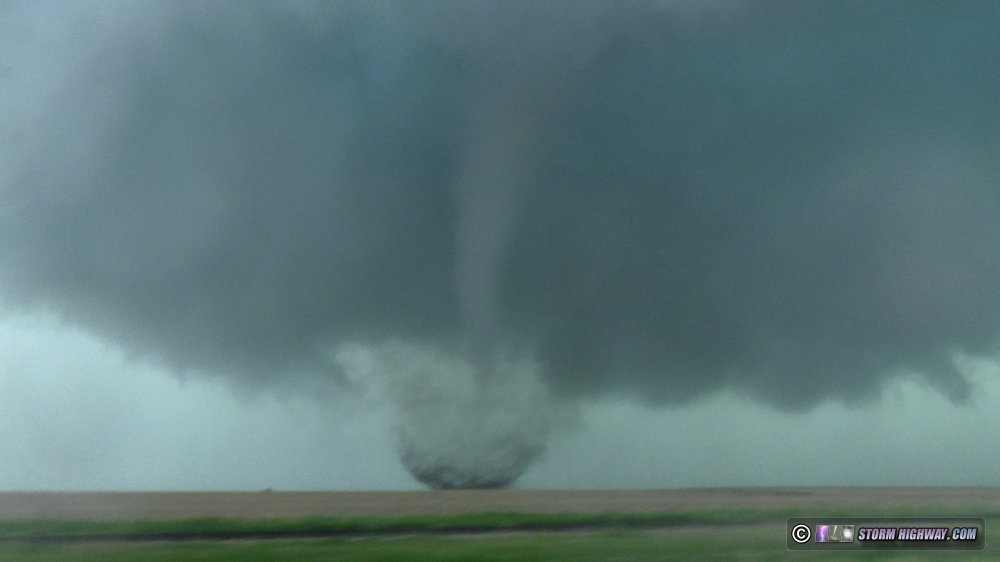 Soon, it appeared the tornado was approaching the highway and would cross it. I stopped just behind where I thought this would happen, watching the tornado pass by just to my north with its "waterfall" sound audible, zoomed out all the way on the video camera: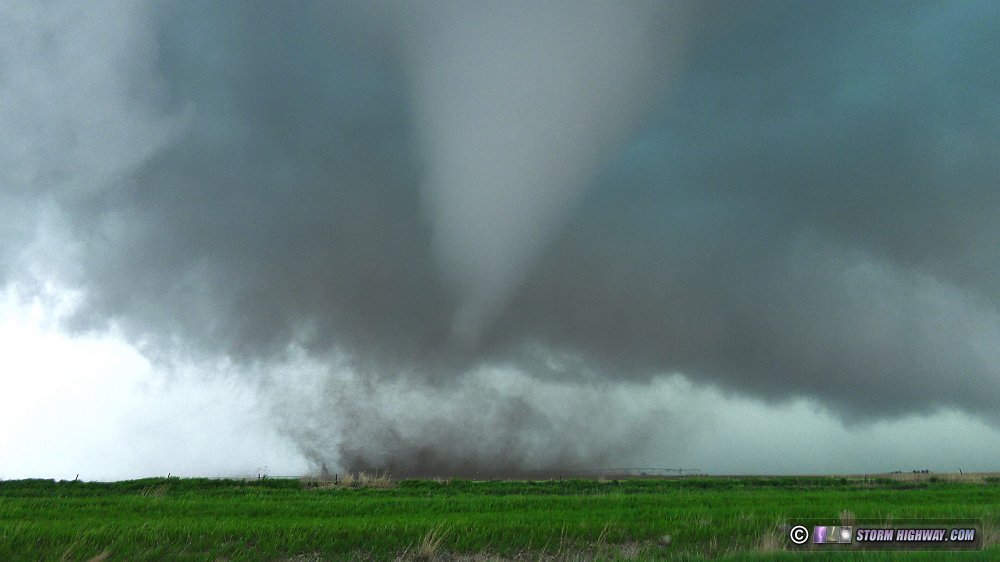 Instead of crossing the road, though, the tornado tracked right along it, with an occasional subvortex swinging out into the road.
The tornado remained uncondensed for much of the second half of its life, aside from one dramatic fully-condensed stage where the collar cloud began filling in briefly: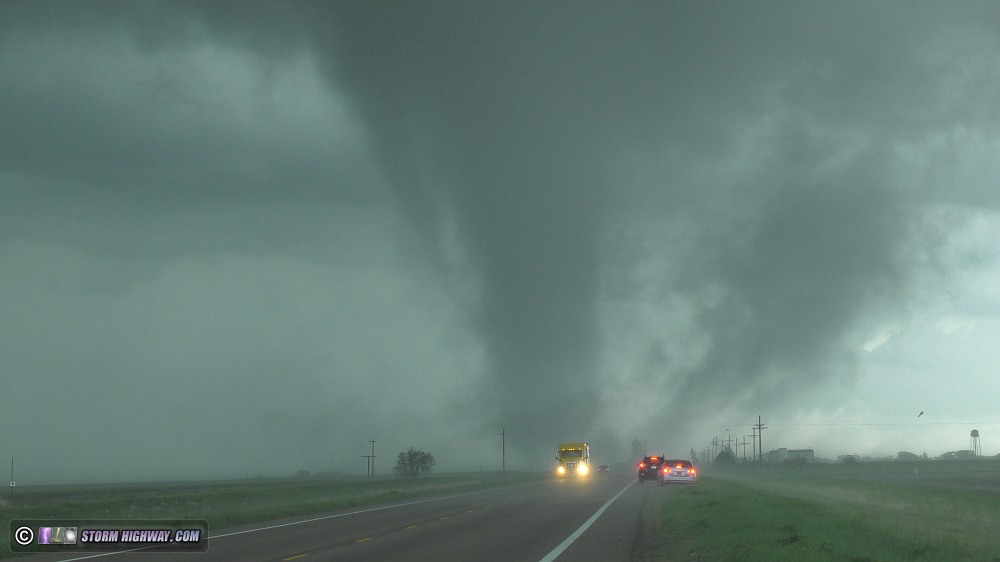 The tornado entered the north side of Selden, with at least two subvortices and possibly a satellite far removed from the main tornado farther south, with periodic bursts of debris lofting and multiple roofs flying: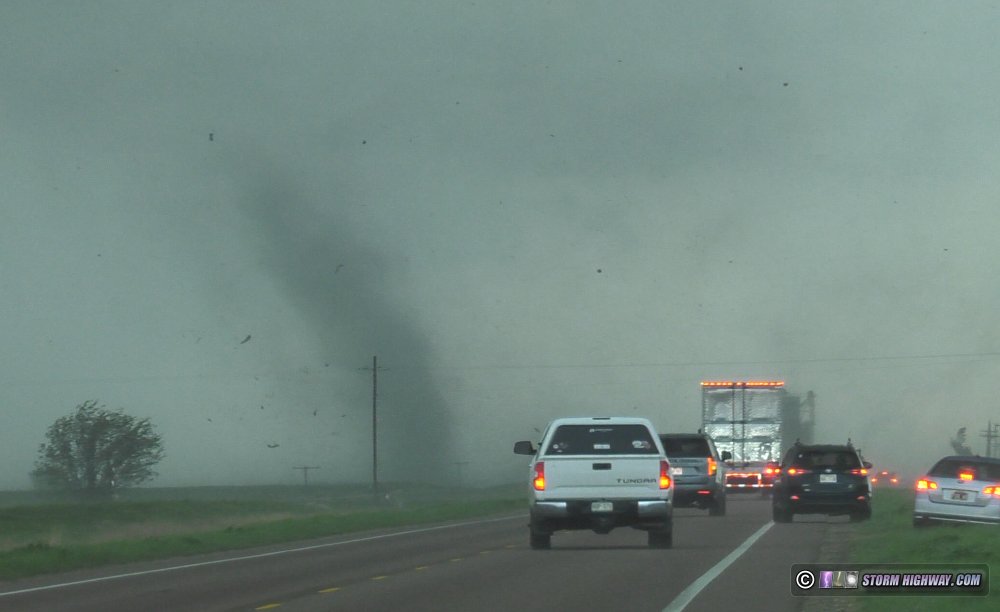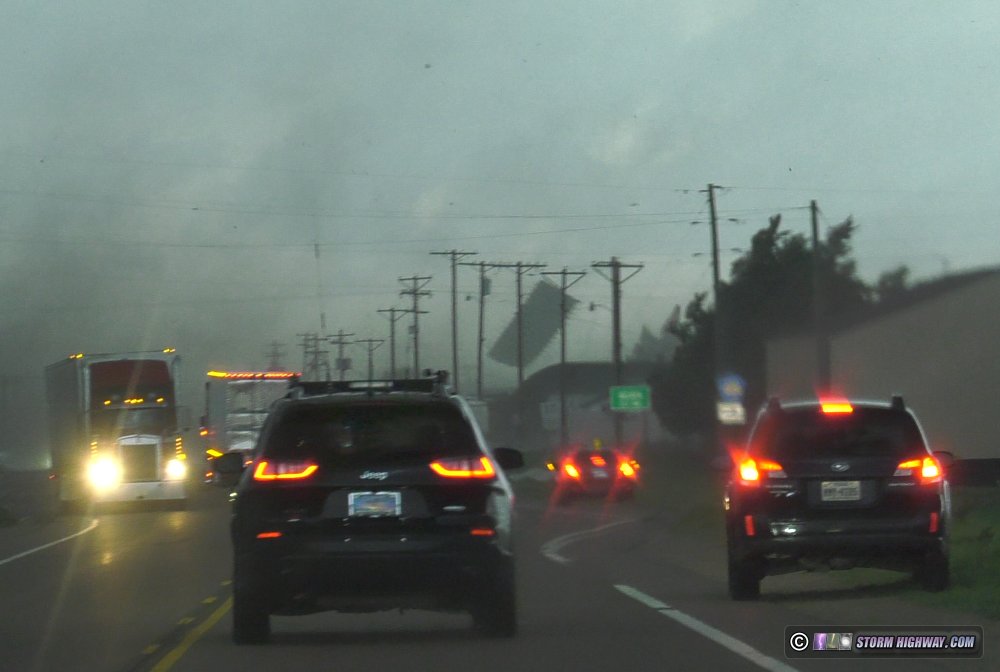 Although the tornado was clearly passing through the town, the small amount of debris was not indicative of a violent tornado doing significant damage - thankfully Selden appeared to be avoiding the worst.
I stopped here to ensure that the flying debris risk in town was past, then continued east just behind the tornado, making my closest approaches to it here twice (and retreating twice).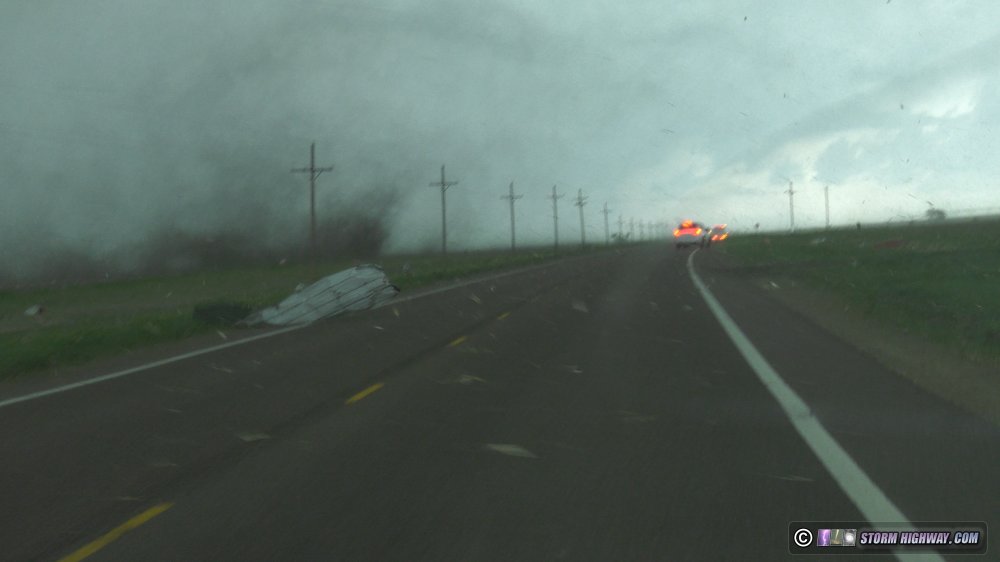 Hail in the strong RFD followed just behind the tornado, so I didn't have much room between the two. Finally, seeing that the tornado was wrapping in rain, I used Highway 23 to duck out of the way of the RFD hail threat and continue east farther away from the storm. As I did this, rapid rising motion on the RFD gust front appeared to be focusing a new circulation just ahead, but never came close to producing anything.
I stopped again along Highway 9 to watch the meso pass by to the north. The RFD gust front had an anticyclonically-rotating updraft column just behind it and nearly overhead: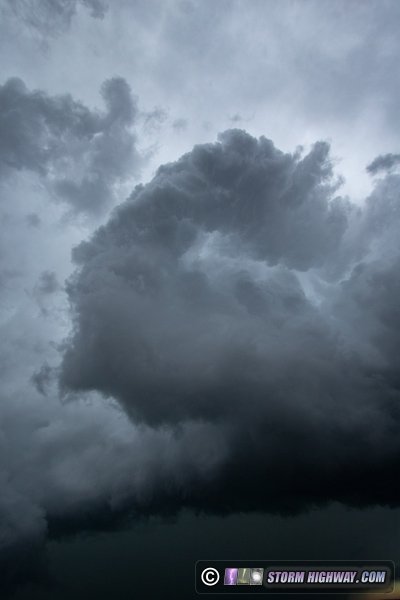 After this, the storm lost strength both visually and on radar, so I began heading east toward Lenora for lightning from some new storms to the east. As I made this drive, the Selden storm vanished completely.
The lightning from the Lenora storm ended up not being sufficient quality for high speed, so I continued south to I-70, meeting the original Leoti storm as it slowly shriveled to nothing as it approached the highway at WaKeeney. I headed east, once again stopping in Hays for the night.
Video from my A-camera and dashcams:
Day 14, May 25: Down day / Nighttime lightning near Kinsley, KS
Started the day in Hays. I wasn't seeing any worthy targets on this day at a distance I was willing to drive. With the next day's event - potentially a major one - being in Nebraska and northern Kansas, I didn't want to drive down to the southern Texas panhandle where a meager supercell environment was shaping up, then have to turn around and make a 8-10 hour drive back north. I'd barely have time to sleep! I'd consider it if it was something worthy, but today's Texas play was nowhere near that. So, I took a "down day" to work on video, clean up the car a little and rest up for the next day.
Despite the "down day", models had been insistent on nocturnal storms firing a county or two to my south. So, around sunset, I made a leisurely drive down to Rozel, parking on a dirt road to watch the sunset and some cumulus congestus bubbing up on boundaries in the fading light - these would be the impending storms.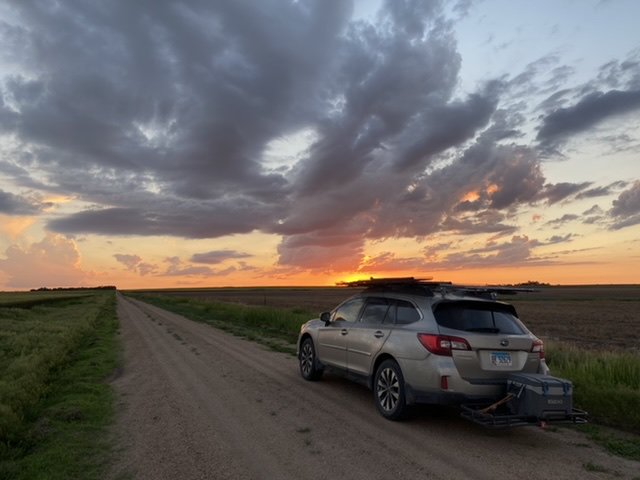 In the darkening twilight, the storms quickly went up - one west of Rozel, another down near Kinsley. I stopped east of Rozel to shoot the first cell, battling voracious mosquitoes after discovering my can of repellent only had enough left to cover one of my arms.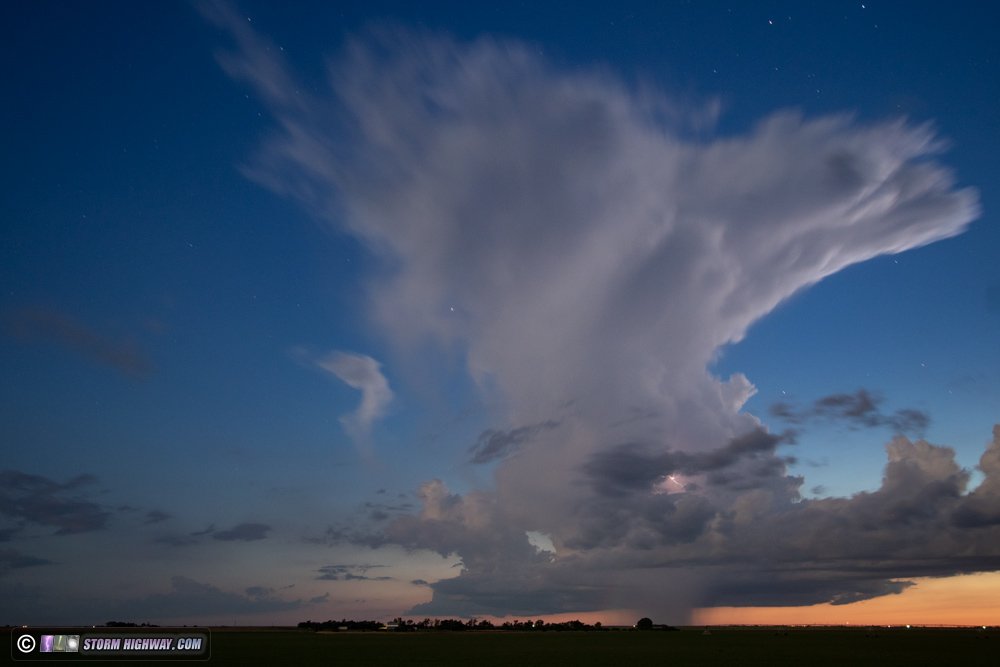 I then headed south about 10 miles to position in between the two storms. The Kinsley one was more photogenic, with the full moon creating crepuscular rays from behind the storm.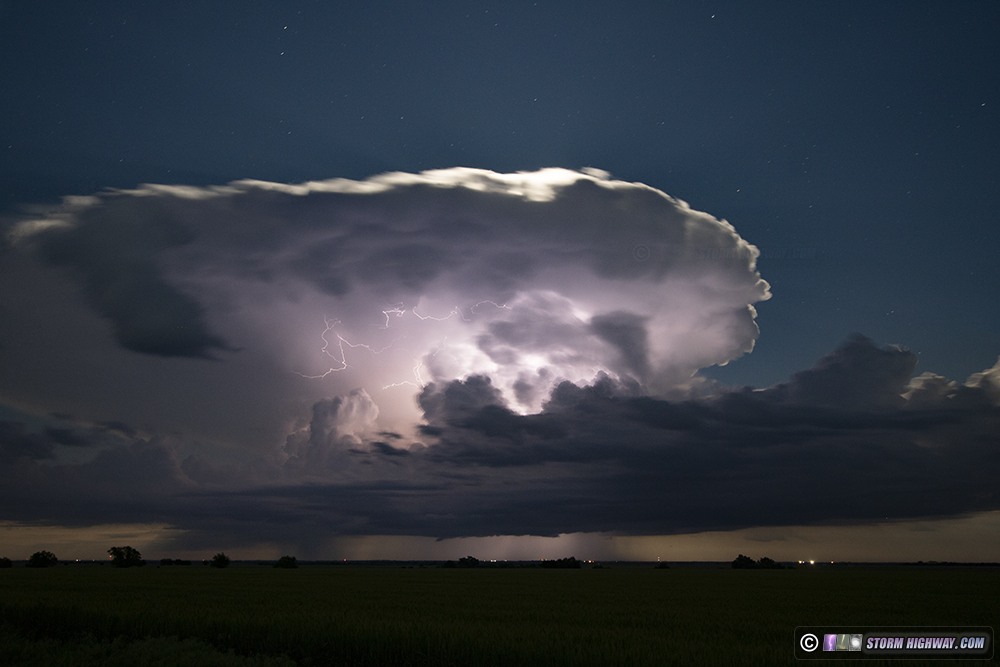 While the lightning was frequent, there was not much in the way of visible channels for high speed. Once the lightning in the storms began slowing down, I headed back up to Hays for the night.
Day 15, May 26: Tornado near Hays, KS and supercells at twilight near Hill City, KS
This was supposed to be the "big day" of the season in the Plains so far, with the SPC outlining a moderate risk and 15% hatched tornado threat area centered on northwestern Kansas. It would also apparently be my final one of Trip #3, as models showed the following days being lackluster on the Plains - and storms in the Midwest that could be worth shooting at home. This day's setup featured the classic dryline from Nebraska to the Texas panhandle, with a warm front located generally along I-70 in the morning. Just after noon, storms began firing on this boundary near WaKeeney.
Since it was so early and the dryline storms were not expected to initiate for several hours, I decided to follow this storm for a while to see if it could take advantage of the low-level vorticity on the boundary. I saw this midlevel funnel spinning in the place of a dissipated updraft on the western side of the storm south of Ellis.
The storm began intensifying rapidly as it approached Hays. Westbound I-70 was blocked in several places from drivers seeking shelter from the hail, but thankfully I did not encounter any of those roadblocks eastbound. I exited at Hays ahead of the storm to find an intense supercell updraft in progress southwest of town. 2-inch hailstones were falling miles ahead of the updraft. RFD carved into the base, but quickly became rain wrapped.
I stairstepped on the dry gravel/dirt roads south of Hays until a large RFD surge swept east overhead. I stopped just east of Highway 183 and looked to the north to see what appeared to be a tornado under a blocky lowering. But, contrast was poor and I could not make a visual nor video confirmation that this was the tornado seen by others near this location (so I won't be counting it).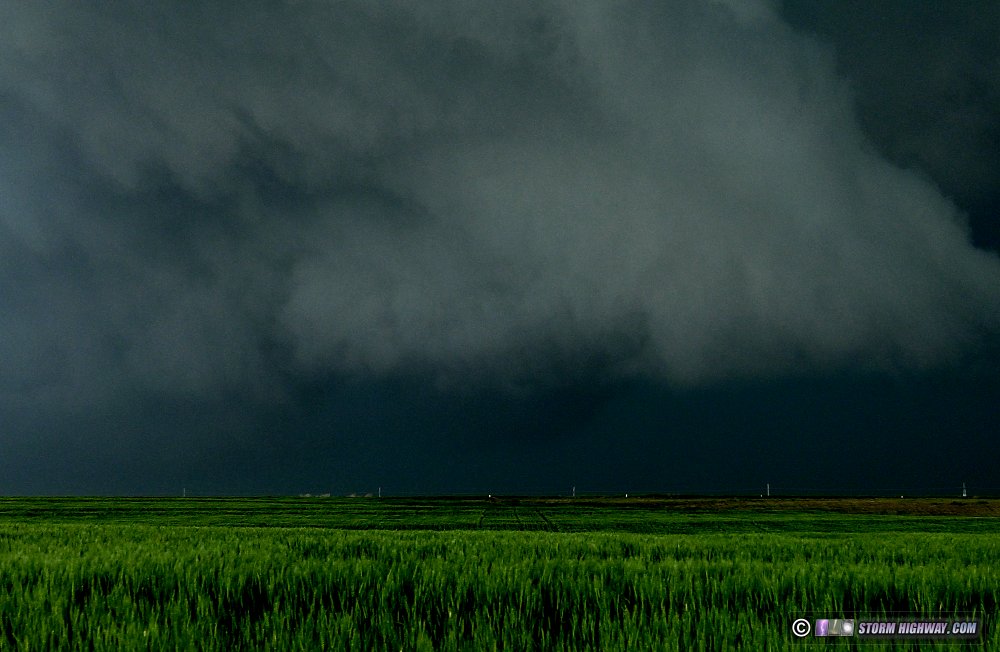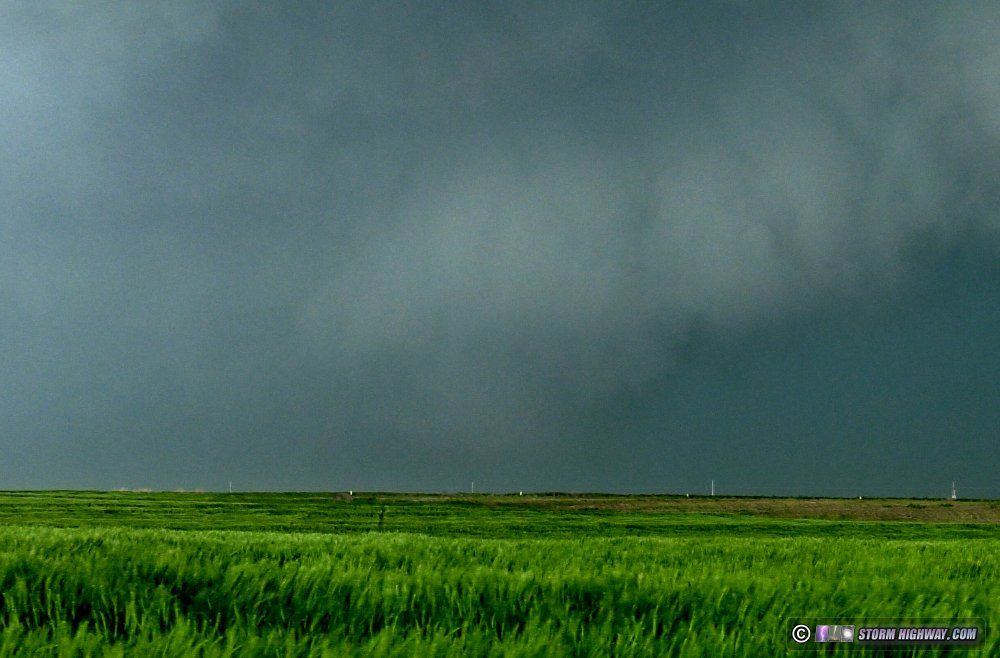 Continuing east to stay with the storm, I soon discovered that I had driven into a "road trap" where all of the east and south roads were dead-ends. This is because I was zoomed into the GPS map too far to see the river that meandered into my intended path southeast. I was forced to backtrack 6 miles back to Highway 183. During this backtrack west, I witnessed the most bizarre tornado I've seen. It came from this feature located deep in the RFD of the supercell (circled in red):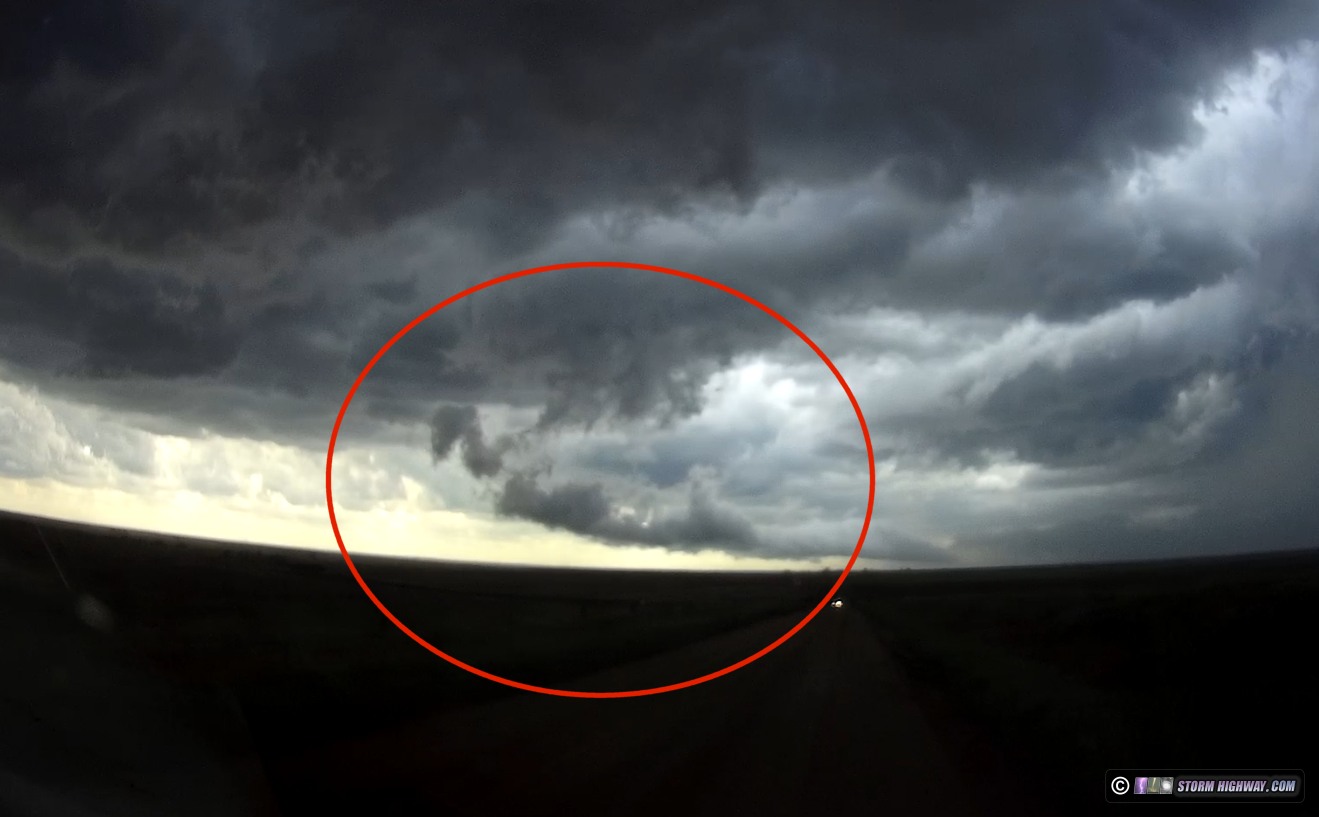 It spun this tornado down with condensation to the ground, lasting about 10-15 seconds: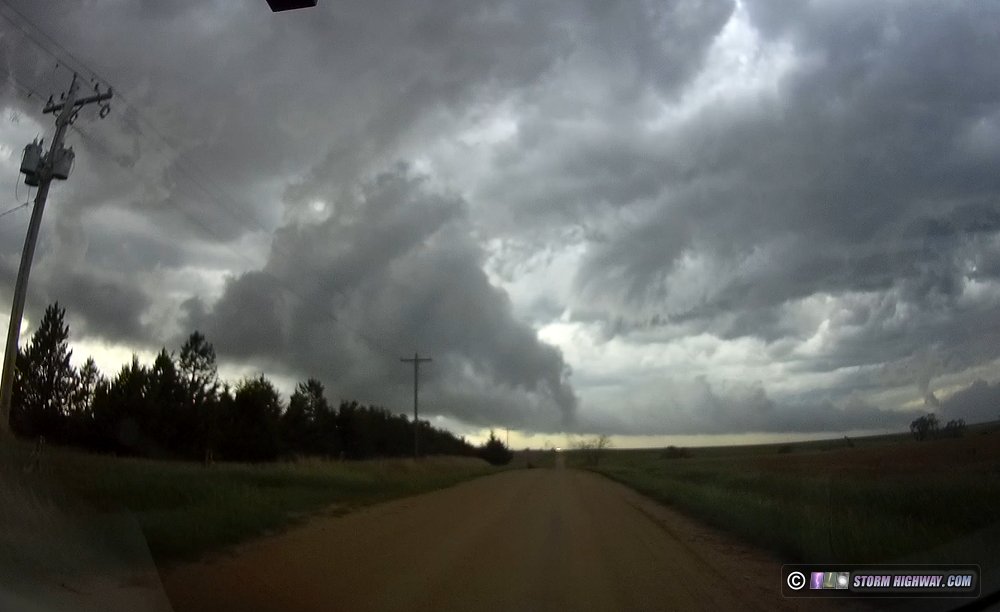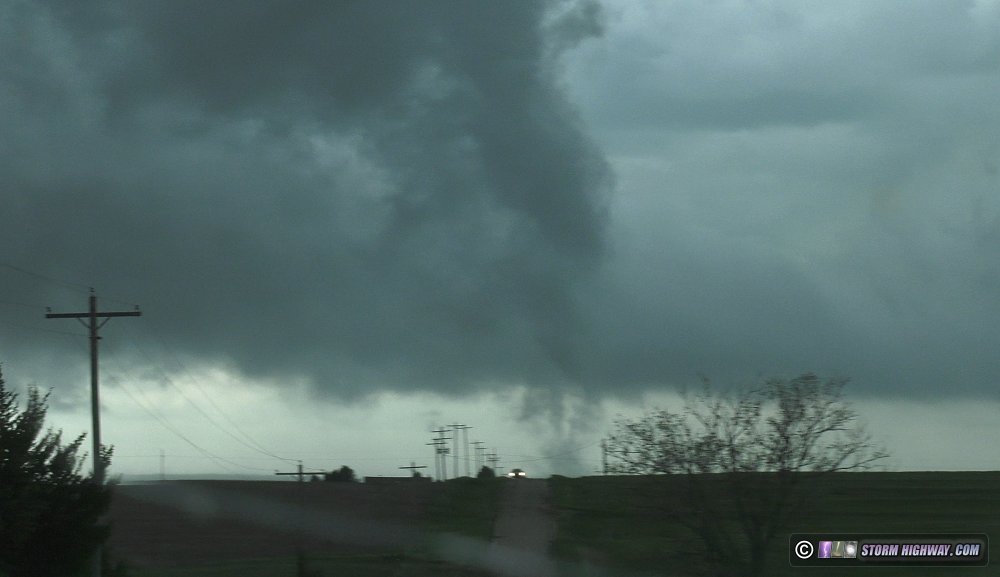 The best explanation I can offer is that this was a very persistent occluded meso - long cut off from any updraft or inflow - that was able to sustain and even intensify within the strong kinematics in the RFD. In the first and second image of this above, you can see what appears to be a secondary RFD gust front in the background that curls into this tornado.
After this, I headed down to Liebenthal for a reliable east road, re-intercepting the storm north of Galatia.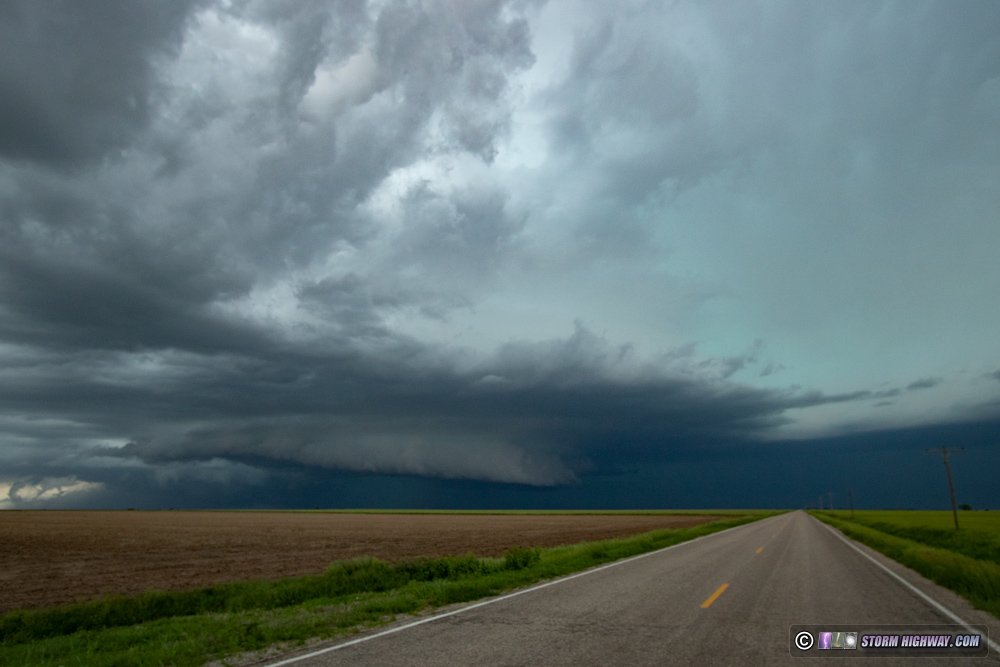 The storm was in a cycling phase, with weak surface flow and lazy cloud movement under the base. But 10 minutes later, this changed suddenly with inflow howling into a rejuvenated base. Positive CG lightning also ramped up considerably. I had no paved roads to continue east - all of the dirt/gravel roads here were saturated mud. I was forced to move north into the storm's core to reach I-70, reintercepting the base on Highway 281 south of Russell. Though all signs pointed to one, no tornado was apparent under an otherwise well-developed wall cloud south of Russell.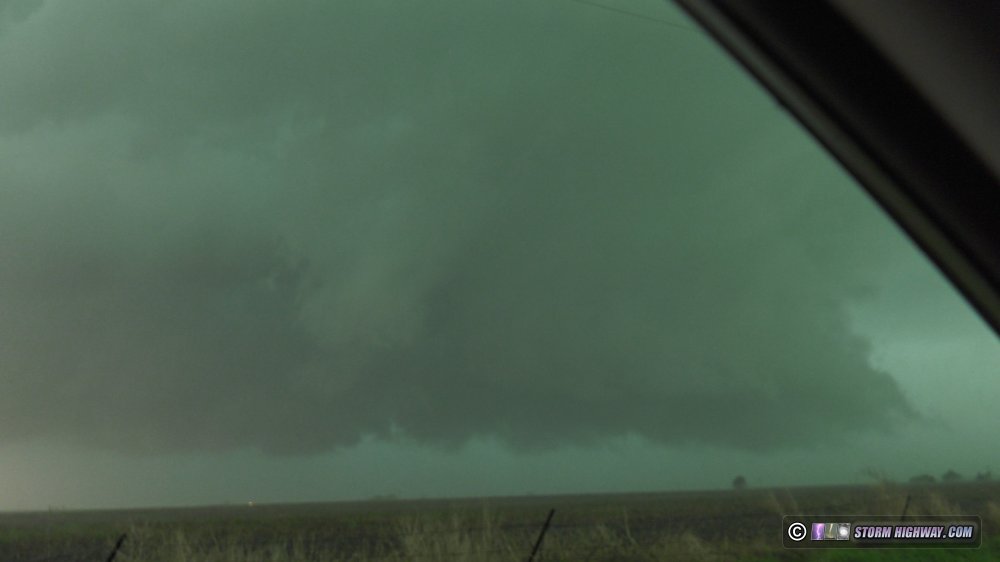 I moved east again to Dorrance to reassess my options. I was going to need to start heading back west to have any chance of intercepting any of the dryline storms: as it was, from my current location, it would be close to 8PM before I'd get to them. I decided to start heading back west via Highway 156 and Highway 4, rather than go back through the storm's core on I-70 and risk further blockages from hail-spooked motorists.
As I moved south out of Wilson and passed by the storm's updraft once more, I saw a rope funnel back in the rainy RFD - another "cloud be" tornado that I won't be counting since I can't confirm it.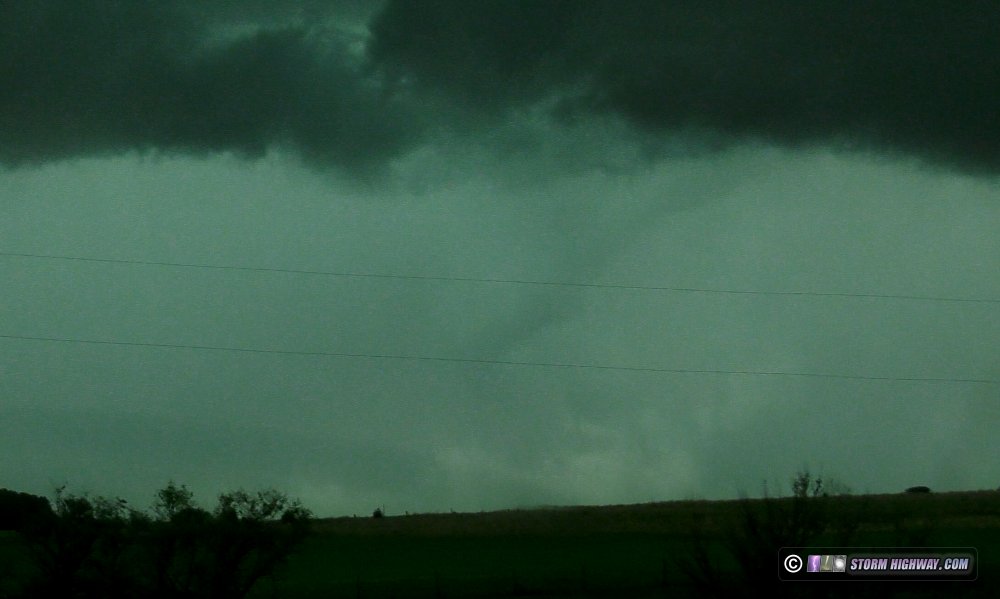 I continued my route around the storm and its hail swath chaos, passing through Hoisington and re-entering I-70 at Russell.
By now, convection was already firing on the dryline in western Kansas, and I knew my staying with the Hays storm for so long might end up costing me further tornadoes from these later storms. But as I continued west, the dryline storms struggled to organize. Complicating matters was that new storms were now firing on the same I-70 boundary that the Hays storm began on, from WaKeeney back to Goodland. The problem with this boundary is that the Hays storm had cooled the air on its north side, meaning that a storm that rooted on it would struggle with buoyancy with some of that cooler air ingested. So with the dryline storms continuing to struggle, I felt the best play was west of Wakeeney, where no storms had tracked along the boundary. I did not expect much considering the problems that Kansas storms were having up to this point.
When I arrived at Wakeeney, storms farther west near Colby were struggling, while storms just northwest of WaKeeney were intensifying. They also had very stable-looking laminar bases, indicating that they had plenty of instability to work with, but not in the low levels (limiting tornado potential). Nonetheless, the storms had impressive structure, and as darkness fell, the lightning and anvil mammatus in the fading twilight became a sight to see. Tiny "micro discharges" in the anvil were continuous, and lightning lit up the updraft and vault regions every couple of seconds.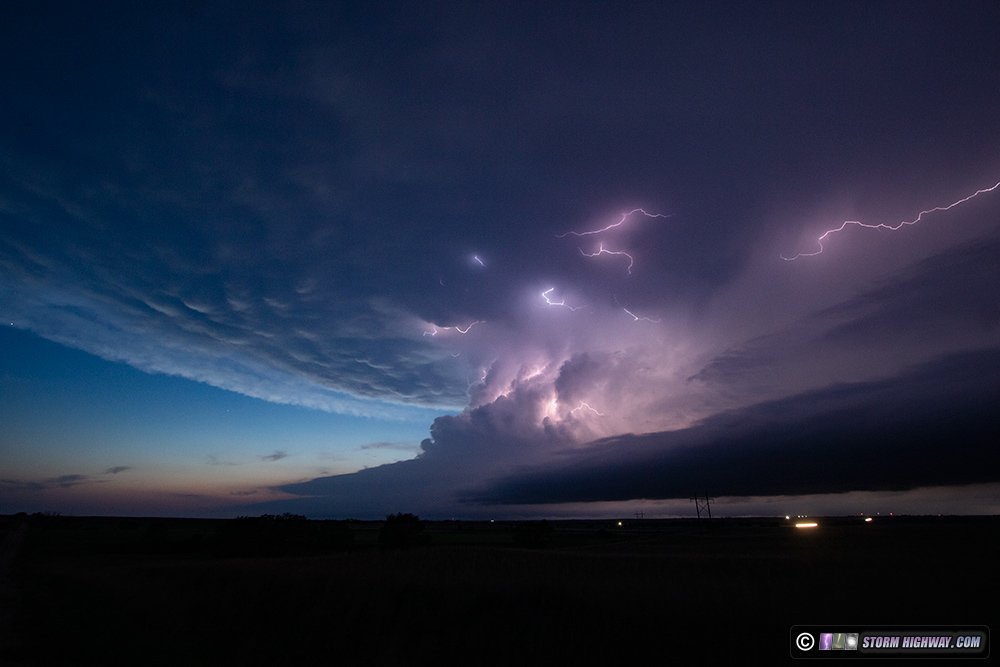 I'm not usually a DSLR timelapse person, but one was clearly appropriate with this amazing scene.
After these storms moved off into the night, I decided to begin the trek toward home. I ended the day at Junction City.
Day 16, May 27: Junction City, KS to St. Louis (Trip #3 end)
I was on the road at 9AM eastbound toward home, expecting some type of storm opportunity in Missouri as I drove east (or after arriving in St. Louis). The best play appeared to be upward lightning from TV towers in the stratiform region of the squall line moving across the state. I stopped briefly in Prairie Home, MO and again at Crestwood in the STL metro for this subject, but saw no upward lightning discharges to the towers. So, my third Great Plains trip ended by mid- afternoon.
Day 17, June 11: Tecumseh, NE to Waynesville, MO (Trip #4)
The Euro and HRRR models were showing insane lightning densities with a complex of storms from southeastern Nebraska southward through Kansas. Though the lightning density parameter isn't something I have real-world-tested much, the 5,000 MLCAPE shown for the storms by all models certainly supported this scenario. I left home at 3AM and arrived on the developing complex just east of Beatrice, Nebraska. I stayed ahead of the storms all afternoon, all the way through the Kansas City metro.
I had hoped for front-side cloud-to-ground bolts in the complex, as well as a well-developed trailing stratiform region offering all types of lightning. Neither of those materialized, and I only saw two visible lightning bolts all day. The relatively weak gust front of the complex moved through Kansas City, tossing tents and porta-johns at the stadium complex east of downtown. I barely managed to get a camera on this. I made it home at 9PM, making Plains trip #4 a single-day outing.
GO: Home | Storm Expeditions | Photography | Extreme Weather Library | Stock Footage | Blog
Featured Weather Library Article:
All content © Dan Robinson. All usage requires a paid license - please contact Dan for inquiries.

Web Site Design and Internet Marketing by CIS Internet