Home | Blog Index | Blog Archives | Christianity & Faith Essays
Monday, March 29, 2021
March 2021 storm photography roundup
Here's a rundown of storms observed during the month of March 2021 (including a storm event on the last day of February). As I mentioned before, this season I am primarily focusing on capturing lightning on my high speed camera at 5,900 frames per second. Thankfully I was able to get my first vaccine shot on March 4th at the state-run site in Carbondale. I will get my second shot this Thursday, so I'll be good to go for more or less normal storm season travel this year.
February 28: Weak thunderstorms in central Illinois
I headed east on I-64 in the hopes of shooting some lightning on the northern fringes of a severe weather setup affecting the Arkansas-Tennessee region. I followed a storm from near Mill Shoals to Grayville, then intercepted a second storm south of Mount Vernon. Lightning was all inside of the clouds, so I didn't capture any footage or images.
March 11: Perryville, Missouri storm
I drove down to Perryville to intercept a strong storm moving east across the river, catching it near Uniontown and staying with it to the river at Wittenberg. I missed a couple of nice lightning bolts at Uniontown, nothing captured.
March 15: Stanton, MO lightning
A fairly decent tornado risk existed this day along a warm front draped from eastern Kansas through central and southeast Missouri. I initially headed to Warrenton to await new storms encountering the boundary from the southeast. As these storms built more southward, I moved south to Stanton on I-44 to watch them approach - then cross - the highway. No tornado potential was evident in storm structure, but lightning was worthy of trying for some high speed footage. I captured a couple of good high speed shots of negative-leader intracloud discharges near Stanton.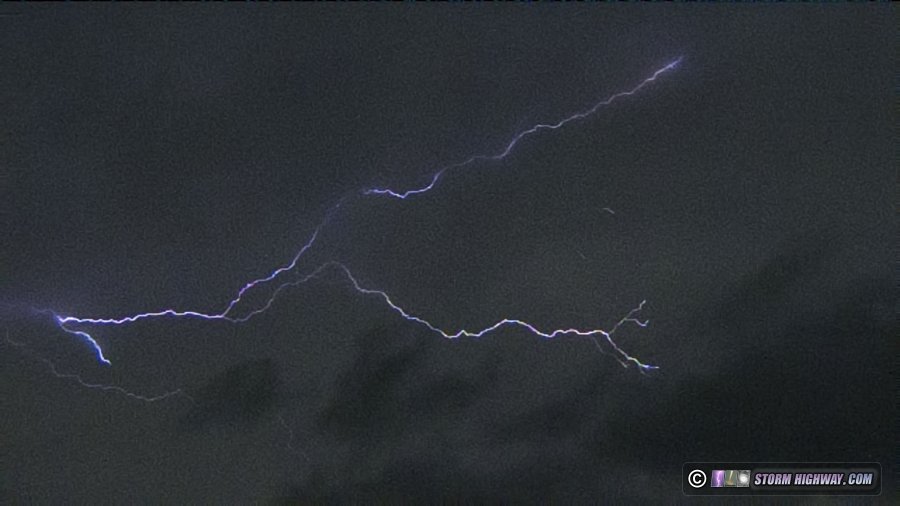 5,900FPS lightning frame
March 17: St. Louis marginal thunderstorms
Instead of covering the High Risk in the south, I chose to stay home for some marginal thunderstorm potential in the St. Louis metro. No photos or videos captured.
March 23: Weak supercell at Wentzville, Missouri
With cloud cover seemingly squashing any real supercell potential in an otherwise prime wind field southeast of a surface low just north of the St. Louis metro, I chose to not go out to observe storms this day in favor of doing some much-needed work on my Youtube video projects. To my surprise despite the meager instability, a string of transient supercells developed north of the metro, producing at least one tornado across the river from Louisiana, MO. I caught the southernmost storm in Wentzville after dark, noting some structure visible in the city lights but otherwise seeing nothing of note.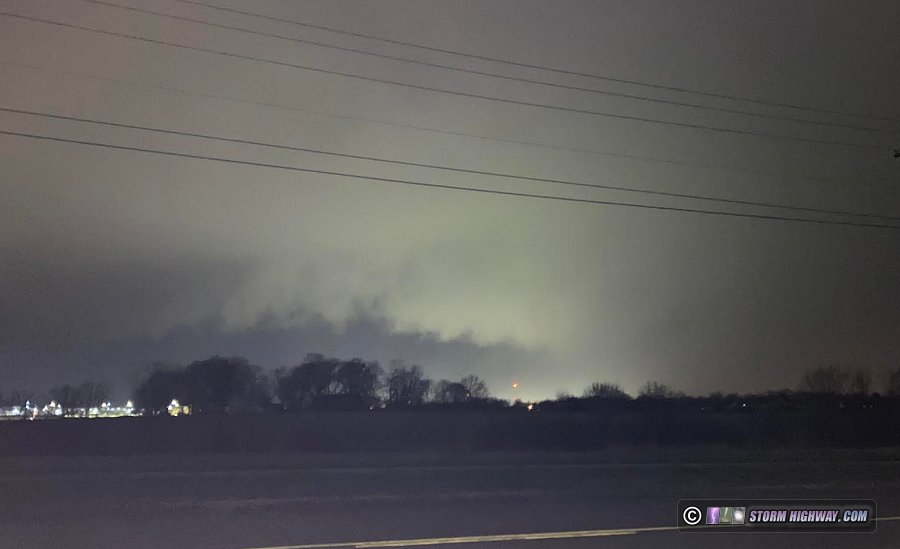 Phone photo of Wentzville, MO storm
March 25: Storms from Evansville, IN to Ownesboro, KY
Once again, I chose to cover the midwestern component of a southern High Risk event instead of traveling to the core of the best tornado threat area. I chose the warm front on the northern extent of the tornado-primed warm sector along the Ohio River near Evansville, Indiana, roughly a 2-hour drive to the east. The storms split as they encountered the frontal boundary, with the left splits becoming dominant. That meant tornado potential (and likewise any interesting storm phenomena potential) was near zero. I saw one visible lightning channel from the second round of storms near Owensboro, but otherwise saw nothing else of note. I did not wait for the third storm of the evening, which produced a tornado in Kentucky southeast of Owensboro after dark.
March 27: St. Louis metro supercells and lightning
The first what I would consider a quality storm day came from this event, with a trio of supercells affecting the St. Louis metro. Again, I ignored better tornado chances far to the south in Arkansas and Tennessee in favor of a supercell/tornado risk right here at home. The first storm I caught at Weldon Spring was high based but photogenic, producing a cloud-to-ground bolt for my 5,900FPS camera: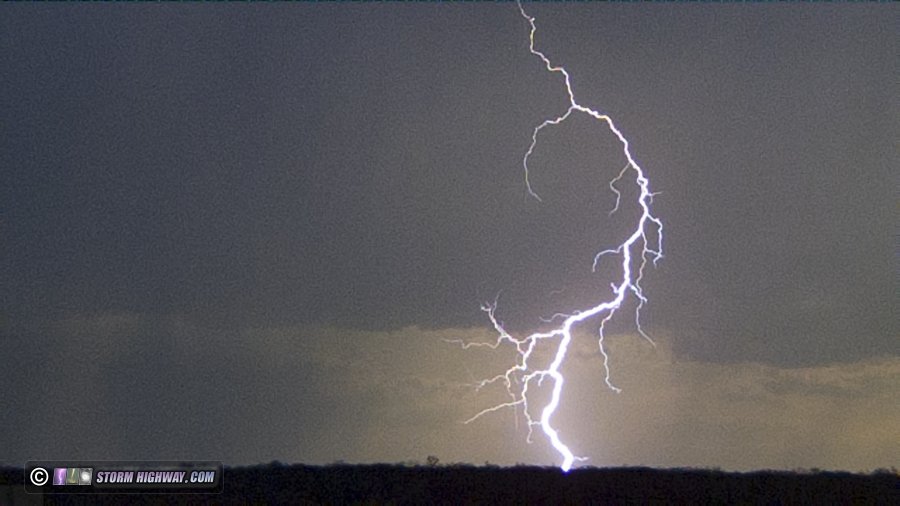 5,900FPS cloud-to-ground bolt
I followed this storm northeast to Glen Carbon, IL, getting blocked a couple of times by drivers stopped in the highway to avoid the dime-sized hail falling. I dropped south to new storms crossing into Illinois, both of which quickly went supercellular with large hook echoes, radar-indicated circulations and tornado warnings. The northern storm heading into Highland was already too far east for me to intercept, but I was in a prime position to catch the storm moving into Mascoutah. I observed a pronounced RFD clear slot with a potential funnel back in the rain as the storm moved into Mascoutah.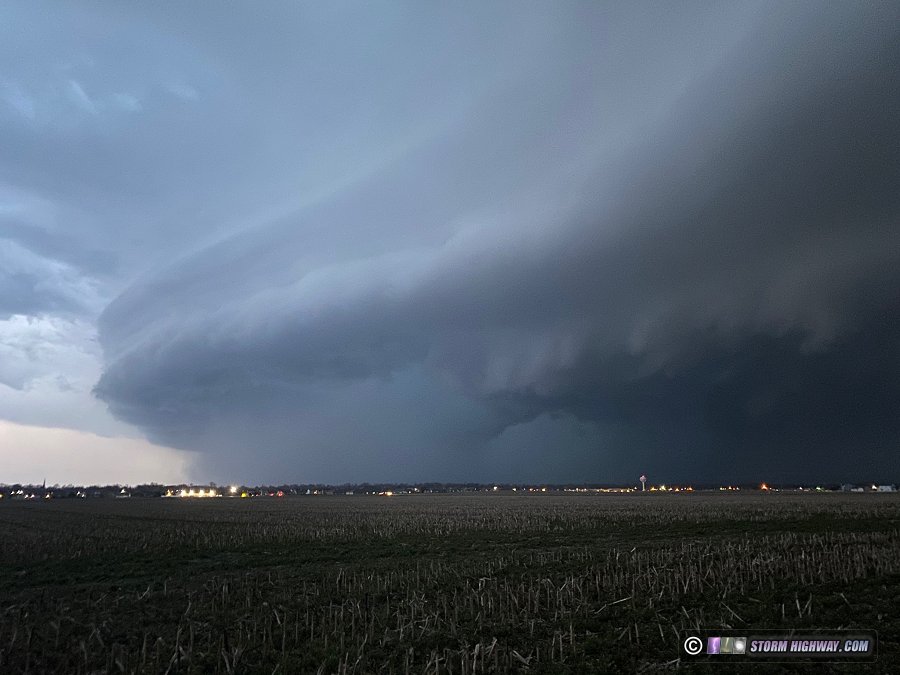 Phone photo of Mascoutah, IL storm
Here I also got a nice vivid two-channel cloud-to-ground lightning strike squarely in frame at 5,900FPS: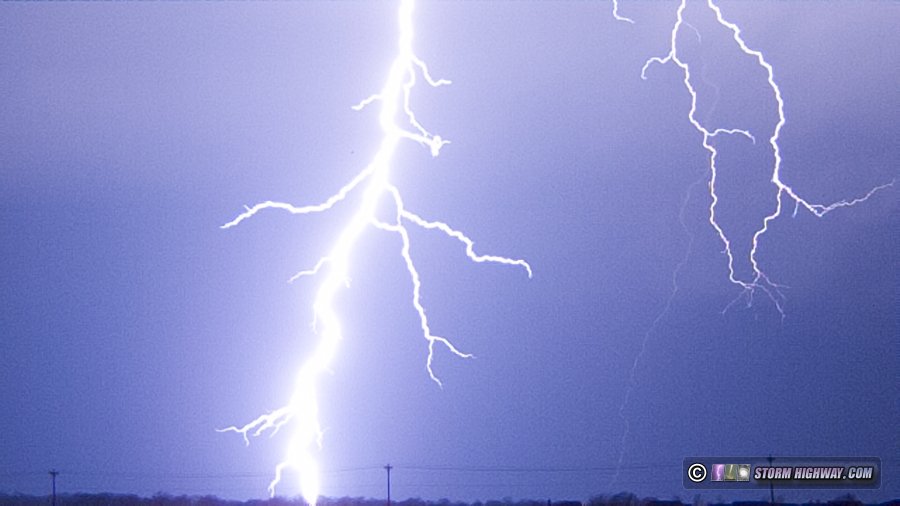 5,900FPS cloud-to-ground bolt
That covers the month of March this season, stay tuned for what the rest of the season may hold!
GO: Home | Storm Expeditions | Photography | Extreme Weather Library | Stock Footage | Blog
Featured Weather Library Article:
All content © Dan Robinson. All usage requires a paid license - please contact Dan for inquiries.

Web Site Design and Internet Marketing by CIS Internet