Home | Blog Index | Blog Archives | Christianity & Faith Essays
Thursday, August 31, 2023
July-August 2023 storm photography roundup
Here's a summary of events covered during summer in the Midwest.
July-August 2023 Event List
July 1: Severe storms and flooding in the St. Louis metro
The active period of storms in the Midwest continued with another round of severe storms in the St. Louis metro. I started out downtown with the intent to stay ahead of the incoming severe line after catching it over the city, shooting this shelf cloud from the east:

The lightning activity on the front side and in the cores was meager. I briefly jumped on I-64 east to stay ahead, but quickly changed my mind to go back downtown and shoot the backside of the storms as they moved off to the east. The interstates were jammed up from several flooded sections, including this one at the I-64/I-70/I-55 junction in East St. Louis.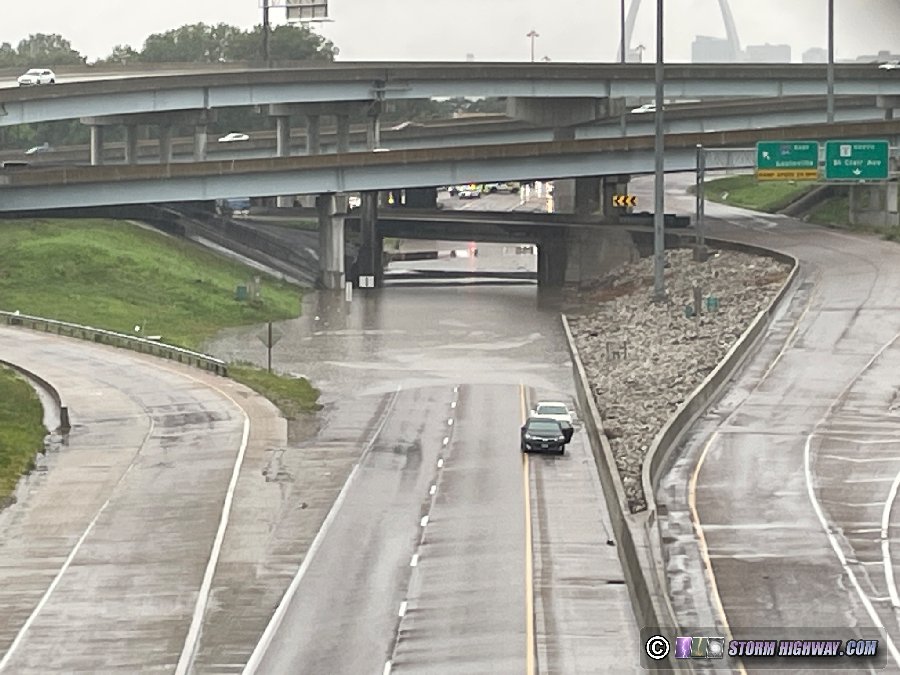 July 2: Storms from Louisville, Kentucky to Washington, Pennsylvania
There was some potential for severe storms on my way to Pennsylvania this day, so I officially made the eastbound trip a storm coverage event. I got ahead of initial storms at Louisville and made it into Cincinnati just as new storms fired ahead of the line.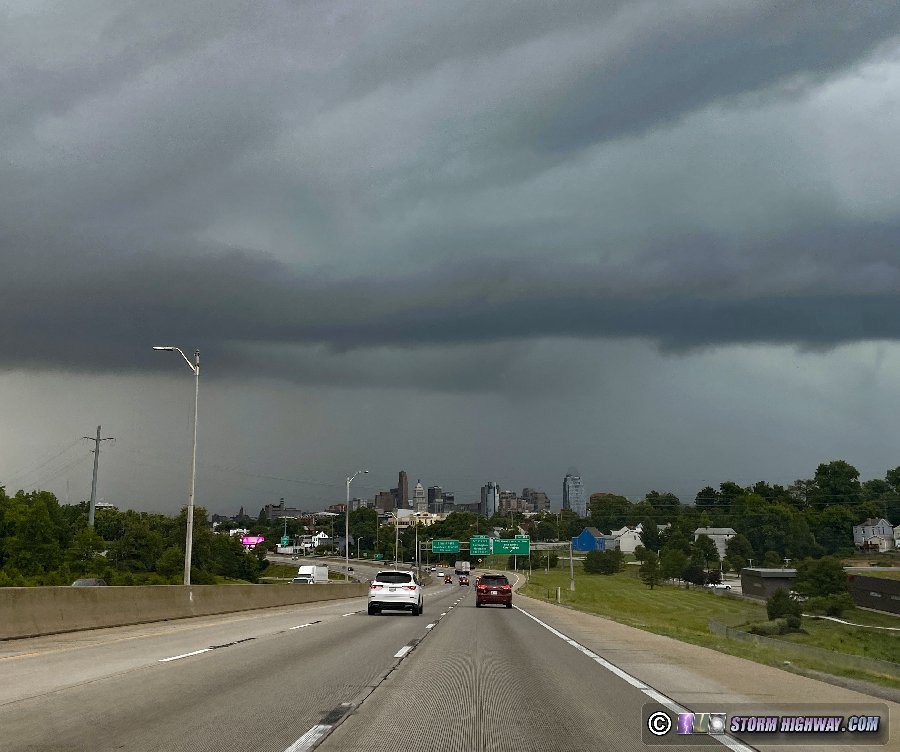 There was some decent lightning, but all to the east of the highway without a good way to get back into position to shoot it. I turned my focus on getting to the location of Columbus, Ohio TV towers for upward lightning in the trailing stratiform region of a squall line that had beat me into the city. A vivid rainbow appeared over I-71 as I approached the city, but the stratiform region moved out without any upward flashes occurring to the towers.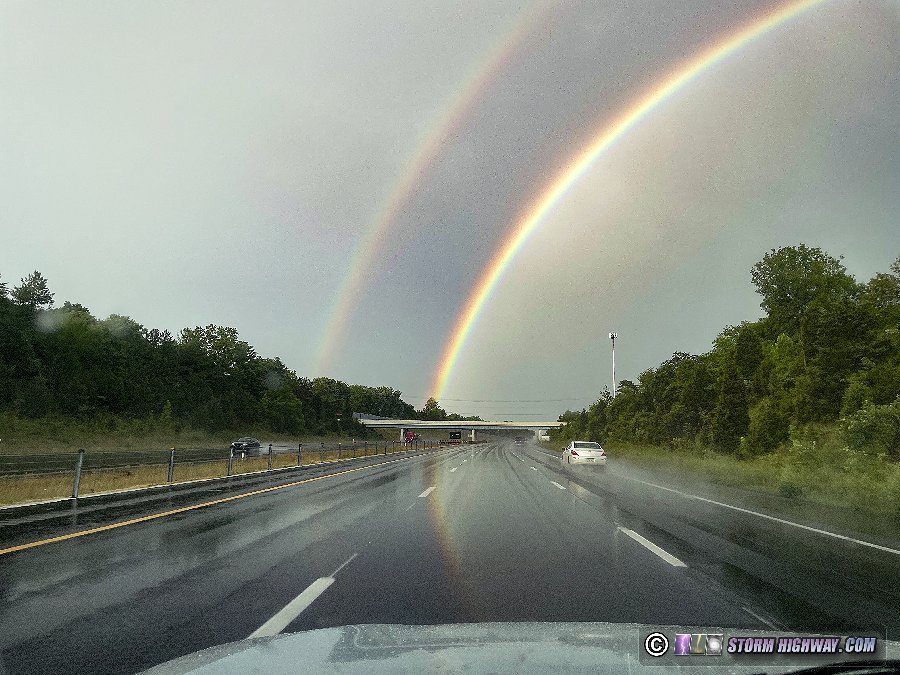 I drove through two more strong storms between Zanesville and Cambridge, the easternmost one displaying a strong low-level circulation on radar as it briefly interacted with a boundary. I was out of position to be able to get a look at that, and the storm fell apart before I finally intercepted its updraft near Fairview.
July 12: St. Louis upward lightning
Weak storms moved into the St. Louis metro this evening, initially appearing to be a bust for anything photogenic. But as the gust front moved south and east of downtown, vigorous new convection exploded just behind the outflow and began producing frequent lightning, the strongest of which was in South County. Since everything was beyond downtown, I turned my attention to upward lightning in a large stratiform precip area moving overhead. This produced some great upward and horizontally-extensive flashes that resulted in some quality high-speed video captures. The wind was strong and shifting constantly, making keeping raindrops off of the lenses impossible.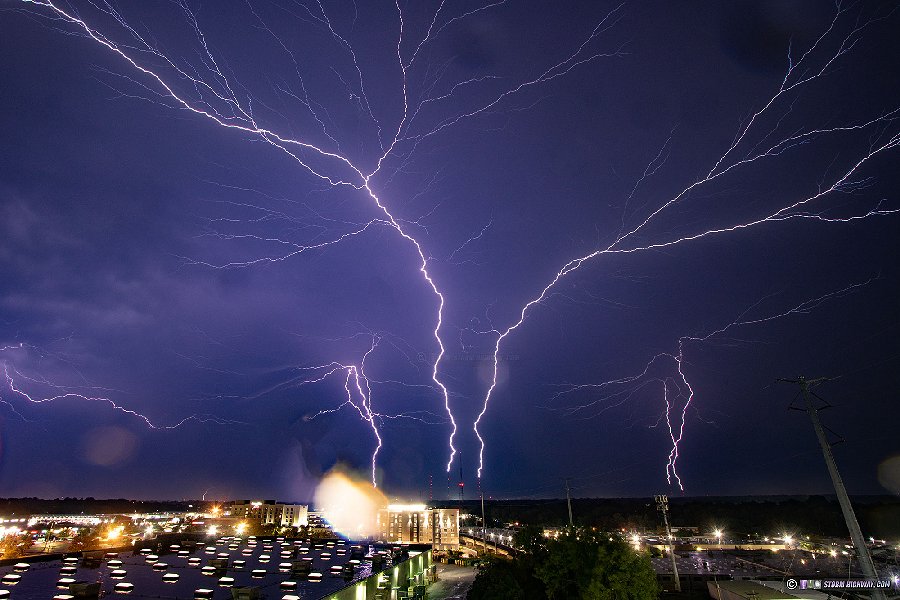 July 14: Pontoon Beach, Illinois supercell and lightning
This was a surprisingly lightning-active cell that fired north of St. Louis and slowly drifted east. I went to Pontoon Beach to watch it approach, keeping downtown within range in case the southern flank made a dive in that direction.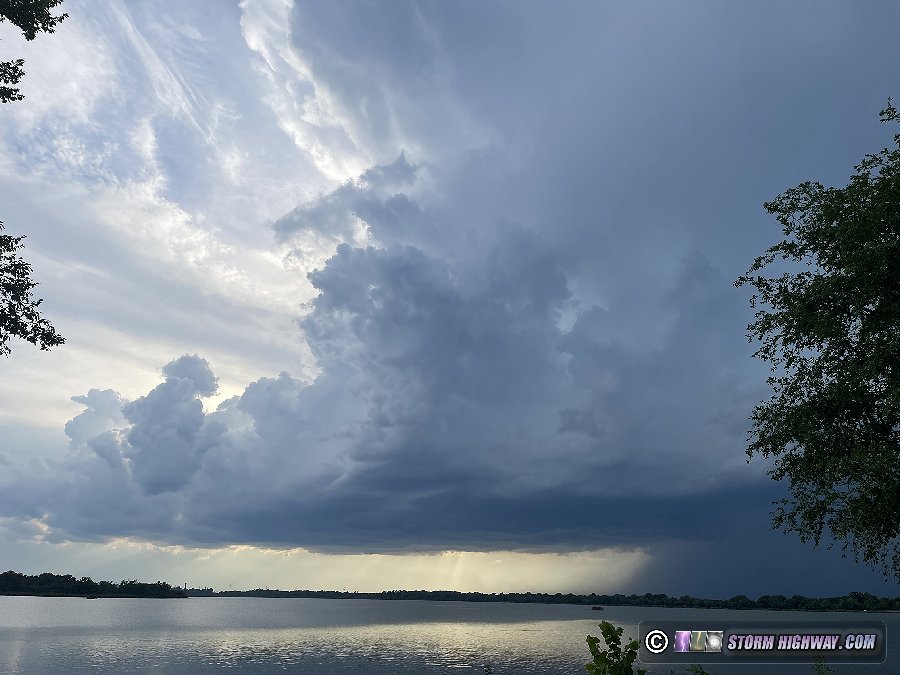 The storm produced some great cloud-to-ground lightning, and I managed a few captures at 6,000 FPS. New storms did eventually go up over downtown, so I made it back there just in time to catch one last bolt over the city. Several more cores passed over downtown during the next 2 hours, but the bulk of the heavy rain and lightning activity stayed to the east where some flooding occurred.
July 16: Weak storms and smoke in St. Louis
A short run into downtown for some disappointing storms moving in through the thick Canadian wildfire smoke. There was no shelf cloud or structure, and I didn't see any lightning.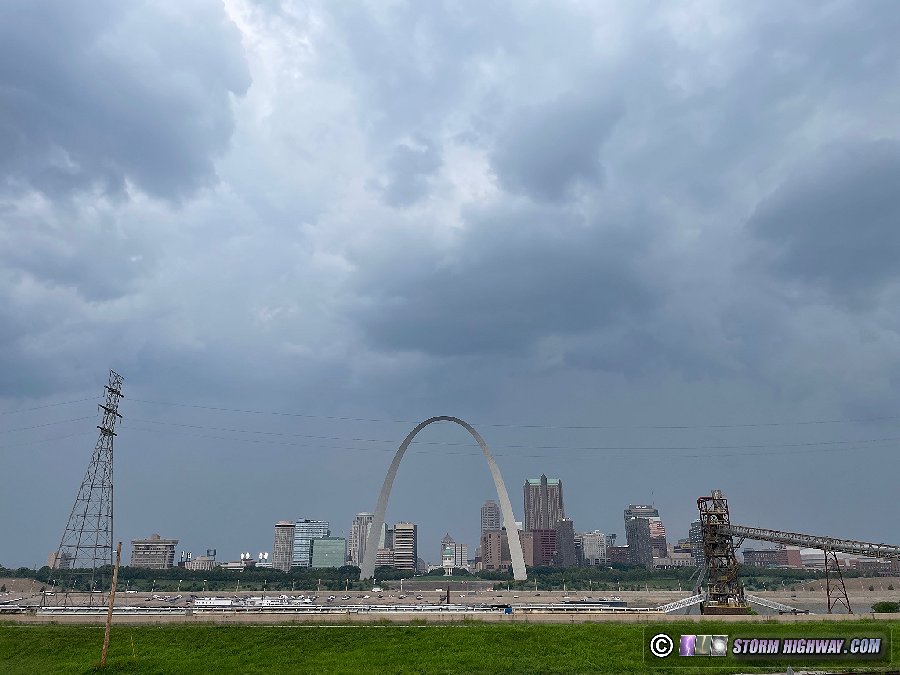 July 17: Freeburg to Marissa, Illinois lightning
Models had progressively shifted these predawn Monday morning storms southward, but they still looked to be close enough to go out and cover. After midnight, the storms fired on cue north of the model indications, inside the southern St. Louis metro and southeastward. The initial look had the storms missing downtown. My usual spots were either closed to the public and/or unsafe anyway at this hour, so I decided to spend the event southeast of the city in southern Illinois. I started in Freeburg as the storms approached, moved up to Mascoutah and then headed down to Marissa as storms trained over the area for the next several hours. There was not a lot of visible lightning in the cores, with most ground strikes buried in the rain. I caught a nice multi-ground-point discharge at 6,000fps in one of the cores, but it was through a massively-rain-covered windshield. I eventually ended up shooting the stratiform region of the complex as the cores consolidated and moved south, setting up for a while looking at the Prairie State power plant in Marissa where I caught one good positive leader tree on a still and at 1,500 FPS on the high speed camera.
July 17: East St. Louis to Belleville, Illinois supercell
This event was unexpected, but thankfully was an easy intercept due to it dropping right through the Metro East at 3PM. The storm developed north of St. Louis and quickly became supercellular, dropping 2-inch hail in several places in the metro. It was undercut by outflow and wasn't very impressive structure-wise. I intercepted just east of the Musial Bridge on I-70 and stayed ahead of the storm on Highway 15 through Belleville, finally deciding to find a shelter and let the hail overtake me in the south part of town. I only saw nickel-sized hail at my location, but some stones greater than 2 inches were reported just northwest of where I was.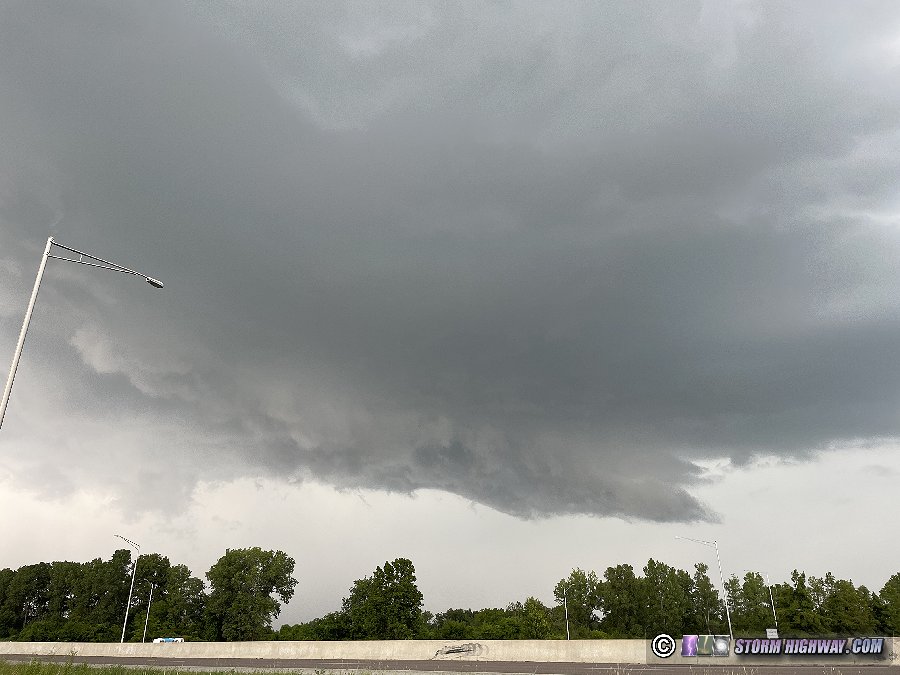 July 19: Lightning near Valmeyer, Illinois
This was the "main event" advertised by models to affect the St. Louis region this week, with all agreeing on a long round of after-midnight thunderstorms. It ended up being essentially a repeat of Sunday night/Monday morning in both placement and duration. There was more visible cloud-to-ground lightning than that previous event, but it was still mostly uncooperative for photography. I started in Valley Park and ended up across the river from Waterloo to Columbia for most of the duration, only grabbing a handful of mediocre stills and one half-decent high speed capture.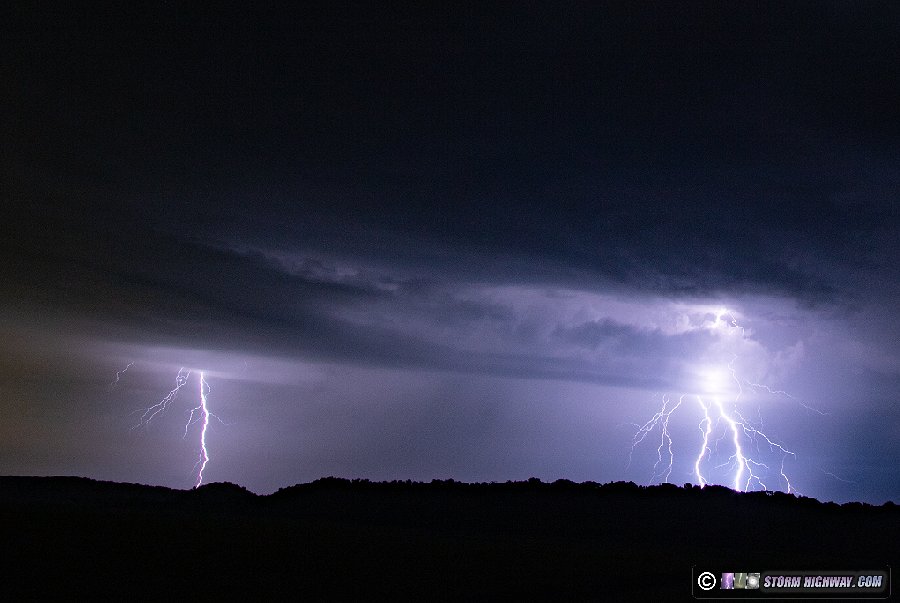 July 23: Chesterfield, Missouri lightning bust
A short outing to Chesterfield for storms that died as they approached from the north. I went back to downtown where towering cumulus on the outflow threatened to develop, but this also fizzled to the point that no low-level or midlevel clouds remained.
July 24: Lightning near New Baden, Illinois
Storms fired in defiance of model predictions at 2AM this morning and passed about 7 miles south of town. The lightning was sufficiently visible from home, so I went a half-mile down the road to set up for stills. The storm was flashing once every 3 seconds, a good show to watch but not much for cameras to pick up. Most of the flashes were inside of the clouds, with only short segments of lightning channels emerging.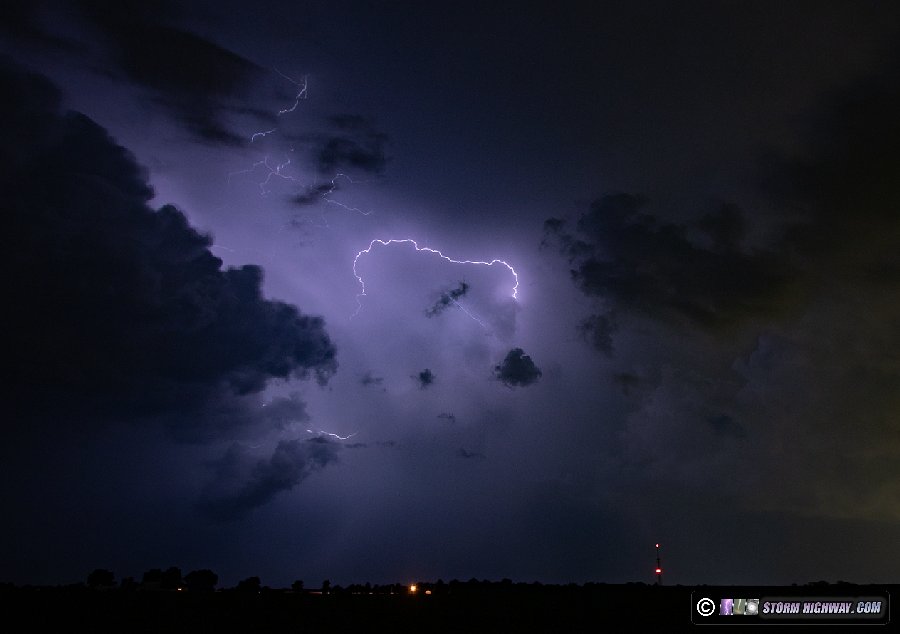 July 25: Storm bust in southern Illinois
Models went from zero-to-100 this afternoon, going from showing nothing all day to a tornadic supercell passing right over home at 8PM. Towering cumulus were already going up on a differential heating boundary right outside at 6PM, so the models' ramping up of storm potential seemed to be validating. I went out for about an hour to watch this activity as it briefly produced precipitation then completely fizzled at sunset.
July 29: Chicago skyscraper lightning extravaganza
Nighttime storms produced at least 18 upward lightning events to Chicago's tallest buildings overnight Friday, July 29. This event has
its own page here
.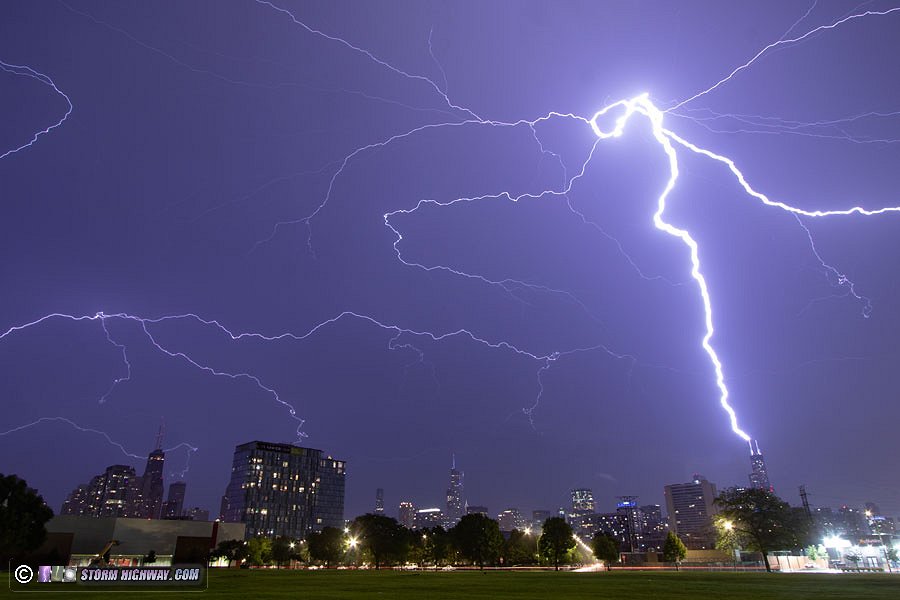 August 2: Upward lightning in St. Louis
Models and all available data pointed to the flash flood-producing storms to remain west of the St. Louis metro this night, but models suggested an attached stratiform precip area would overspread St. Louis toward dawn. This forecast was correct. I went out for several hours on either side of sunrise to film the TV towers. Once again, wind-blown rain was a problem, but I was able to capture three of four upward flashes to the towers that occurred just after sunrise.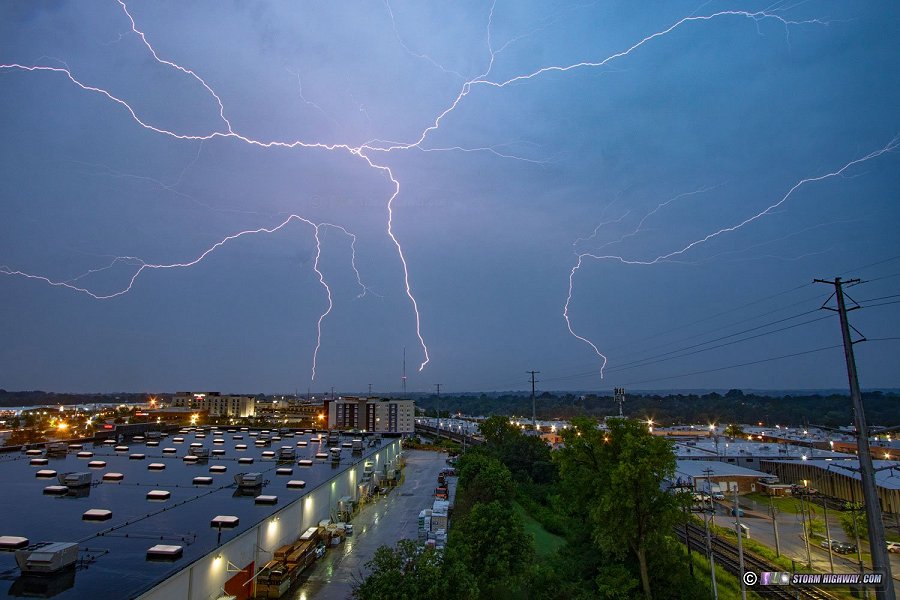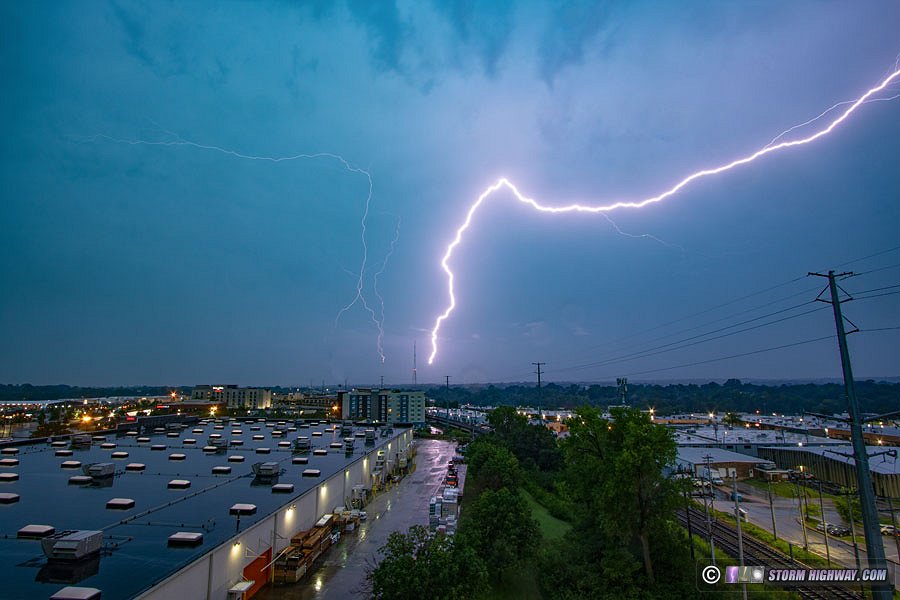 Video:
August 4: Shiloh, IL lightning
The storms-nearly-every-day pattern has continued since the middle of July - so much so that there have just been too many to cover. I've had to miss several events in the past 2 weeks due to needing to sleep and work (I don't have unlimited vacation days, after all). I had not planned on going out for this Friday afternoon/night event in Missouri and St. Louis, with the exception of if it looked like something nice was going to go through the city. The line of storms approaching at midnight wasn't good enough to warrant a trip downtown, but intensified east of the city as it moved toward me at home. I went out for a while to shoot high speed video and captured a couple of bolts (missing the best ones, unfortunately).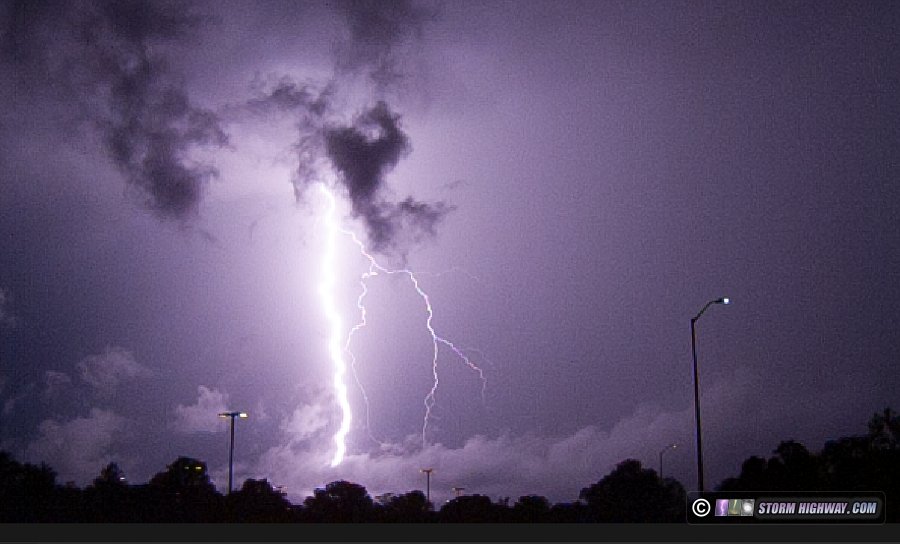 August 5: Okawville, IL midlevel funnels
I had originally not planned on going out this day, as the best area would be near Terre Haute, Indiana and didn't look that impressive to me by early-afternoon. However, I was coaxed out on the road by some vigorous-looking convection firing on the cold front just east of town. Early on, these congestus towers would make it about halfway to anvil level, then evaporate. Not impressive under normal circumstances - but this time, some of the towers would evaporate to reveal a strong vortex in their centers, complete with well-defined midlevel funnels: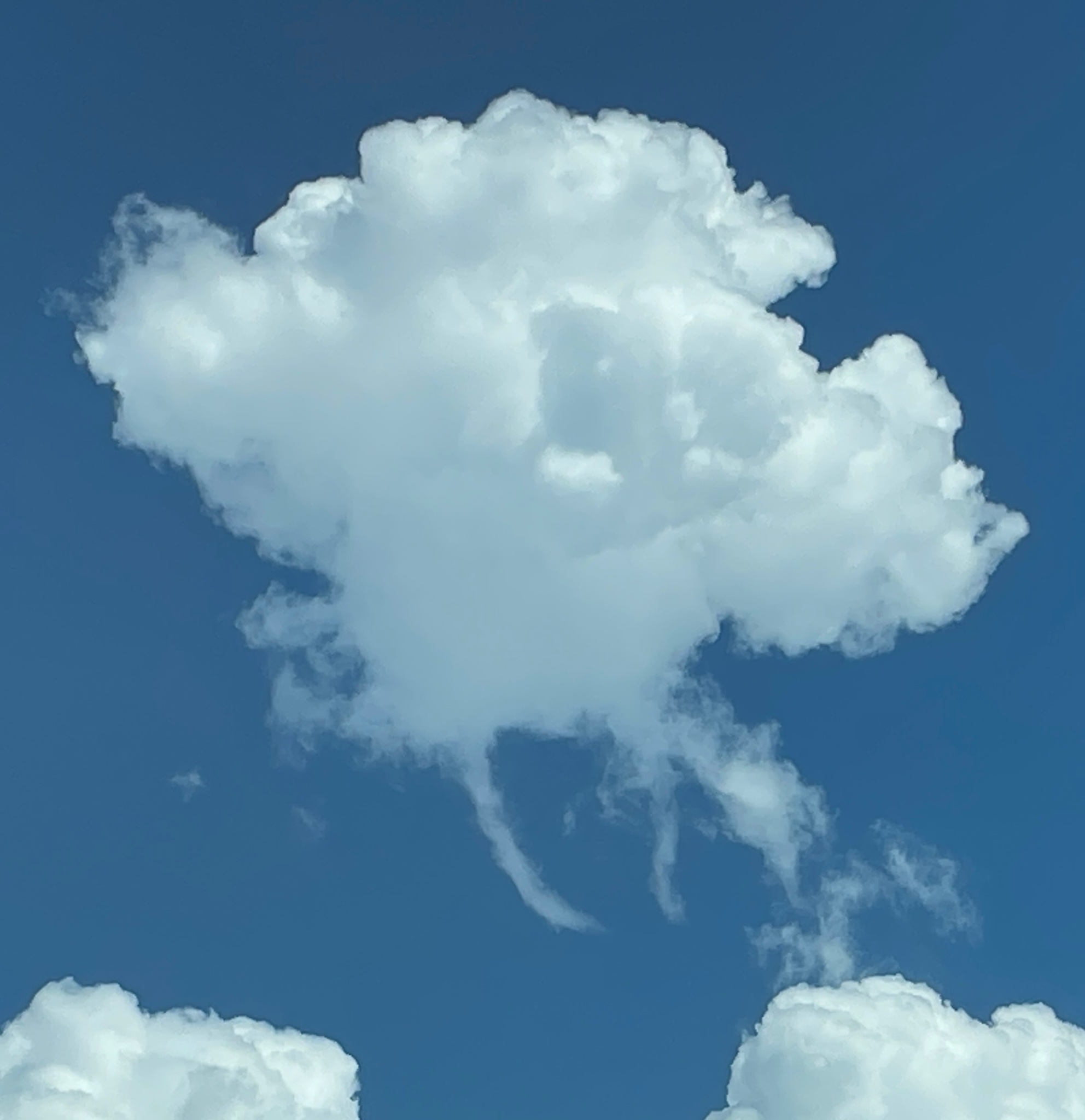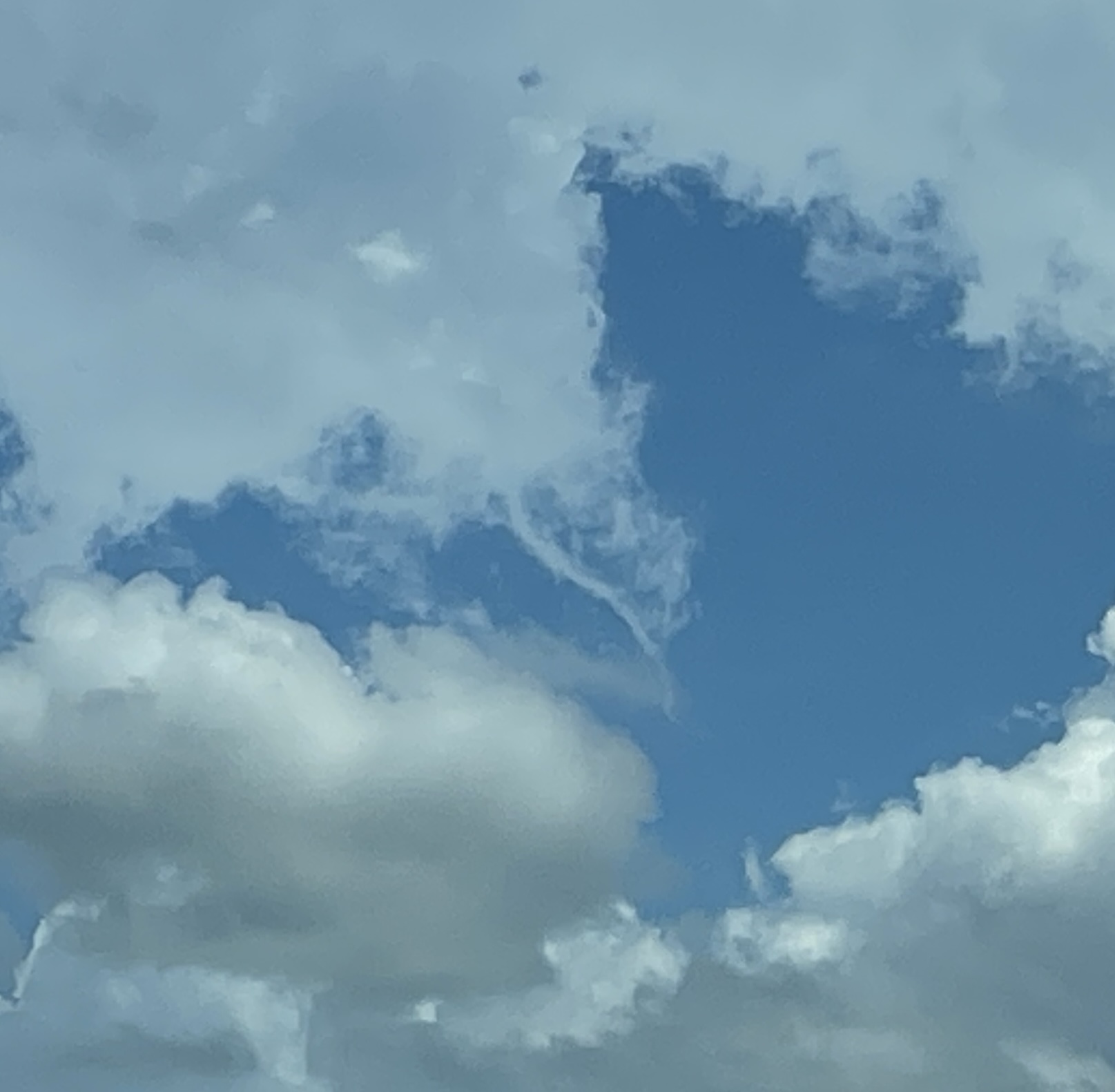 Despite environmental parameters looking quite meager, seeing midlevel funnels in updrafts is never something to turn your back on. It meant the updrafts were ingesting good vorticity, a condition favorable for tornadoes. I followed this activity east to past Mount Vernon as it developed into thunderstorms. The updrafts were on the west side of the storms and could never get organized, so I let the storms go at Bluford where I saw this impressive rain shaft boundary where conditions went from dry to a downpour in 10 feet: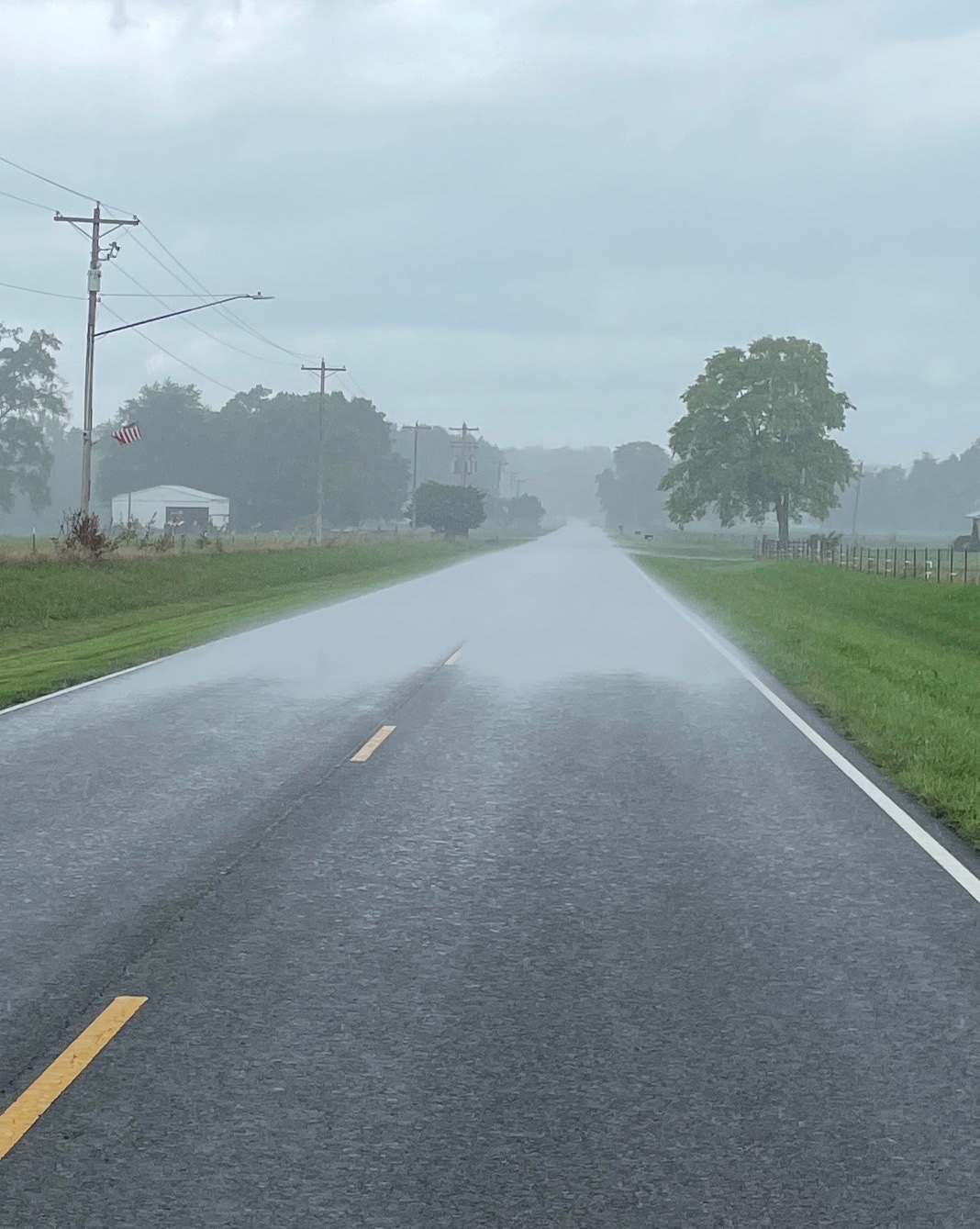 August 6: Supercells from Hazelwood, Missouri to Woodlawn, Illinois
The way this day evolved was not ideal for my current "home target bias" methodology. Models agreed on St. Louis seeing potent supercells before sunset, so I did not want to stray too far from the metro area. The best spot for tornadoes (along the I-72 and I-57 corridors) would be too far away to cover and still make it back into the city in time for the storms there. I started out in O'Fallon, Missouri along I-64 to await new development to the west to arrive. This activity fizzled, so I decided to investigate the strong storm that had gone up northeast of the metro along I-70 near Greenville. This looked very impressive from a distance, with explosive convection and a lowering with beaver tail visible underneath. If it weren't for the impending St. Louis storms, I would have without question chosen to stay with this one eastward. This is the view of it I had from Marine, IL at 6:15PM: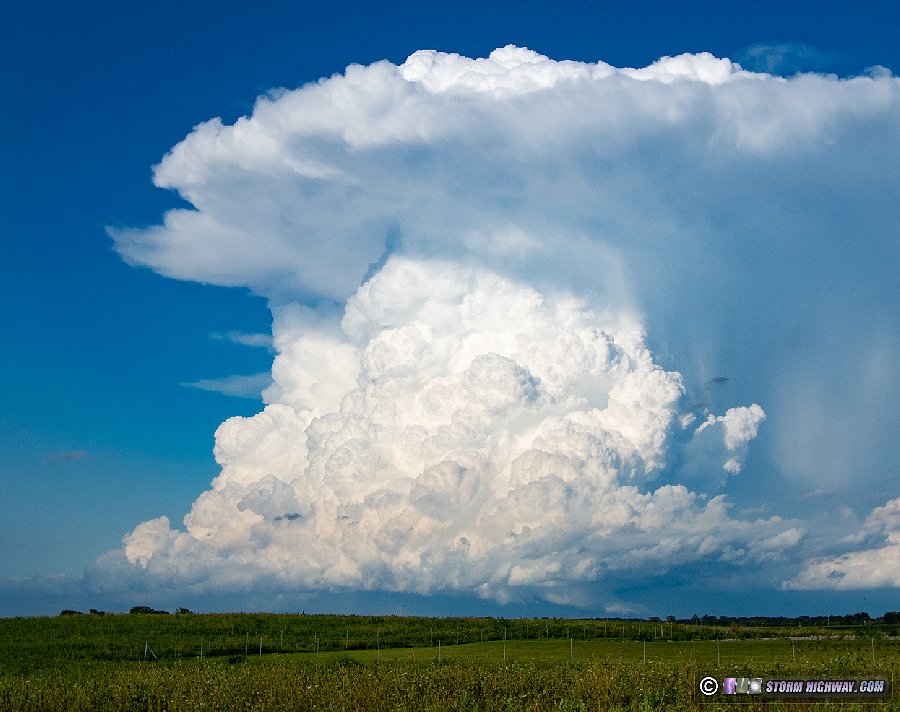 At this same time, my target storms west of St. Louis were finally starting to take off, so broke off of this and headed back west to Hazelwood. The storm just north of the airport showed an RFD clear slot with an occluded circulation on its tail end: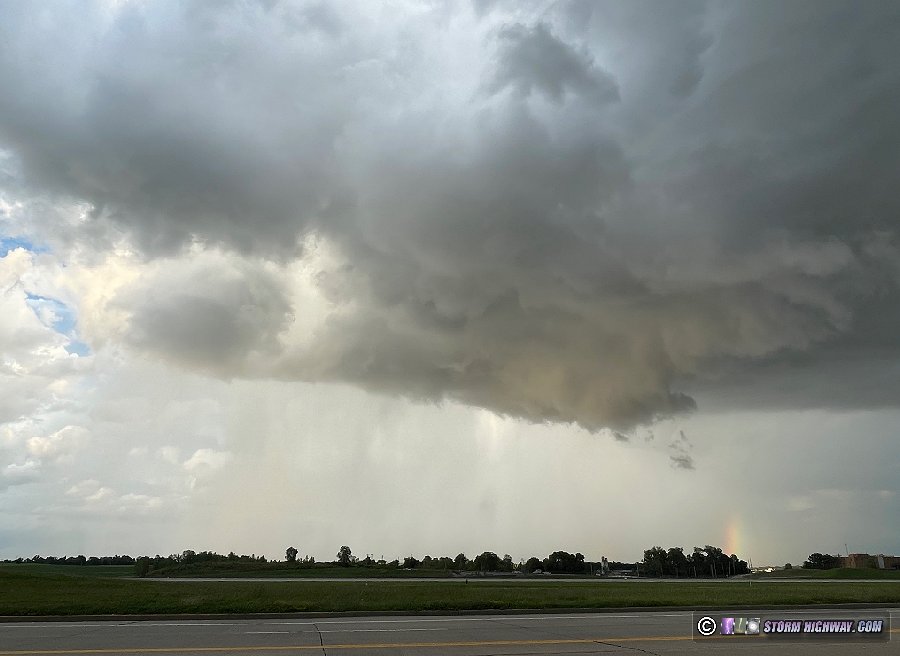 I stayed ahead of this storm on I-270 to Maryville, but was not impressed with either its low-level organization prospects nor its lightning production. To the east, I could see another supercell in nearly the same location as the earlier one. This cell already had a circular base, wall cloud and clear slot, and it was producing periodic bolts-from-the-blue to its east.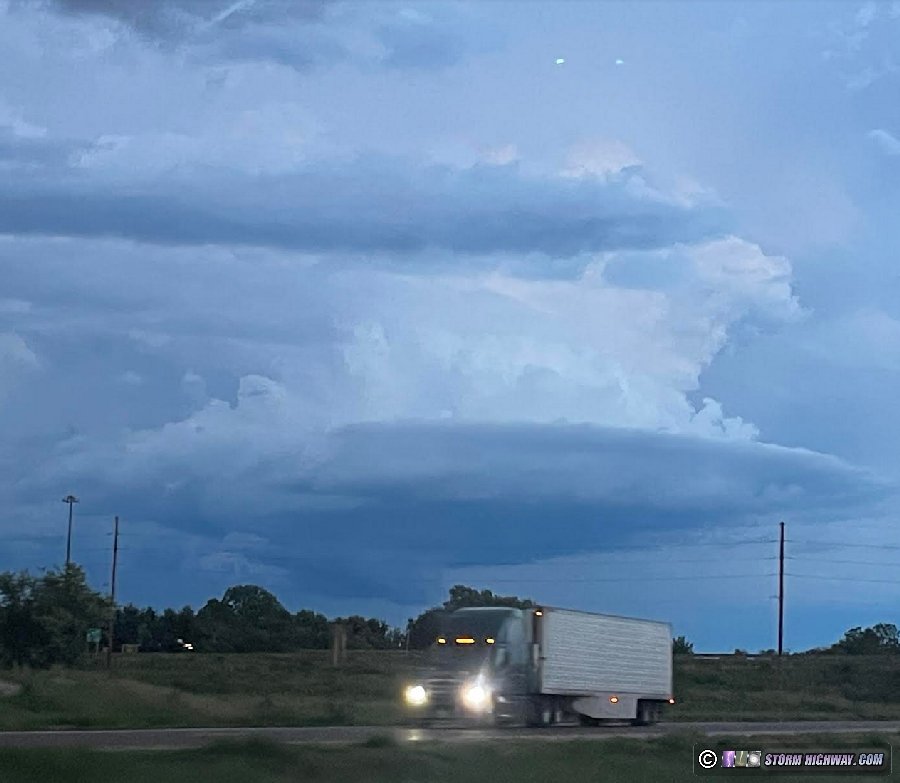 With all activity east of St. Louis with downtown now in the clear for any storms, I decided to break off of the cell at Maryville and pursue the Greenville supercell. I drove all the way to Mulberry Grove, but was not gaining much ground on the storm. The upper jet had kicked in and storms were now racing east at close to 45mph, almost unheard of for August in the Midwest! With the storm now well south of I-70, there was no way I was going to catch up to it. I decided to drop south to get ahead of the earlier activity which was now approaching Carlyle, but the storm was moving too fast - it handily beat me to the intercept point at Sandoval.
New storms were developing south of the Sandoval storm, with a supercell structure taking shape southwest of Centralia. I was caught by the forward flank precip of this storm in town, but made it out of the rain south of town to see that a nice barrage of cloud-to-ground lightning was in progress. I stopped at Irvington to shoot this with stills and high-speed video. Several bolts-from-the-blue had occurred ahead of this as I drove south, but the storm would not do it again while I was set up here.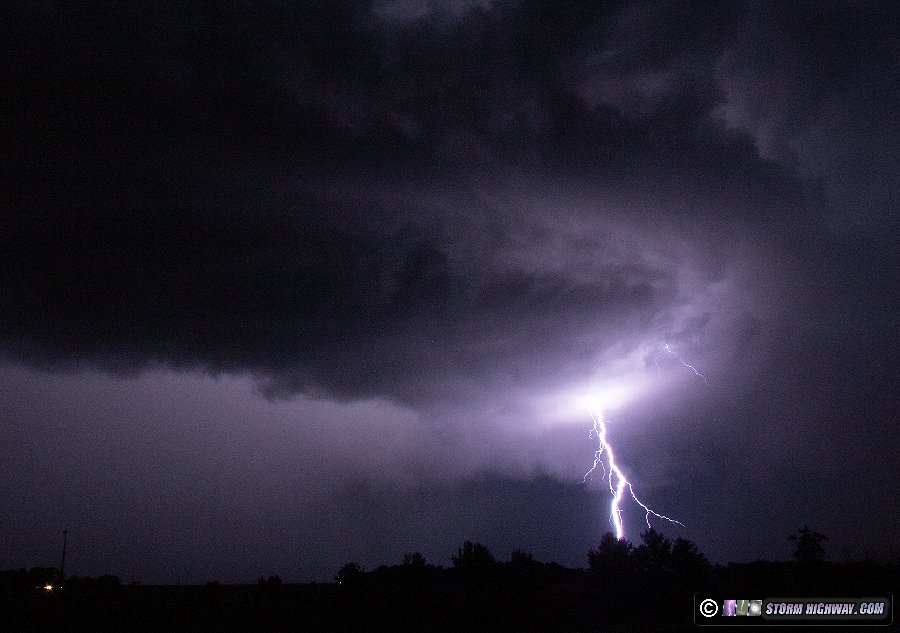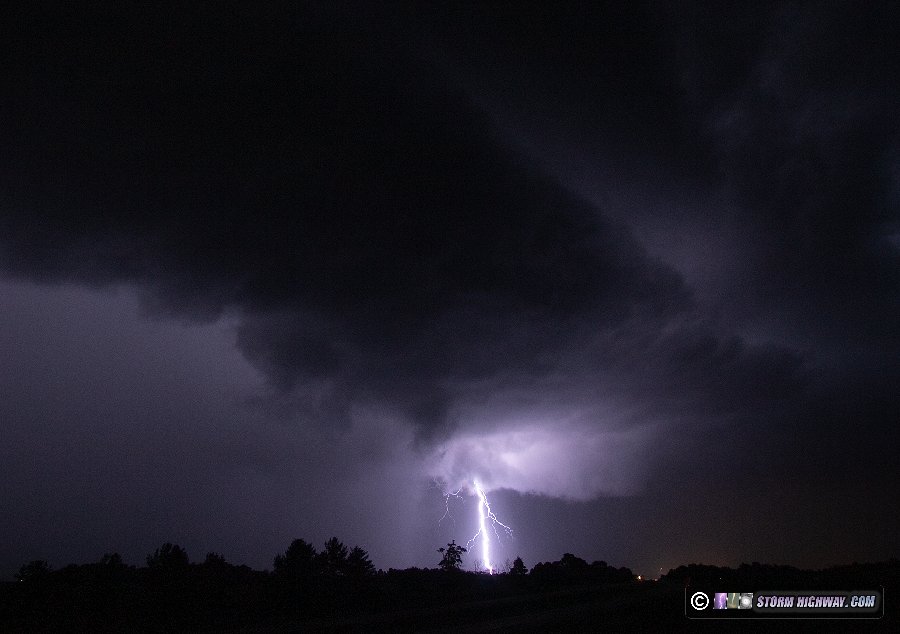 I only had about 2 minutes to shoot here before the rain caught up to me. As I headed east toward Dix, the nice bolts-from-the-blue started up again (of course). Only 2 miles into my move east, *bam* - I was stopped by a slow-moving freight train that had just started crossing the road: Game Over. I set up at the crossing facing back west to try and grab a couple of shots, but the rain was only 30 seconds behind me.
I went back west through the storm to Highway 51, then south intending to just call it a day and head home on I-64. But just north of the interstate, yet another storm had developed to the southwest and started again producing spectacular bolts-from-the-blue far ahead. Yet along the road, all I had was tall corn with no views! Just before reaching I-64, a bolt slammed the ground just ahead of me. I checked my dashcams to pull the capture of this, but it turns out it was too far to the right to be on the front camera, and too far to the south to be in the passenger side camera!
I decided to just move east to Woodlawn to get back ahead. I got back on I-64 eastbound only to immediately get behind a slow driver going 45 in the 55mph single-lane construction zone that continued all the way to Woodlawn - meaning I was making no ground on the storm. It was all for naught, as the storm was completely done producing cloud-to-ground bolts. Incredulous, I just turned around and headed back home, not willing to subject myself to any more of this comedy of errors. Despite frustrating days like this, I always remain thankful - recognizing the fact that lots of perilous things that could always befall be on a trip, didn't.
August 12: Upward lightning in St. Louis
Generally underwhelming storms moved through the metro this night. I started downtown at 3:30AM for the arrival of the outflow from the easternmost cluster of storms to the north, which produced a striated shelf cloud that moved over downtown: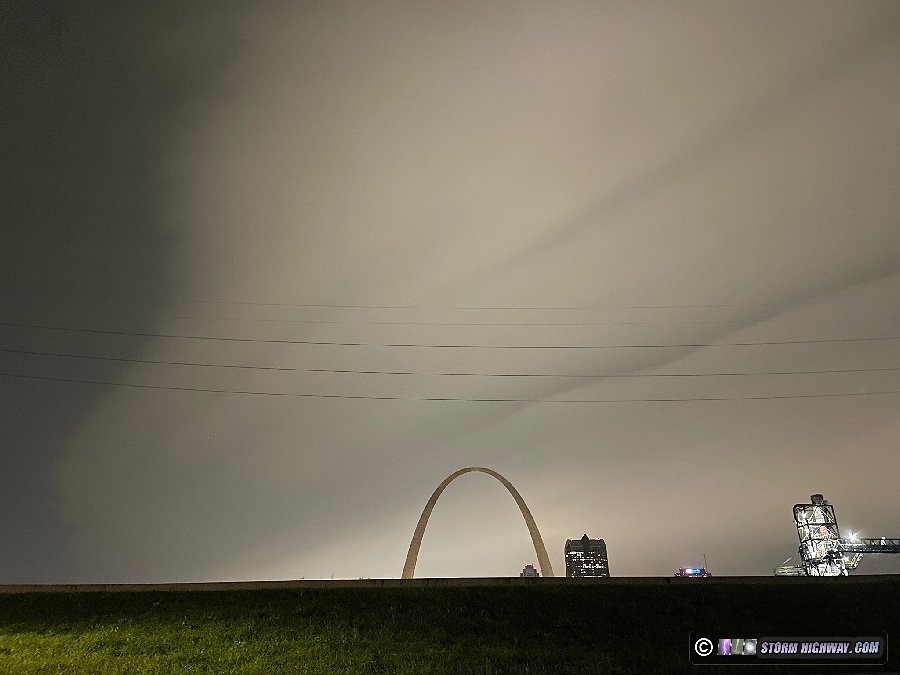 I drove back east to O'Fallon to attempt to capture lightning with these easternmost cells. These were not producing any photogenic bolts, so I headed back downtown for the stronger western cells. The leading edge of this didn't have a shelf cloud, and lightning was non-existent. With a trailing stratiform precip area now developed, the only other option was the Brentwood tower vantage point. There were 8 upward flashes to the towers, but they were all fairly uninteresting single-channel branchless leaders. The better flashes for high-speed video were cloud flashes. I had the DSLR capturing stills during this time: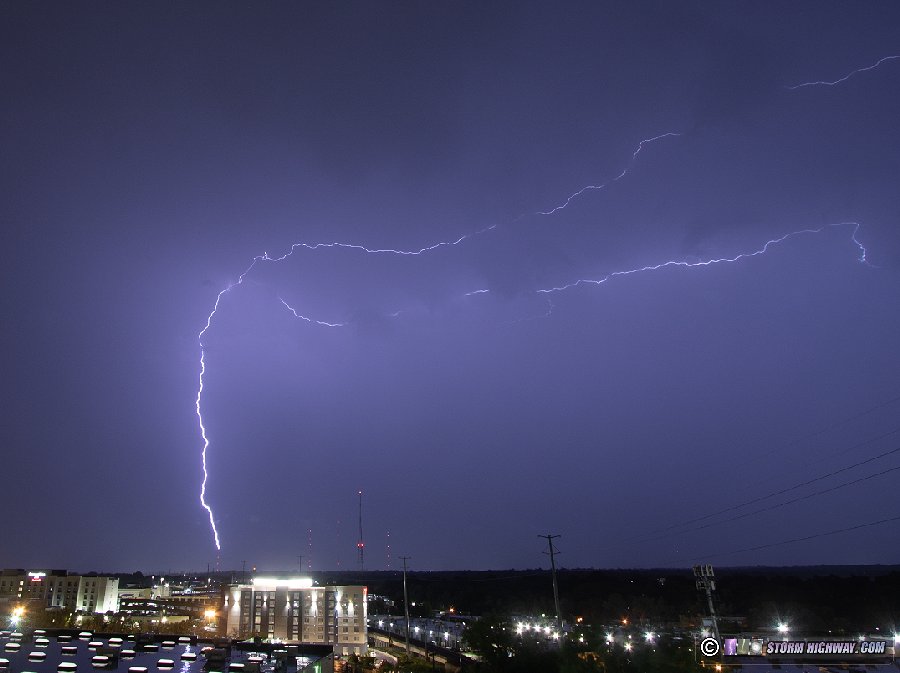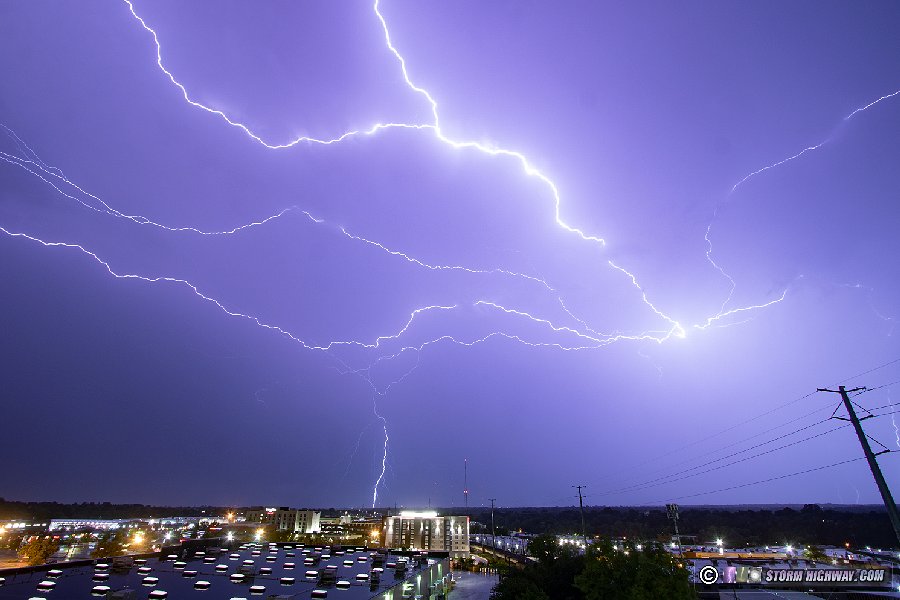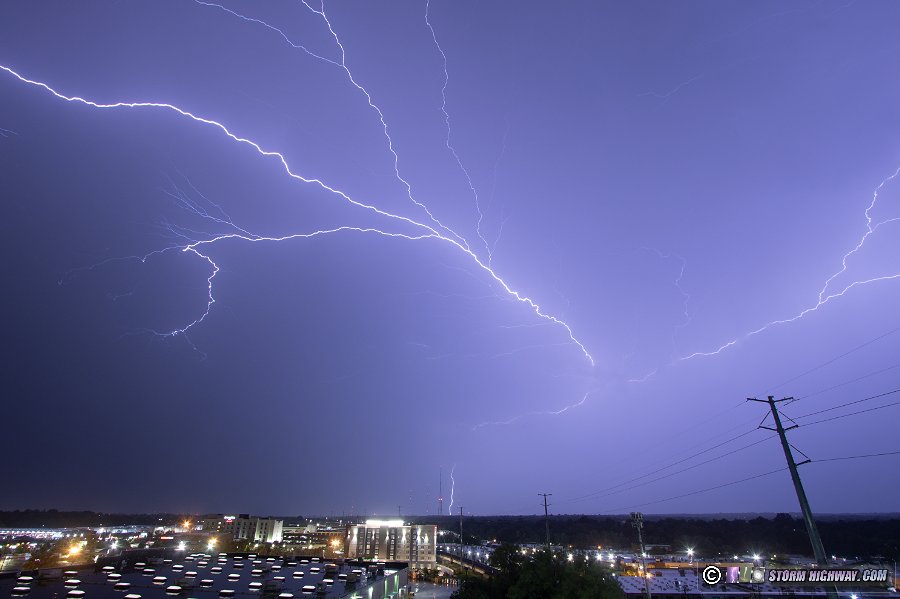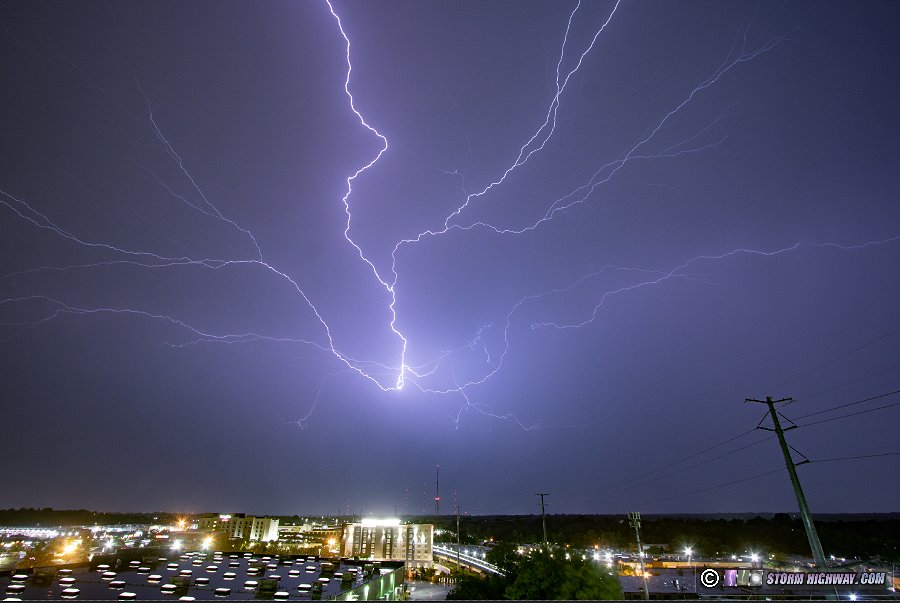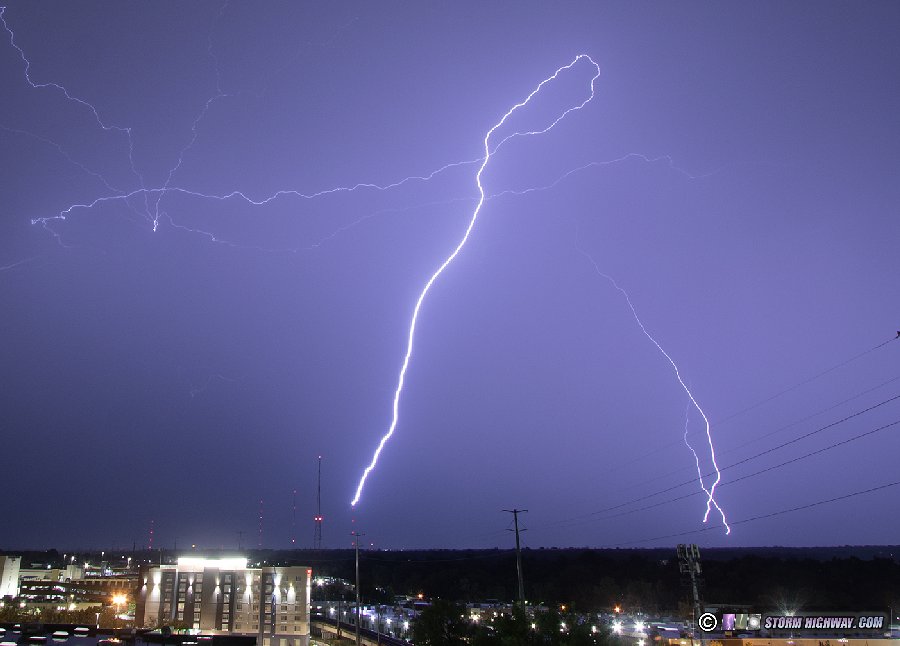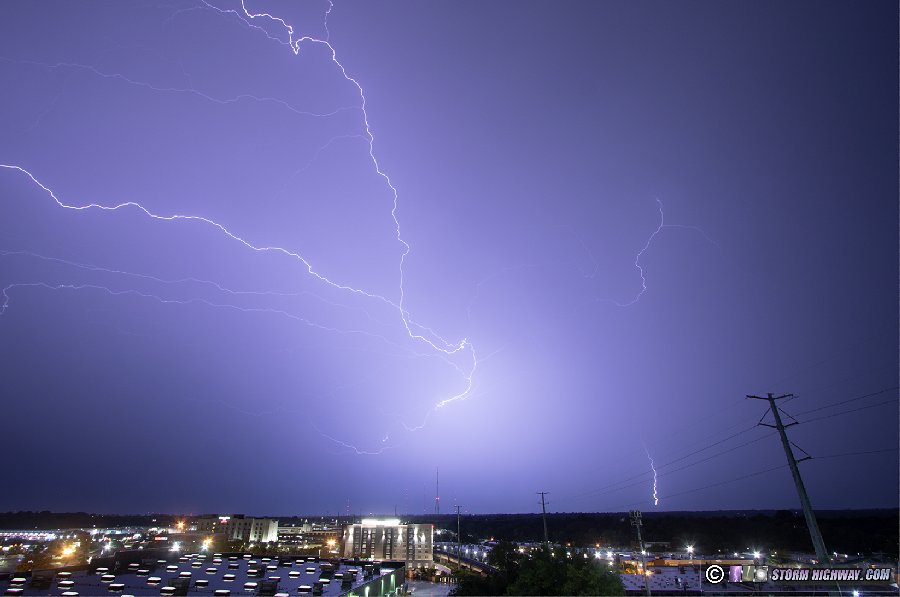 August 26: St. Louis metro morning thunderstorms
I started out after midnight trying to capture sprites with the distant storm complex to the east along/east of the Indiana border. That was unsuccessful. Eventually, new storms developed north of St. Louis and began sending several surges of outflows southward. I went up to St. Rose to watch this one approach over Highland at daybreak: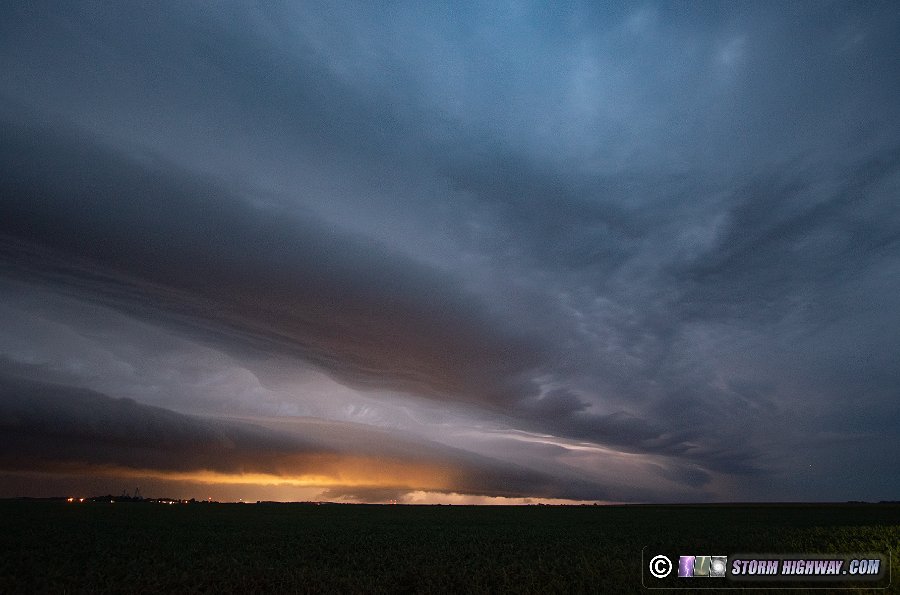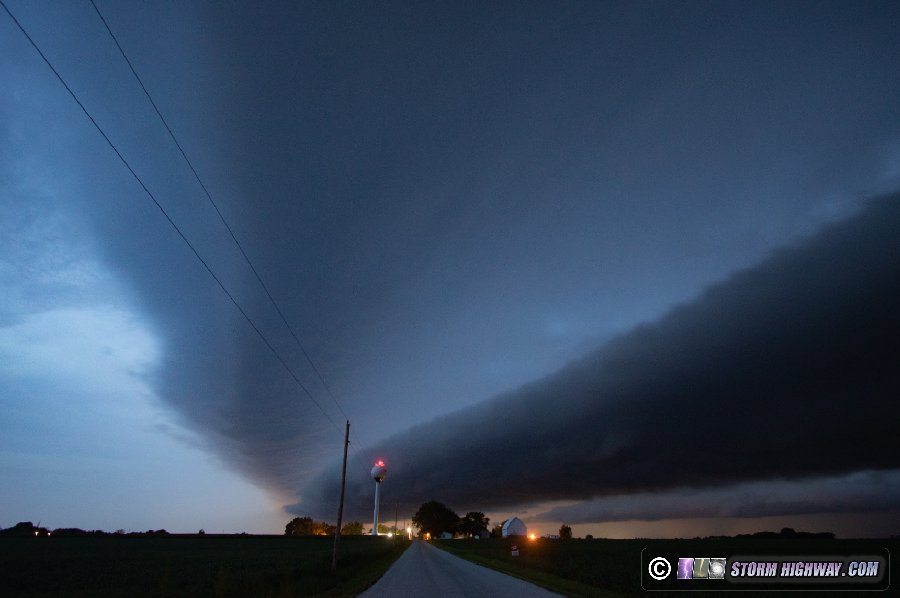 This was the view over New Baden as the shelf cloud arrived after sunrise:

Another round of weak thunderstorms was approaching downtown, so I went down to the usual spots. The incoming shelf wasn't bad: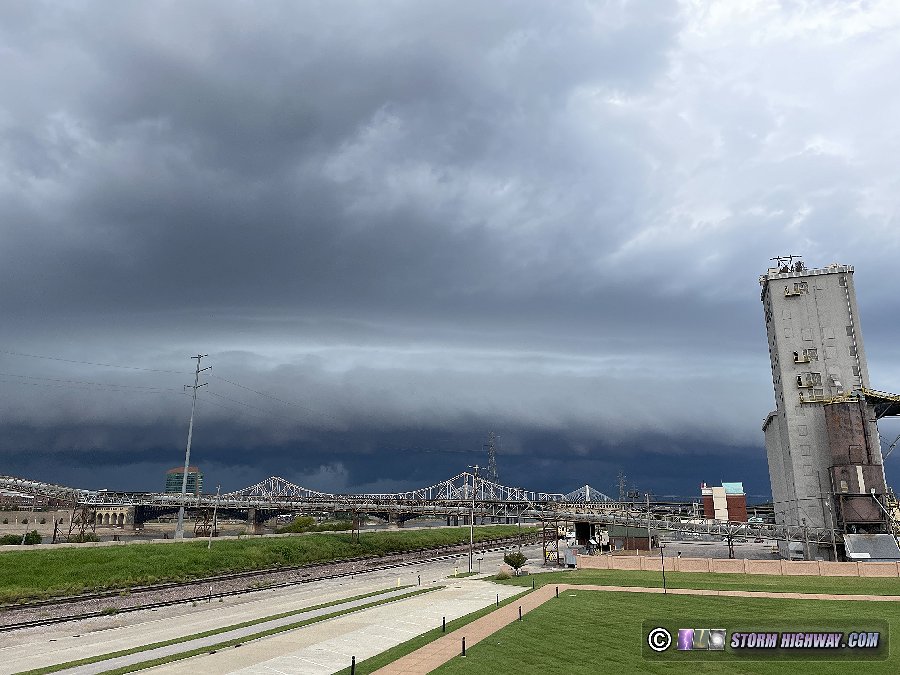 Just prior to this moving over the city, a new cell went up directly over downtown, with its rain core completely blocking the view of the incoming shelf: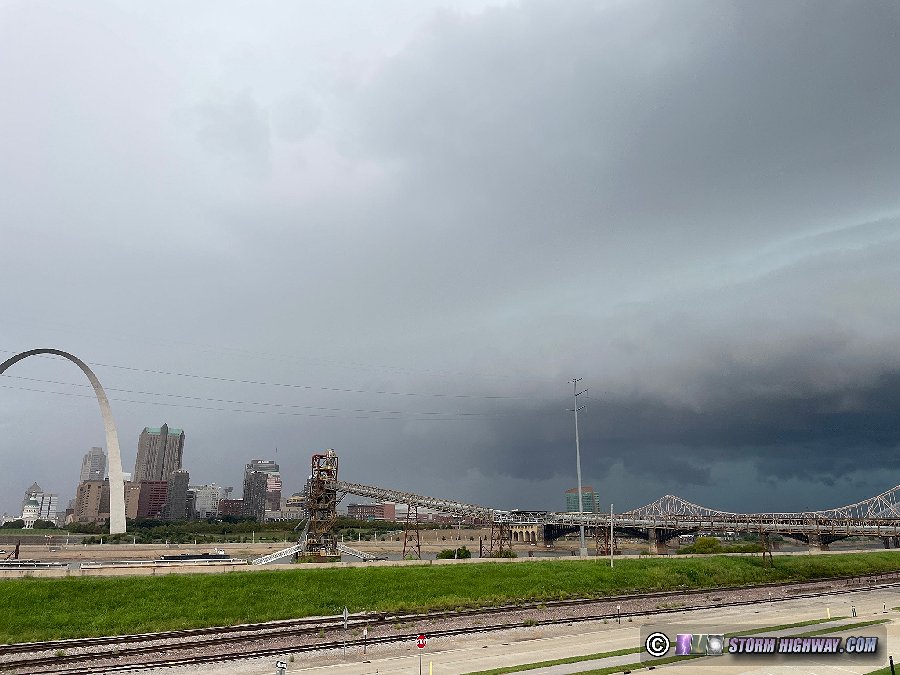 There had been very little lightning with these storms, so I didn't feel they were worth continuing to cover. I arrived home by mid-morning.
August 29: Hurricane Idalia no-go
I chose to not travel to Florida to cover Hurricane Idalia for 3 main reasons: the expected landfall during the nighttime hours, no suitable shelter available (in the form of a steel-reinforced concrete parking garage) on the coast in the Big Bend area, and the nearest safe/workable place for documentation nearly 30 miles inland. While the storm slowed enough that landfall occurred after sunrise, the storm unexpectedly weakened significantly in the hours prior - leaving the eastern (the typically stronger) side of the storm devoid of eyewall winds.
GO: Home | Storm Expeditions | Photography | Extreme Weather Library | Stock Footage | Blog
Featured Weather Library Article:
All content © Dan Robinson. All usage requires a paid license - please contact Dan for inquiries.

Web Site Design and Internet Marketing by CIS Internet