Home | Blog Index | Blog Archives | Christianity & Faith Essays
Wednesday, March 15, 2023
Mid-March season update: winter hanging on; hail shield; adding old storm logs
A bit of an update as we anticipate the arrival of spring storm season. So far, that hasn't really happened in the traditional sense, outside of a couple of events down in central Texas and the deep South. Unfortunately models don't show much of any sign of winter's demise for as far out as they can reasonably be trusted (10 to 14 days in the future). The 850mb temperature charts show relentless sieges of cold air refusing to lessen their grip on the northern two-thirds of the USA during that period. The MUCAPE charts are equally disappointing, with only paltry areas of weak instability managing to make it north of the Interstate 40 latitudes through the end of the month.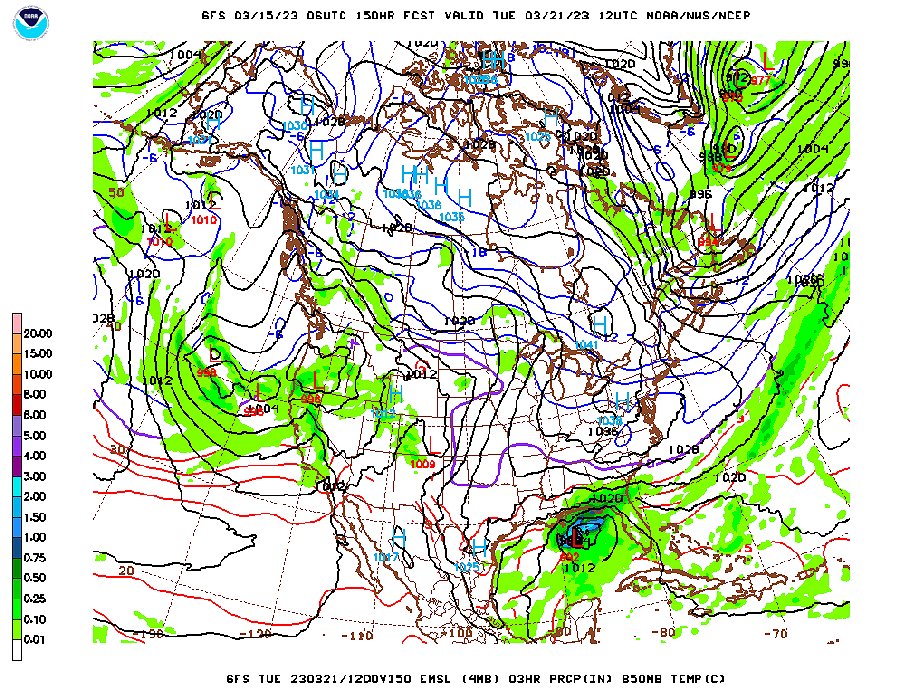 GFS 850mb chart for March 21
Of course, the Gulf coast states maintain their occasional severe weather incidence, but that's par for the course in that region, no different from the December-February climate in that part of the country. For the rest of us in the middle and northern USA, we'll just have to wait until April to see signs of springtime. Until then, the only indications of the changing season we'll get to experience are the increasingly-later sunsets, but that longer-lasting afternoon daylight will be plagued with cold temperatures for the foreseeable future. Not to worry, spring is coming - we'll just need to be more patient this year.
Adding old storm and weather trip logs: I've been spending some time filling out previous years' storm photography logs with the "lesser" events I'd covered. These are all of the "busted" chases and trips in which I didn't see anything, didn't capture any noteworthy photos or videos and/or just never got around to writing up a log for them. I knew I hadn't been that thorough about those prior to 2019 or so, missing logging some events here and there. But after going back through my records, I was surprised to discover that there were many more than I'd thought. There were dozens of events between 2012 and 2019 for which I had GPS logs, pictures and/or videos that had never been added to the logs, including some major trips (like this one in September of 2016, for example).
The reason for the missing logs was because of my old method (prior to 2019) of mostly giving each event its own dedicated blog page. Those dedicated pages took more time to do, and some events just didn't seem worthy of the effort - particularly those "busts" where I didn't see anything. My current logging method of doing a "roundup" page every 1 or 2 months makes it easy to include short blurbs about busted or non-noteworthy trips. I'm essentially going back and adding those short blurbs for past events as addendums to existing pages. Some of those include previously-unpublished photos. Including all of those will make the log section truly "complete" with accurate mileage. I've finished adding everything through the end of 2016 and am still working on the 2017-2018 period. I've been pretty thorough about logs since 2019, again, mainly because the blog "roundups" make it easy to include everything.
Hail shield update: I made the decision to scrap my old hail shield rig that I'd used on the Yaris and the Outback for 7 seasons (from 2015 through 2022). I cut up and threw away the old heavy shelving panels last week. I kept the aluminum support rails and all of the hardware to use on the new rig, if I ever do get around to building it. The plan is to make the guards out of chicken wire (or similar material) mounted on aluminum box beam frames. The size, shape and placement of the new guards will be the same as the old ones, but at about a third of the mass/weight. The end result will (hopefully) be much more fuel-efficient.
The trade-off of lighter shields is that they might suffer permanent damage in a truly-brutal barrage of softball -sized hailstones (like the May 12, 2015 South Plains, Texas event, pretty much the worst-case scenario). I think that is acceptable, though. As long as the shields maintain their function through a giant hail barrage and keep the windows intact, I won't care if they are permanently deformed to the point of needing replaced. It's much cheaper to replace aluminum beams and chicken wire than auto glass, and fuel cost savings over the heavier guards will likely pay for the rig multiple times over the course of a few seasons.
All that being said, the hail shields are a pretty low-priority item for me at the moment and I might not get around to them this year, if at all. I'll make an update if and when I actually get those built.
GO: Home | Storm Expeditions | Photography | Extreme Weather Library | Stock Footage | Blog
Featured Weather Library Article:
All content © Dan Robinson. All usage requires a paid license - please contact Dan for inquiries.

Web Site Design and Internet Marketing by CIS Internet