Total solar eclipse - Goreville, Illinois - August 21, 2017
ABOVE: 2017 total solar eclipse as viewed from southern Illinois
HD VIDEO: Timelapse from dashcam and GoPro: Watch Video
4K VIDEO: Totality phase: Watch Video

Click any thumbnail on this page to view a larger version.

GOREVILLE, IL - Unlike most storm photography and celestial experiences that come up in timescales of days or hours, I had been looking forward to this event for over a decade. Two years ago, the excitement and anticipation began to build, and with it the planning and the anxiety. Would the weather cooperate? Was I going to be able to watch 40 miles south of my apartment, or would I have to drive to Wyoming to escape clouds? Would traffic be so bad that I couldn't get there in time? Would I need to take days of food and extra gas with me (like a hurricane expedition) in case of shortages caused by mass influxes of people into ill-prepared rural areas?

Those anxieties ramped in earnest in the week before August 21. By Friday, St. Louis hotels were booked to an unprecedented 98% capacity - signalling a possible traffic apocalypse as droves of people arrived from around the country and the world. The weather situation was also worrisome. Starting at 10 days out, models consistently showed an unsettled, stormy pattern across the Midwest - which meant lots of clouds were likely to be present across the region. Furthermore, a dense cloud deck was forecast by models to cover much of Nebraska, eliminating my only realistic secondary option. The weather forecast remained a nail-biter right up until the morning of the 21st.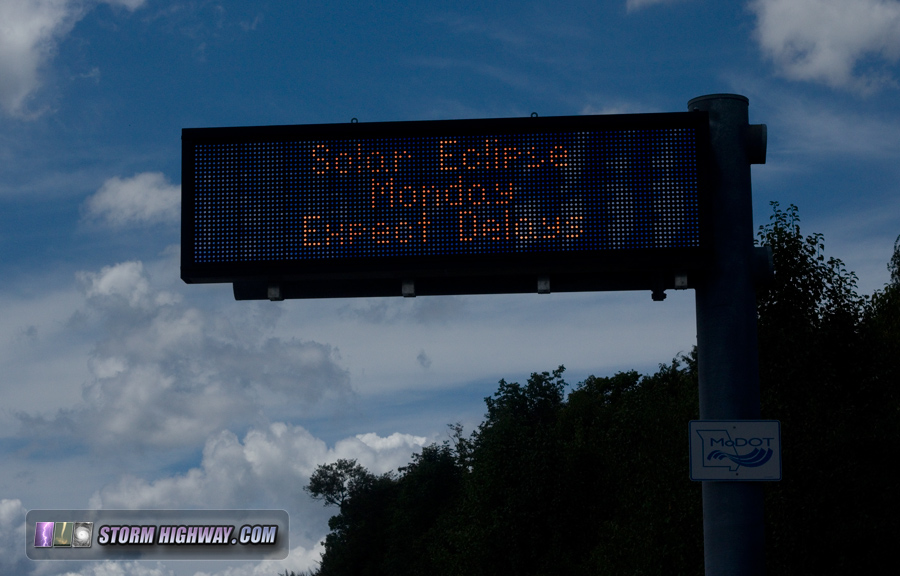 A week before the eclipse, St. Louis highway signs warned of the potential gridlock.
My parents traveled down from the Pittsburgh area to be with me for the event, arriving Saturday. Our original plan was to drive the roughly 40 miles south to the Evansville, Illinois area, or farther south to the Mississippi River (which was on the eclipse centerline) if traffic allowed. Sunday evening, the roads across the Midwest remained clear, all green on Google's traffic maps. We did a dry run down to Evansville/Baldwin area to make sure our planned back-roads route was intact. Surprisingly, we found "business as usual" in the totality path, absolutely no sign that such a major event was about to take place in less than 24 hours. No crowds, no roadside campers, no festival tents, not even much traffic in Sparta (one of the bigger towns inside totality).
I awoke at 3AM and again at 6AM Monday morning to check the traffic maps to ensure our southward route wasn't becoming clogged already. Thankfully, there were no signs of impending gridlock. Just to be safe, we packed a large cooler with food and drinks as originally planned.
With traffic fears diminishing, all that was left to deal with was the cloud forecast. The models were spot-on about overnight storms in Iowa (and their associated clouds) slowly sagging southward into Missouri on Monday morning. The first visible satellite image of the day showed a dense cirrus deck from these storms inching uncomfortably close to St. Louis and southern Illinois. 300mb-level winds (very high up) were nearly due west, which would help to keep those to our north. Further concerning was an area of mid and high clouds in southern Missouri, which would be blown directly at us by the same upper-level flow. The final concern was thunderstorms that models agreed would begin forming by early afternoon. These were shown areawide from St. Louis down to around Carbondale, and they would be preceded by an ever-more-dense field of cumulus clouds beginning around noon.
I decided our best bet for clear skies would be extreme southern Illinois, far away from the cirrus deck to the north and hopefully out of the developing field of pre-thunderstorm cumulus clouds. We left at 9AM and made our way east on I-64 within very dense (but fast-moving) traffic, monitoring the roads ahead with Google maps. These showed heavy traffic on I-57 south, so we exited at Woodlawn and used county roads to bypass these jams to West Frankfort. The interstate was free-flowing from there on, and gas stations/restaurants were just slightly busier than normal. I was pleased that we would make it all the way to the centerline of totality (at Goreville) with no real problems to speak of - a far cry from the gridlock nightmares we all expected and prepared for. And even better, the upstream clouds in southern Missouri had completely mixed out, meaning that the entire region all the way to St. Louis would be free of mid and high clouds. Things were turning out about as good as we could have hoped for.
The challenge with southern Illinois is that it is a heavily forested region, with very few open areas for sky viewing. We used satellite imagery of the terrain to locate roads that crossed large fields, and thereby were able to find an excellent spot. Our wide-open, near-360° viewing location was on a dead-end gravel road at the crest of a small hill south of Goreville, just a half-mile from the eclipse centerline. We arrived an hour before first contact (the moment the moon initially starts moving across the solar disc), all that was left to do was wait.
As we began looking through our eclipse glasses to watch the moon first encroach on the solar disc, a cumulus cloud field began bubbling up from horizon to horizon. This wasn't initially of much concern, but made me more nervous as the clouds grew in size and number with each passing minute. Congested cumulus clouds to our south and north pushed higher and higher toward thunderstorm levels. My cloud anxiety, which began years before the eclipse and lasted through watching the models a week before, was to continue to literally seconds before totality.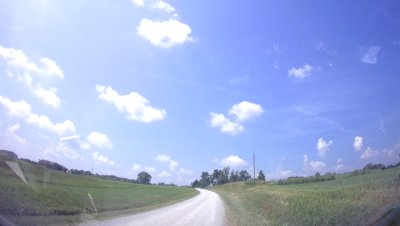 I went ahead and set up all of my cameras. I had decided to take the advice of eclipse-observing veterans and not put much thought into photography perfection, opting instead to just set some static shots up and do more watching than keeping my face in a viewfinder. The plan was three static video cameras that needed no attention, and one DSLR to get a handful of 50mm and 10mm shots. Nothing more.
We passed the time watching the moon slowly make its way across the solar disc, taking a few shots through the eclipse glasses.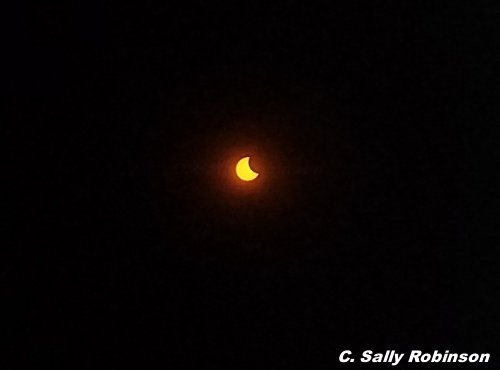 As the moon approached 50% coverage of the sun, we began to notice a distinct change in the character of the light all around us. This was something I had read about, but didn't expect to be so striking. It was a very hard to describe - an eerie, even unsettling muting of what *should* be full sunlight. The shadows seemed different. I took some stills of this, but they really don't capture the effect. It was almost as if the color temperature of the sun was changing, as if someone switched from an incandescent light bulb to an old fluorescent tube. It felt a little like being inside of a model train layout under an old basement light fixture. This effect grew more prominent as totality approached.
Dad pointed out the crescent shadows from trees along the road created by the almost completely-obscured sun about 10 minutes before totality: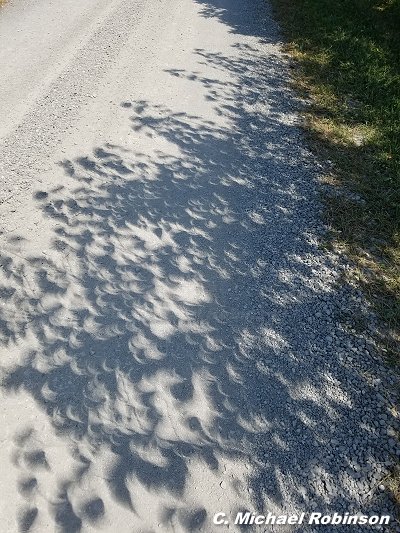 Meanwhile, the cumulus clouds continued their spiking of my anxiety levels. 35 minutes before totality, a large cumulus cloud moved in front of the sun and took more than 10 minutes to move away. The clouds were moving agonizingly slow, and the upwind atmosphere contained enough clouds to be a major concern. Any of them could easily block the entire totality phase of the eclipse. I was preparing to jump back into the car and get us 10 miles down the road if needed. Moments later, it looked as if we'd be OK. The partial eclipse was having a clear effect on the cumulus clouds - they were diminishing in size and number all around us (the timelapse from the dashcam and GoPro shows this well). We could feel the temperature dropping quite noticeably, and a light north breeze started picking up.
Only isolated clusters of clouds were left. But one such mass made a last-minute reach toward the sun, with ten minutes to go. The cloud was tiny, but its visible speed and path of movement made it clear it was going to block totality. Possibly all of it! In panic and utter disbelief, my cloud anxiety peaking after more than a week of intensive forecasting and planning, I exclaimed that we needed to be ready to get back in the car and move - fast.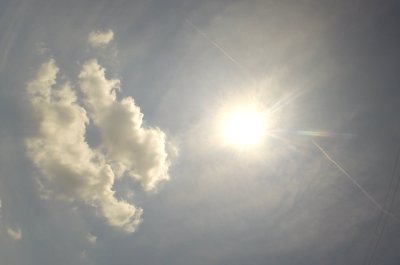 I didn't think we'd be able to make it to another viewing spot in time, so I paused. That moment of indecisiveness sealed it. We were now less than two minutes from totality, and there was no way we'd be able to move in time. We were then simply at the mercy of the atmosphere.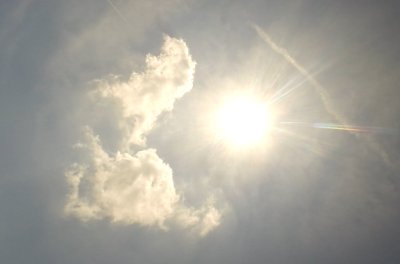 The cloud made its final attempt to steal the show from us, then at the last second, it just vanished as totality began. Anxiety and panic turned to relief, wonder and amazement all at once. We'd made it!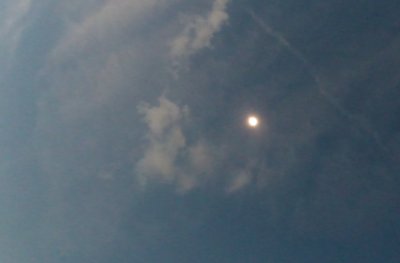 The eclipse had cleared out the clouds for us. The spectacle was now ours to enjoy for the full 2 minutes and 40 seconds - and enjoy it we did.
With our 360° view, we could see that the eclipse had eliminated a huge path of clouds, with towering cumulus far to our north and south at the edges of the moon's shadow. The light illuminating the road is the car's automatic headlight system, which activated just before totality.
After totality, I walked down the road to capture a few more images of the crescent leaf shadows:
About 10 minutes after totality, we packed up and headed out to Paducah in the midst of increasing traffic. Dad had a 2-day meeting in Lexington, Kentucky - the plan was to drop him off at the rental car place in Paducah, then he'd make his way to Lexington while Mom and I headed back to my place. She'd then drive to Lexington 2 days later to meet up with him on the way back to Pennsylvania.
After we parted ways, we discovered that the traffic apocalypse was indeed happening - just after the eclipse, not before. This wasn't surprising, as everyone was leaving at the same time as opposed to arriving gradually over a 2-day period. Google maps showed the roads lighting up red with jams all throughout the totality path and just outside of it. My route back took us back into Illinois, then due west to Route 3, which we followed to Gorham. We then used Illinois' plentiful network of county roads - some paved, some gravel - to make it back to my place in New Baden. We only encountered one jam south of Coulterville, a major one with a line of cars extending to the horizon - however, the adjacent county road network got us past it easily. Our trip from Paducah took 3 and a half hours, normally a just over 2-hour drive using the interstates (I-57 and I-64).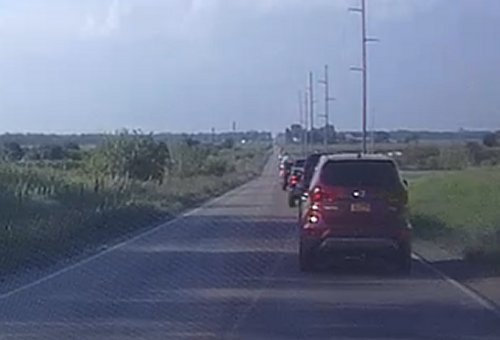 Traffic south of Coulterville, IL
East of Paducah, Dad was not so fortunate. The Western Kentucky Parkway was at a near-standstill. He diverted onto adjacent county roads, but encountered similar conditions on them as well. The Kentucky road network in this area is not as dense as in Illinois, and his route took him past Hopkinsville, one of the "hotspots" for visitors due to it being the location of greatest eclipse. He left Paducah at 2:30PM, and didn't arrive in Lexington until after 11PM. A just-under 4 hour drive took 8 and a half hours.
Meanwhile, my brother and his family were enjoying the eclipse in downtown Columbia, South Carolina. They faced similar cumulus cloud threats there, but the weather ultimately cooperated for them as well (aided by the eclipse's surface cooling effects).
All in all, this was an experience of a lifetime, and I was very blessed to be able to share it with my parents. We are looking forward to doing it again in 2024.
Videos
Other observer accounts from this event:
All content © Dan Robinson. All usage requires a paid license - please contact Dan for inquiries.

Web Site Design and Internet Marketing by CIS Internet