Memorial Day weekend tornado outbreak: Supercells produce tornadoes in Kansas, Oklahoma: May 29, 2004
EXPEDITION VIDEO: Anticyclonic tornado near Calumet, OK: Watch video
CALUMET, OK - May 29 brought quite possibly the most dramatic tornado outbreak of the season so far in the Great Plains. The following is a journal of the day's expedition. Times (CDT) are approximate. Photos can be enlarged by clicking on each thumbnail image.
With our last trip being as short one back on May 26, we were rested up and ready for another few days of observing over the Memorial Day weekend. Saturday's setup was forecast well in advance, and looked to be significant. A dryline would be punching into an extremely unstable atmosphere out ahead of it in central Oklahoma and Kansas. With plenty of vertical shear and upper-level energy added to the mix, the day looked to be a sure bet for long-lived supercells and multiple tornadoes.
We (Dave Crowley, Justin Teague, Grant Johnson, Kristal Kissinger and I) left Tulsa in a two-vehicle convoy with plenty of time to spare. Our target was in the areas roughly from Enid / Wichita / Ponca City, along the Kansas/Oklahoma border. Our first stop was at a roadside restaurant at Blackwell, where we perused data and discussed the situation with other storm observers. Our target still looked to be the best area, and as we were practically there already, were in no hurry to move. We finally decided to drift west toward Alva where we felt storms would begin to organize once they developed. As we drove west, cells began to show up on radar in the Texas Panhandle, along the western Oklahoma border. We eventually decided to drift south to get in front of a cluster of cells that we felt would morph into a single supercell as the afternoon wore on.
Our storms started out messy and remained that way for most of the afternoon, with anything photogenic being buried in precipitation. We kept dropping south to keep the tail-end cell in view, which at one point exhibited impressive structure near Putnam as it became tornado warned for the first time. We stopped to film briefly, but rain quickly forced us back on the road. A new cell to our south was merging with our storm immediately to our east, making us wait south of Putnam for a swath of very large hail to pass before continuing southeast. The view to the east was impressive, with rock-hard convection overtop of a brilliant rainbow. To the west, the sky was clear and cloudless - a classic dryline.
West of Custer City on Highway 33, huge hailstones, some grapefruit and baseball sized, littered the ground and the road. We didn't have much time for sightseeing, but we did stop breifly to admire the hail and pick up a few stones before resuming the expedition eastward. I picked up four baseball-sized stones and tossed them in the back of the truck, intending to photograph them the first chance I had.
An angry wall cloud was visible to the east-southeast, so we dropped south a mile or so, then east to approach it from the back side. We eventually made it right alongside the lowest portion of the wall cloud just south of Thomas, where very rapid rising motion was occuring several hundred feet to our north. The scud tags were almost dragging the ground before rocketing up into the updraft. The motion was incredible. We stopped to video this feature for a minute or two before continuing east.
About a half mile later, we reached Highway 54 as spotter reports of a tornado at our location came over the radio. Turning south, we encountered toppled power lines less than a mile from where we originally stopped.
Now came the big frustration of the expedition - for us, as well as most storm observers who were also on this storm: the Canadian River. The only river crossings were far to the north and far to the south. The northern route would put us north of the storm and in an unfavorable position to re-intercept the updraft. The southern route, all the way to Interstate 40, wasn't much better except that it would keep us south of the storm. We had no choice but to drive all the way to I-40, then drive east all the way to Hinton where we could then re-approach the storm from the south.
The jaunt eastward on I-40 was both annoying and incredible. It hurt to have to drive so far away from a storm that we were so close to. We were now far south of the cell and could see some of the structure. Inflow winds were phenomenal, with jets of stronger inflow kicking up endless bands of dirt and dust across the landscape. It was difficult to drive in the insane crosswinds. The base of the storm from this vantage point was red and brown with dust. We were running low on fuel, so we did a frantic fuel-up at Hinton before moving north to Geary.
Upon arriving at Geary, we encountered a massive amount of storm observers along the road. We drove up to the southern city limits of Geary as a tornado was reported on the north side of town. All we could see was a mass of rain to the west and north. Suddenly the strongest RFD I've experienced hit us with winds exceeding 100MPH - rocking our vehicles, sending debris across the road, bending power lines and poles, and snapping tree branches ( RealVideo clip, 971KB ):
Video capture: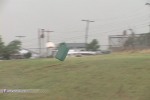 I winced, expecting my driver's side window to go any second as the wind roared outside - inches from my left ear. My anemometer measured maximum gust of 114 MPH, and I later discovered that the blast had broken the rotor on the device - and it didn't work right since. The lack of hard debris hitting our vehicles was likely what saved our windows. We quickly retreated south on 281, then jumped east and north on gravel roads until we reached Highway 270, ahead of the circulation.
At Calumet, we turned north and cautiously inched toward the rain-encased updraft, straining to see what might be approaching from the west. After making a few turn-arounds, we finally spotted a funnel just to our southeast:
Video captures:
We gave chase, positioned just behind and to the north of the circulation. Soon, a debris cloud appeared on the ground as a thin funnel extended downward - tornado! ( RealVideo clip, 1.8MB )
Video captures:
At the time, we didn't realize it - but we were witnessing a rare sight. Later video from other storm observers confirmed this tornado was anticyclonic, spinning clockwise. The vast majority of tornadoes in the northern hemisphere rotate counterclockwise. What a privelege it was to see this in person!
We stayed in the same location relative to the tornado, keeping just under a mile to its northwest. At one point, the tornado intensified as condensation filled in to the ground:
Video captures:
Seeing a brief opportunity, I stopped to snap a few 35mm slides:
Video capture:
35mm slide:
Though the condensation funnel is not all the way down in the above shot, this is still a tornado - debris is still swirling on the ground. We decided to drop south of the tornado and try approching it from the south. We encountered trees on the road as we crossed the fresh damage path:
Video capture:
The circulation produced intermittent tornadoes for the next hour. Funnels were invisible from our vantage points as the evening progressed, but a funnel-less circulation would occasionally reach the ground and send debris flying. Near Concho, we noticed trees becoming airborne about a half mile to our north, and so we quickly stopped to film ( RealVideo clip, 1.4MB ):
Video capture:
A brief swirl of white condensation appeared on the ground once as we watched, and a brief roar sounding like reverse thrusters of a jet engine was clearly audible.
The storm didn't produce much else in the way of anything photogenic for the rest of the night, though we did see a possible funnel and power flashes near Piedmont after dark:
Video capture:
Not wanting to observe storms after dark, we called it a day and headed to Arby's in Yukon for dinner. I looked in the back of my truck for the hailstones, but alas, they had completely melted. Tomorrow would bring another outbreak setup to Missouri and Illinois, so this would be my ticket back home to West Virginia.
In the meantime, our storm wasn't anywhere near giving up. It continued north of Oklahoma City and up I-44 toward Tulsa, with reported tornadoes still in progress. I needed to cover some serious miles if I was going to be able to observe storms Sunday afternoon in Missouri, but I had a tornadic supercell in my way on I-44. Since I had WxWorx radar running, I finally decided to see if I could beat the meso across the Turnpike, and carefully headed east. The toll operator was waving people through the toll plaza, announcing "A tornado is coming - go on through!" to every car. Well, at least this storm saved me $3.75 in tolls.
I saw a lot of storm observers driving east with me. I could see the base illuminated by lightning to my north, but never saw any funnels. I made it to Tulsa well ahead of the storm, about 45 minutes before it crossed the Turnpike at Sapulpa. I stopped briefly at Dave Crowley's place in Broken Arrow to watch the unfolding drama on Channel 6, where spotters reported tornadoes on the ground and power flashes in the Tulsa area.
As exciting as this was, I didn't want to be caught in the Tulsa metro area with a tornado in progress. Normally I would have stayed, but I had to get east if I was going to have any chance of observing Sunday on a decent night's rest. It was already well past midnight and I knew if I stayed, I may get stuck in Tulsa for several hours, losing valuable sleep and/or not making it to tomorrow's target in time.
I finally made it to Joplin by 3AM, where I checked into the Drury Inn in preparation for tomorrow's expedition.
NEXT EVENT: High Risk bust in Missouri on May 30
This web site is made possible by support from CIS Internet.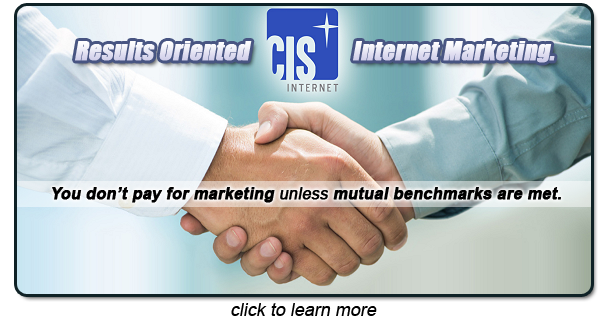 GO: Home | Storm Expeditions | Photography | Extreme Weather Library | Stock Footage | Blog
Featured Weather Library Article:
All content © Dan Robinson. All usage requires a paid license - please contact Dan for inquiries.

Web Site Design and Internet Marketing by CIS Internet