St. Louis Tornadoes & Severe Storms: Facts, History & Frequently Asked Questions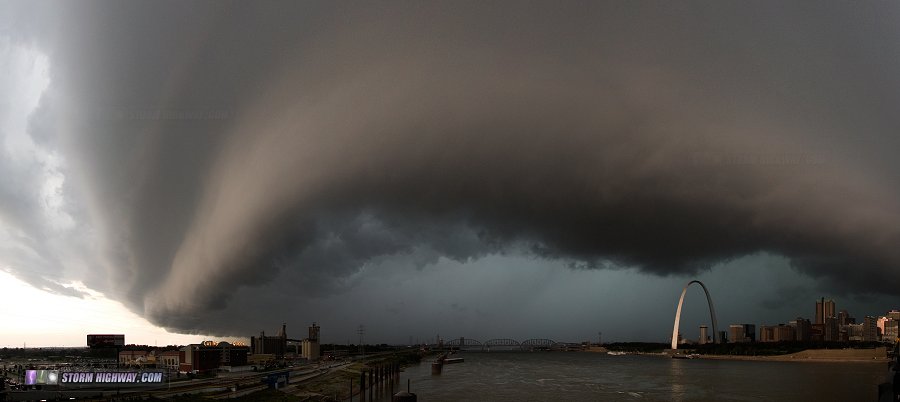 A severe thunderstorm rolls over downtown St. Louis in October of 2014.
St. Louis has a long history of tornadoes and severe weather going back to the city's earliest days. In this article, we'll look at some of the historical events, data, myths and facts about severe weather in the region.
In this Article:
Is St. Louis part of "Tornado Alley"?
Short answer:
Yes!
Long answer: Tornado Alley a colloquialism (not an officially recognized term) describing the part of the United States where tornadoes - specifically strong and violent ones - are most common. You might think of Tornado Alley as encompassing the Great Plains region of the central United States, focused on Oklahoma, Kansas, and Nebraska. But in reality, true "Tornado Alley" is much larger. This map shows all tornado tracks in the U.S. from 1950 to 2016: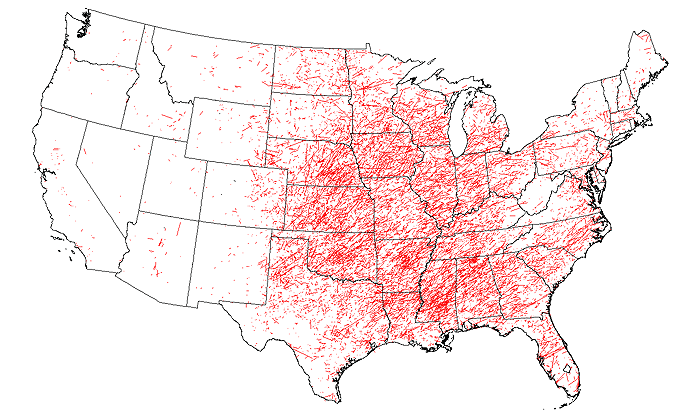 All tornado tracks, 1950 to 2016. Source: NOAA SPC
To be accurate, "Tornado Alley" could be defined as the region between the Rocky Mountains and the Atlantic Coast, with a few minimums in the Appalachian mountain regions. Of the top 10 worst tornado outbreaks in US history, all but 2 were outside of the Great Plains, happening instead in the Midwest and South - and in most cases, east of the Mississippi River [
1
].
So, to answer the original question, yes, St. Louis lies squarely within this expansive zone of elevated tornado activity. For those who call this region home, it's no secret that tornadoes have been a part of St. Louis life for as far back as our records go. In fact, the metro area and surrounding region have seen some of the worst tornado disasters on record in the United States. Strong and violent tornadoes have struck the heart of the city before, and are certain to happen again.
How many violent tornadoes have happened in the St. Louis region? Has there ever been an F5 in St. Louis?
While no F5/EF5 tornadoes have yet occurred in the immediate St. Louis area, there have been 12 F4/EF4s in our period of recorded history. Two of them have impacted St. Louis City, 6 have occurred inside St. Louis County. This map shows the tracks of these violent tornadoes in and around the metro: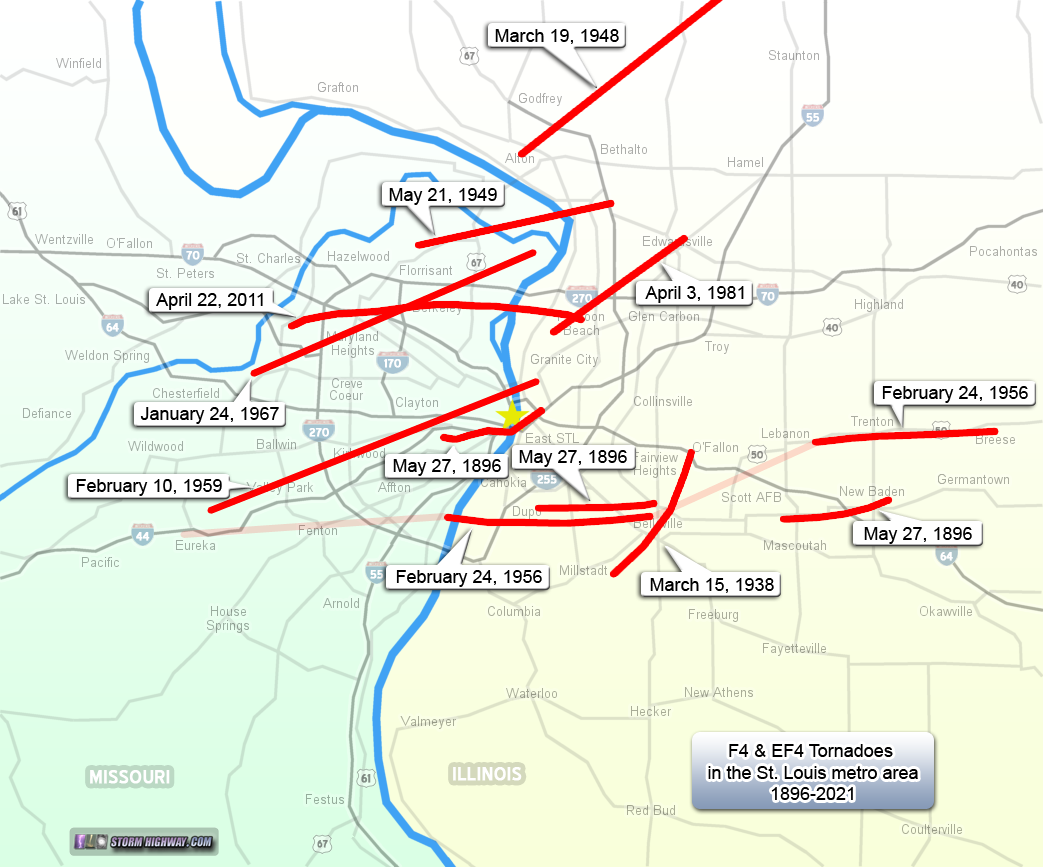 * Lighter-shaded portions of tracks mark where evidence is inconclusive on whether the path was one continuous tornado or one or more separate tornadoes.
Some facts and figures on F4/EF4 tornadoes in the St. Louis metro include:
Our most recent EF4 was the April 22, 2011 Good Friday tornado which tracked across north St. Louis County.
The average recurrence of an F4 tornado in the St. Louis metro area is once every 14 years.
The shortest interval in between F4 tornadoes in the St. Louis metro was 1 year and 2 months (1948 to 1949).
The longest interval between F4 tornadoes was 42 years (1896 to 1938).
3 of the 12 F4 tornadoes in the St. Louis area happened on one day, May 27, 1896.
Belleville, Illinois has been hit by the most F4 tornadoes (3) of any municipality in the St. Louis metro area, the most recent occurring on February 24, 1956.
You have to go 70 miles southeast from St. Louis to find the nearest F5 tornado tracks - and there are two of them in nearly the same location. The Tri-State Tornado in March of 1925 crossed the current I-55 south of Perryville, MO and tracked northeast through Murphysboro and De Soto, IL. Another F5 struck the small town of Sunfield, IL in December 1957, about 15 miles northwest of the Tri-State tornado path.
How many F3/EF3 tornadoes have happened in the St. Louis area?
Now, let's add F3/EF3 tornado tracks to the map: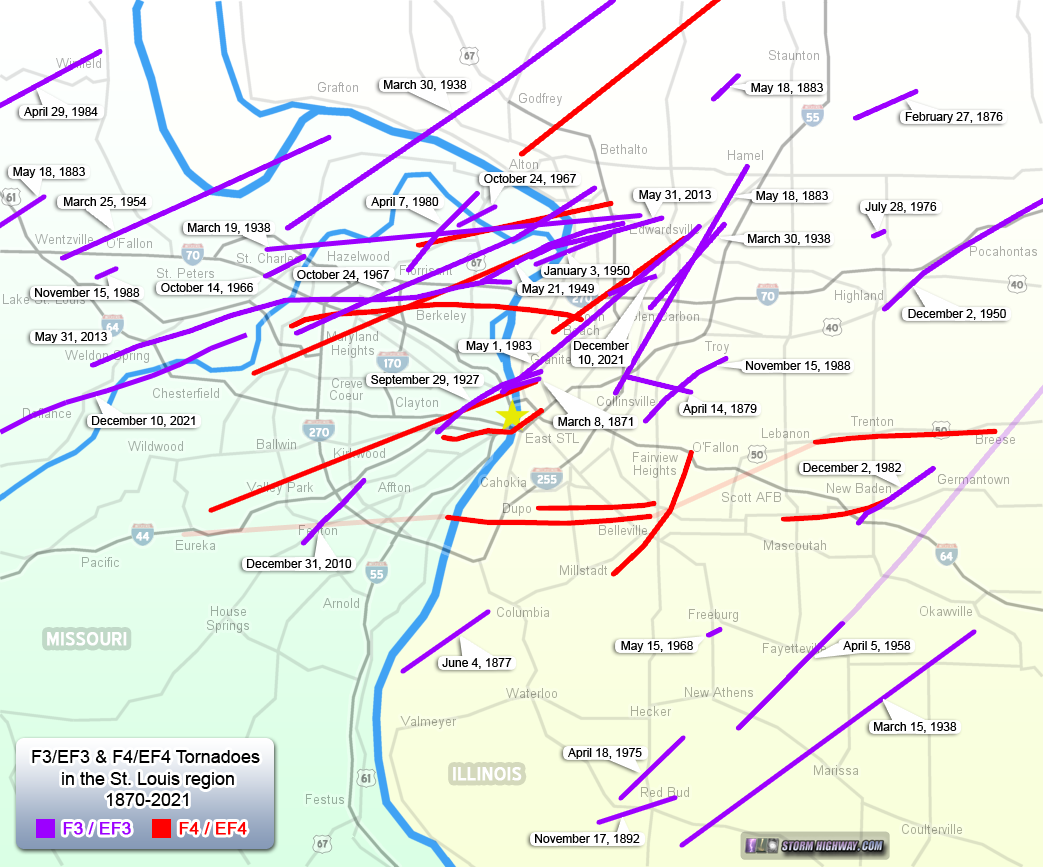 Some facts and figures on F3/EF3 tornadoes in the St. Louis metro include:
Two F3s have hit St. Louis City, while 10 have occurred in St. Louis County.
Our most recent EF3s were during the December 10, 2021 outbreak when tornadoes struck Defiance, Missouri and Edwardsville, Illinois.
The average recurrence of an F3 tornado in the St. Louis metro area is once every 5 years.
The shortest interval in between F3 tornadoes in the St. Louis metro was 4 days (March 15 to March 19 in 1938).
The longest interval between at least F3-rated tornadoes was 31 years (1896 to 1927).
The period with the most F3/F4 tornadoes was March 15th through the 30th in 1938, during which there were 5 total - 4 F3s and 1 F4.
How many tornadoes overall have occurred in the St. Louis area?
Finally, we'll add the rest of the tornado tracks on record (F0-F2) since 1800 to the map: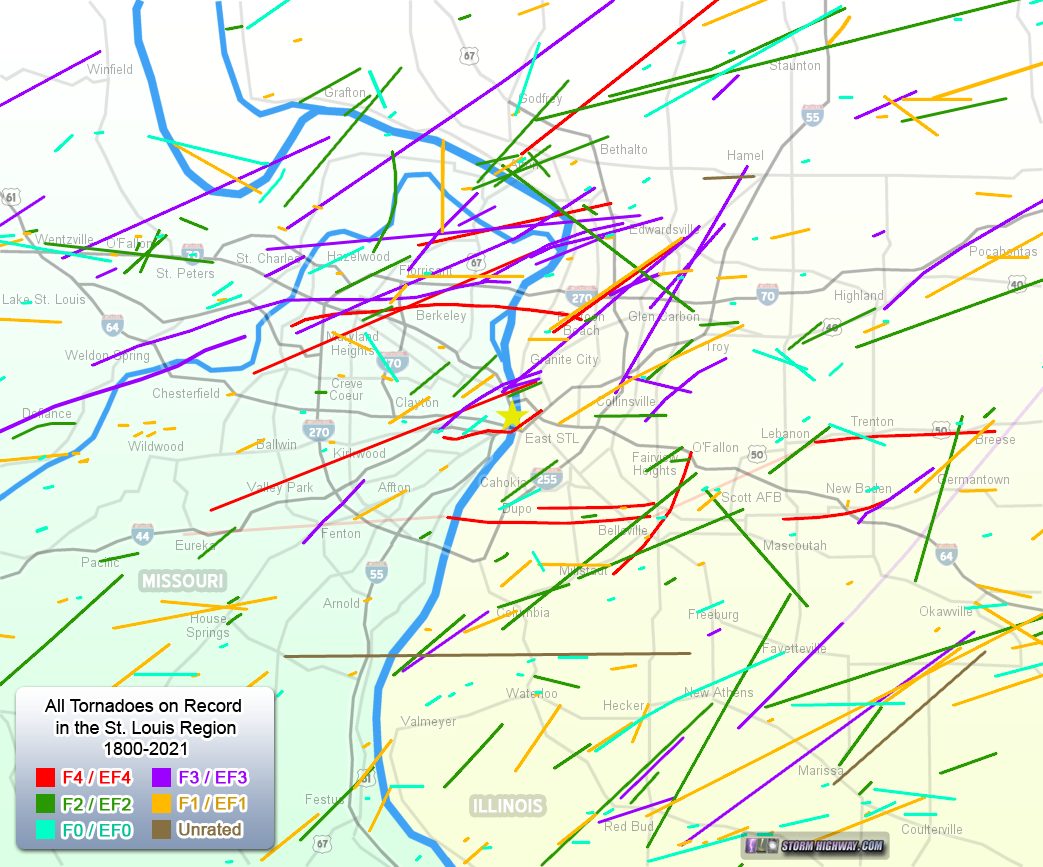 Outside of St. Louis City and County, it is subjective what is considered the "metro area". Most definitions include all of the counties in and surrounding the main population center - this would include St. Louis City and County, Lincoln, St. Charles, Franklin and Jefferson Counties in Missouri, and Calhoun, Jersey, Macoupin, Madison, St. Clair, Clinton, Monroe counties in Illinois. In other words, roughly the area shown in the maps above. Using this county-defined boundary of the metro area, the tornado count is as follows:
If we count all of the tornadoes that have ever been recorded in the St. Louis region from 2021 back to 1800, the number is 325.
49 of these tornadoes occurred inside of, or passed through, St. Louis County.
14 of the tornadoes occurred inside of, or passed through, St. Louis City.
If we start at 1950 when more consistent tornado recordkeeping began, the metro area-wide number is 271.
The 1950-2021 total results in an average of 3.8 tornadoes per year in the metro area.
From 1950-2021, a tornado has affected St. Louis City an average of once every 8.9 years.
From 1950-2021, a tornado has affected St. Louis County an average of once every 2 years.
Having stated the above, one must keep in mind that the question of exactly how many tornadoes have occurred in the St. Louis metro is impossible to answer with any certainty. That's because the quality of reporting and recordkeeping of tornadoes in the United States generally gets worse the farther back in time you go. Prior to 1950, only the strongest and most devastating tornadoes tended to make their way into the history books.
We have a fairly good record of historical F3 and stronger tornadoes in the St. Louis area, since they caused so much damage and made headlines across the region. It's a different story, however, for lower-end tornadoes. There are very few historical accounts of smaller and otherwise inconsequential tornadoes akin to the EF0s and EF1s commonly recorded today. Much of this has to do with the fact that the population across the Midwest region was quite sparse in the early 20th century. There simply wasn't much for tornadoes to hit, very few people around to see them and no system in place for people to report them even if they did witness one.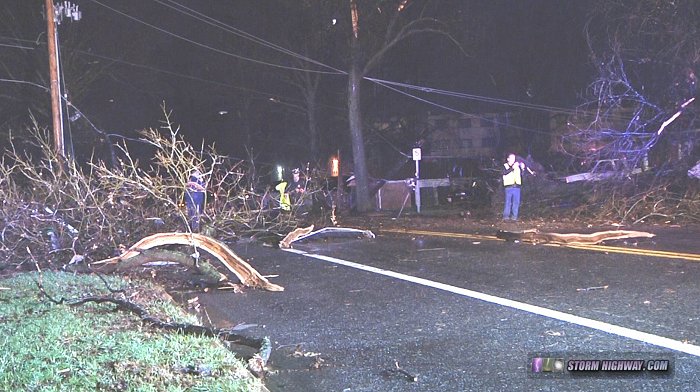 Damage from an EF1 tornado in University City in April 2014.
Even past 1950 when more detailed tornado recordkeeping began, populations in the rural Midwest were still sparse enough that many small tornadoes simply didn't get noticed or officially reported, even if they were seen. As the years marched on, greater numbers of tornadoes made their way into the record books. As the population grows and communication technology improves, it's becoming increasingly rare for a tornado to go unnoticed and unreported, even in rural areas.
The data shows the effect of the lack of reporting in those early years: only 54 tornadoes were recorded in the metro area in the 80-year period from 1870 to 1950, with nearly 5 times that amount reported in the 70 years following. There has been a marked uptick in tornado reports just during the past 30 years in the United States. The number of tornadoes hasn't been increasing, it's just that fewer are going unrecorded.
Has a tornado ever gone through downtown St. Louis?
Yes -
the May 27, 1896 St. Louis F4 tornado
passed over the southern part of downtown, crossing the Mississippi River into Illinois directly in front of where the Gateway Arch now stands. We'll cover this event a little more in the section about
St. Louis' worst severe storms
below.
When is tornado season in St. Louis?
The majority of strong and violent tornadoes in the St. Louis area happen during
meteorological spring
(March 1 through May 31). However, there is no true "off season" for severe weather in our region! A third of the violent (F4/EF4) tornadoes on record, and one-fifth of the strong tornadoes (F3/EF3) happened during the months of meteorological winter (December 1 through February 28). Fall also brings another prominent spike in activity:
Season
F4/EF4
Tornadoes
F3/EF3
Tornadoes
Winter*
(December-February)
4
7
Spring*
(March-May)
8
19
Summer*
(June-August)
0
2
Fall*
(September-November)
0
7
Total
12
35
* Meteorological seasons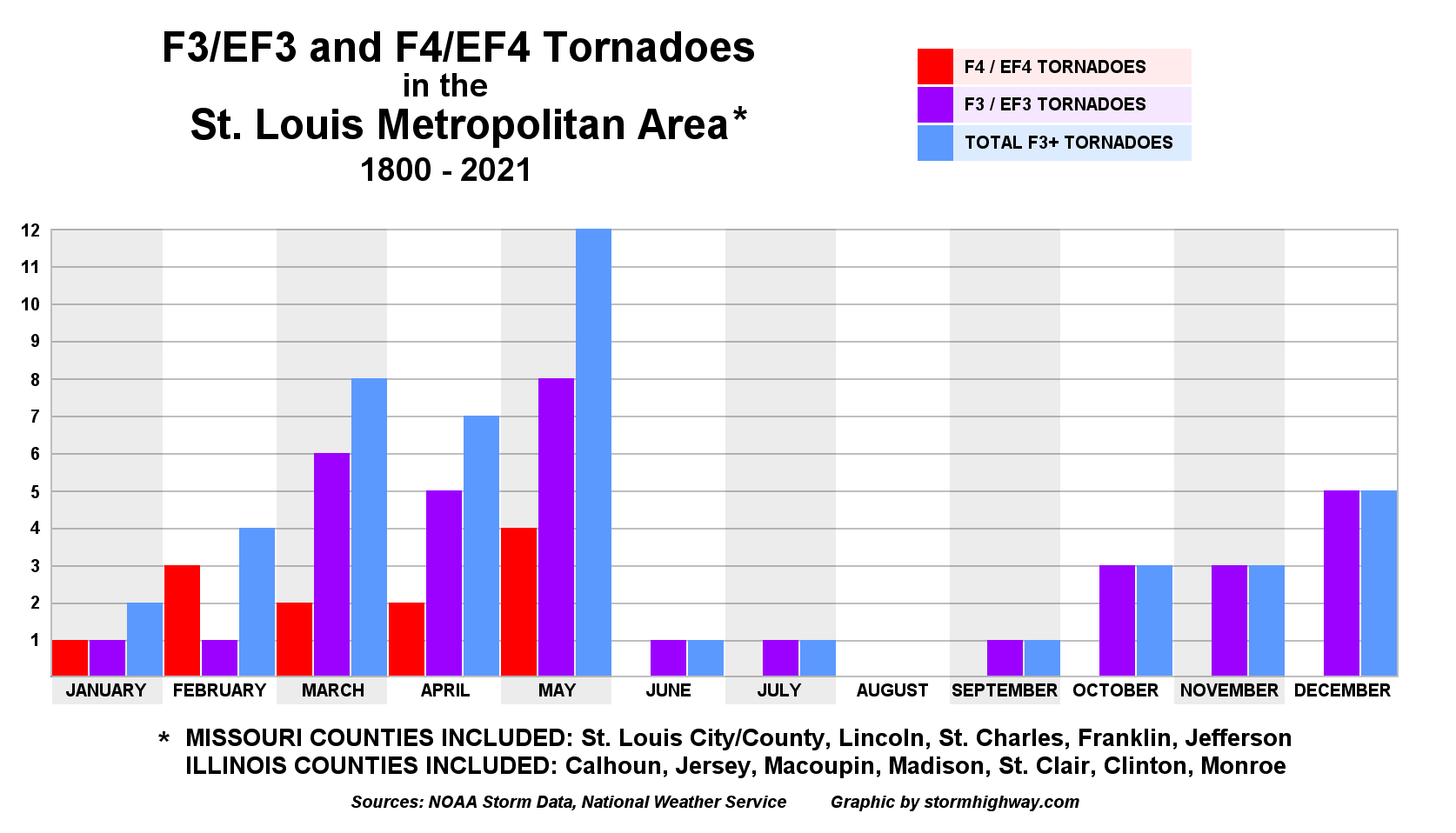 Storms are common in St. Louis during the summer months, so why are there so few tornadoes that time of year? Organized thunderstorms need
wind shear
to be most effective at producing tornadoes. Much of this shear is provided by a
jet stream
aloft: a corridor of fast winds higher in the atmosphere. The midlevel and upper-level jet migrates northward during the spring, leaving weaker wind fields across the Midwest during most of the summer months. To date, there has never been an F3/EF3 or stronger tornado in the metro area in the month of August.
Strong and violent tornadoes can still happen in the summer, however. One of Illinois' worst tornado disasters - the Plainfield F5 - happened in August, and the Roanoke, IL F4 hit in July.
What are the worst storms to hit St. Louis?
Severe storms bring not only a tornado risk to the St. Louis region, but also a threat of significant hail and wind. These are the city's worst events involving
convective severe weather
(excluding floods and winter storms):
The May 1896 Tornado Outbreak: The May 27, 1896 tornado outbreak was by far St. Louis' worst natural disaster (see its tracks plotted on the maps above). At least two supercell storms produced three violent F4 tornadoes in the metro area.

The worst of these three F4s, referred to as the "Great Cyclone of 1896", struck the heart of St. Louis. Detailed damage maps show that this tornado was a "wedge", approximately one mile wide at its peak strength in the heart of the city and as it crossed the Mississippi River downtown. While no actual photos of the tornado exist, it probably appeared similar in shape and size to this F4 in Crosstown, Missouri in 2006:


F4 wedge tornado after striking Crosstown, MO in September 2006, likely similar in appearance to the 1896 event. click for video

The tornado killed at least 255 and injured 1,000, and is currently third place in the deadliest tornadoes in U.S. history. By some metrics, this tornado might be the costliest in US history when accounting for inflation and overall economic impact [2].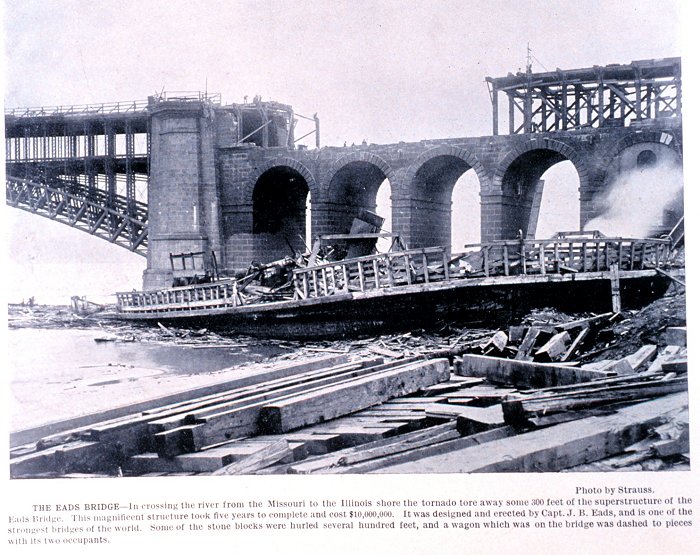 The 1896 tornado ripped part of the decking and structure from the Illinois side of the Eads Bridge. (From the NOAA Photo Library)
One of the other two tornadoes in the outbreak destroyed a large part of New Baden, Illinois 25 miles to the east of St. Louis, killing 13 people.
September 29, 1927 F3 tornado: St. Louis' second-worst storm in terms of human casualties was the tornado of 1927. While not as powerful as the 1896 event, this tornado killed 78 and injured 550 as it cut a path just west and north of downtown.

February 10, 1959 - EF4 tornado: Another example of St. Louis' never-ending storm season was the violent 1959 tornado. Striking well after dark on a winter night, it caught the city by surprise. 21 people lost their lives and 345 were injured.
The Tristate Hailstorm, 2001 (costliest hail event on record in the U.S.): The worst hailstorm on record in the United States (in terms of total damage losses) struck St. Louis directly. It happened on the afternoon of April 10, 2001 when an intense "HP" (high-precipitation) supercell thunderstorm tracked generally along I-70 from near Kansas City through the St. Louis metro area. The storm dropped hail up to and exceeding 3 inches in diameter in a fairly continuous swath across Missouri. Even where the hail was smaller, high winds propelled the hard stones sideways into cars, homes and buildings, causing extensive and widespread damage within the storm's swath.

Insured losses topped $1 billion, a figure that, when adjusted for inflation, to this date not matched by any other hail event in the country. The storm also produced several tornadoes during its lifespan that produced $12 million in damage in Missouri.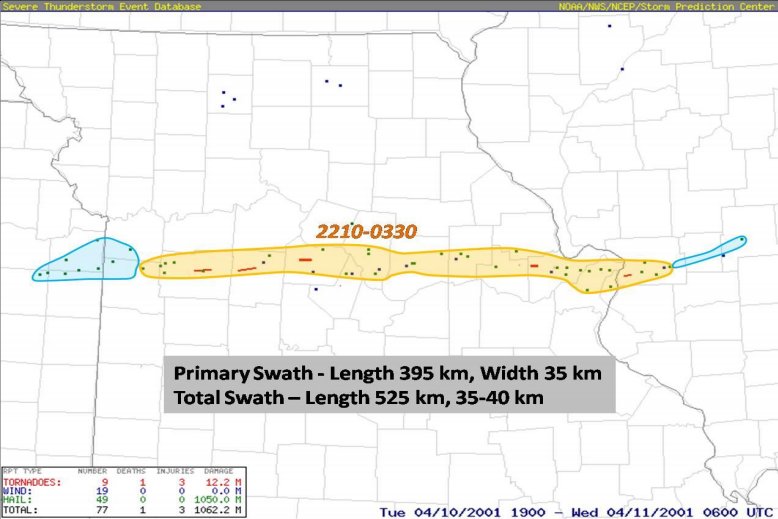 Hail swath of the 2001 storm. Source: NOAA NWS
The Great St. Louis Metropolitan Hail Storms, 2012: St. Louis suffered not only the costliest hail event in U.S. history, but also the 2nd costliest! The 2012 storms, another family of HP supercells, formed on the afternoon of April 28 just to the west of the metro area. Intensifying as it moved across the city and into Illinois, the first storm dropped hailstones bigger than baseballs that caused significant damage to vehicles, roofs and siding. The storm killed 1 and injured 100 when its winds collapsed a tent at a sports bar near Busch Stadium. One person in Washington Park, IL suffered a broken hand from a direct strike by a large hailstone, a very rare type of storm injury.

More storms traversed the metro area following the first one, producing hailstones similar in size to the initial cell. Insured losses from the event came in at over $1.6 billion.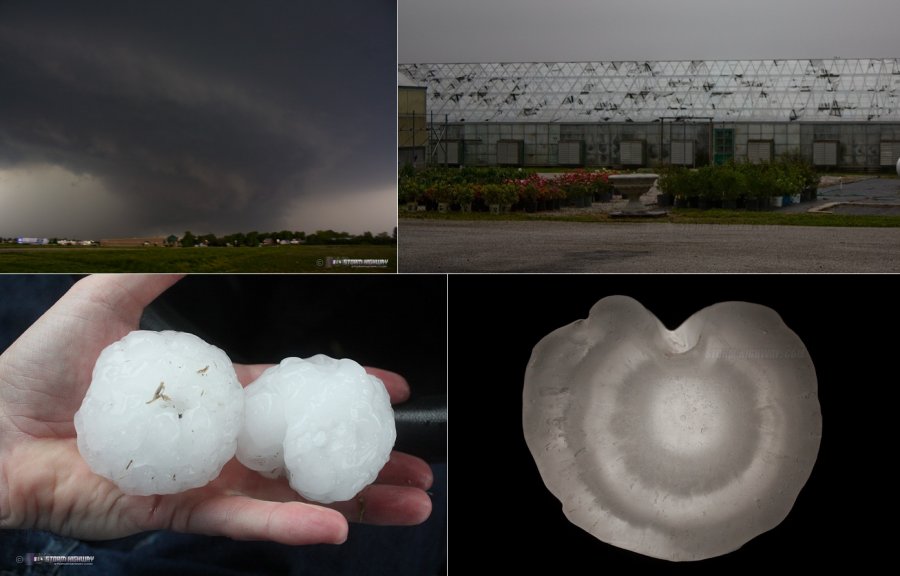 January 24, 1967 - EF4 tornado: Another wintertime event, the 1967 tornado tracked from Creve Coeur to Spanish Lake, killing 3 and injuring 216.
The March 1938 Tornado Outbreaks: A series of three tornado outbreaks in the lower Midwest in March of 1938 (on the 15th, 19th and 30th) each resulted in at least one strong to violent tornado in the St. Louis metro. The deadly F4 that struck Belleville, Illinois on March 15 killed 10 people, and was captured on film (possibly the earliest known image of a tornado in our region):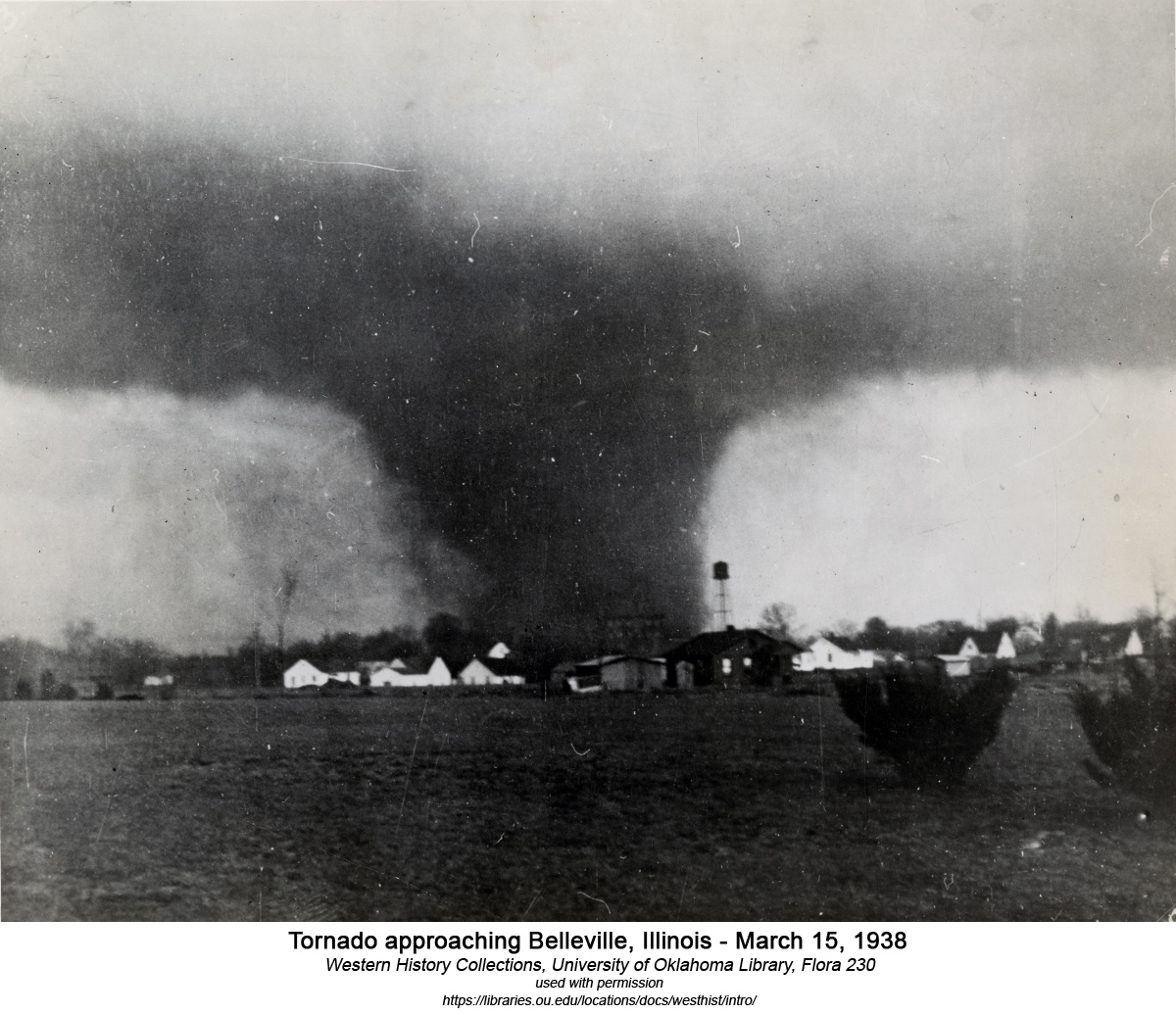 The Derecho of July 2006: On the evening of July 19, 2006 during an extended heatwave affecting the Midwest, a cluster of severe thunderstorms formed far to the north in Iowa. The storms unexpectedly turned southward and took a direct aim on the St. Louis metro area. The storms, which had organized into a long-duration, long-distance severe wind event called a "derecho", plowed through the city at 7:45pm with winds in places exceeding 80mph.

Significant tree and power line damage was widespread, along with long-term power outages that affected more than 1.2 million people. 1 person was killed and 30 were injured. The storm's impacts extended into the days following, with the long-term power outages affecting commerce, travel and most importantly air conditioning during the oppressive heat.
Are there tornado "mini-alleys" in the St. Louis metro? Are some parts of the city safer from tornadoes than others?
Looking at the historical maps shown above, some remarkable clusters of tornadoes with similar tracks close together are apparent, most notably in northern St. Louis County. As intriguing as this looks, to the best of our knowledge these are most likely coincidental. The location of larger-scale atmospheric features determine where tornadoes will track. These features include boundaries like fronts and old storm outflows, low pressure center tracks, and stronger and favorably-oriented winds aloft. None of those phenomena have much, if any, influence from man-made objects or small-relief terrain features like we have here in the St. Louis region.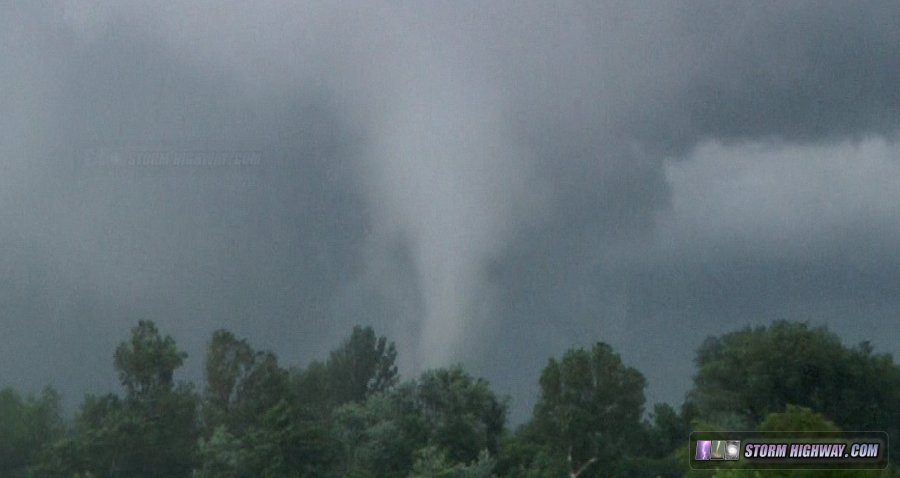 Tornado in north St. Louis county near Highway 370 in Hazelwood, MO in June 2014. click for video
Most importantly, the records are clear that strong and violent tornadoes can and do occur outside of this apparent "tornado corridor". The takeaway is that the entire St. Louis region has an equal chance of being struck by a tornado during future events, so everyone in the region should be prepared regardless of where you live and work.
Do severe storms and tornadoes pose a risk to the Gateway Arch?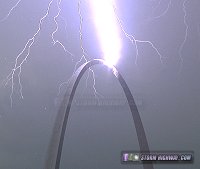 The Arch is designed to withstand winds of at least 150mph, and it is likely to survive significantly higher gusts without damage. A large violent tornado, on the other hand, could certainly pose a threat to the structure in the event of a direct hit. A tornado similar to the track and intensity of the May 1896 event (with a large area of winds exceeding 200mph) could very well inflict permanent damage to the Arch. Let's hope we don't ever see anything like that! Given enough time, though, a similar event to 1896 is inevitable: it could happen this year, 10 years, or 1,000 years from now. Preparing for such an event is critical (and not just for the Arch, but any business or home in the region).
Large hail should have little to no effect on the Arch's stainless steel outer shell. Large hailstones blown sideways by strong winds are capable of breaking the windows of the observation deck, though this risk is minimized somewhat by the inward slant of the glass.
Lightning strikes to the Arch are more common, happening once or twice a year. These pose no danger to either the structure or its occupants inside.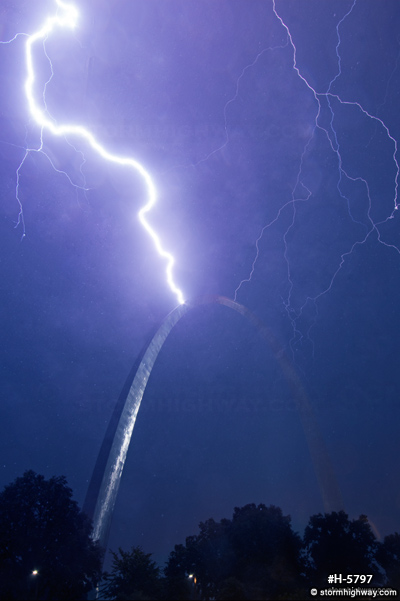 Lightning strikes the Gateway Arch. View More Photos
What would a worst-case scenario tornado in St. Louis look like?
Disaster response planning and emergency management experts generally agree that the worst-case violent tornado in any city would be an EF5 that strikes at the height of afternoon rush hour, when many people are in automobiles and stuck in heavy traffic. In St. Louis, this indeed would be the scenario of greatest concern. An EF4 or EF5 tornado strike to the city during the overnight hours or one heading toward downtown during a Cardinals game, Fair St. Louis or other large event is also one of concern to emergency response planners. One mitigating factor is that downtown, there is plenty of shelter available if sufficient warning lead time allows people to get to a safe place inside a large building. Popular locations like Busch Stadium and the Gateway Arch have their own protocols and designated shelters for when any type of severe weather threatens.
How can you stay safe from tornadoes and severe storms?
If you live in the St. Louis metro area or anywhere in the Midwest, you're in tornado country. Staying on top of the weather should be a part of your daily routine, and having a plan of action
in advance
is a must.
Have a plan: You should have knowledge of adequate shelter locations in advance.

At Home: An interior room on the lowest level is the safest place during a tornado. Mobile homes or manufactured housing units are not safe shelters - if you live in one, a community storm shelter should be available.
At Work: Most workplaces have designated storm shelter areas that employees can go to during a warning. If your workplace doesn't have a severe weather plan, ask your management to implement one.
Outside or on the Road: Being outside or in a vehicle are some of the most dangerous places you can be during a tornado. Don't get into your car and try to outrun a storm. If a tornado risk is present, stay close to shelter options and consider postponing any travel or errands. Your grocery runs can wait another day! Many commercial sites (stores, restaurants, offices) have designated tornado shelters that can include walk-in freezers, restrooms or other reinforced rooms. If you must go out, have knowledge of where these are in advance.

Outdoor events should be canceled during severe weather risk days, unless there is adequate shelter that all participants can access quickly.

Stay informed about dangerous weather: Have a way to receive timely information during severe weather events. Be on high alert on severe weather risk days and if tornado/severe thunderstorm watches are issued. Use local media (TV or radio) and verified internet sources. Keep a fully-charged cell phone with you if there is a risk for severe weather, and be ready to head for your pre-determined shelter area if a warning is issued.
DON'TS
DON'T try to outrun a tornado in your car. Cars offer no protection from tornadoes.
DON'T seek shelter from tornadoes under highway overpasses. Bridges don't offer shelter from debris, and winds can actually be faster under an overpass from wind channeling effects. Several people have died taking shelter under highway overpasses during tornadoes.
DON'T stop on a highway to protect your vehicle from hail damage during a severe thunderstorm. Stopped vehicles can cause accidents, block emergency responders and trap others in the path of a tornado.
MORE INFORMATION ON TORNADO SAFETY:
Tornado Preparation (WUSTL)
Resources
This web site is made possible by support from CIS Internet.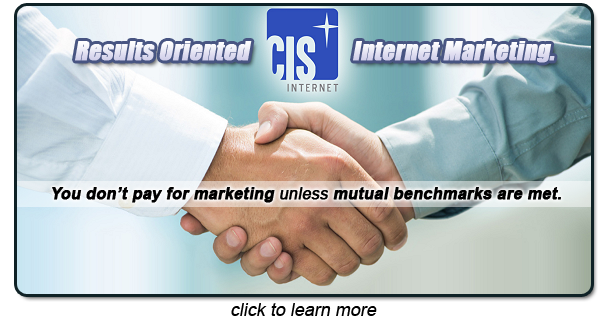 GO: Home | Storm Expeditions | Photography | Extreme Weather Library | Stock Footage | Blog
Featured Weather Library Article:
All content © Dan Robinson. All usage requires a paid license - please contact Dan for inquiries.

Web Site Design and Internet Marketing by CIS Internet