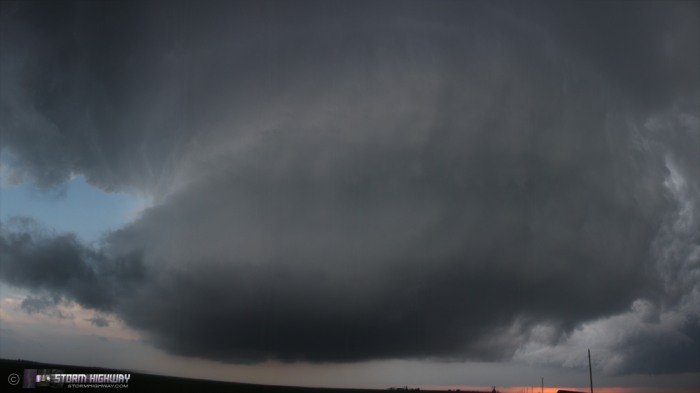 Northwestern Kansas storm structure show: April 12, 2012
ABOVE: Supercell in northwestern Kansas on April 12, 2012.
Click any thumbnail on this page to view a larger version.
ATWOOD, KS - I embarked on my first 2012 storm photography expedition at 11PM Wednesday night (the 11th), so at the start of Thursday April 12 at midnight I was rolling westbound on I-70 on the western outskirts of St. Louis. I had expected to stop and sleep for a few hours somewhere in rural Missouri, but I never got tired. So, I kept on trucking westbound all night. My original starting target for Thursday, based on 0z models, was to be in Hays, Kansas by 2-3pm to play the surface low. I expected to adjust north, south or west as needed from there depending on how the day evolved. So, the plan was to go straight west on I-70. However, as each hourly high-resolution model came in through the night, I began to question the initiation potential and moisture quality of the northern target. Furthermore, a nocturnal MCS with an expansive cloud deck developing and moving through Kansas was threatening to shorten the window for destabilization in the afternoon. So, at Kansas City, I elected to head down I-35 toward Wichita to my revised starting target in the Dodge City area, concerned I'd need to be even farther south.
I finally began feeling tired enough to sleep shortly after sunrise, and pulled off into a center-median travel plaza east of Wichita for a few hours. After a few hours of sleep, I was back on the road westbound. I arrived in Wichita about the same time as the MCS did, and finally cleared the precip at the west side of town. However, satellite showed far northwestern Kansas and eastern Colorado not only getting sun, but starting to develop a cumulus field. Not only was this area set up to destabilize more than forecast, it appeared that storm initiation was likely in a few hours. At that point, I regretted my choice to deviate from the original target, and began plotting a route back to I-70 via Hutchinson, Great Bend, Hoisington and Russell - still under a stout stratus deck.
It seemed to take forever to clear the clouds on I-70, but as I neared Oakley, blue sky and sunlight began peeking through. I was finally entering the instability axis of a Plains setup after nearly 2 years. Storms were already firing in Colorado and Nebraska, but so far had not been looking promising. I arrived in Brewster, Kansas and began a long waiting game to see if the dryline to the west was going to fire, chatting with Darin Brunin for a few minutes. More storm photographers slowly filtered in as the afternoon progressed, and after a couple of hours, about 10 of us were parked in the self-service unmanned gas station off of the highway.
As we entered our final hours of daylight, it became apparent that the day was not going to happen. I decided to just try to get some daytime storm structure with some weak cells that had fired to the north. They would likely not have opportunity to do much before soon crossing a surface boundary where cool, stable air under the cloud deck resided. However, with no other play, there wasn't much to lose to go after these.
I spent the remaining time before sunset following two of these storms to the boundary. The structure was surprisingly good. First, the first storm moved northeast and crossed the boundary near Atwood: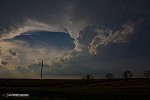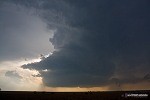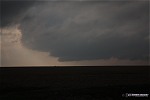 I managed to get close to the updraft of the second storm, which exhibited striking rounded barrel structure.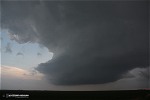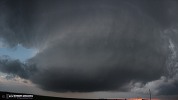 The sun began peeking through under the bases of towering cumulus to the west along the dryline, but only for a few seconds: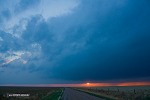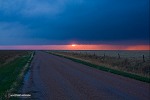 With darkness falling and the storms now north of the boundary and out of play for tornado potential, I headed back to Colby to get dinner and a room at the Days Inn. In the lobby I ran into Skip Talbot, Jennifer Brindley and Brad Goddard, who had made a similar marathon drive from the Chicago area. I took a quick look at data before heading to bed, setting my alarm for 8 oclock in anticipation for a long drive south the next day.
Other observer accounts from this event:
NEXT EVENT: Caught in a tornado in southwestern Oklahoma >>
I'have never seen a real tornado
- Posted by Piet from Holland
This web site is made possible by support from CIS Internet.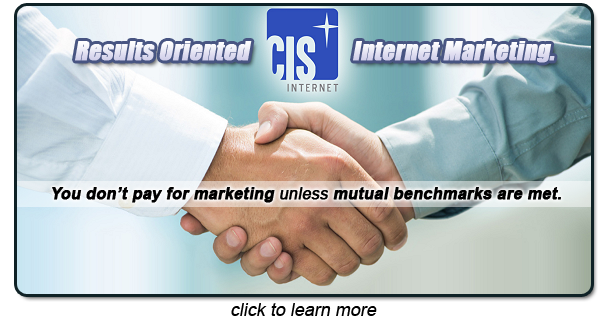 GO: Home | Storm Expeditions | Photography | Extreme Weather Library | Stock Footage | Blog
Featured Weather Library Article:
All content © Dan Robinson. All usage requires a paid license - please contact Dan for inquiries.

Web Site Design and Internet Marketing by CIS Internet