Paducah, TX supercell and wedge tornado: April 22, 2010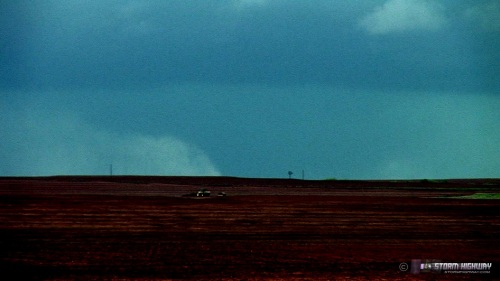 ABOVE: A rain-wrapped wedge tornado becomes visible near the town of Cee Vee, Texas (northwest of Paducah) on Thursday, April 22, 2010.
HD EXPEDITION VIDEO: Supercell and wedge tornado in Texas: Watch Video
Click any thumbnail on this page to view a larger version.
COTTLE COUNTY, TX - For the tenth straight year, the Lord has allowed me to make expeditions to the Great Plains during tornado season. This year's first major storm photography expedition has already resulted in one tornado, and a massive one at that. More photogenic tornadoes occured with storms to our north (east of Amarillo), but I'm very satisfied that we were blessed to be able to see a large wedge - possibly the most significant tornado of the day.
Upon completing several work tasks, I left St. Louis by mid-afternoon on Wednesday, headed for Tulsa. The next morning, I hooked up with the longtime Tulsan expedition group consisting of Justin Teague, Greg McLaughlin, Joseph Tyree and Steve Bluford. We departed in Greg's vehicle (caravanning with Steve's truck) and headed toward our target in the Texas Panhandle. Keith Minor would join our convoy later.
As we arrived in our target area in Turkey, Texas, storms began to initiate around Lubbock, moving in our direction. There were at least five distinct supercells organizing - so we stopped to assess the situation: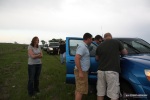 Finally a storm became dominant, and we headed southward toward it among frequent and close lightning - intercepting the circulation just north of Matador. This was our first view of the wall cloud - with frequent lightning around it: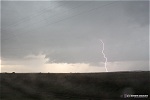 We stopped to watch for a few minutes as the storm cycled up with rapid rotation, but it did not produce.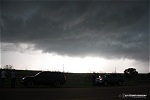 As we repositioned, a small funnel became visible briefly: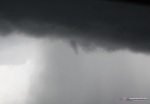 The road network in this region is very limited, so we were forced to take our only option northeast to stay with the storm. This road took us into the forward flank precip, which caused us to lose sight of the updraft base and wall cloud until we passed the tiny town of Cee Vee, northeast of Paducah. As the business end of the storm came into view again, a strong couplet showed up on radar. As we stopped to watch, a wedge tornado became visible through the rain: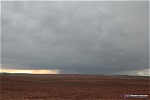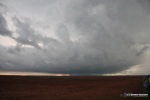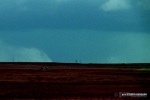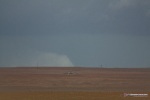 The tornado's shape and size reminded me of Greensburg, with rapid motion evident on the southern edge (the one we could clearly see). The northern edge of the tornado became slightly visible briefly, revealing its size (third image above). The inflow tail feeding into the storm from the northeast had some of the fastest cloud motion I've seen with a supercell, and it was all the more remarkable due to our 5 to 7 mile distance from this feature. Inflow at our location was also very intense, with tumbleweeds rolling past us.
The wedge disappeared into the rain after a few minutes, but the radar signature along with the visual inflow motion continuously indicated that a large tornado was likely still in progress. We kept watching, hoping that the rain would clear out again and give us another glimpse, but it didn't oblige. Rain and hail eventually began to pick up at our location, so we moved east and south to another vantage point north of Paducah. The supercell was still a monster at this point, with incredible inflow, blue-green color, and maintaining a strong signature of a large tornado buried in the rain: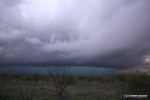 Darkness fell shortly after this, and we decided to end the expedition and start heading back to Tulsa. We waited cautiously for the main supercell to pass to our north, then began moving northward on Highway 83. At that time, a new updraft/meso went up on the southwest flank of the main storm and passed just to our south, dropping tennis ball sized hail on our convoy. All of us took several big hits/dents, with Steve suffering a broken windshield.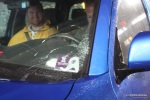 We continued on to Tulsa through intermittent light rain, making it back around 2:30AM. A big thanks again to Justin for the hospitality, to Greg for the carpooling option, and most of all to the Lord for safety, success and an overall great time.
NEXT EVENT: Severe storms in north-central MO >
GO: Home | Storm Expeditions | Photography | Extreme Weather Library | Stock Footage | Blog
Featured Weather Library Article:
All content © Dan Robinson. All usage requires a paid license - please contact Dan for inquiries.

Web Site Design and Internet Marketing by CIS Internet