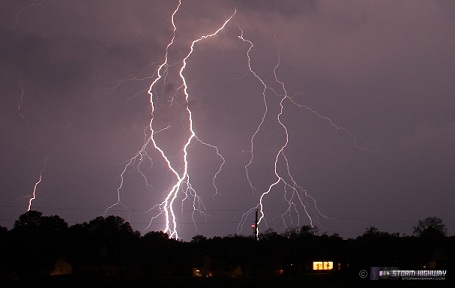 Lower Mississippi valley tornado outbreak: April 30, 2010
ABOVE: Lightning from a tornadic supercell in south St. Louis on April 30, 2010.
Click any thumbnail on this page to view a larger version.
ST. LOUIS, MO - On Friday, April 30, a major tornado outbreak was expected in the southern US states through the lower Mississippi valley area. A broad warm sector was in place in these areas, extending northward into the lower Midwest, including southern Illinois and the St. Louis metro area. Strong upper level winds would overspread this warm air, resulting in numerous supercells quickly moving northeastward. Since St. Louis was included in the threat, I decided not to travel to Mississippi to the eventual SPC high risk area.
I began the day at home (my very convenient morning target) while I watched the situation evolve. Finally I decided to head generally northward toward Hannibal, MO to get into position for several storms that were near Columbia, heading across I-70 toward that area. I drove north of Alton, intending to stay in Illinois to avoid any problems with crossing the Mississippi River in intercept mode. On the way, I experienced a storm observing first - crossing the Illinois River via a ferry at Kampsville: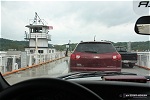 I ended up in the town of Atlas, IL just across the river from Louisiana, MO. Mississippi River crossings, as I mentioned, are few and far between, so I liked this location in case I needed to jump over into Missouri. I watched the storms I'd been looking at earlier move closer, struggling as they approached. A few times, they looked relatively healthy.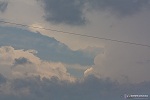 Ultimately though, the storms were having trouble - cloud cover in this area had been thick all morning, and so instability was lacking. North of this area, storms were not doing much better. I finally wrote off the potential in and north of my location, and began heading back south on the Missouri side toward St. Louis. I went west briefly to check out the last storm crossing I-70 near Wentzville, but again saw nothing of any consequence.
Sunset was fast approaching, and by now, supercells from Arkansas and far southern Missouri were beginning to track toward St. Louis. These storms were not losing their strength, apparently owing to better instability from St. Louis southward. The first of these cells was heading directly for the southern part of the city, so I headed to Arnold to await its arrival. Eventually, I decided to cross over to the Illinois side where visibility and road options were better. I stopped at Columbia, IL for about 20 minutes to watch the storm's approach. The cell had been tornado warned for quite some time. At this point, anvil crawler lightning from the storm's forward flank was visible.
I adjusted southward to Waterloo as it became apparent the storm was turning right slightly. By now it was dark, and the lightning was frequent and highly visible. WxWorx showed a strong circulation with the storm as it approached on the Missouri side of the river. Warnings were issued for our location, and tornado sirens sounded in all directions. I took nearly constant exposures with the DSLR, hoping that either lightning or a power flash would reveal storm structure or any tornado, if there was one indeed there. The only frame that showed any type of structure was this one, which revealed a possible inflow tail: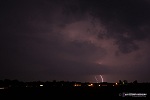 The lightning was so frequent and intense that it was hard to tell if I was seeing any power flashes in the mix, though I thought I saw a few. Damage was reported in the Barnhart area about this time. As the storm approached, I lost all visual of any structure - but the lightning remained intense: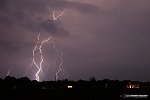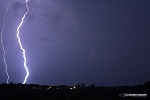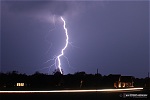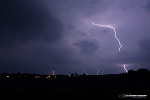 I dropped south and east slightly to allow the circulation plenty of room to pass to our west and north. This was my view from the western edge of Waterloo, looking northwest. The circulation was somewhere in the middle of the rain, but I could not see anything. No power flashes were observed either.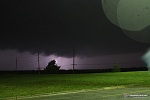 This storm went on to threaten the Fairview Heights/Collinsville area, but I didn't hear of any significant damage. After a few close lightning strikes, I decided to head east to catch the next cell in the line moving up toward the Okawville, IL area. Heavy rain continually overspread though, slowing my eastward progress. Eventually, it became apparent that the southern storm was pushing more eastward at a rapid pace, and I would not be able to get ahead of it. Convection was also filling in to the north of the storm, bringing close lightning and heavy rain on top of us. I decided to call off the expedition at Okawville. I stayed at the I-64 interchange for a while shooting lightning of the trailing stratiform region of the storm, with anvil crawlers and the occasional sonic-booming positive CG: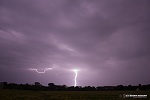 I made it back to New Baden about 15 minutes later, and grabbed one more shot of lightning-illuminated mammatus to the east: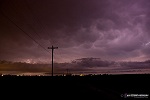 NEXT EVENT: High Risk in Arkansas >
This web site is made possible by support from CIS Internet.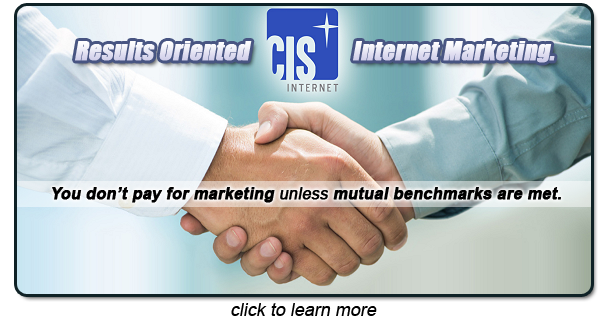 GO: Home | Storm Expeditions | Photography | Extreme Weather Library | Stock Footage | Blog
Featured Weather Library Article:
All content © Dan Robinson. All usage requires a paid license - please contact Dan for inquiries.

Web Site Design and Internet Marketing by CIS Internet